Life lessons from an ancient Indian dance
Bharatanatyam is Soo Mei Fei's great love. After joining an Indian dance group in school, this young Singaporean Chinese devoured everything about the classical Indian dance.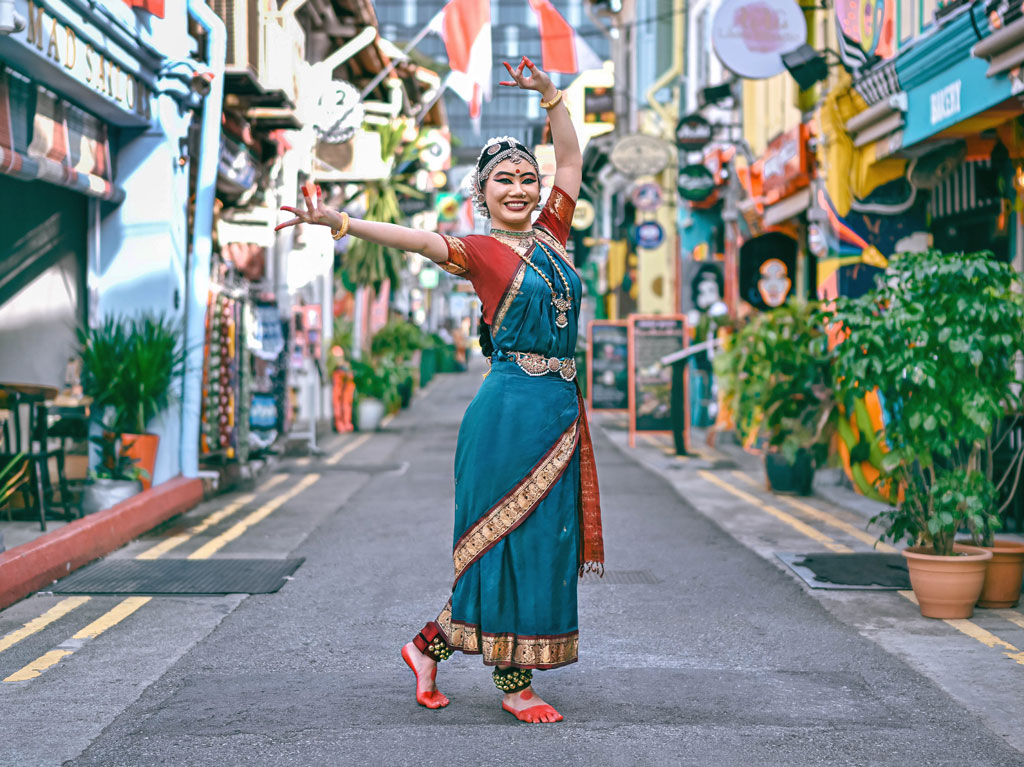 Soo Mei Fei started pursuing Bharatanatyam at a later age than most dancers. In 2021, she made her solo stage debut, after training rigorously for two years.  
It's hard to miss Soo Mei Fei if you see her on the train. Often, she's dressed in a colourful sari — a dance sari, to be exact.
This Bharatanatyam (pronounced: Bha-ruh-tuh-nat-yuhm) dancer dons the outfit every opportunity she gets, even for regular practice sessions when a kurta (a loose top , where the length falls just above or around the knees) and long pants would suffice. Practice makes perfect, says the 24-year-old, even though she's usually the only one in her dance class wearing the traditional garb.
Unlike a regular sari, the dance sari is shorter. The dancer needs to drape and pin the cloth carefully so that the outfit doesn't unravel.
"It's a skill to learn how to tie a dance sari, and my seniors have taught me how to do it the right way. The last thing I want to do is look messy, which would be disrespectful," says Mei Fei, who trains at the Apsaras Arts, a well-known local performing arts academy that has a strong focus on classical Indian dance.
Her love for Bharatanatyam started when she was looking for a co-curricular activity (CCA) to join in National Junior College (NJC). The traditional ancient dance form originated from Tamil Nadu, India and was first performed in temples. It focuses on storytelling and religious themes from Hinduism, and dancers are trained to perform detailed hand gestures, intricate footwork and expressive face movements.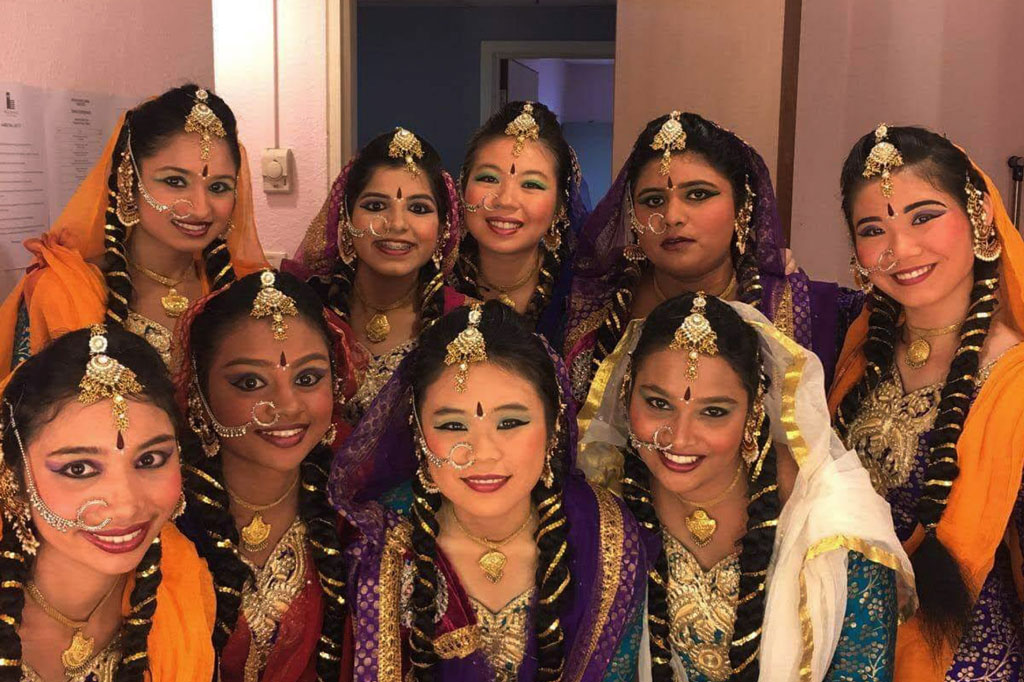 Mei Fei (pictured first from the right) was drawn to the Indian dance CCA as she was keen to learn something different. But she got more than just a new skill. She made new friends from other races and formed a better understanding of Hinduism and Indian culture.
Back when she joined the Indian dance group in NJC, there were other non-Indian girls, including Koreans and Vietnamese students. They learnt adavus, the basic steps of Bharatanatyam, and their performances were sometimes infused with moves inspired by classical, semi-classical, folk and Bollywood dances. They had no qualms about joining the dance group, despite having no idea what the dance form entailed — or that they were not Indian. "We were focused on learning about the art form and the correct moves, rather than seeing it through the lens of race."

Even after she left school, she worked as a dance assistant in primary and secondary schools. She helped her teacher Mrs Vijaya Nadesan, who is Apsaras Arts' current principal, with warm-up routines and teaching basic techniques to students.

She kept talking about wanting to pursue Bharatanatyam formally, but there were doubts in her mind. "I was terrified. I was already 19, but most people started learning Bharatanatyam when they were kids. I had so much to catch up on," says the Lasalle College of the Arts graduate.

Eventually, she joined Apsaras in 2016 and became a familiar face at the school. Determined to catch up, she would stay for hours after her class to watch and learn from the other students, and practised more during the week. On the side, she also did body conditioning and pilates, which she continues to do today.

Mei Fei realised that whatever she picked up in her CCA, she had to unlearn. "The emphasis for our group dances was on neat rows and synchronised moves. But this art form is very much a solo performance. I needed to be a good dancer on my own."

In January 2021, she performed an arangetram (solo stage debut), a showcase of her talent and hard work over five years. Learning about Bharatanatyam has not only taught her to be resilient and disciplined, but she has also come to understand more about Hinduism and Indian culture.

She became intrigued with other Indian dance forms. In 2018, she started pursuing Odissi, a dance form from the state of Odisha in eastern India. She shares how she fell in love with the classical dance and encourages more people to step out of their comfort zone to embrace new experiences.

What captivated you at first about Bharatanatyam?
What struck me was the music. Bharatanatyam is danced to Carnatic music, which is very rich. The lyrics and melody have a lot of meaning behind it. I don't understand the words because I don't speak any Indian language. How I understand the songs is to feel it. I think that speaks to the power of the art form. Sometimes to feel something you don't need words.

The other thing I love about Bharatanatyam is how difficult it is. Every time you learn one thing, you realise that there are 10 other things you don't know.


Mei Fei demonstrates how basic hastas (hand gestures) and sthanakas (leg and foot movement) can be used to express the lyrics in Bharatanatyam.


When you told your friends and family that you had joined the Indian Dance CCA at school, how did they react?
It never really struck me as something out of the ordinary until I met up with my primary school friends, who are Chinese. Their reaction made me realise that this was surprising for them. When I told my relatives about it, they thought I was doing international dance, which mixes different genres.

For those of us who were in the CCA, it was nothing different. We were just determined to do our best for the Singapore Youth Festival (SYF), so we worked hard to put on a good performance. We never really thought about how other people would see us because we were just very driven.

What convinced you to take your interest in Bharatanatyam further?
Our CCA instructor taught us a good number of adavus, though it was impossible for us to learn everything. In our last year, we were performing for the SYF and she taught us a more challenging piece that was a thillana. I was getting more interested in it so I would go to YouTube and watch videos to see what it was about. I realised that whatever I was learning through my CCA was just a tiny bit of what was out there. I felt I needed to know more!

I spent hours at library@esplanade and the National Library reading about Bharatanatyam. I also started watching different dancers and YouTube kept suggesting related videos. Soon enough, I was going down the rabbit hole of dance videos! From there, I gained more exposure to the art form.
How did you learn to express the lyrics and the meaning behind the songs?
I'm thankful to have mentors and teachers who have patiently guided me through. In this glorious age of the Internet, I can also find English translations easily. There are still times when it's hard for my teachers to directly translate a word or phrase, but sometimes, all it takes is one gesture or facial expression and I get it.

I also spend a lot of time listening to the songs. If I listen to the lyrics being read, it may not register immediately. But when a song is sung, I will remember the tune and how the words sound phonetically. I'll then connect them to the dance move or hand action.

As you're not Hindu, how did you relate to the religious and philosophical imagery and prayers in Bharatanatyam?
At the start, it was foreign to me. But if I kept thinking that Bharatanatyam is only about Hinduism, I would never understand it. So, I broke it down and related the intentions behind the lyrics to universal concepts. For example, we start with namaskar, which is a salutation that we do at the start and end of every dance class. The dancers seek blessings from Mother Earth and apologise for stepping on her.

The Earth we stand on is shared by many people. Whether you believe in Bhumi Devi (the Hindu goddess representing the Earth) or the divinity of life doesn't matter. We all share this place. So, when I dance, it's about being grateful for this space and my time here. When I relate to the songs and lyrics in a universal way, I realise that I'm convinced, and I can express it through my dance.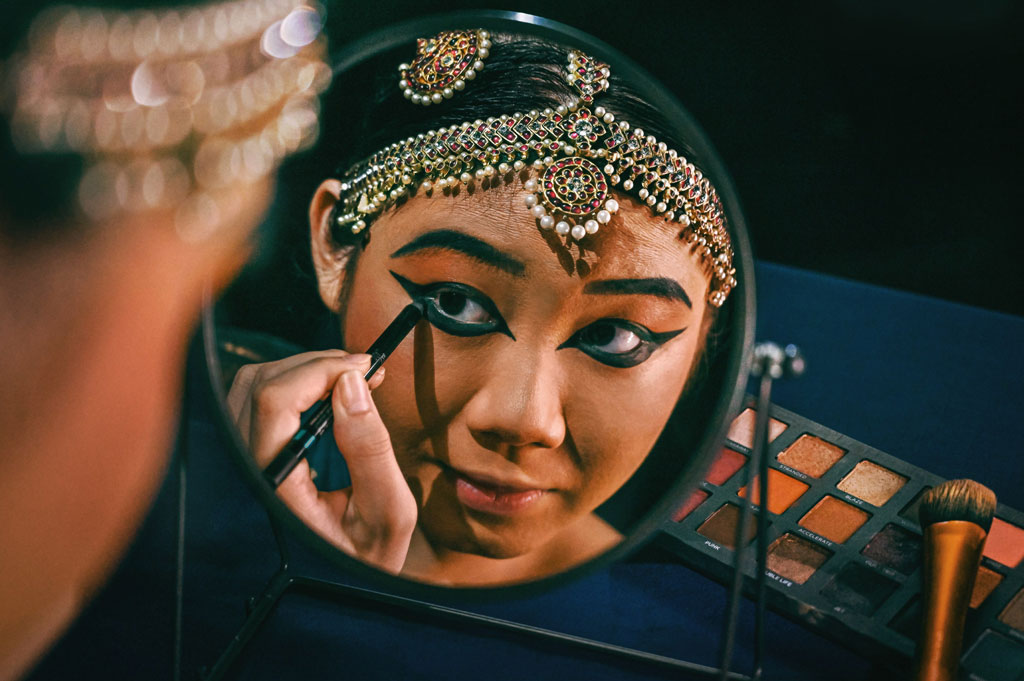 Bharatanatyam dancers wear bold, colourful make-up for their performances. As her facial features are different from her fellow Indian dancers, Mei Fei had to figure out the right way to accentuate her eyes, cheeks and lips.
What was it like wearing a dance sari?
I first wore a dance sari for a rehearsal for a school production. The sari is form-fitted, and as compared to a regular sari, we usually wrap an extra loop around the waist so that it ends around the knees or shins. The sari is pleated in the front to look like a large hand fan.
The first time I put it on myself — I had watched tutorials to learn how to pleat the sari properly — it was a disaster. Once there was an event and my sari was not tied properly. A senior took me to the toilet and showed me how to pleat the material, where to place the safety pins to secure the sari, and how much of my pallu (the loose end of a sari that is draped over the shoulder) should be wrapped around the waist.
There were also things that I had to teach myself, like how to draw my eyebrows or eyeliner as my facial features are different. Most of my friends had their mums to help them get dressed. But I had to learn everything by myself, though many gave me tips along the way.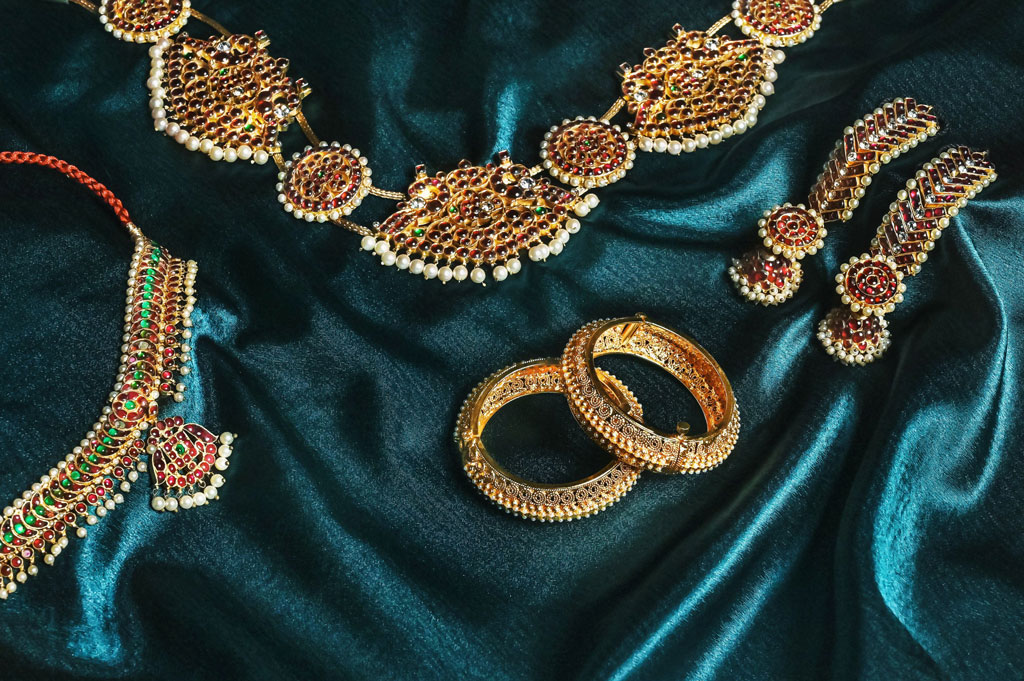 A dancer's performance outfit is incomplete without jewellery. She adorns herself with an array of pieces such as necklaces, a belt, dangly earrings, bangles, head pieces, and anklets.
Have you had any mishaps while dancing?
Luckily there haven't been massive incidents. If anything, it's more like jewellery dropping when I danced. Once I didn't secure my necklace and it came off in the first eight counts. Part of the chain was fastened to the costume, so I had a whipping chain for the whole dance. But with every mishap, I learn something.

How did you prep yourself for your arangetram?
Building up stamina isn't just a physical thing. A part of it is also overcoming the mental hurdle. My debut performance was 1.5 hours long and segmented into three parts. I needed the confidence to get through it.

I started by listening to the songs in its entirety. Then I started by practising one part and then eventually included all three. To jump right in would be too much for my body to handle. I also had to psyche myself up. The main part of the entire show was the Varnam, which was about 35mins long. It was daunting when I first learnt it, but I told myself that if I could get through the Trikalajathi — this is the dance sequence at the start of the Varnam that is executed at three different speeds — I would get through the entire Varnam. And once that was done, I would be almost done with a large part of the entire repertoire!

You can finish learning the Varnam in a few months or even a week, but I needed the two years to understand the meaning behind each item. I was thankful that I could explore and not rush myself.



Mei Fei performs a short excerpt from Ardhanari Ashtakam, a poetry dedicated to Ardhanari (Sanskrit for "Lord Who Is Half Woman") — the combined form of Hindu god Lord Shiva and his consort Parvathi.
When stories about your debut performance were published, there was some debate on online forums about cultural appreciation versus cultural appropriation. What's your take on this?
I feel what it boils down to is whether people understand where I'm coming from. Without context, a photo of me in a dance sari and full-on makeup might look like I'm appropriating the culture. But if my friends or Bharatanatyam teachers saw the same picture, they will know that it's what I always wear when I'm training and of my intention to learn Bharatanatyam.
People will always have something to say, but I'm open-minded to comments because I don't know everything. I'm still learning about this art form and Indian culture. This wasn't something that I was born into nor was it handed down to me over generations. There are things I may not know, so I welcome people who tell me I might come off as being insensitive or how I can do better.
How can we start encouraging each other to get in touch with cultural aspects that we are unfamiliar with?
Before joining NJC, I didn't have friends from other races. It was through the Indian Dance CCA that I met my Indian friends.
I've been welcomed into the Bharatanatyam community with so much warmth and love. It reminds me that this is the same way I should treat everyone around me, especially minority communities in Singapore.
Art should not have boundaries. I would say to anyone who wants to try this out — just go for it. It's a great learning experience to know more about another culture and about people who are different from us. In doing so, realising the ways that we might be more similar than different.