When one door closes, another opens: overcoming failure
When talking about successful people, we tend to speak of their triumphs and achievements. But what if their failures fueled them to reach higher, to want more? Here are three Singaporeans who overcame adversity and found the grit to achieve a new kind of success — one that feeds their souls.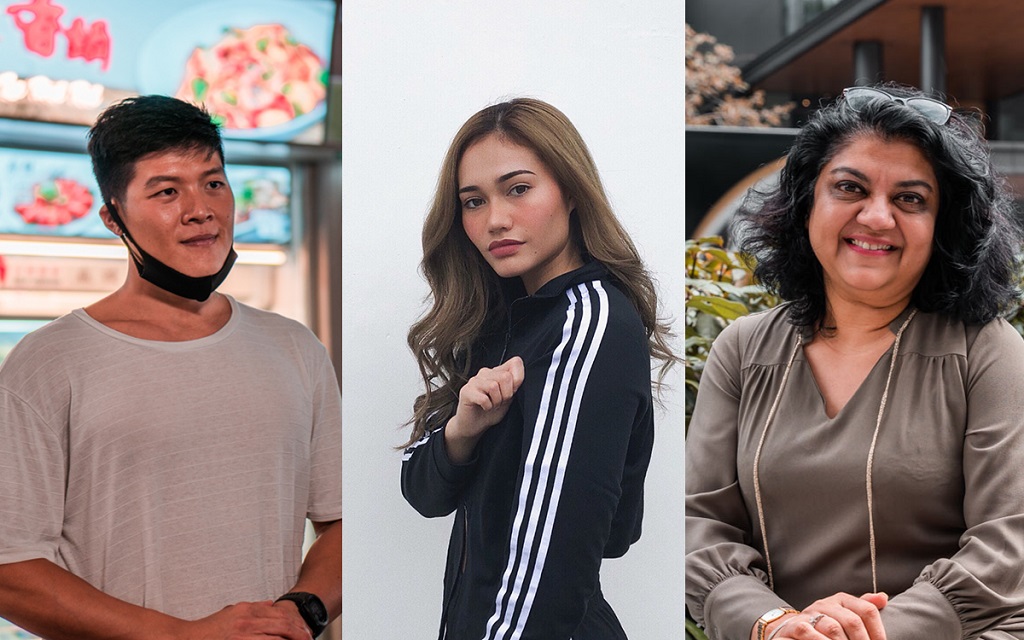 (L-R): Walter Tay, Nurul Suhaila and Nita Chauhan  
Arguably more than others, we Singaporeans tend to hesitate when it comes to sharing our struggles. Maybe it's a fear of being judged. Maybe it's self-judgement. Either way, we put on appearances that we always have it all together, forgetting that our failures often build our resilience and pave the way to our successes.
Remember, Steve Jobs was booted from Apple before he returned and made it into one of the world's most valuable companies. Walt Disney was once fired for 'not being creative enough' and Jack Ma was rejected from Harvard and KFC innumerate times before Alibaba came along. To embrace our failures is the best thing we can learn — and teach our loved ones — as three courageous Singaporeans proudly show us.
From Debtor to Business Owner
As he dishes up the sauce from the wok, Walter leans over and tells us in a slightly elevated but smiling voice, "I swore that I would never be a hawker, but life is certainly full of irony."
An established entrepreneur, Walter Tay credits the popularity of his Admiralty-based hawker stall to more than just his good looks. (Google 'Admiralty + hawker', and the word 'hunk' pops up — but read on and you'll find out the radish cake alone makes it worth your visit.)
Walter's life may look bright these days, but his earlier years were plagued by mental health issues, like anxiety and panic attacks, as well as a tumultuous family background. Looking back, he also sees how he had a naïve and egocentric mindset, which landed him in a bit of trouble. "I thought life would happen the way I wanted it to, as long as I had good intentions." He adds, "I was so wrong."
Walter started off in a successful career as an airline cabin crew, but that came crumbling down when he was lured into a pyramid scheme by the prospect of more money and quick returns. By 2014, he'd become a full-time sales agent for the company and had even convinced some friends to leave their jobs and join in, too.
The company fell apart not long after. "They sold a dream," he said. "But in the end, it was just an empty promise."
Walter was left without a job, lots of debt, and worse yet, had caused his friends to lose their money, too. When he started receiving assault threats from them, that's when he knew that something had to change.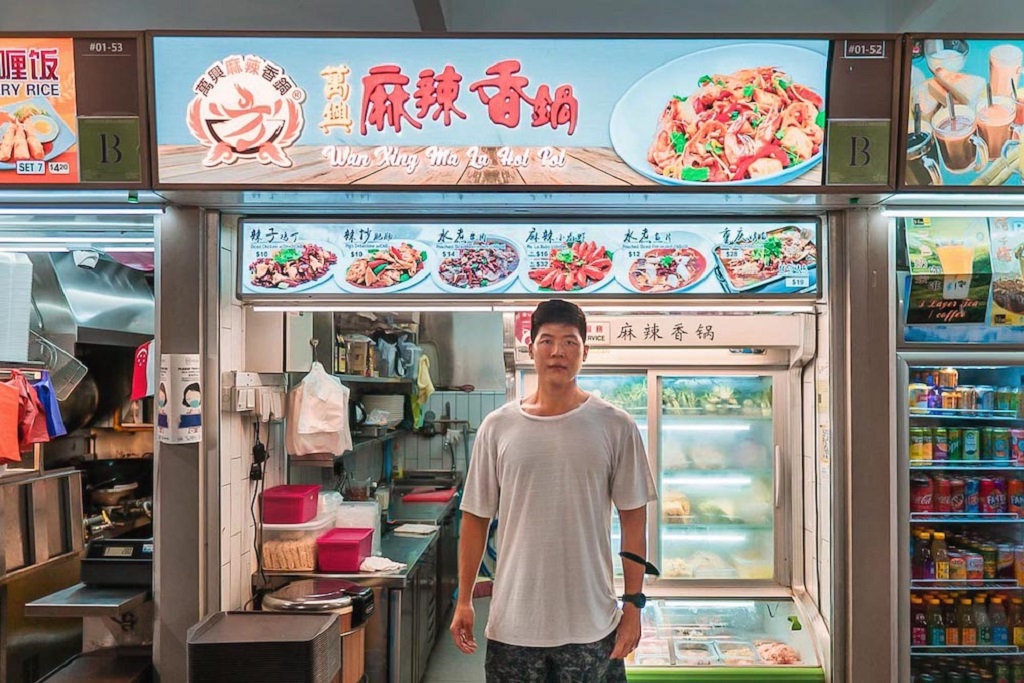 Walter continues to extend his reach, this time through a new hawker stall he helped set up.
When Walter's parents saw him struggling to pick up the tattered pieces of his life, they stepped in to help. Together, the family began the difficult journey of repaying Walter's friends, which even involved pawning his parents' hard-earned valuables for cash.

"That was the worst point of my life," he laments. "My heart still aches whenever I think about it. Our neighbours called my family cheaters."

Unfortunately, things didn't end there. Over the following years, Walter set up a couple of businesses, but none of them worked out. In hindsight, Walter realises he had been stubborn, and despite persistent advice from his family, he kept jumping from one endeavour to another. One even included setting up a Korean beauty business in hopes of tapping into the beauty trend. In the end, his impulsiveness and lack of business knowledge caught up with him and he had to close the businesses.

At that stage, with the help of his family and his mentor, Hideki Akiyoshi, a creative consultant he'd met in one of his business ventures, Walter began to realise that there was an important life lesson embedded in all the setbacks: he had to harness his tenacity and grit to keep pushing forward. These valuable lesson eventually inspired the hawker concept, and everything came to a culmination when his mother purchased a stall for him, and his father pitched in to help set it up.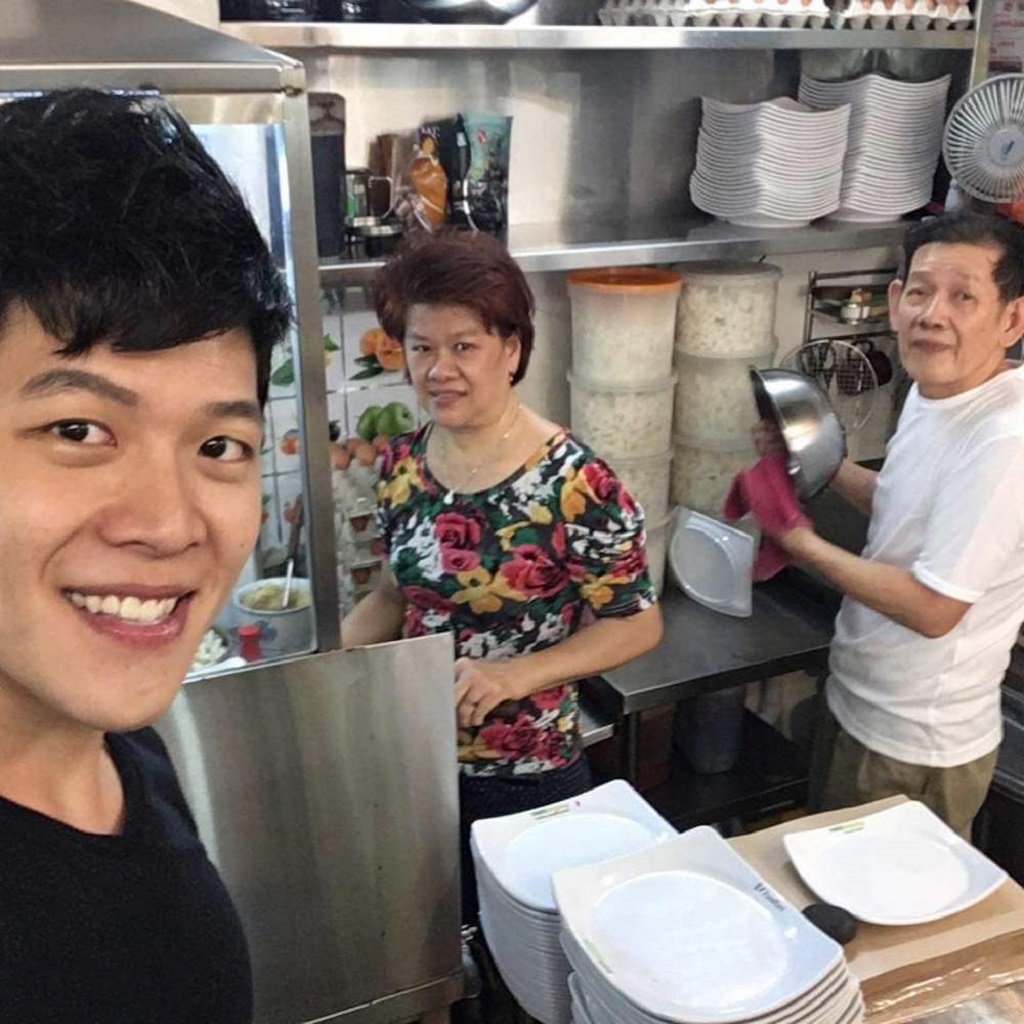 Walter and his parents at the hawker stall they run as a family business. (Courtesy of Walter Tay.)
"My family's support has been extremely important. Their encouragement gave me strength to step out of my comfort zone," Walter says. "No matter how complicated our past, the business pulled us together and forced us to overcome darkness. It's important to remember that love triumphs hate."

These days, Walter's goal is simple: to spread positivity, be it through supporting Singapore's hawker community or from a health perspective.

I used to believe happiness must be pursued. Now, I find that we need to be happy before pursuing our passion.
From Local Athlete to World Champion
As a timid child, Silat was the antithesis of Nurul Suhaila's quiet nature, but that's exactly why she loved the martial art. Watching her brother practise convinced her to pick up the sport, and she soon discovered that "the aggression of the sport helped build my confidence."

She would often hear undermining comments like, "You don't look like a fighter," or, "You're not strong or fast enough," but the remarks only spurred her to train harder.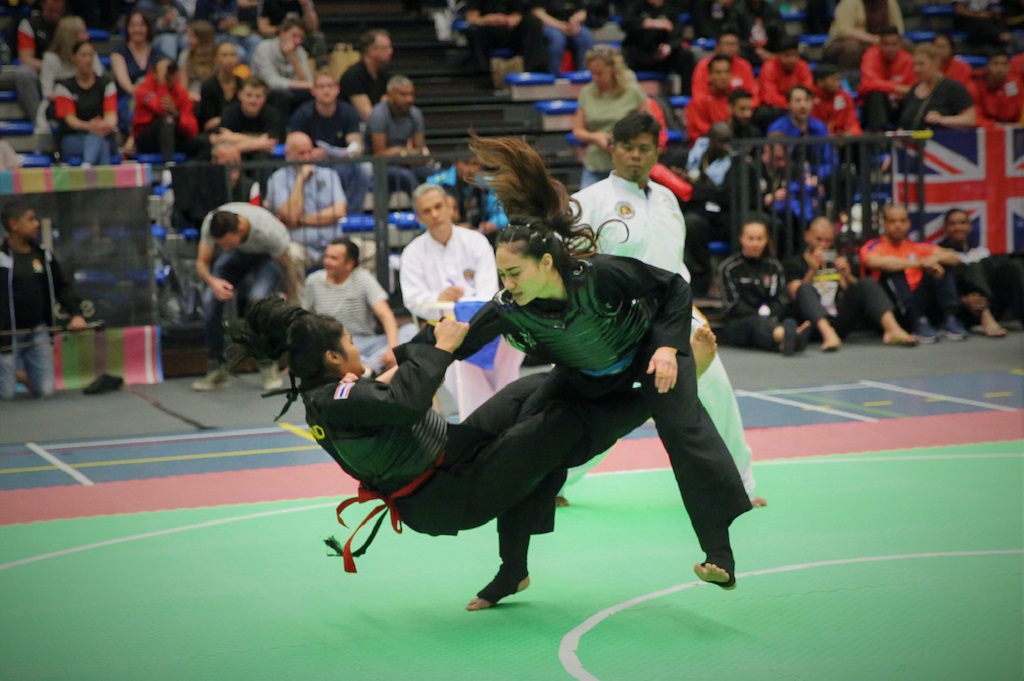 Nurul was determined to overcome past defeats and show the world that she can be as strong or fast a fighter as any. (Courtesy of Nurul Suhaila.)
After graduating from Poly, Nurul made the bold step to pursue her dream of becoming a Silat world champion. To do so, she had to beat Indonesia's Selly Andriani, the defending world champion, who had twice denied her the gold medal — at the 2015 World Championships, and again the year after. "When I first lost to her, I told myself it was fine. But when it happened again, it really took a toll on my self-esteem," Nurul said. "It felt like no matter how hard I trained, she always trained harder."
Nurul remembers the 2018 Asian Games clearly. "I was ready, but when they announced who I was fighting against, I bawled my eyes out. Once again, I was competing against Indonesia," she says, still a little on edge. "I was fighting on Indonesia's home turf, so I knew it was going to be tough."
Ultimately, Nurul lost in the quarter-finals, and came home empty-handed yet again.
"That's when I hit rock bottom. At the airport, my teammates had medals and their families were cheering for them. I had nothing. I was heartbroken."
It took a while to pick herself back up, but Nurul knew that despite her setbacks, she would not give up until she brought home the world championship. She worked even harder, harnessing the hurt and pain, to draw up the winning game plan that would lead her to gold at the 2018 World Championships.
She remembered telling herself, "If I lose to Selly again, I'll quit Silat and look for something else. But losing isn't an option, because there is nothing else I want to do."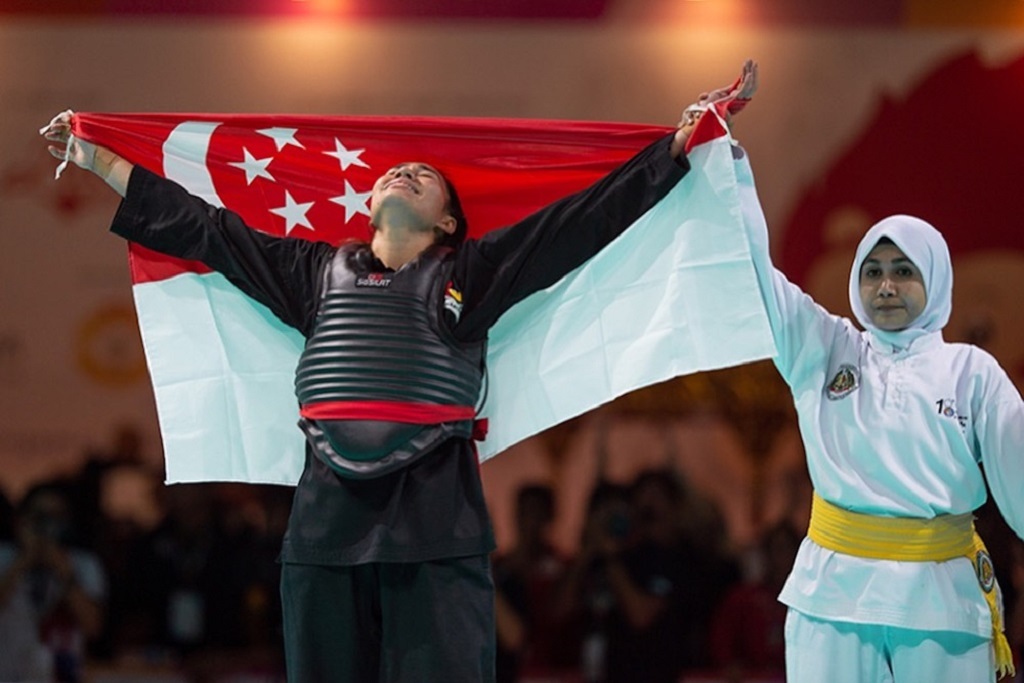 Nurul finally defeats her biggest opponent and wins the 2018 World Pencak Silat Championship. (Courtesy of Singapore Silat Federation)
Come December 2018, Singapore's OCBC Arena was filled with Nurul's supporters, and it's the 18th World Pencak Silat Championship semi-finals. Nurul was once again pitted against Selly Andriani. She took a deep breath, closed her eyes and reminded herself that she must stay calm, composed, and — she distinctly remembered repeating to herself, "I have nothing to lose. It's now or never."

Her composure stayed intact and by round 2, had taken Selly down twice. Nurul continued on the offense and finally beat Selly, 4 to 1. She advanced to meet Thailand's contender in the finals, and finally — finally! — won gold.

It was momentous, not just for the country, but especially for Nurul. She'd overcome years of crushing losses and self-doubt, but her perseverance pulled her through even the most difficult moments.

Failing doesn't mean it's over; I let it redirect me. Every failure gave me a stronger drive, fuelled me to train even harder.
From Struggling Business Owner to Successful Entrepreneur
Business experience and business ownership traditionally go hand in hand, but Nita Chauhan was an exception. By the time she was 18, her sister migrated to the UK and she was handed the reins to one of her father's shoe stores, but none of the experience needed to run it.
"I was immature. And I took the business for granted," Nita confesses.
By 1985, a decade after Nita started running the store, Singapore sank deep into recession and many businesses went under. Nita's was no exception. "In that process, I lost my shop, and I lost my father," Nita says, remembering those difficult years. "I watched my father slip into depression, and felt the pain of closing my business at the same time. I never wanted to do retail again."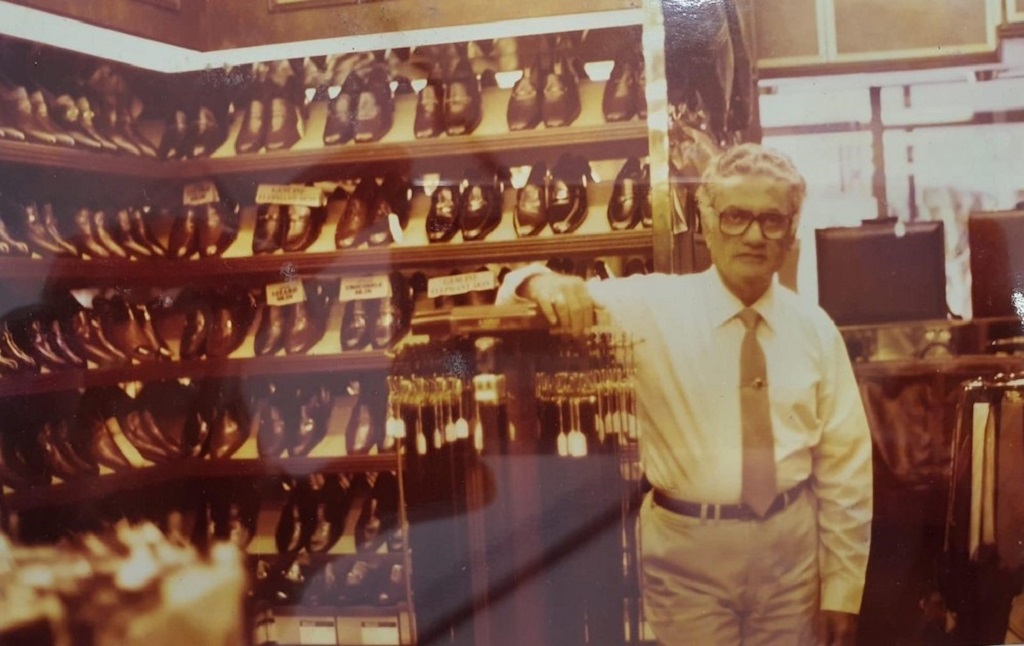 Nita's father, R.C Kishin, at Euro Shoe Shop, which he founded in the 1989. 
Vowing to never own another business, Nita stayed in retail but pursued a corporate path. But she found herself struggling and within six months was sacked from her job. "I realised I was too bossy. I was too used to being on the other side of the playing field and needed to change my mindset."
Nita had to adapt quickly and learn that she wasn't the boss anymore. She also upskilled her technical knowledge by pursuing a distance-learning MBA in retail, as well as a diploma in shoe construction and design. By the early 2000s, Nita felt ready to re-emerge onto the retail scene, so she tried her hand at importing shoes into department stores.
"I started with Singapore's department stores because the investment cost was low. I would fill a suitcase with shoes and visited store after store, trying to sell my product," she sighs, recalling the exhaustion of lugging the heavy suitcase in Singapore's heat.
Eventually, her big break happened when Robinsons took on her shoes — on the condition that Nita would stand beside her product, selling it to passersby. Not one to pass up a good opportunity, she chatted with and listened to what customers had to say about the shoes, picking up market knowledge she still uses today.
When Robinsons ended the partnership not long after, Nita felt her world collapsing around her yet again. Her husband, supportive as always, prompted her to think bigger: "You have an MBA in retail, you are an expert in shoe construction and design. What are you going to do with all this knowledge?"
Nita realised she needed to set up her own store.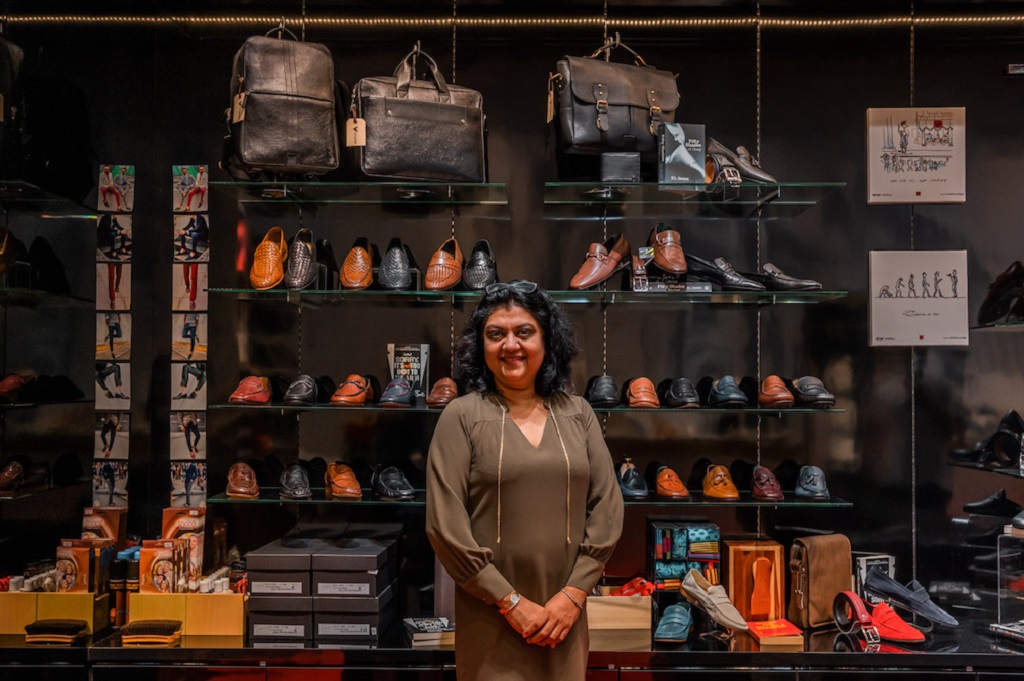 Nita pulled on past experiences, market research and ample doses of determination to eventually set up her own store Vincitore Shoes. 
At first, she was terrified, but her husband's encouragement pushed her to double down on her efforts. "It felt like I was jumping into the deep end all over again."
The vision was simple, but clear: Nita wanted to sell premium quality Italian shoes at reasonable prices. So she embarked on a two-year journey to find the right shoe makers, and in 2015, exactly 20 years after she closed her father's shop, Nita and her husband set up their own, Vincitore Shoes — which, uncoincidentally, means winner.
Downtime is the time for opportunity and reinvention. To make a beautiful gold bangle, it needs to be beaten, heated, drilled, chiselled and grinded. Only then will it become a beautiful bangle.
Getting back up is what counts
An ancient proverb stands as true today as ever before: "Failure is the mother of success." No matter how many times we are looked down upon, fall, are defeated, or hit rock bottom, there's always another opportunity waiting around the corner — we just need to look and work hard enough to grab it.