Fusion food: yay or nay?
Fusion food is common in Singapore's culinary landscape, but views on it are often divided. What do notable figures in the industry really think about it?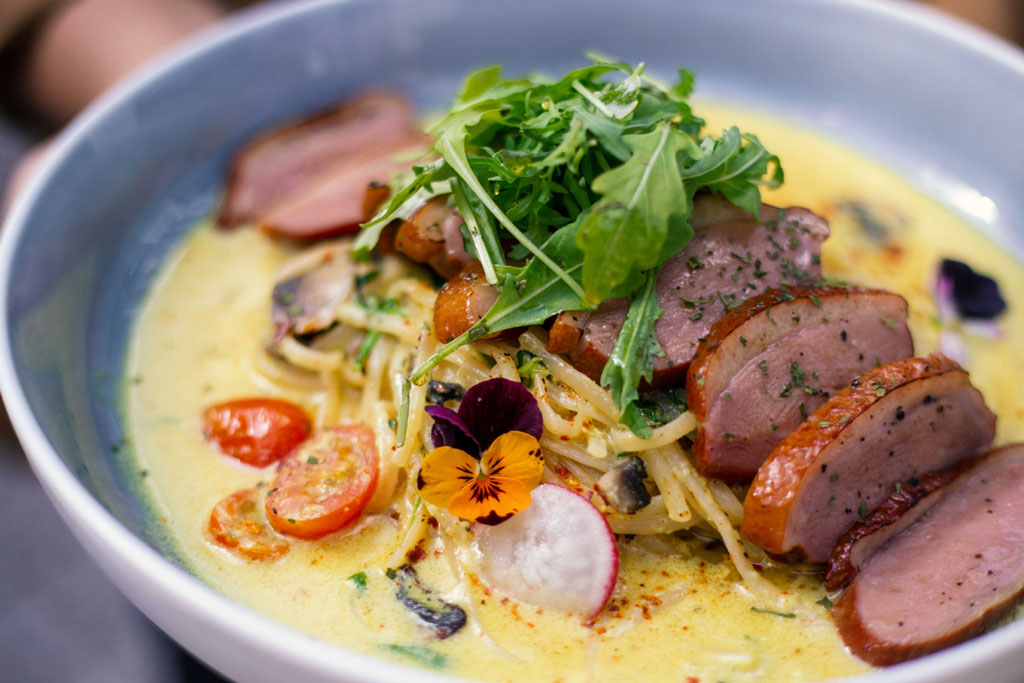 Are we getting the best of both worlds when cuisines mix? Those in the food industry here say that if done right, the results can be highly palatable, like this Smoked Duck Chili Padi Linguine from The Malayan Council.
Look around any mall and you'll find food establishments vying for your attention with their new hot take on a local favourite. Whether it's a potentially disastrous
Nasi Lemak Ice Cream
or something more benign like a
Laksa Curry Puff
, there's almost always a flavour of the moment.
Unlike our hawker favourites, which are mainstays on the Singaporean menu, these attempts often lack the same permanence. Fusion food, as it seems, are just part of a fleeting trend that will soon be forgotten.
This raises the question, which I posed to several figures in the food industry: fusion food, yay or nay?
Chef-owner Hafiz Alkhatib of The Malayan Council
On The Malayan Council's menu, beef ribs are glazed and served with a "secret" sauce alongside a nutty fragrant
roti kirai
(net-like pancakes); chicken wings are glazed with a sauce made from
kicap manis
, an Indonesian pantry essential. Behind the dishes' elaborate plating, it was clear that the taste of traditional Malay cuisine is still the priority here.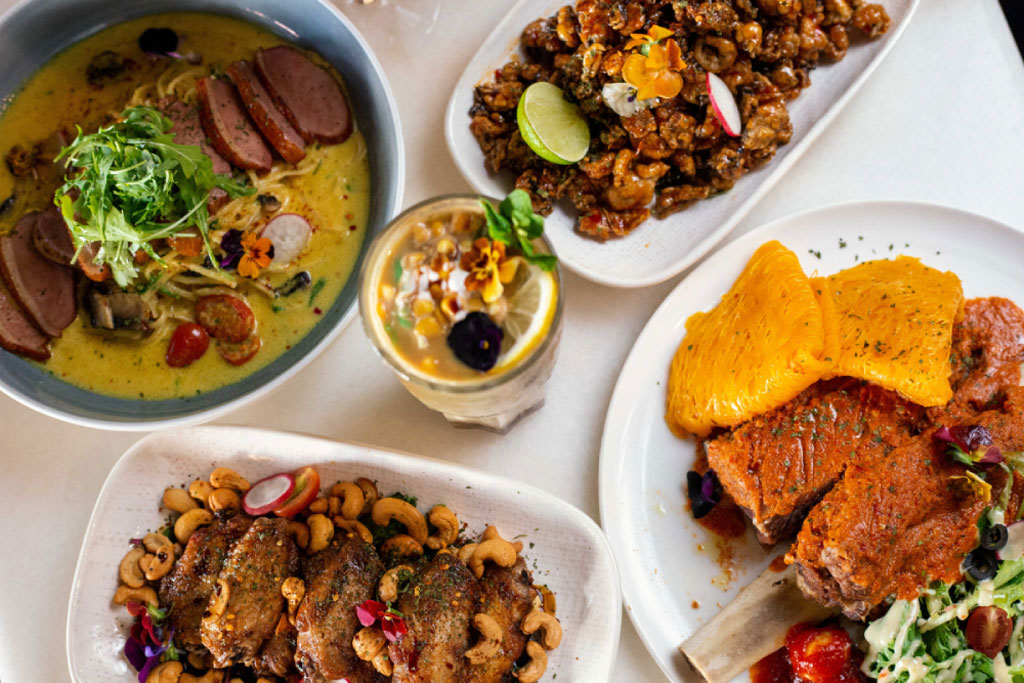 On the menu at The Malayan Council (from top right, clockwise): Sticky Crunchy Baby Squid, Roti Kirai Beef Ribs, Wings With Kicap Chili Padi and Smoked Duck Chili Padi Linguine.
Chef-owner Hafiz Alkhatib brimmed with joy as he spoke about how their Ondeh-Ondeh Cake managed to get younger children interested in traditional foods, and how Malay regulars would often invite friends of other races and foreigners.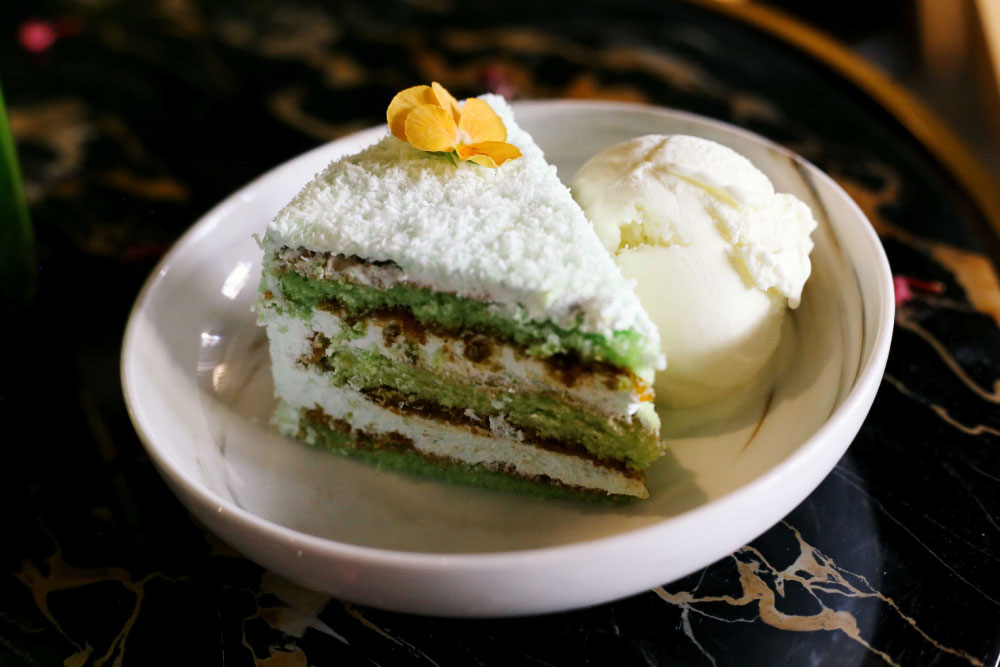 Chef Hafiz has come up with delectable creations like this Ondeh-Ondeh Cake that appeal to both the young and old.
You would never have guessed that despite bridging cultural and generational gaps, Chef Hafiz once considered fusion to be taboo.

"I used to totally despise the idea of combining two different traits of gourmet (food)," says Chef Hafiz, remembering his years in French and Italian kitchens, where he honed his professional instincts.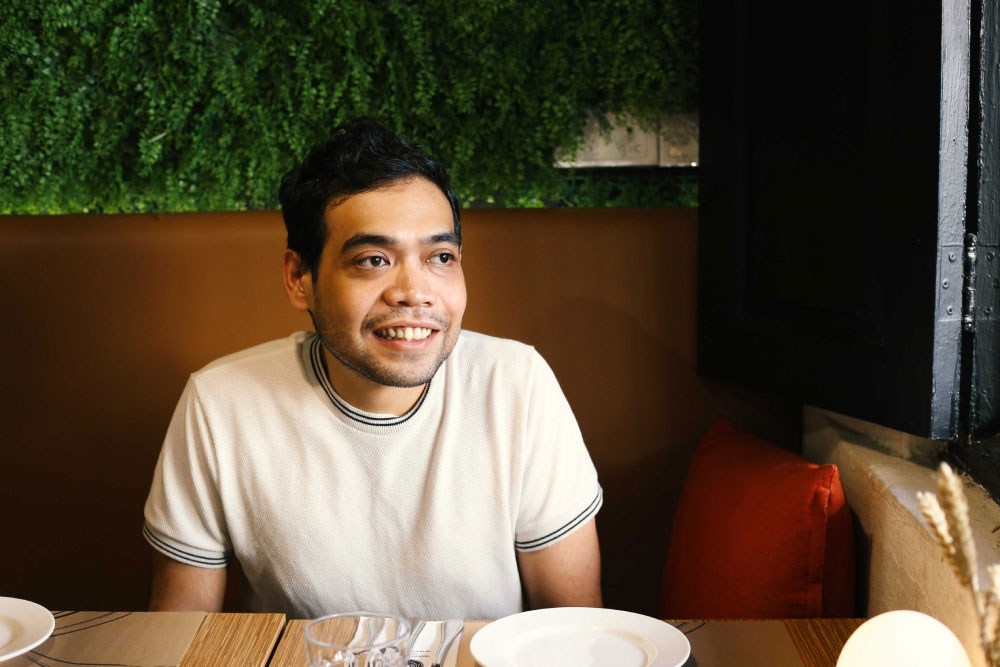 Chef-owner Hafiz Alkhatib wasn't always a fan of combining cooking techniques, but a lack of food options for his parents inspired him to combine western and Asian styles.
Over time, he eventually softened his position on the matter. The shift started with his desire to create a gateway into western food for his family. On previous visits to western restaurants, his parents would not touch a morsel of the food. It was then he decided to present his favourite Malay dishes in new forms for picky eaters like them.
Capturing the authentic taste was crucial; they would not be willing to try otherwise. This was the reason that to this day, a makcik still prepares sauces for dishes like their
Smoked Duck Chili Padi Linguine
to recreate a homely taste. Keen considerations like that, alongside countless experimentations, have led The Malayan Council to expand to three outlets on the back of their popularity.
For Chef Hafiz, fusion food is a compromise stemming from a genuine love for traditional food. He now takes a pragmatic approach, leaving the individual consumers to decide what's messed up or not. Although, he mentions that he would never touch certain dishes like
ketupat
(rice wrapped in coconut leaves in the shape of a diamond), which would be too "extreme" and disrespectful to the culture.
Chef Miller Mai, formerly of Ding Dong
On the opposite end of the spectrum, we have Chef Miller Mai, who used to run Ding Dong restaurant. The restaurant, which is no longer in operation, was known for adopting the clash-of-cultures and old-meets-new as an identity.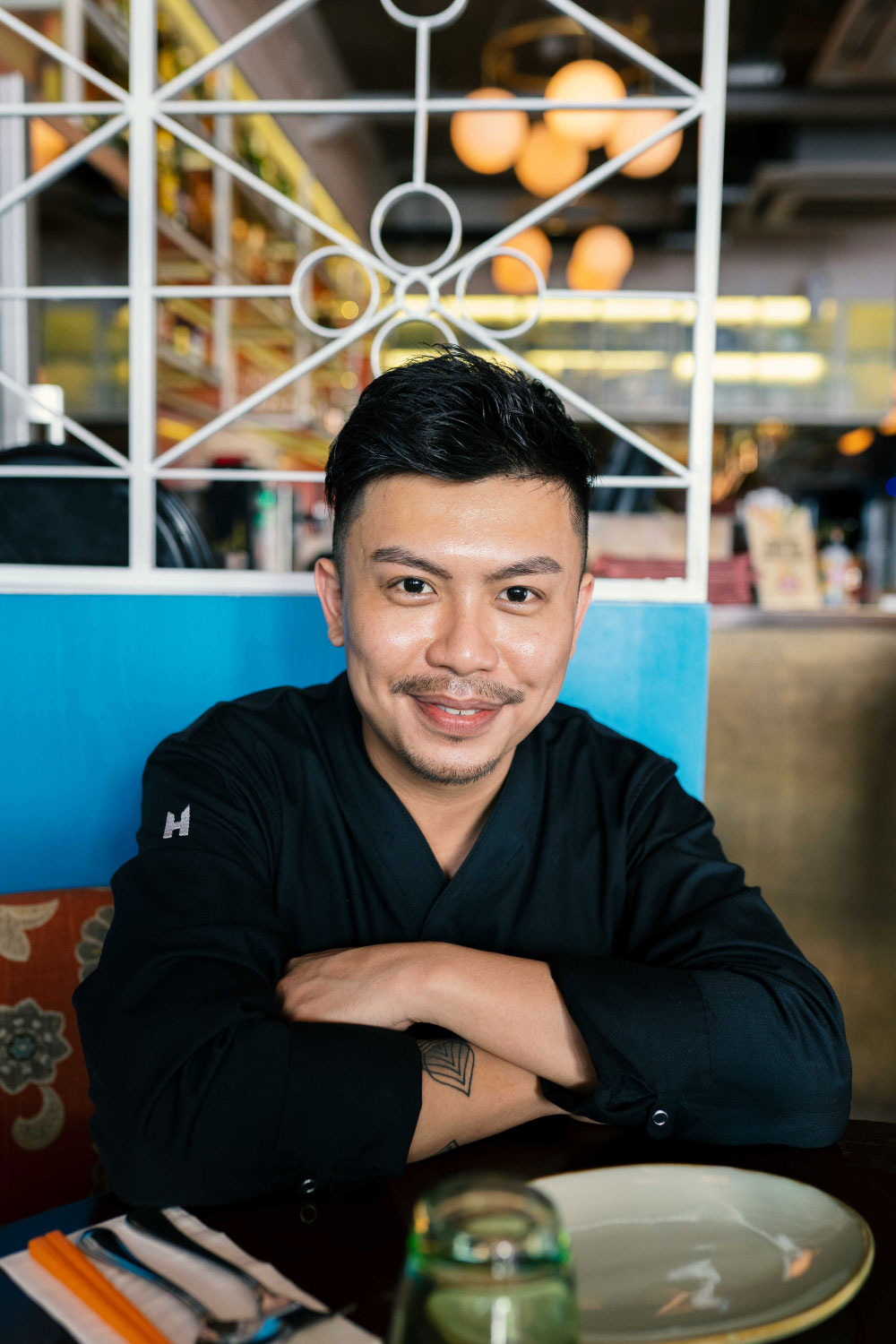 Chef Miller Mai, who used to run the Ding Dong kitchen, believes that food shouldn't stick to a set of rules, but rather, be influenced by our travels and other people.
According to Chef Mai, the identity was about "pulling inspiration from the sights and sounds around us…flavours that leave deep impressions during our travels, and from other great chefs that preceded us."

Tie all of that in with innovation and ever-evolving concepts, and new dishes will constantly be born, resulting in no two dishes being exactly the same.
The menu reflected this. Vietnamese minced pork was moulded into the shape of English scotch eggs, served with pickled cucumbers and nước chấm, a dipping sauce, on the side. Chinese youtiao (doughnut sticks) became a vessel for otak-otak (grilled fished paste) stuffing, complemented by kaffir lime mayonnaise.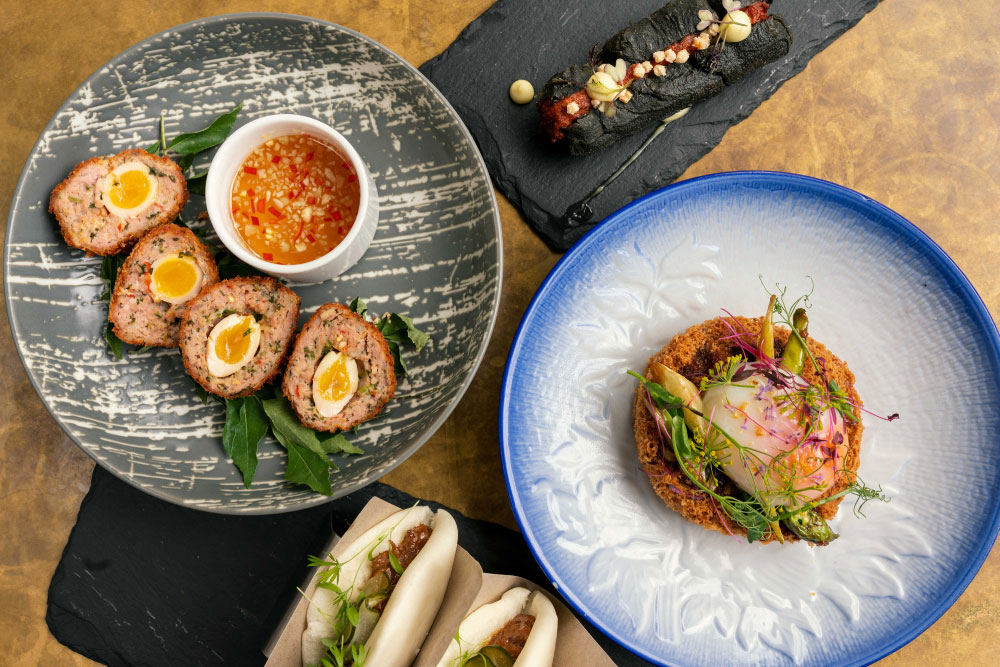 The now defunct Ding Dong restaurant had experimental dishes such as (from top right, clockwise) Youtiao Stuffed with Otak-Otak, Yam Ring with Poached Eggs, Rendang with Kong Bak Bau and Nước chấm Scotch Eggs. 
Sometimes these inspirations are indistinguishable from their origins in both taste and form, like their Scallop Cheong Fun with Ginger Flower Gel — a result of moulding scallops into the shape of the Cantonese rice noodle roll then stuffing it with seafood for a strange cheese-like texture.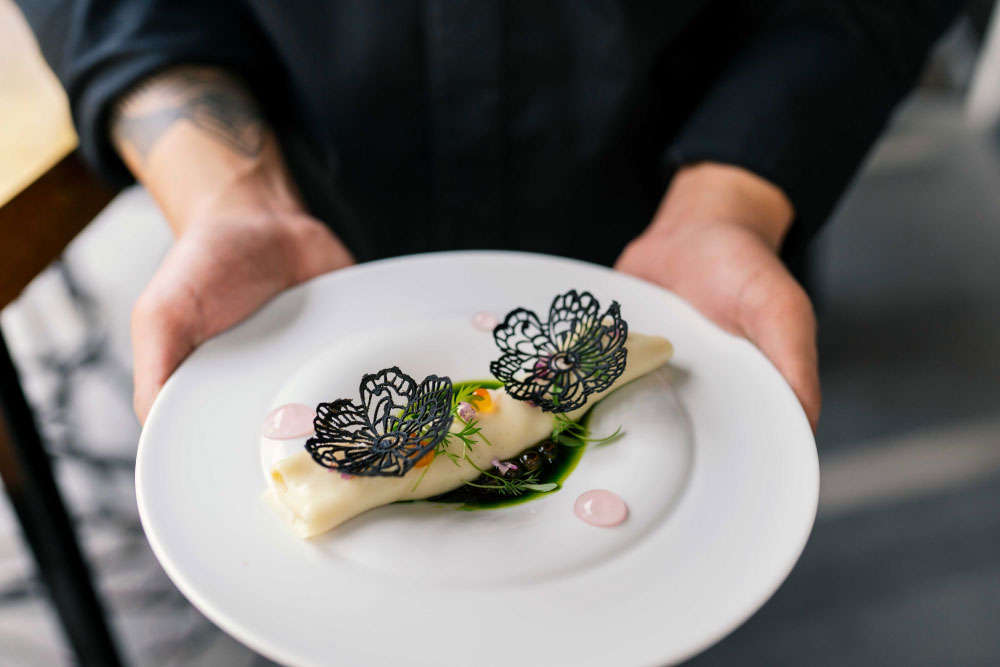 Dishes like Scallop Cheong Fun With Ginger Flower Gel might sound unorthodox, but playing with food  was Chef Mai's way of letting young chefs get creative in the kitchen.
Unlike the simpler joys found at The Malayan Council, Ding Dong had an aim to change the entire dining experience. However, Chef Mai admits that locals might not understand or appreciate Ding Dong's food — its majority of customers were expatriates. More than just a place for consumers to experience new flavours, the restaurant also served as a playground for young chefs to be inspired and for their creativity to flourish. Through the years, he had seen many young chefs leave the trade when they lacked an outlet for innovation.
For Chef Mai, who now runs several western food stalls in the heartlands on a project basis, fusion is about using new techniques with a mix of familiar ingredients, to adapt classic flavours for a more contemporary audience. Like Chef Hafiz, he too aspires to make food approachable to those who might never have thought to try such an experience otherwise.
Fusion, or the practice of borrowing concepts and flavours from another place or culture, seems to be a natural label for the food these chefs produce. Yet, restaurants and chefs would find ways to skirt around using the word. You'll instead find terms like "cross-cultural", "drawing inspiration from", or "mash-up" on menus in attempts to avoid being labelled as 'fusion' food.
"Describing food as fusion leaves a bad taste in the mouth," Chef Mai cautioned me when I asked him about this. Chef Hafiz also revealed a similar aversion to the word.
Dr Leslie Tay of ieatishootipost.sg
The distaste for the word is revealed during a little history lesson with Dr Leslie Tay, of food blog ieatishootipost fame. In the early stages of our culinary scene 20 years ago, branding food as fusion would have attracted a lot of attention. Dishes that came out of the fusion fad such as
Chicken Rice Risotto
or
Quinoa
, never quite became anything of substance.
Later, fusion became a matter of splicing any two random food items together without much consideration for flavour combinations. The term then became associated with lazy attempts to grab attention.
Fusion food is usually a lot of confusion. The word is very passé already.
"The experiment has been done — and it failed," he says before giving off a soft chuckle, sounding a little disappointed.
Ignoring the semantics of fusion (or whatever you want to call it), Dr Tay seemed to agree with me that fusion is a natural process. However, it is neither quick nor easy for a new dish to join the mainstream.
"It takes a lot of attempts to make something a classic. Not every fusion dish is going to be good, but you might chance upon one combination that eventually becomes part of our national dish, like
mee rebus
," he explains. Once it gets to that point, we don't see those dishes as fusion anymore.
Thomas Koh of Koh Brother Pig's Organ Soup
There are also those who consider the discussion moot like Thomas Koh, a third-generation hawker of Koh Brother Pig's Organ Soup.
"Now, you can easily import food from all over the world. You don't have to just source it from the country itself. So, things are bound to mix. Cooking is an expression of the chef, rather than just about the food itself – like a form of art."
Thomas, whose stall is one of the few which still sells glutinous rice intestines, considers fusion a tool to recreate certain tastes. He explains that pig's organ soup used to taste different, as it was cooked over charcoal and contained other ingredients like pig's blood. Now, pig's blood is banned and charcoal has proven to be too time consuming for hawkers to cook with. To recreate vintage flavours lost over time, he has been experimenting with new ingredients like
katsuobushi
, smoked, dried and fermented bonito fish.
At the same time, he notes: "A business can only survive because of the consumer. We have to evolve according to people's taste. That's where fusion comes in."
Like any business, adaptation to ever-changing consumer tastes is necessary for food establishments to thrive.
Kenny and Naomi Ngoo of and SALT
Indeed, hawkers have always utilised fusion to cater to the tastes of consumers. Young hawkers Kenny and Naomi Ngoo, who operate the western stall SALT at Old Airport Road hawker centre, originally considered selling something more traditional like
wanton mee
.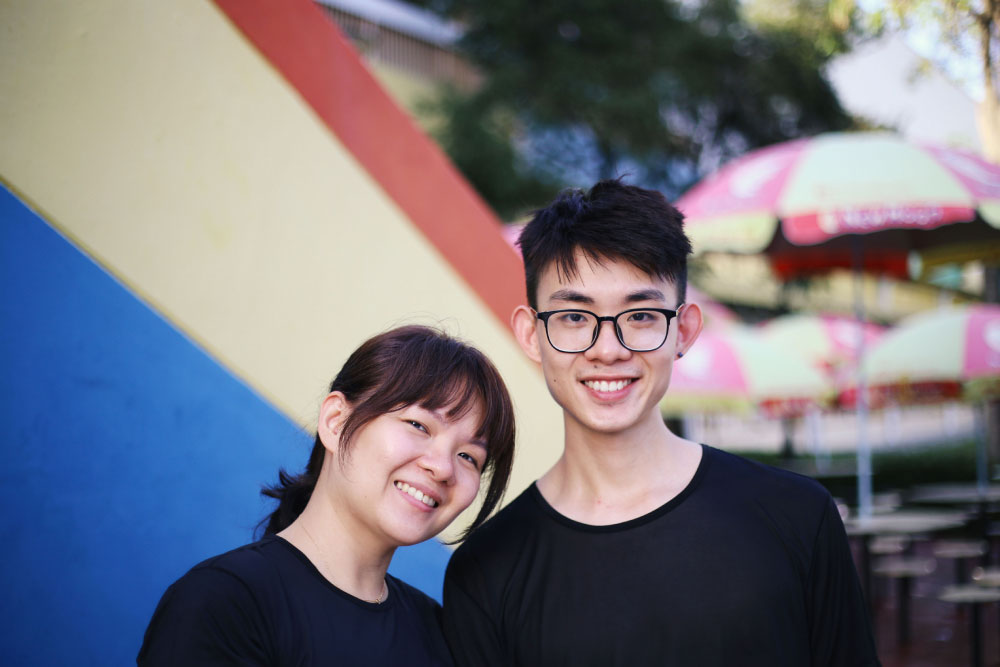 To stand out from the crowd, young hawkers Naomi and Kenny Ngoo decided to go with cooking methods that other hawkers did not use.
But they were met with several hurdles. For instance, traditional fare is pretty saturated as it stands, and it is difficult to compete with stalls which already have recipes honed through decades of selling the same dish.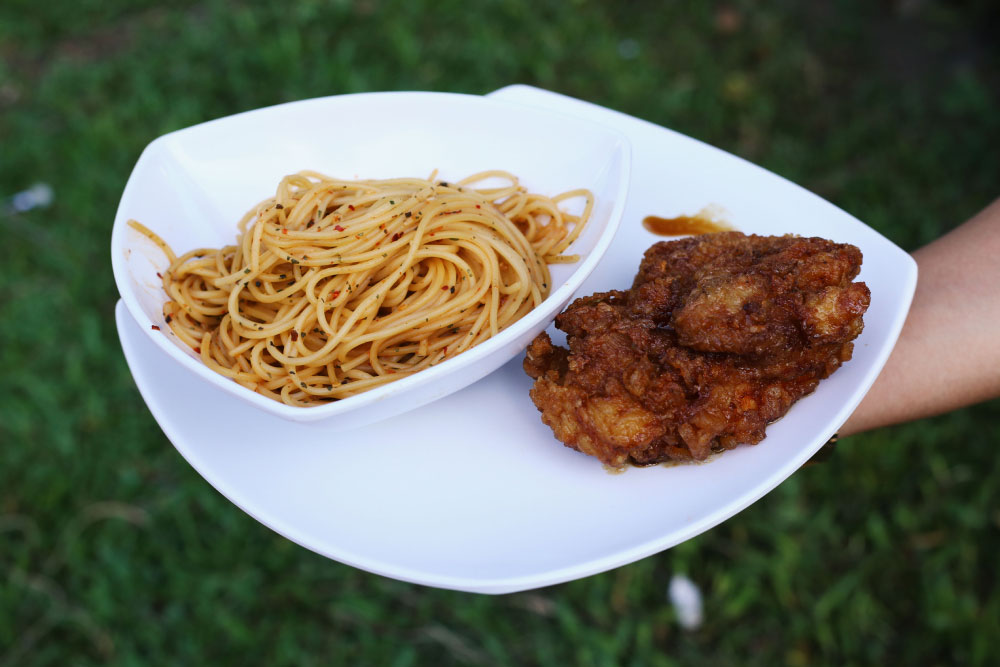 One popular dish at SALT is the Fried Chicken with Aglio Olio, which comes with a special chilli blend that the duo made themselves.
Among other hurdles, this led to the creation of their current menu which uses techniques adopted from various cuisines. The French sous vide technique is used for their grilled chicken, allowing for a better texture. The Korean frying method is used for their cutlets to attain better crisp. They had also injected personal flair into their dishes, like a special chili blend for their aglio olio. All of which has proved to be popular with their customers.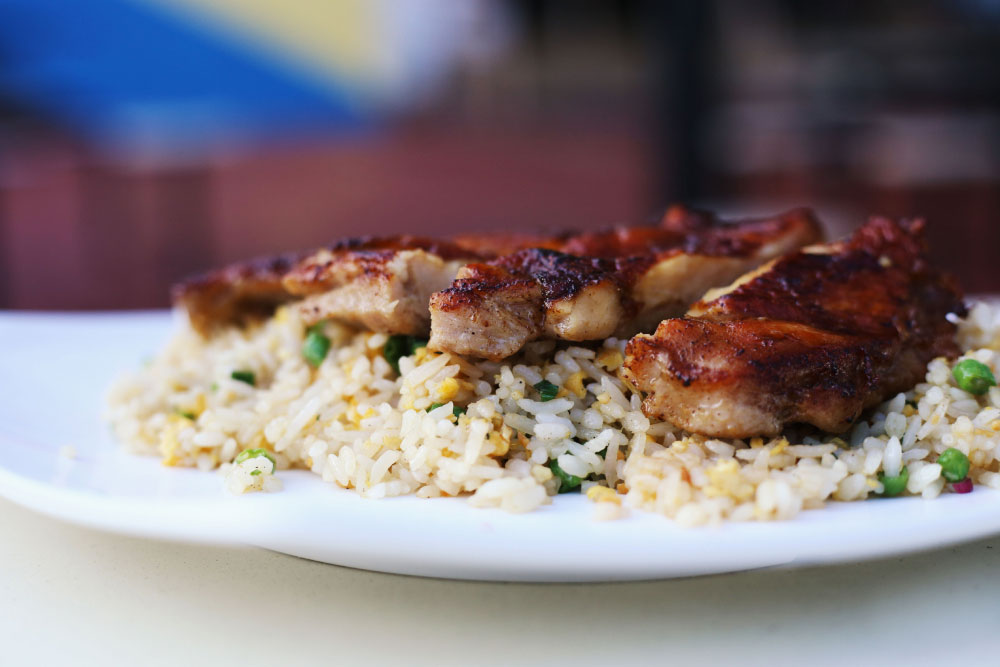 While customers enjoy the varied offerings on the menu like this sous vide Grilled Chicken and Fried Rice, hawkers like Kenny worry about how to keep the quality consistent on the same budget.
In their view, fusion is how food should progress. It also helps that consumers have been very accepting. Kenny elaborates, "It increases the food profile of Singapore. Even nowadays, restaurants are going more towards fusion using weirder and lesser-known ingredients in their food."
Instead of questions like whether fusion food is yay or nay, they worry more about the artificial price ceiling that heritage food faces, due to consumer expectations. Hawker food prices have stayed relatively stagnant for the past 20 years, and as ingredient costs continue to go up, the quality of food can only go down. Thomas echoes this concern and shares some challenges in operating a traditional pig's organ soup stall — the price ceiling often made it difficult to justify improvements due to lower profit margins.
Yay or Nay, Fusion Food's Here to Stay
As Dr Chua Beng Huat, a social science professor, quips in our short email exchange, "I think the preoccupation with 'authenticity' is for media writers; ordinary Singaporeans are only concerned with which mee rebus is better than its competitors in the same hawker centre."
The interest is not in 'authenticity' but which tastes better.
Regardless of the arguments people have about fusion food, it remains a fact that the culinary scene will continue to develop around the changing tastes of consumers. For example, popular stalls like Ah Tan Har Cheong Gai and A Noodle Story continue to celebrate our food heritage: they don't just serve local, non-fusion dishes, but have also introduced alternative fusion choices.
The former serves
har cheong gai
(prawn paste chicken) with an improved frying method, while the latter serves up a bold re-interpretation of
wanton mee
. Appreciation of our local cuisine remains pivotal in the creation of these dishes — not a haphazard thought.
For now at least, messed up or otherwise, fusion food is here to tickle our taste buds yet remind us of dishes we've grown up to love and savour. Be it our bubble tea hot pots or mala ramen, one thing's for sure — this giant gastronomic experiment is going to be around for quite some time, alongside our
mee rebus
and
hor fun
.