Making food a truly social experience
There's been an ongoing conversation about the future of our local dishes. Those in the food industry say social media could help the cause, though hawkers still face challenges.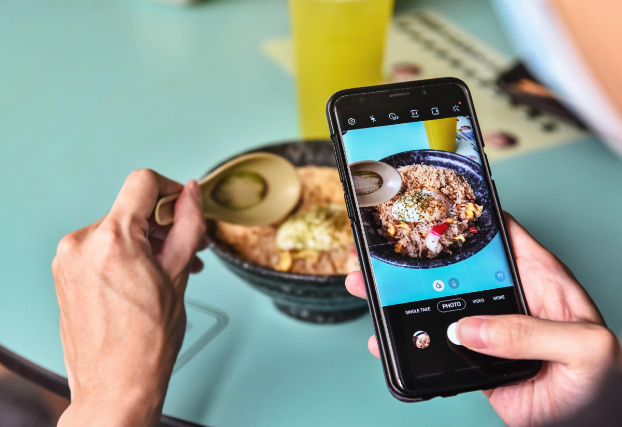 From smartphones to professional cameras, Singaporeans are ever ready to capture their meals for posterity.
Head to any café serving brunch or a HungryGoWhere-rated food establishment, and you may see a ritual taking place. As soon as food is served, many diners clasp their hands, with a smartphone in between, and give thanks by clicking the shutter button.
Whether it's a slice of memory for safekeeping or making our social media followers jealous of our gastronomic choices, our need to document what we eat with photos is usually driven by the visual appeal of what's on our plate. Cupcakes with multi-coloured frostings or a meat patty oozing juices while sandwiched between two charcoal buns? Leave your stamp of approval with a #foodporn hashtag.
When picture perfect dishes were all the rage on Instagram, more often than not, simply plated hawker food didn't get the same love. Unlike a smoothie bowl with its symmetrically arranged fruit, or a perfectly poached egg atop a French brioche, hawker food just doesn't exude the same gastronomic sensuality.
Hawker Food Goes Online
But in a nation of foodies, taste always triumphs looks.
Food influencers started reviewing and photographing hawker food — alongside the pretty, atas dishes — and even interviewed the hawkers who whip up these local favourites. Seeing as how people embraced these stories, young hawkers who were new on the scene were inspired to take to the 'gram to boost their own presence..

Not only does it help hawkers increase awareness of their stalls, social media also offers them a way to reach out to customers on a more personal level that hopefully translates into loyal patronage.
Jason Chua, the co-owner of Beng Who Cooks, is active on Instagram and Facebook, where he posts pictures of his dishes as well as humorous snippets of his life as a hawker. This millennial, who started with a "modern mixed-rice" stall at Hong Lim Market and Food Centre in 2018 with his partner Hung Zhen Long, is adamant that social media is an essential factor in the hawker equation today. "Without that social media awareness and marketing, it's hard to put your stall out there. So when I first started, I posted a lot of pictures of my food — I had to plate them nicely — on Instagram to get people's attention."
The effect was profound. Within six months of launching his Instagram account, the number of likes on the photos quadrupled and Jason saw a sizeable increase in business. His second-phase of his social media marketing was perhaps rather more unusual. Instead of posting food photos, the young hawker put himself in the spotlight with kitchen selfies and pictures of his other passion: boxing.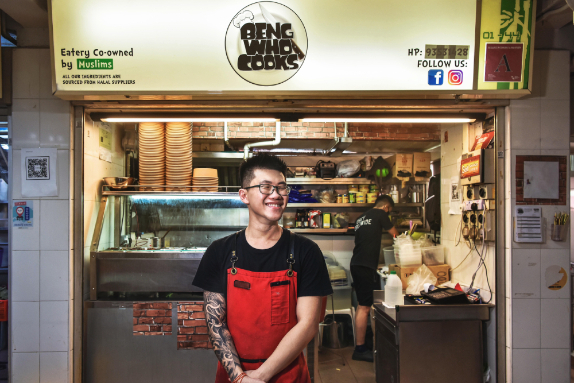 Jason Chua, co-owner of Beng Who Cooks, poses in front of his hawker stall a few weeks before the big move to the new restaurant premises at Neil Road.
His rationale? He wants to create a personality that his customers can connect with, and let his food "do the talking" when they actually taste it themselves. "I want Singaporeans to better understand the hard work that hawkers like me have to put in every day, and also relate to how I am chasing my culinary passion," he says proudly. Beng Who Cooks has since moved to a new space to continue the next chapter of its story (see sidebar).
For The Love Of Cooking
Hard work is synonymous with the hawker business.
Also at Hong Lim Market and Food Centre is Debbie Yam, a fourth-generation hawker who helps her grandaunt run the family's 70-year-old zi char stall Tang Kay Kee Fish Head Bee Hoon. Debbie spent much of her childhood helping the family business. Yet, even with that experience and a stint at a café, she still found being a full-time hawker a gruelling challenge when she first started.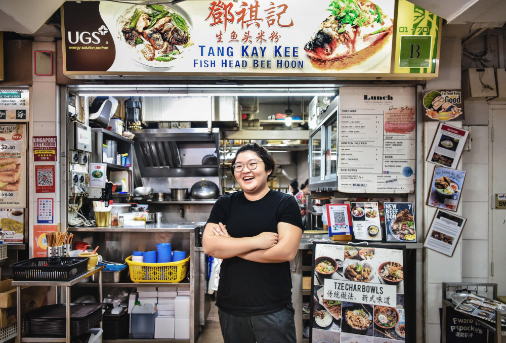 Fourth-generation hawker Debbie Yam is not afraid to put in the long hours and hard work to make sure the family business carries on.
"Nothing prepares you for the heat and the long hours standing," she says with a laugh. "I'd tell young Singaporeans who want to be part of the hawker industry that they really need to overcome these physical demands of the job first."
What gets me through each long day is my passion for cooking. You really need true passion if you want to make it as a hawker.
But the hawker industry is not always a forgiving one, though some like Debbie and Jason belong to a group of young stall-owners who have found ways to make it work.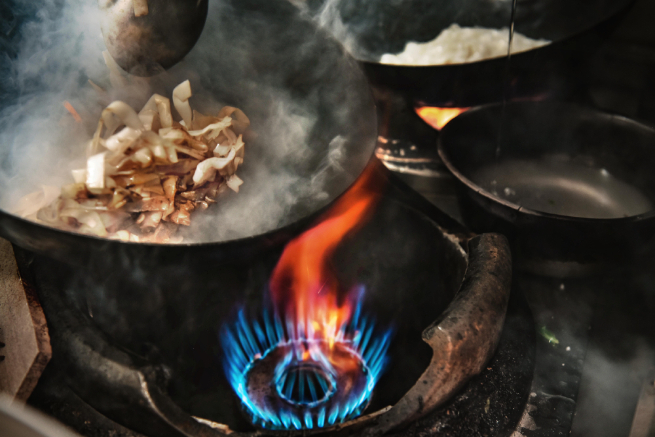 Young aspiring hawkers must be prepared to toil in hot and smoky conditions in their stalls every day.
Tan Wee Yang, the owner of prawn paste chicken wing stall Ah Tan Wings in his late 20s, was unsure if he was going to last in the industry. Fortunately for him, it's business as usual — for now. After struggling for the first nine months since opening his stall in 2017, he reveals he's "doing okay", with his love for serving good food still pushing him on.
Safeguarding Our Tradition
With the median age of hawkers at 59, many hawker food fans are worried that a truly homegrown culture might be lost one day if there are not enough younger Singaporeans to take over.

Could this be our worst nightmare? Generic food courts, fast-food restaurants and imported food brands may soon replace the grounds where bustling hawker centres once stood. Those with the know-how of the industry remain cautiously optimistic about the future.
"If the number of hawkers falls, we may see a consolidation of food centres in certain key areas with only a limited range of dishes," says Eunice Quek, a food correspondent at The Straits Times.
"There will be fewer stalls selling traditional food like Hokkien mee and char kway teow, and there will be more modern types of dishes and even 'hipster' food. The consolidation will be a shame, but inevitable, if we want to keep the hawker scene alive and varied."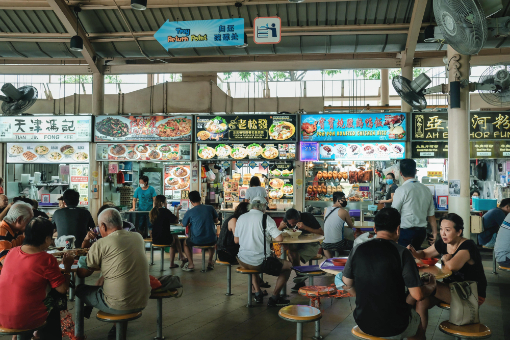 Hawkers have always adapted their recipes to changing taste buds and attract new customers. (Photo taken in December 2020, in adherence to prevailing Safe Management Measures.)
Purists will mourn the loss of our age-old hawker favourites, and it seems increasingly unlikely that we can hold on to tradition forever. But let's face it. Hawkers have always been the masters of innovation, creating dishes for the times they were in and ever-changing taste buds. Our beloved chicken rice, chilli crab, fish head curry and even kaya toast were adapted by immigrants who came to Singapore way back in the day. Now, as a new generation takes over, it is exciting to see they how they can put a new spin on the classics — especially when they are just starting out as hawkers.
Wee Yang, who prior to running his hawker stall was selling his fried chicken at pop-up markets, felt the need to differentiate himself with an innovative twist on a well-known dish. So, he designed new ways to serve his har cheong gai (prawn paste chicken), such as pairing it with chicken rice and a home-made chilli sauce.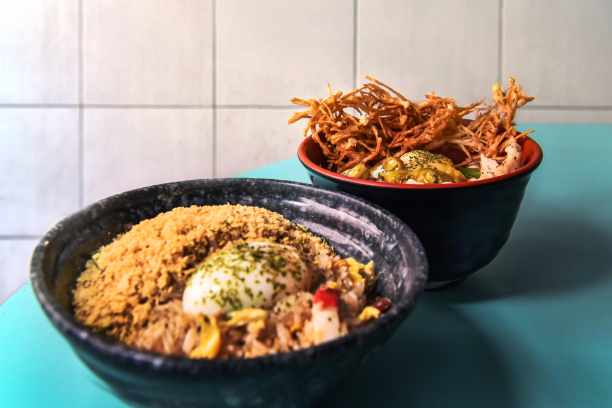 Tang Kay Kee Fish Head Bee Hoon's fried rice and hor fun bowls put a modern spin on classic hawker fare as young hawkers reinvent the wheel to stay alive. 
Debbie also introduced a modern lunch menu at her grandaunt's stall to cater to the CBD lunch crowd — classic hor fun and fried rice served in fancy-looking bowls, and topped with a sous-vide egg for that extra Instagram oomph. During the Circuit Breaker period, the stall launched its own delivery service for the first time to ensure that customers could still satisfy their cravings even if they could not leave their homes.
It may not be easy to uphold tradition entirely too as many older hawkers are still very protective of their recipes and not willing to pass them down, adds Jason of Beng Who Cooks. "Even if young hawkers like us can replicate the fundamentals of a dish, that one missing secret ingredient would mean it still won't taste the same as before."
Young Hawkers Band Together
Another crucial ingredient of the longevity of the hawker scene is the collaboration among young hawkers.
It's different from some older hawkers who tend to compete with one another, sometimes a bit too aggressively, says Jason, based on his observations of his neighbours at the food complex.
"Even if two stalls are selling the same dish, it's okay because that can help to reduce the burden during peak periods.
What's important is that we work together to keep customers wanting to come back, that's when we'll all benefit as hawkers.
One such initiative of that kampung spirit is the $1 Carnival at Yishun Park Hawker Centre in June 2019, where Wee Yang and some 25 other stall-owners sold their dishes at just one dollar. "More of such ground-up initiatives among hawkers would definitely bolster the collaborative spirit and entice more people to visit hawker centres," he says.
Starting Them Young
To get our children to continue visiting hawker centres, they need to fully appreciate the importance of Singaporean food too.

Instagramming hawker food and hawker stalls with a digital presence no doubt help to raise youths' awareness. But our children's education must go deeper than that to make them feel connected to their cultural roots and the hawker business, muses renowned food blogger Dr Leslie Tay of ieatishootipost.sg. He suggests that instead of getting them to learn how to make western dishes or baked goods like muffins, they can learn how to cook local dishes and desserts instead in home economics classes.
Displaying a level of maturity, and pride in their cooking too, Jason, Debbie and Wee Yang are resolute in their opinion that Singaporeans should not support young hawkers only because they are young and struggling.
Debbie says, "Good food and service is always our priority, and we want Singaporeans to support that and appreciate the effort and quality of our cooking."
Ultimately food culture, like the society it feeds, is constantly changing and evolving, and with that our perception of the value of hawker food needs to move with the times too. If we are willing to recognise the hard work and costs that go into a hawker's wok, instead of expecting a low price just because of a less refined dining ambience, then perhaps our hawker scene may see a rebirth and bring it back to its roots — a kampung where talent and the heart for good food combine to delight our taste buds with distinctive flavours.