Redefining the way we play - highlights from Singapore Art Week 2023
What happens when you combine play and art? You get an art week unlike any other. In case you missed it, the 11th edition of the Singapore Art Week (SAW), held between 6 January to 15 January 2023, featured an impressive line-up of more than 130 on-ground and online experiences such as art fairs, festivals, interactive projects and exhibitions. Here are some highlights that explored the vast and endless world of play — and how they're reimagining the way we interact with the community.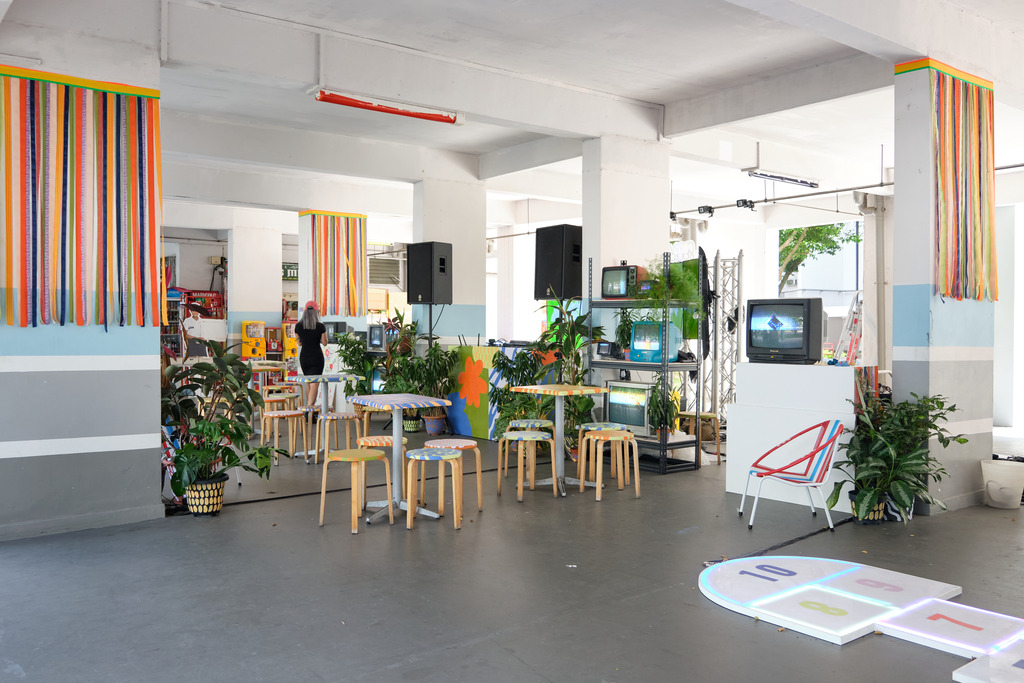 A SERIES OF SERIOUS PARTIES setup at Block 465 at Ang Mo Kio.
A SERIES OF SERIOUS PARTIES by PLAY!
Tucked away in the bustling heartlands was an installation that is anything but ordinary.

The charming void deck of Block 465 at Ang Mo Kio Avenue 10 was transformed into an epic, multi-sensorial playground for its residents; one that was so unique and immersive that it saw a steady stream of patrons young and old at all hours of the day interacting with the various elements of the installation.

From LED hopscotch to DJ sets with sound-reactive visuals, A SERIES OF SERIOUS PARTIES pays homage to local childhood games and HDB void decks. The brains behind this installation is PLAY!, an artist collective that curates cross-generational workshops and performances.

"I have always been curious about the humble void deck — a lot of writing has been done about the evolution of the space. While I'm still learning more about its history, I would also like to contribute to the conversation here; to perhaps find new meaning for the space. So this is my take on what a fun RC corner would look like!" shared Clare Chong, a creative and co-founder of PLAY!.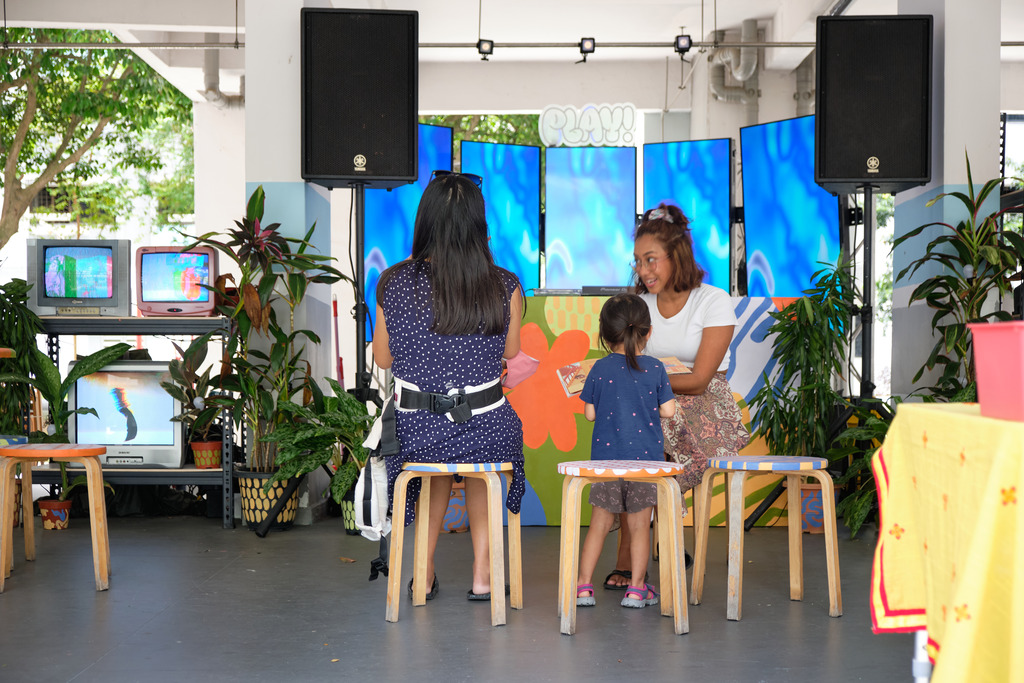 Singer and actress, Nadya Zaheer at a storytelling session at the installation. These storytelling sessions which are catered for children aged between 4-12 years, involve the sharing of books written by Singaporean writers in different languages.
A key feature of the installation is the interactivity, and Clare and her team made sure that this came through strongly. "I wanted to help people experience a sense of fun, childlike wonder, no matter how old they are. For instance, the painting sessions have been such a hit with the residents, and we've been seeing a lot of aunties and kids coming down everyday just to create a work of art to call their own. Ultimately, I want to give people the space and freedom to enjoy new experiences and interactions. That's what art should be about."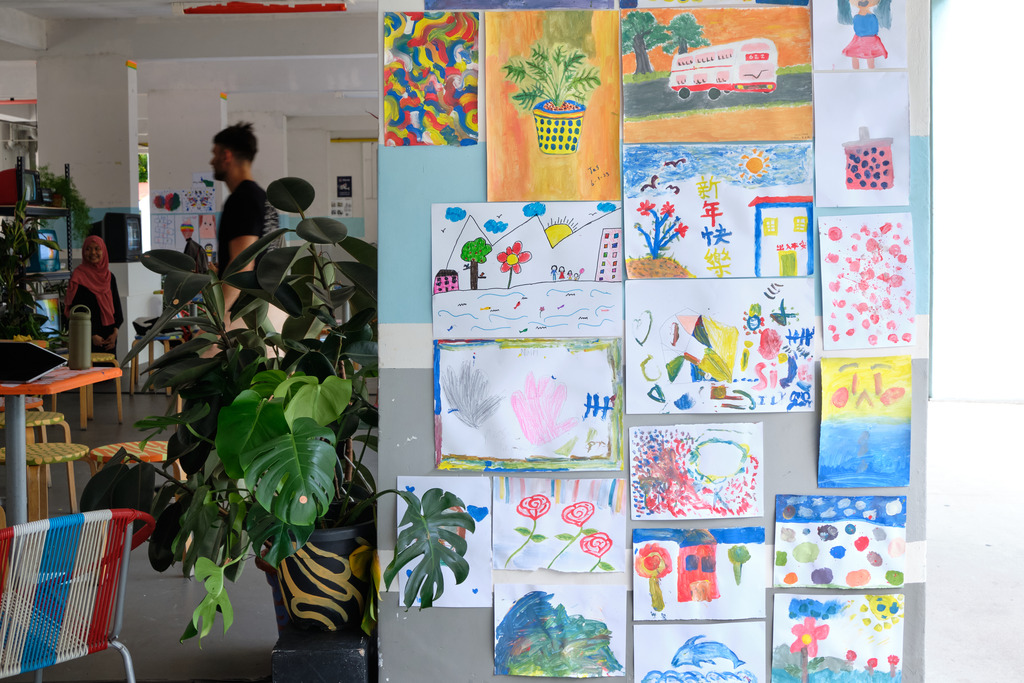 Artworks from the public on display.
Colourful tables are placed to invite visitors for a game of five stones. 
When asked about her favourite part of the installation, Clare fondly shared that it was seeing the community come together. "It's the little moments — neighbours teaching each other how to play five stones, an aunty who breaks out into full dance mode when we played house music, a grandma teaching her grandson how to play hopscotch. These are such precious moments, and I'm happy that we were able to contribute in creating these memories for them."

If you're a fan of 'A SERIES OF SERIOUS PARTIES', be sure to follow PLAY! on social media (@anyhowplayplay) for their latest updates and possible collaborations.

Kuti Kuti? Playground by Jia Qi Quek and Aaron Lim
Some of you might remember purchasing packets of colourful plastic tokens that came in all sorts of shapes and playing the classic game of kuti kuti, where players would flip their tokens onto that of their opponents' in order to win.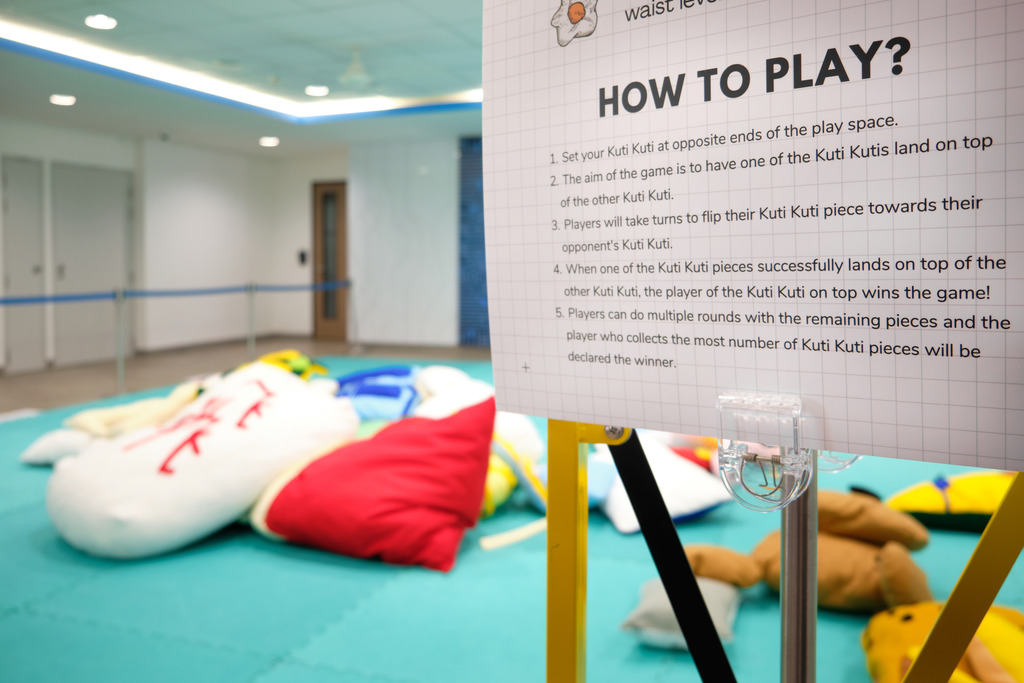 Guide on how to play 'Kuti Kuti?', a  life-sized soft sculpture playground housed at Radin Mas Community Centre.
This memory inspired creative duo Jia Qi Quek and Aaron Lim to create their inter-generational community arts project titled 'Kuti Kuti?', where individuals are invited to create a life-sized and personalised version of the kuti kuti token. The initiative was one of five projects under the inaugural SAW X PAssionArts 2023 collaboration, which saw artists devising art activations in various neighbourhoods across Singapore.

At the exhibit you'd find a curious and colourful collection of giant handmade plushies piled up on the floor. These soft sculptures, doubling up as kuti kutis were created through active collaboration and conceptualisation amongst the community, with a diverse range of participants between the ages of 1 to 82 years old!

When asked about the inspiration behind this exhibit, the duo shared how they realised many childhood games of the yesteryears have declined in popularity with the advent of the digital age. "Beyond childhood toys and nostalgia, Kuti Kuti got us thinking about the spirit of play, and how it has remained an integral part of our lives despite the evolving times. We also wanted to open the dialogue surrounding play across generations through this game that is familiar to the older generation, but foreign to the younger generation."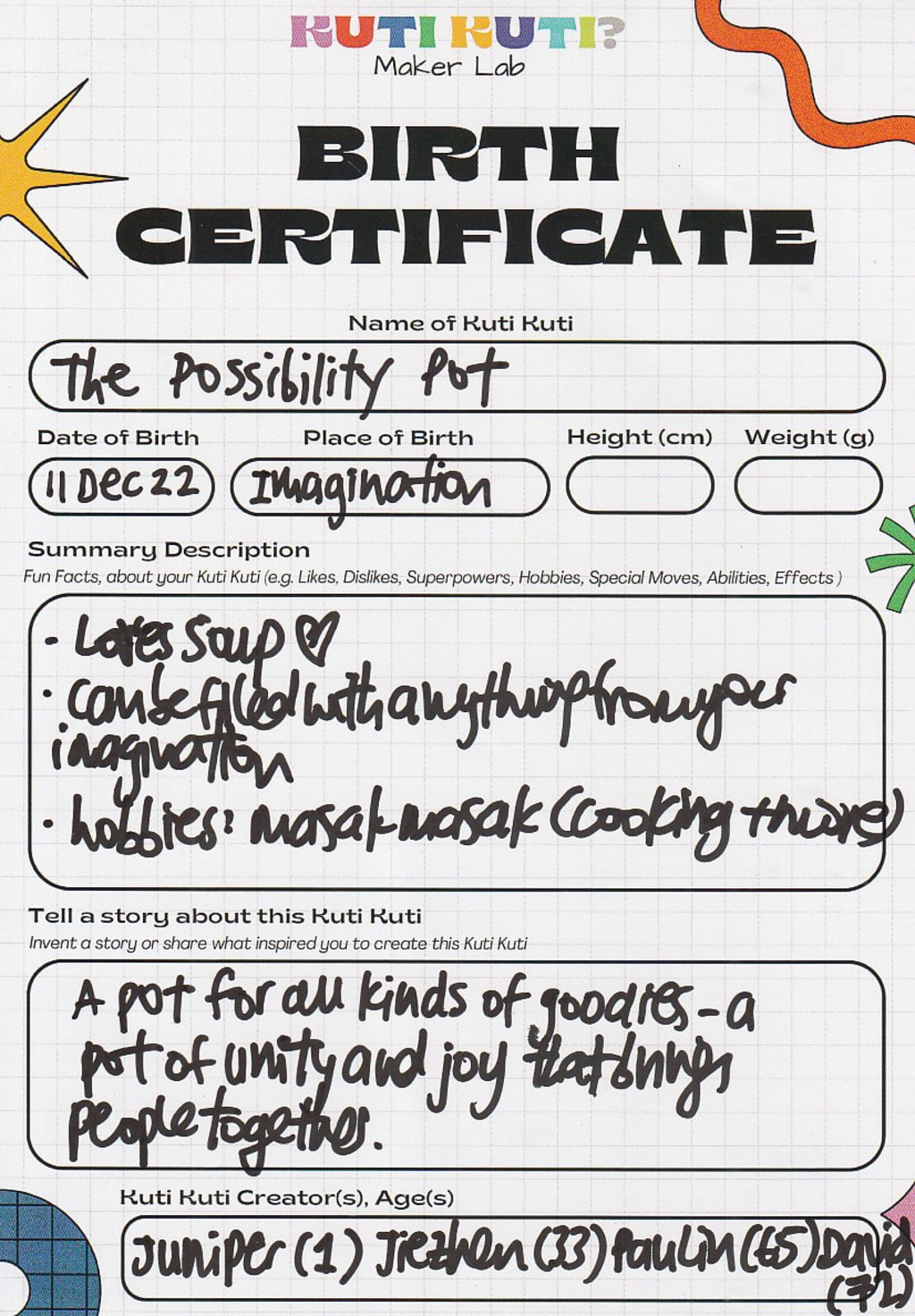 Birth certificate that shares the story behind the creation of 'The Possibility Pot'. Image credit: Kuti Kuti? Playground.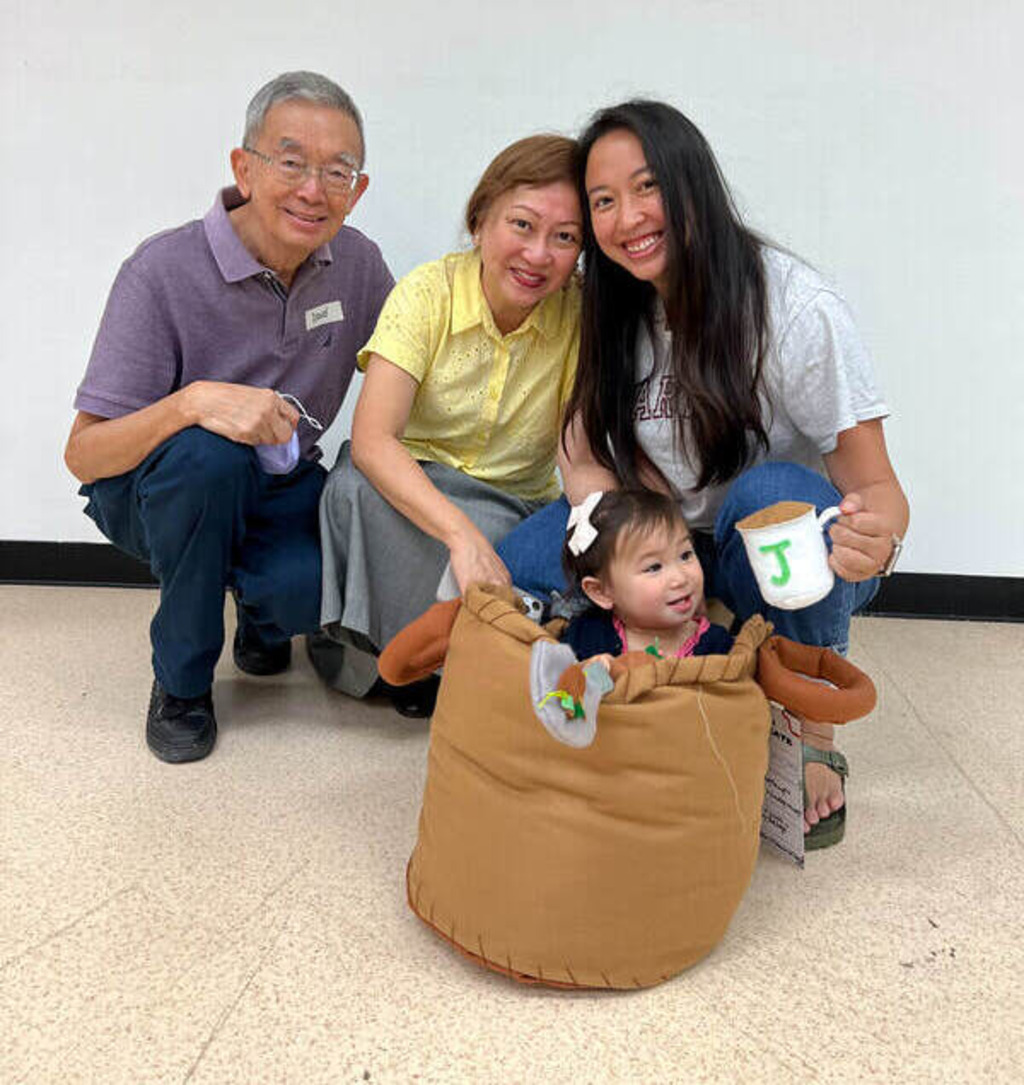 The multigenerational family behind 'The Possibility Pot'. Image credit: Kuti Kuti? Playground.
What is unique about the exhibit is that each kuti kuti you find comes with a deeply personal story. When asked about their favourite kuti kuti of the exhibit, the duo shared that they loved them all, because each piece has been lovingly made by the participants. "If we had to pick one that stood out to us the most, it would be one that was created by a multigenerational community, called 'The Possibility Pot', a cooking pot with ingredients inspired by their shared memories of playing masak masak, a children's game of playing with toy food and toy cooking utensils.


Stickers from the public expressing what 'play' means to them.
"To play is to adapt, to invent, to experiment, to take risks. Play is how we develop as a society, and so we hope this collaborative exhibition has helped inspire audiences to consider how play might be a way we can create new order and adaptability," shared Jia Qi and Aaron, when asked about what they hope individuals will takeaway from their installation.

For fans of Kuti Kuti?, Jia Qi and Aaron are hoping to create more iterations of this community project, so follow them on social media (@kutikuti_playground) for more updates!
Let's Play Ball! — Art That Fits In Your Palm by Knuckles & Notch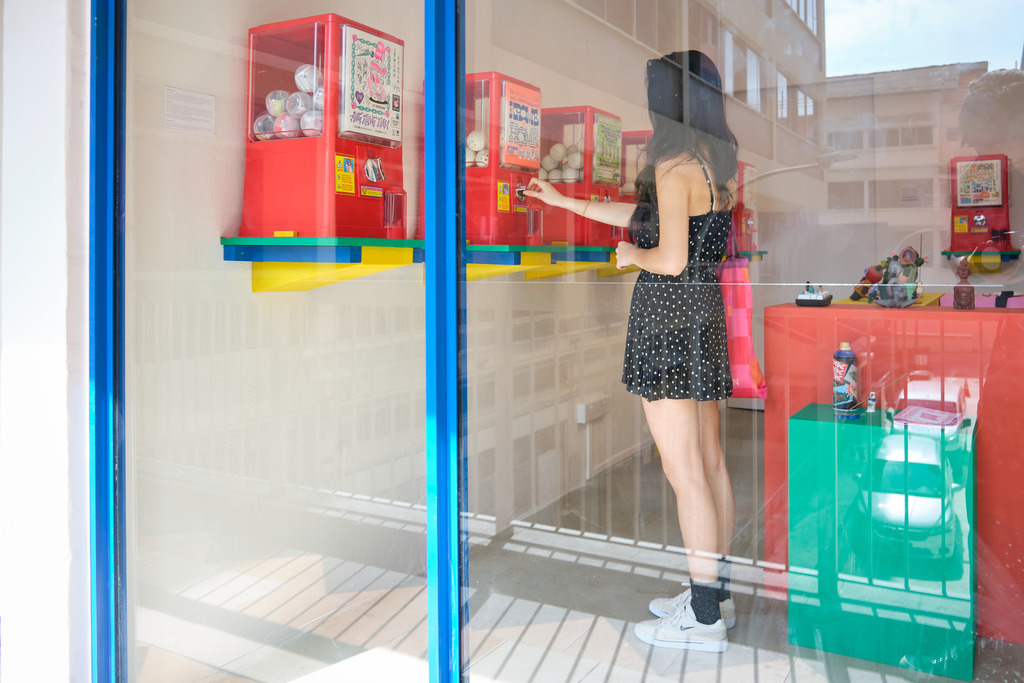 A visitor trying out the gachapon machine.
The allure of the gachapon, which are coin operated capsule machines, boils down to the excitement of not knowing what you will receive. The team behind Knuckles & Notch, a Risograph publishing and print studio based in Waterloo Centre, decided to retain the element of novelty and surprise while adding an artsy twist to it — dispensing limited-edition objects and collectibles lovingly crafted by ten local visual artists, presented through different art mediums. Featured artists include highnunchicken, Bungle Jym (Ng Yin Shian), Rafi Abdullah, and Sandy Wang, amongst others.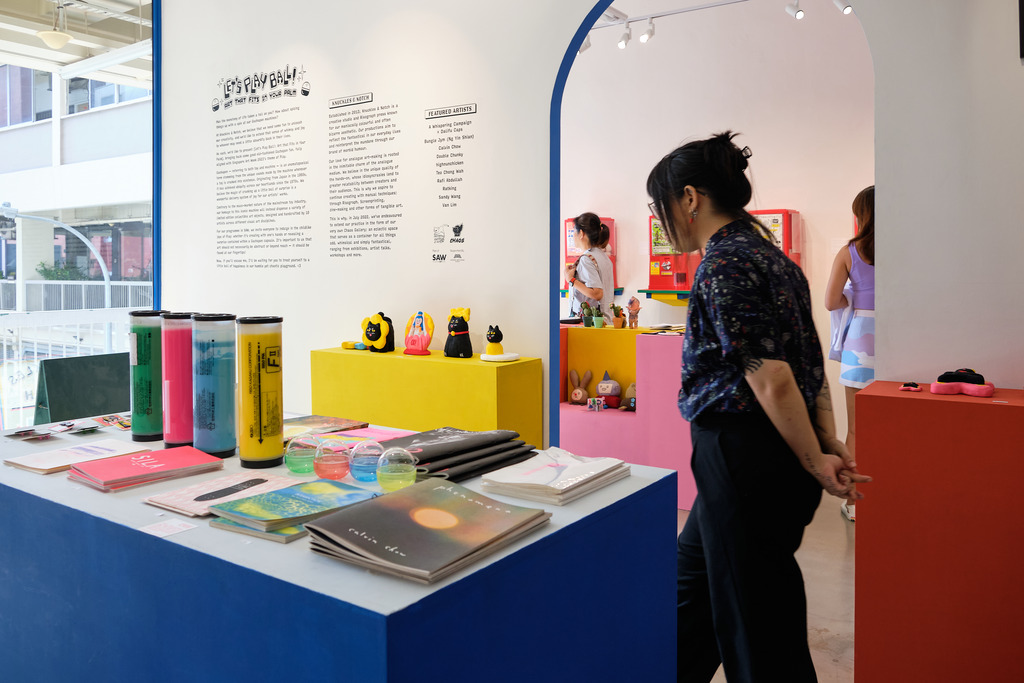 The 'Let's Play Ball!' exhibit not only features the gachapon machines but also art pieces by the respective artists.
Besides our usual Risograph works we're known for, we wanted to explore art on 3D objects and present them in ways that are fun for our audience. Moreover, the gachapon has always had a magical and playful quality that is so representative of our studio," shared Marl, co-founder and studio manager of Knuckles & Notch's.
The walls of their studio were lined with the brightly coloured gachapon machines, each filled with unique art pieces, ranging from ceramic art pieces to hand sculpted mechanical keyboard caps. "We wanted to give artists the freedom to explore themes that hold meaning to them. So the concepts and stories behind all the art objects found at the exhibit were unique and distinctive, each standing out on their own," said Marl.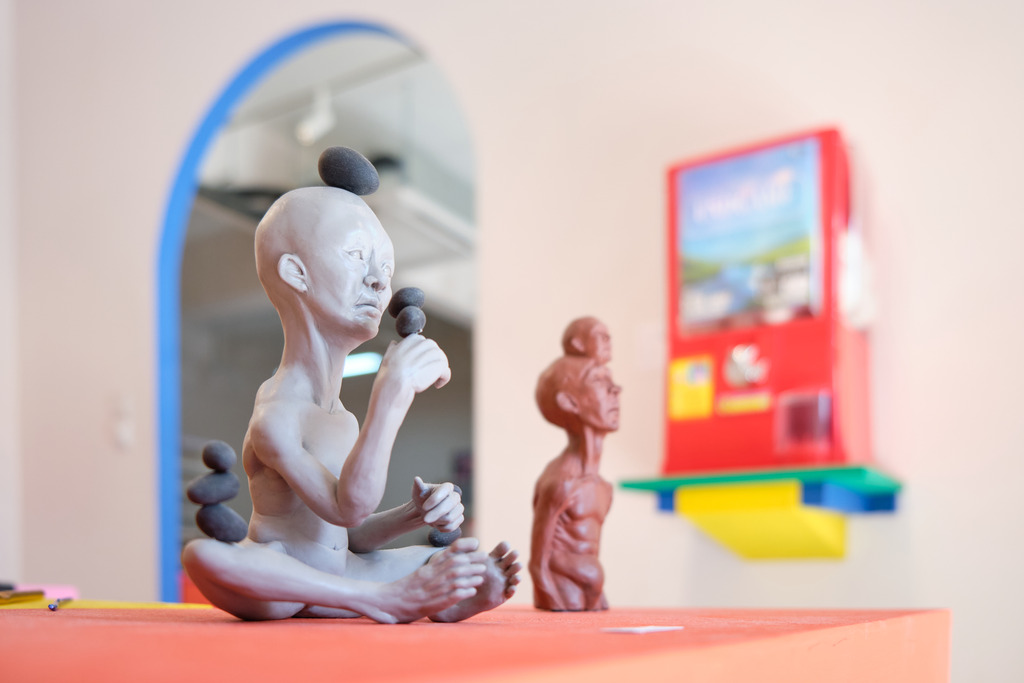 Ceramic sculpture by Kit (@kitctrlaltdelyou).
At all corners of the room you'd find the excited chatter from guests visiting the exhibit, each hoping to score their favourite art piece. Apart from taking home a collectible, guests were also invited to purchase a unique gachapon poster printed in Risograph by the studio, featuring the artist's work.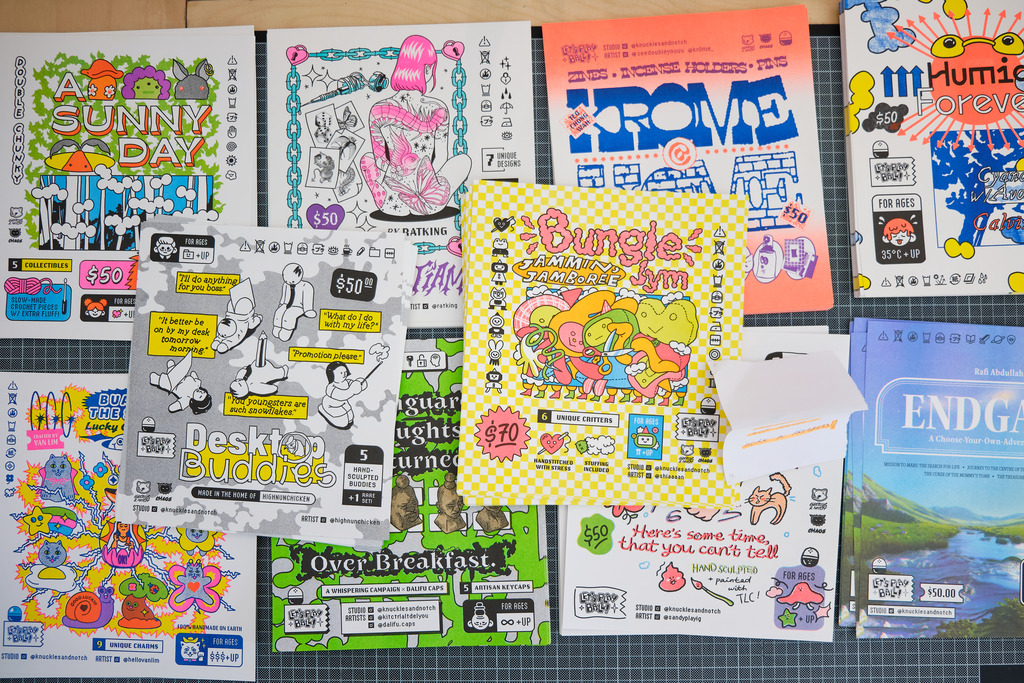 Visitors can purchase and bring home these posters created by the artists.
Fans of Knuckles & Notch can expect to find more groundbreaking and playful works from the studio in 2023. "Expect something weird, unusual and maybe even funny! We will let the art we have, the kind of collaborations, the exhibitions and programmes we put up do the talking," said Marl. So keep your eyes peeled for more from this wild and wonderful studio by following them on social media (@knucklesandnotch)!
This year's SAW may have concluded, but it has definitely stoked the flames of creativity in our Lion City. If you missed out on the festivities this year, fret not — you can still check out the virtual exhibitions hosted on the
SAW website
. Don't forget to follow @sgartweek on Facebook, Instagram and Telegram for the latest in the arts community!
Singapore Art Week
Helmed by the National Arts Council, Singapore Art Week (SAW) is a representation of the unity and pride of a diverse and vibrant arts community in Singapore. For more information, please visit their
website
.