What makes local art Singaporean? Local artists decode street art and national heritage
Kaya asks artists Zul Othman and Yip Yew Chong for their perspectives on art in Singapore.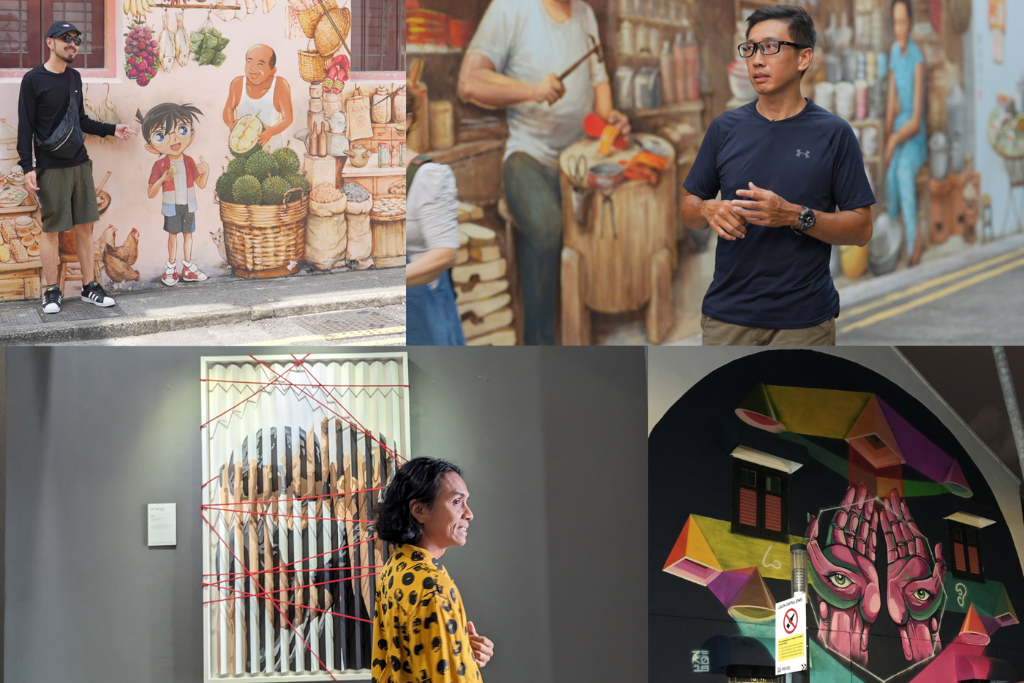 Top: Wall Mural Artist Yip Yew Chong, Bottom: Gallery Curator, Art Lecturer and Veteran Street Artist ZERO.
Murals and street art have grown popular in recent years, adding colour to Singapore's orderly urban landscape. From rainbow-bright kaleidoscopic collage in Joo Chiat, to nostalgic murals in Chinatown and cheerful graffiti-style batik motifs in Kampong Glam, street art continues to pop up in neighbourhoods across Singapore.

But what do these artworks say about Singapore? Kaya speaks to veteran street artist Zul Othman (a.k.a. ZERO) and wall mural maestro Yip Yew Chong to investigate the essence of street art and what makes it Singaporean.
Trading accountancy for the artist's life
For self-taught artist and former accountant Yip Yew Chong, 54, mural painting started out as a hobby. But he has painted over 70 wall murals across Singapore. His work infuses his own childhood memories into nostalgic scenes of Singapore in the 1970s and '80s. He says his work is an exploration of what it means to be Singaporean.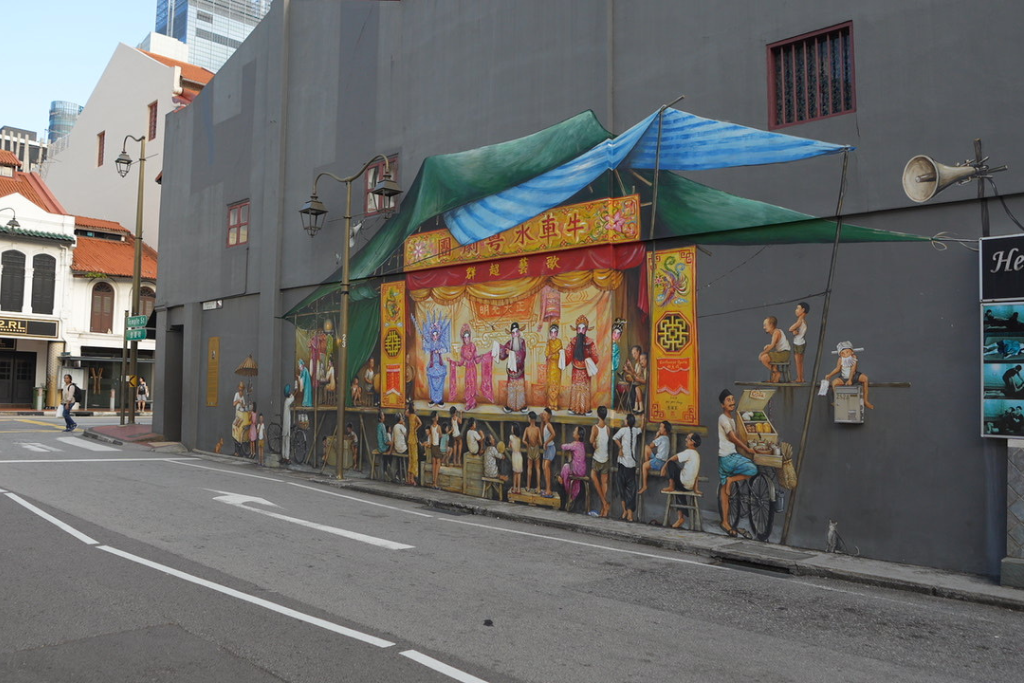 Yip Yew Chong's mural on Temple Street, depicting Chinese opera, which was popular entertainment in Chinatown in the 1960s. 
One of his latest works is a mural of Lau Choy Seng, a crockery store from the 1960s, which still exists as a third-generation business in Chinatown. The mural is a tribute to its humble beginnings, depicting the Lau family's clog-making services, which ceased after rubber sandals became popular in the 1980s.

"National identity is an accumulation of daily life experiences of people and places. By painting daily life, I'm expressing what we see, what we hear. As an artist, I feel that I help people to connect themselves with our history and heritage," he says.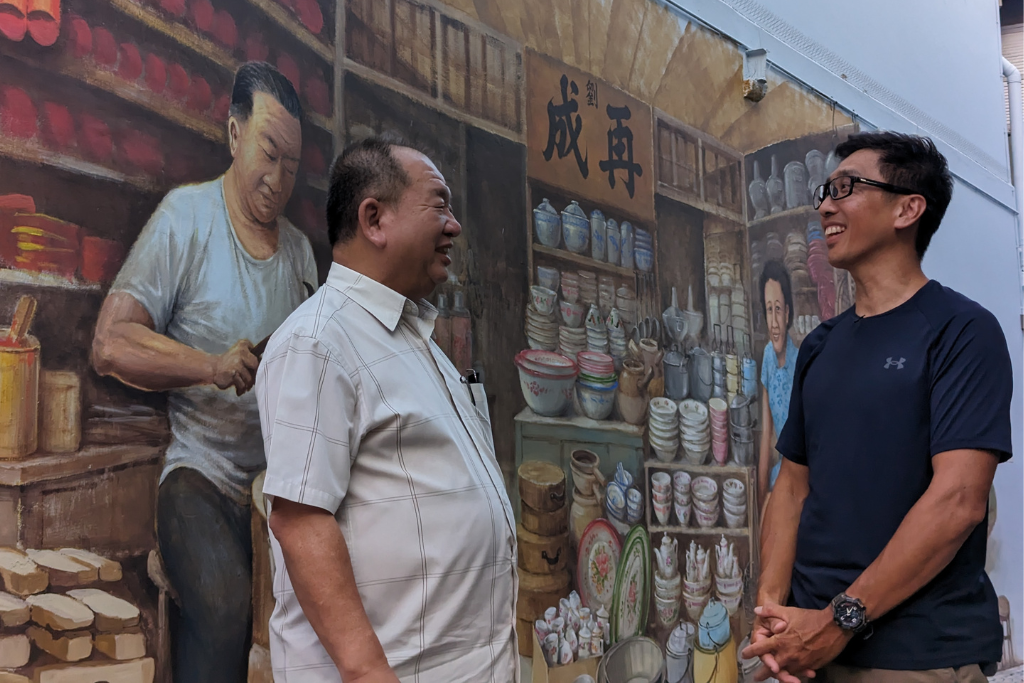 Store owner Lau Hoy Seng poses with Yip Yew Chong, who painted a mural featuring the business in its early days. 
As Kaya interviewed Yew Chong, he had an unexpected visit from Lau Swee Hong, 75, the store's second-generation owner, who stood in for his father as a model for the mural. "I am satisfied with this artwork of my parents working in the store," says Mr Lau, who explained that he stopped schooling to help the business. Seeing the mural helps him to recollect the past.

Bringing common spaces to life
ZERO is a multi-hyphenate visual artist, art lecturer, and gallery curator. The bright colours in his work stand in contrast to the slightly muted tones in Yew Chong's work. The subjects are less literal, drawing inspiration from street culture and current affairs.

For ZERO, street art comes from a desire to interact with common spaces, something he says is fundamental to Singaporean identity. As a child in the '80s and '90s, he would play sports with his friends at the void deck after school, even though there were "no football" signs. "There was no malice, we were just kids wanting to express ourselves through play," he says.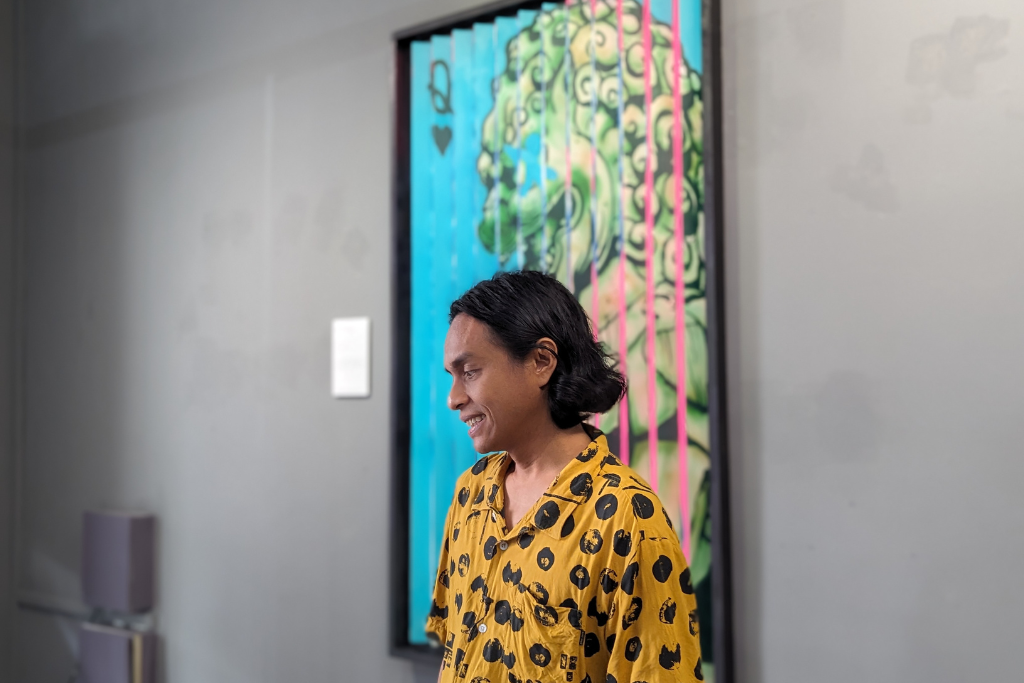 Zul Othman (or ZERO) at the Art Porters Gallery, which houses the latest exhibitionhe curated.
Street art was a natural progression from sports. ZERO and his friends found ways to activate spaces, breathing new life "into what we know a city can be, beyond what an urban planner intended," he says.

Art reflects complex diversity
ZERO sees art as a platform to provoke critical thought and highlight differing perspectives. It's also a reflection of culture. "Culture is about people overlapping and embracing each other's differences. To find what makes us Singaporean, you have to look at society from very different views," he says. ZERO says that Singaporean identity is complex, a truth reflected in his own experience. Even though he is Malay, he grew up watching Channel 8 and Bollywood movies, and enjoys Chinese seafood as much as nasi padang and prata, and he speaks some Chinese.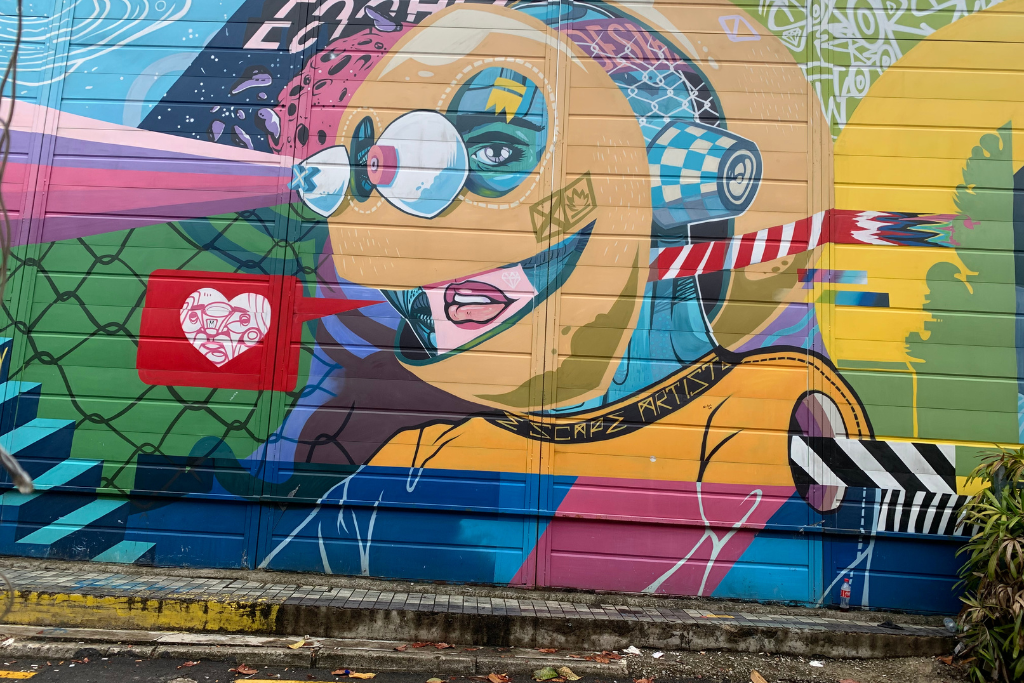 Street art by ZERO, inKampong Glam. Image credits: Zul Othman
"We are growing more mature as a society, and we should allow people the space to interpret heritage and culture more open-endedly," he says. For instance, whenever he is asked to paint 'something Malay' for Kampong Glam, he points out that the area has a diverse history. In fact, Aliwal Arts Centre – where he keeps a studio – sits on the former campus of a Chinese school.

Art reflects changing Singapore
If there's a theme the two artists share, it's the pace of change in Singapore. But they approach the issue differently. ZERO isn't merely resigned to the temporary nature of his work, he embraces it; if street art is an interaction with the city, it should rarely outlast its urban canvas. "In Singapore things change so fast. What you love today can disappear tomorrow because of the need to progress. Graffiti embodies that fast pace," he says.

Yew Chong's work embraces change in a different way. While it appears to yearn for the past, he says it quietly endorses social progress. A mural of his own childhood home, for example, is a reminder that older housing had "dripping water from the roofs and mosquitoes and rats." "This is our Singapore story, and we must appreciate what we have today. And we must build on this," he says.