What's in your Room: Iman Fandi
Iman Fandi gives us a peek into her room, a space that holds precious stories and memories — some of which inspires her in her music career.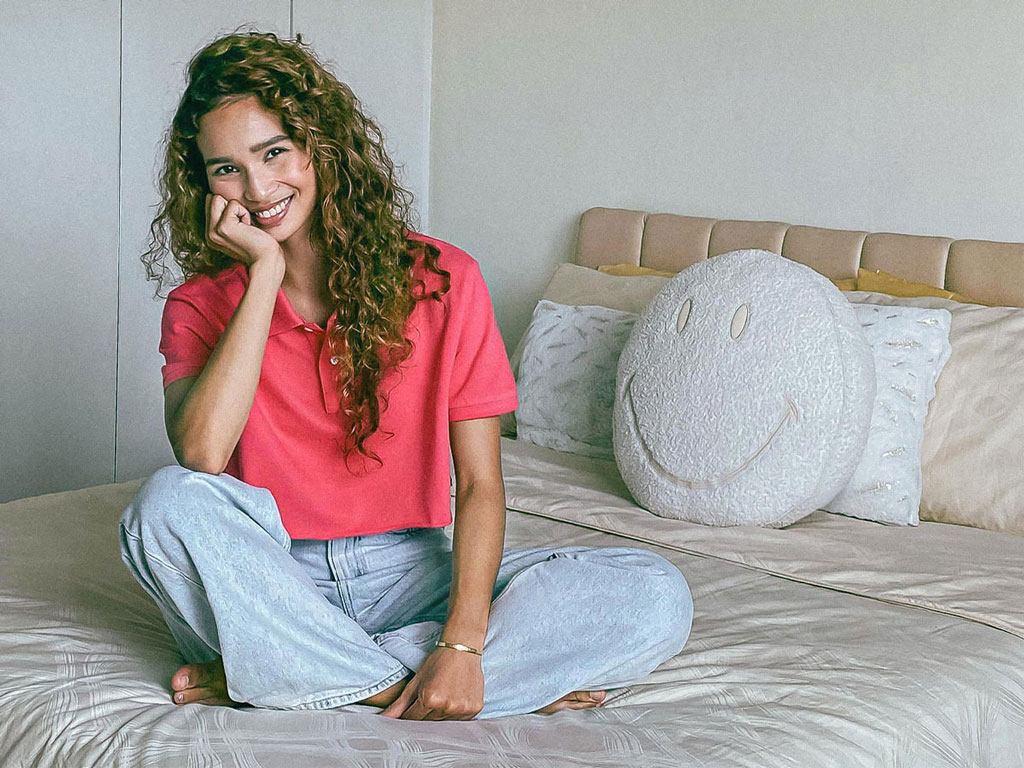 Iman Fandi surprised many, including her family, when she released her first song, Timeframe. Parting with a good friend who's leaving for abroad got her furiously penning lyrics and kickstarted her journey as a singer-songwriter.
At 22, when many of us are still figuring out the basics of adulting, Iman Fandi already has athlete, model, actress, social media influencer and more recently, psychology graduate, on her resume.

In early 2021, this multi-hyphenate added budding singer-songwriter to her growing list of accomplishments, when she released Timeframe, an R&B/pop song. It's accompanied by a slickly produced music video, where Iman pulls off chic outfits with effortless style and works the camera like a seasoned pro.

Yet, Iman, who is the only daughter of Singapore football legend Fandi Ahmad and retired model Wendy Jacobs, is just getting started.

"When I look back at the things I've done, sometimes I feel like I'm not doing enough. I want to venture into new things and explore new chapters in my life," says Iman, who has four brothers.

Becoming a singer-songwriter was an ambition that she never discussed with her family. For years, she wrote lyrics in her journals, and like many of us, she practised singing in the shower. However, she never felt confident enough to record them as actual songs.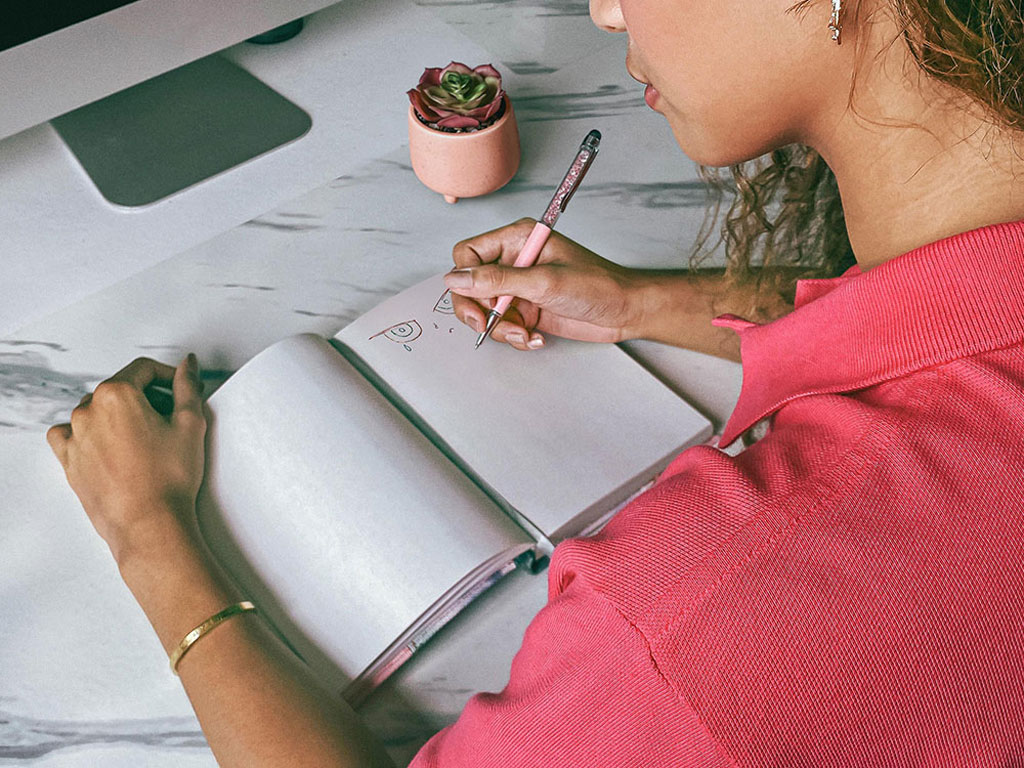 Iman uses her life experiences to influence the lyrics of her songs
But with
Timeframe
, something just clicked. She was ready to share her deeply personal music with the rest of us. The song weaves a story around the heartache of saying goodbye and being separated from a loved one. She frantically penned it in a taxi the day after bidding farewell to a friend in 2019 — and was ready to record.
"I was going to do it by myself…get a mic that I could buy off Amazon and post the song on Instagram or YouTube. It was just going to be for fun. I didn't expect it to take off," says Iman, who put pursuing music on her bucket list when she turned 19.
What transpired was beyond her wildest dreams. Universal Music Singapore picked up her demo and got her into a studio with homegrown producer Flightsch and Daku Beats, a co-producer from Germany. Together they worked on refining the sound and lyrics.
Being in the studio for the first time was a scary experience for Iman. She had never sung her songs in front of others, but the local music community rallied around her as the producers and other artists gave her advice. Iman, who counts local
R&B singer YAØ
as part of her support system, says, "They told me to find my voice, to be myself, stay true to the sound that I want and the stories I want to tell."
We hang out with her in her room — a place where she says she can not only be creative and funny, but also herself. She shows Kaya some personal items and tells us about the stories behind them.
ONE: FAVOURITE PIECE OF JEWELLERY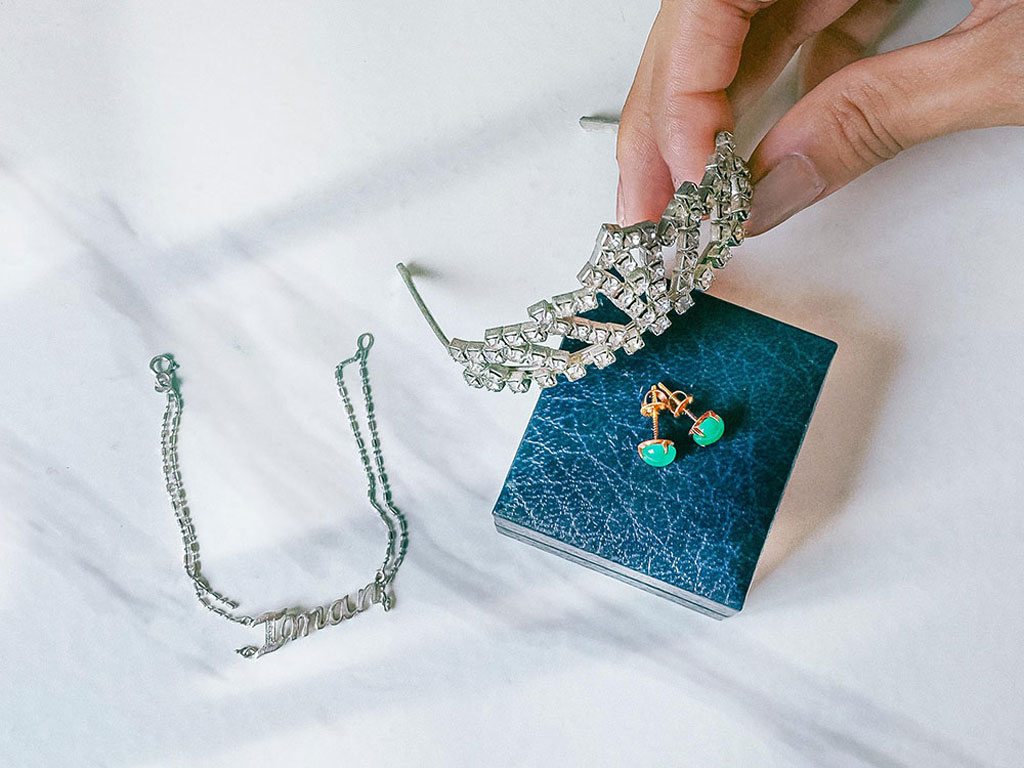 From concert tickets to birthday cards, and even magnets that she collects when she travels, Iman has held on to many mementoes. Stashed away in a plastic box under her bed, these keepsake notes, photographs and jewellery take her on a trip down memory lane.

Her favourite piece is a pair of emerald earrings (pictured here on the right) that was given to her because it's her gemstone. She has also kept an old bracelet (pictured here on the left) that spells her name. "Even though it's broken, I still keep it."

Other highlights in this box include the 2013 F1 concert ticket, where she saw her idol, pop singer Rihanna, perform, and handwritten letters from her maternal grandmother, which has inspired her songwriting.

"I'm a sentimental person and these items remind me of these experiences that I've had. One day if I start forgetting, I can look back and remember that these were part of my journey."
TWO: ACRYLIC PAINTING OF CRYING GIRL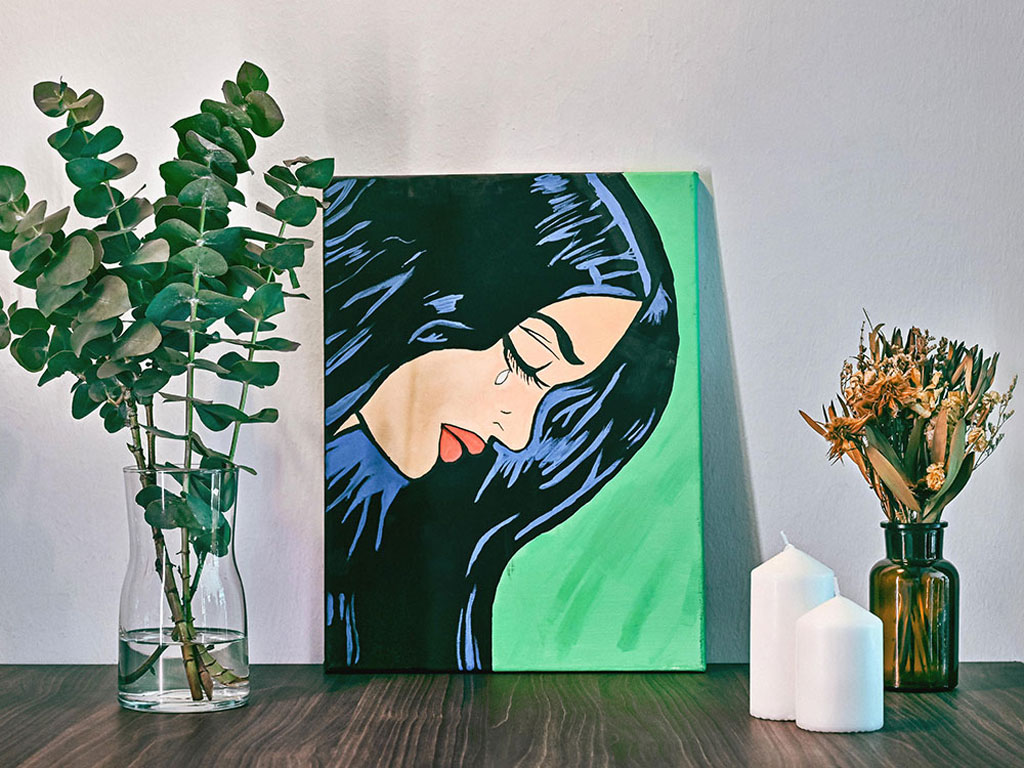 A poignant pop art-styled image of a crying girl with blue-streaked hair catches your eye as you enter Iman's room. Painted on acrylic, she recalls that it was the second painting she ever did.

At that time, she was 14 and dealing with the highs and lows of school. Painting became a way for her to express herself. "I'm a person who finds it hard to share my emotions, so I do it through art and music. At that time, I was going through a lot, so I started painting what I felt."

Since then, her bedroom has become an art gallery of sorts, featuring a collection of artwork that she created as a teen. If she could paint a piece that reflects her state of mind today, it would be her lounging in a chair on the beach, just chilling.

THREE: MEDALS FROM THE SINGAPORE SPORTS SCHOOL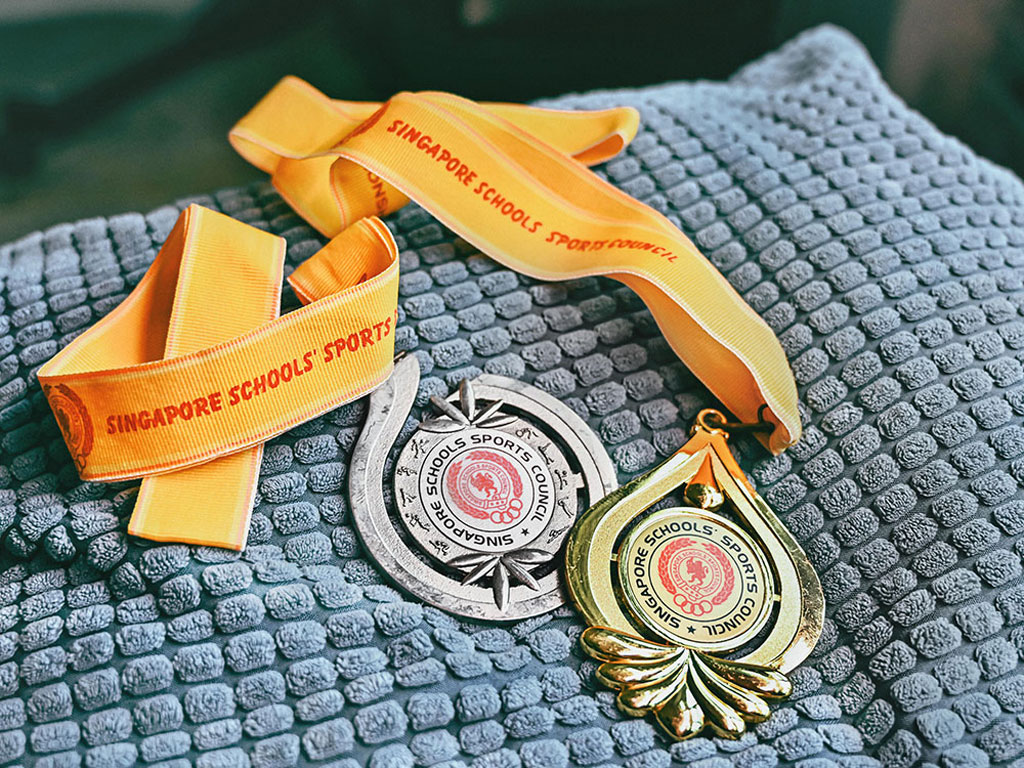 She's a runner, she's a track star! This Singapore Sports School (SSS) alumna has been to many track-and-field meets in various countries and picked up medals and participant lanyards along the way. Despite hanging up her running shoes for now, she keeps her medals and trophies as a reminder of what she has accomplished as an athlete.

The medals that are particularly special to her include those from the National Inter-School Track and Field Championships. She won silver for the individual 100m race in 2013 and took home the gold with her teammates in the 4 x 100m relay the following year.

Even though she has moved on from sports, her time as a student athlete has influenced her work ethic and strengthened her character. Life, she says, isn't always about collecting accolades. There will be times when you must keep going.

She says stoically, "Sometimes you have to pick yourself up when nobody is around to continue the race for you. I have to keep fighting to finish what I started, regardless of whether I win or lose."
FOUR: SEASHELLS FROM CAPE TOWN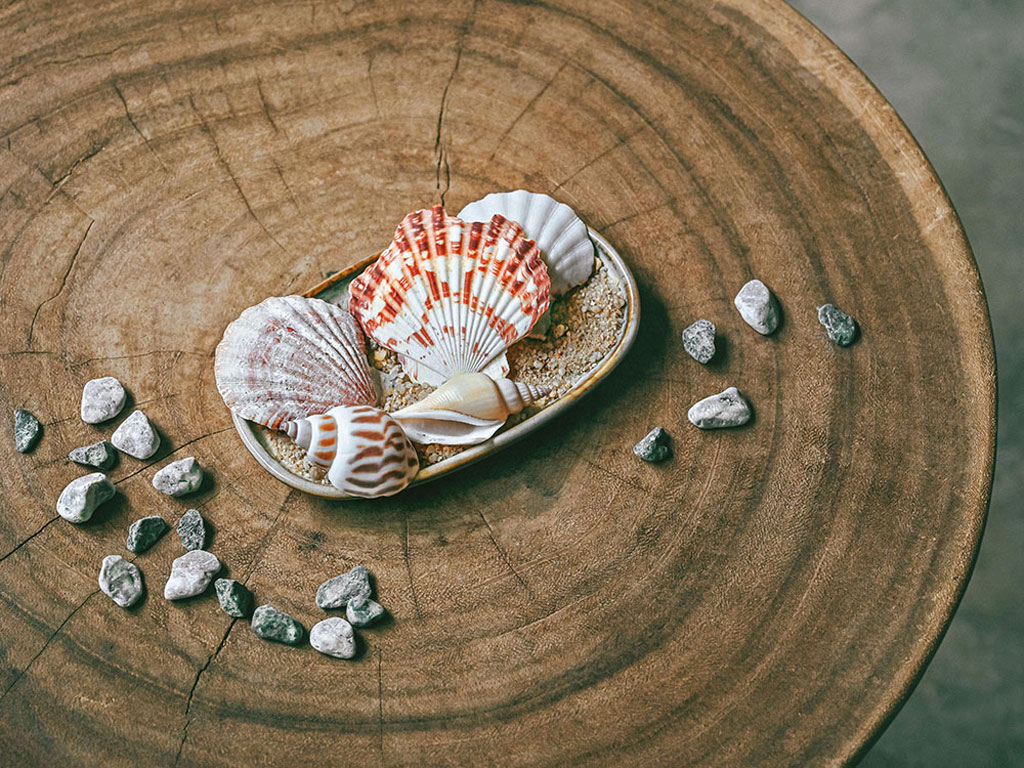 COVID-19 has kept Iman away from the maternal side of her family, who live in Cape Town. She used to spend every Christmas with them in the South African port city.

She enjoyed the boisterous, large gatherings — her mother has four sisters — that she describes as "energetic and entertaining". The family would have barbecues that had lots of dancing and music blaring from the speakers for karaoke nights.

But what Iman loved the most was hanging out by the beach, collecting seashells. She still has some of those pieces with her as a reminder of her family there. "I'm close to my family on my mother's side, and I miss my grandmother so much."

FIVE: EXODUS ALBUM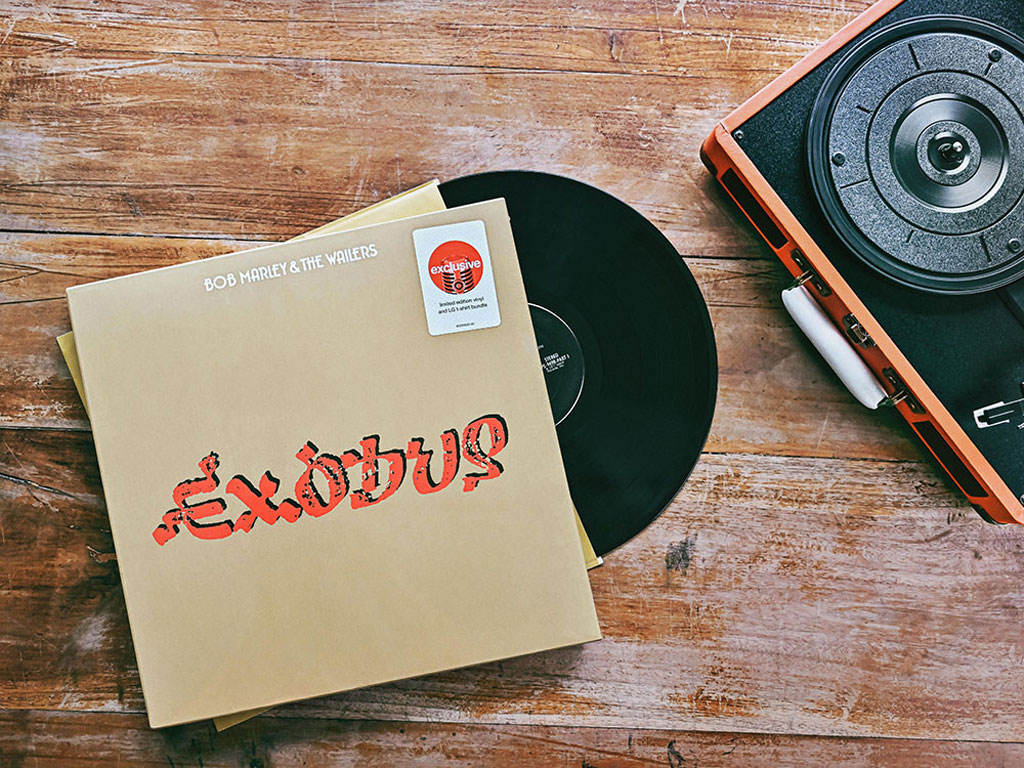 Music has always been a big part of Iman's life. While she's in tune with the latest bops on top 40 radio, Exodus, the 1977 album by Jamaican reggae band Bob Marley & the Wailers is a record that she puts on replay. "I just love Bob Marley," she says of the reggae icon. "His songs are so simple, yet so touching."

Her favourite track on it is Three Little Birds. Marley was said to have been inspired to write the uplifting song by the birds that flew by his window. Iman finds comfort and meaning in the lyrics, especially the lines "Don't worry about a thing/Cause every little thing gonna be all right".

"It's a timeless song that always resonates with me every time I listen to it."

SIX: HER CATS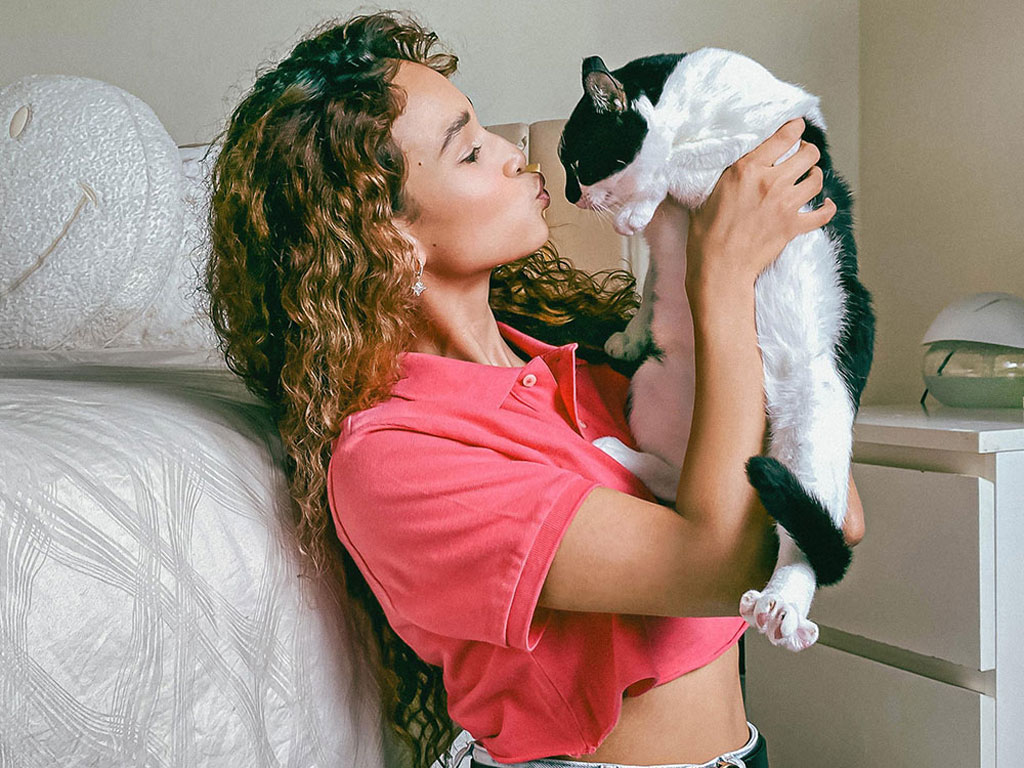 Besides her friends, Iman gets two regular visitors to her room: Wingly and Tingly (pictured here), her feline companions. Fans of the singer will recognise them from her social media videos, where they have made guest appearances.
The Fandi household, even when they were in Indonesia, has always been a sanctuary for cats. Iman shares that her mother once rescued 10 cats. Now they have a much smaller brood, and both cats were also adopted. "The house just feels fuller with them."
Both cats are seven years old and Iman likens them to bats as they retreat to their hiding spots in the day and roam around the house at night. Despite their aloof nature, Iman says the kitties know how to comfort her when she's feeling down. "They are very lazy and needy cats when they want to be. But they certainly know when something is wrong because then they will cuddle up with you."
EP in the making
Her upcoming "extended play" (EP) explores themes that relate to her personal life such as love and embracing her individuality. Having spent more time in the recording studio, it's no longer as intimidating as when she first started.
"I usually prepare myself by thinking about what and how I am going to sing and do vocal warmups beforehand." Ever the consummate professional, she adds, "I know how I want to sound, so if a take can be better, I'll push myself to get it right."
The process of making the EP has been intense, but Iman is making her music dream happen, no matter what. "If I never took a leap of faith with Timeframe, I would regret it. You only live once."
Fans can listen to Iman's latest single "Love Me Little More"
here
.