What's On Your Playlist: Vivien Yap
For this singer-songwriter, making her own music is a cathartic experience and won't allow anyone to mess with her creative process. Refusing to give in and make trendy music, we find out which artists inspire her with their lyrics and artistry.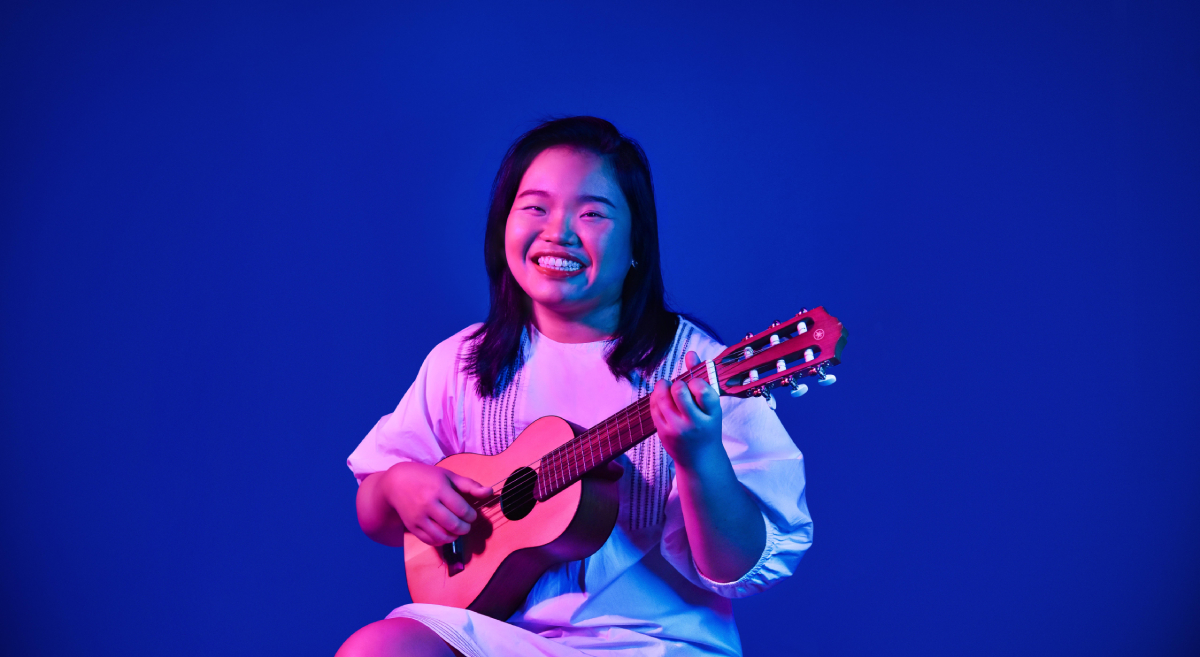 Singer-songwriter Vivien Yap has a repertoire of songs and an EP that dives into heartbreak, loneliness and love.
"Stubborn" is how poet and singer-songwriter Vivien Yap describes herself.

In an industry that has seen many indie artists often transition to a more mainstream flavour after bursting onto the scene, Vivien is quick to shoot down any suggestions of deviating from her musical style in the name of pursuing success.

"I'm a firm believer of sticking to my own principles and style. I'm very against the idea of being some other person's version of success because I've come so far by myself."

She has stayed true to her sound and songs since she released her debut EP Fables in July 2019. Her EP, "I Love You.", which she released in March 2021, pairs her raspy voice and melancholic lyrics with light, oft dreamy, tunes that will have you reminiscing of love lost and broken hearts.

"I've had experiences with people trying to tell me what to do, how to change my image or how to write certain songs. And I hate being told what to do!" says Vivien.

This nonconformist view is also apparent in her Instagram handle, curiously named @buttlicks, which Vivien is adamant will never be changed for the sake of commercial success.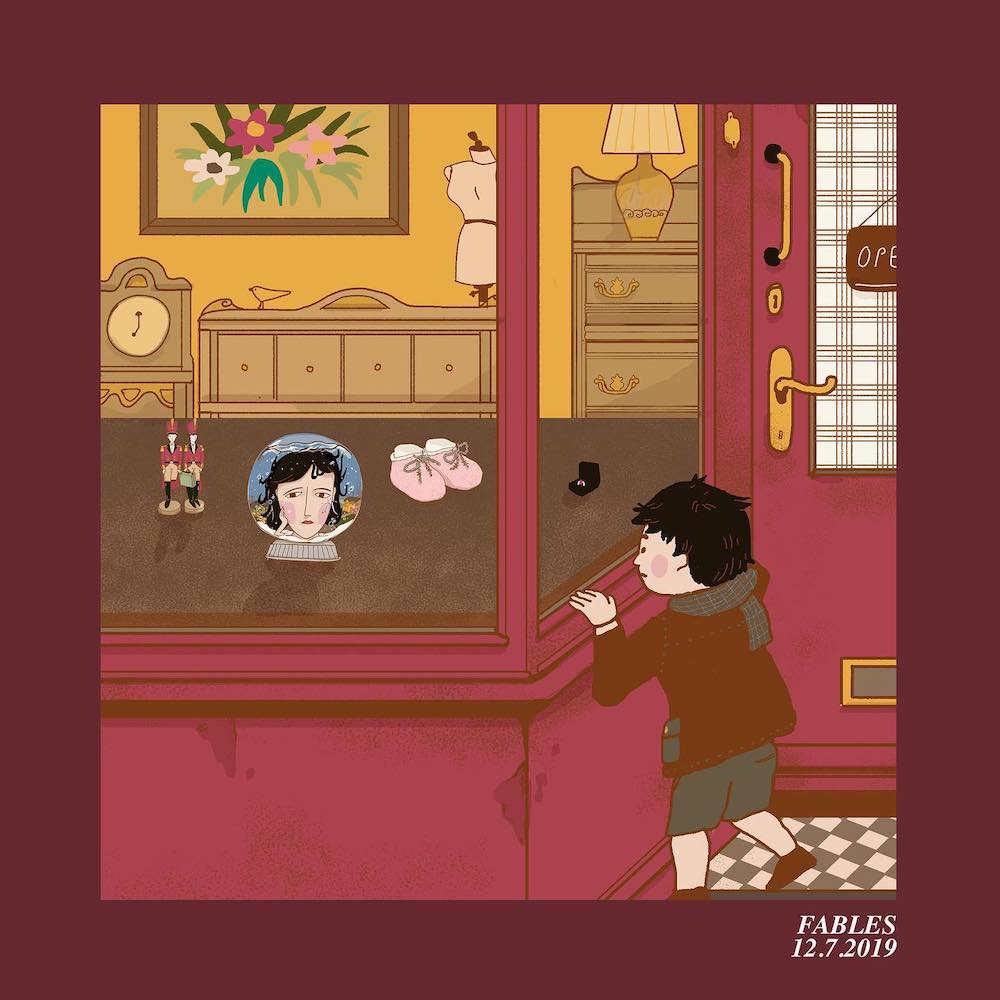 The cover art for Vivien's 2019 Fables was illustrated by artist Esther Ho. The five songs on the EP goes deep into a sombre and bittersweet space. (Image courtesy of Vivien Yap.)
"I Love You.", which has three songs, was recorded in the middle of the pandemic.The EP is her "love letter to love" and explores the different ways the three words express our mistakes, confessions and triumphs. Of the three, The Spot written when she was 17, and the other two during the Circuit Breaker period in 2020.
"I like to think that each song is a sign of the times and a reflection of my state of mind when I wrote them. Revisiting them at each juncture of my life evokes the same feelings, with different stories."
Meanwhile, Fables is a set of five songs that Vivien describes as extensions of herself. The EP opens with a short reading of a letter, set to the backdrop of cinematic soundscaping – itself a throwback to her experience as a published writer. Her first collection of poems Can You Hear Me Now? was released in 2018.
Lyrically-forward folk pop songs reminisce about pining for love and unrequited feelings – Vivien jokingly calls herself a hopeless romantic with not much luck in love, yet. Her words and music have resonated with many, with her songs notching up more than 1 million streams on Spotify to date — a feat few local musicians can boast of on their first release. The most popular Fables track Everything Stays has garnered about 540,000 plays on the streaming sites. With "I Love You.", she has taken an organic approach instead of pushing hard with the marketing efforts. "I didn't feel like this EP needed the fireworks. It was really more of a quiet hurrah," she explains. Still, Vivien's fans have connected with the new songs. To date, the most popular song on the EP, "Loved Again" has more than 170,000 streams to date.
Comparing herself to local contemporary mainstream artists, Vivien acknowledges that it's not easy to continue a rising trajectory of success because she is a niche artist. "Obviously I would love to be one of those successful artists producing music that casually amasses a million hits on Spotify, and I would just be rolling in my streams with the royalties that I would get," she says with a laugh. "But for now, I just have to deal with the balance of earning my own money to support my music and other things, and this would probably be for quite a long time."
Songwriting brings her joy, and more importantly it keeps her sane. Since her teenage years, Vivien has been battling depression. Being immersed in the process of expressing her thoughts and making music has become a form of healthy catharsis that allows her to escape her demons. Vivien discusses the playlist that she had specially curated for us: a selection of six songs spanning over two decades that she relates to deeply as an artist and a young adult.
Female indie singers are Vivien's biggest inspirations. In particular, the burgeoning songwriters of the 2000s like Norah Jones, Ingrid Michaelson and Feist's music which goes against the mainstream are whom she regards as daring and unabashed.
Feist's Mushaboom was released 16 years ago in 2004 when Vivien was just nine, but its story and themes are still very relevant to many emerging artists of today. The Canadian singer writes about wanting to settle down but not having enough money to do so – something that Vivien feels strongly about as she navigates her path as an indie musician in Singapore.
"It's so comforting to know that someone almost 20 years ago wrote about things that I feel today," she shares.
The song in itself, is also a lesson on music production. Its final studio release is very different from the demo version which Feist had originally envisioned, and yet both still channel the same kind of vibes. Vivien says this is testament to her belief that "a song can be written a thousand ways."
"In fact, all the songs on Fables didn't use to sound like they do right now. I plan to revisit Part II because it is a very layered song and I would like to see what another producer can bring to the table to change it up."
Song 2: ok ok? by half-alive
Vivien was instantly hooked when she first listened to the American indie pop band, but she couldn't really explain why. She recalls how her producer's jaw dropped when she introduced the band to him.
"He explained that their music defies conventional song rules and stereotypes, and that was exciting. In particular, ok ok? flipped a switch in me to think out of the box when ideating the kind of music that I want to put out."
half-alive's style of melding different genres together, for example folk and punk rock, is something that Vivien wants to try with her music too, as a way to stand out from the mainstream.
"Don't get me wrong, there are many mainstream artists who are great songwriters and their music is catchy, but the scene, in general, is so boring," Vivien laments. "I'm someone who listens a lot to texture and sound, so for "I Love You.", I'm even more inspired to break conventions. I constantly bombarded my producer with very strange requests, like combining lo-fi and folk, and he got confused sometimes!"
Song 3: Cinnamon by Hayley Williams
Vivien's excitement for her playlist turns up a notch when we click on the third song. Her love for Hayley Williams, the lead vocalist of rock band Paramore, is unmistakable. After all, Paramore was one of the most played artists on her iPod back in the day, and still is!
Despite the cheeriness in her voice, she's also clearly not joking when she says, "I'm a superfan so whatever I say about Hayley Williams is not objective anymore. I would get into a fistfight if people trash talk about her and her band."
And although she can recite her favourite Paramore songs without a hitch, it's Cinnamon from Hayley's debut solo album released in May 2020 that makes it to her playlist.
"The song is essentially about femininity, and she uses cinnamon as a metaphor for letting in her sexuality, which is so bizarre! You'd never have thought about it unless you read the lyrics, and that is my key takeaway from the song – writing lyrics that hold so much meaning and depth," she says.
What has left the biggest impression on Vivien is how the American singer-songwriter had consistently rejected attempts by major labels to sign her away from Paramore in the past, simply because she wants to retain her individuality as an artist. "Now that she's finally matured and ready to write all this music that she's always wanted to write, producers can't say no to her. It's so inspiring!
"I'm really jealous of Billie Eilish's talent," Vivien proclaims. She chose this song from the Grammy-winning album because of the young singer's courage to subvert pop music tropes and write controversial lyrics that would, as Vivien puts it, "shock boomer listeners". (The song references the devil a few times.)
Billie's rise from a bedroom pop singer to a music icon is not only an inspiration to Vivien, but also casts the spotlight on how the modern music production process has evolved – artists no longer have to stick to conventional genre tropes. That's a glimmer of hope for Vivien who still harbours dreams of making it big with her quirky style of music.
"I do feel stifled as an artist at times, given the number of comments I've received on my music style or even my Instagram handle," she reveals. On the point of some local works and art not getting the recognition that they deserve, she adds, "I hope there will still be an opportunity for creativity to flourish in order to achieve mainstream success, and that listeners will be able to appreciate the many layers to the music that I create."
A long-time fan of video games, Vivien has to feature at least one iconic video game soundtrack. Simple and Clean and the original Japanese version Hikari were composed by Hikaru Utada as the theme song of Kingdom Hearts, an action role-playing game from 2002 that features prominent Disney characters fighting alongside characters from another popular video game series, Final Fantasy.
Vivien spent a lot of her childhood watching her mum, an avid gamer herself, play Final Fantasy on the television at home. But it was only after she started playing Kingdom Hearts herself that she realised the importance of music in video games – whether it's to channel emotion or heighten the action and drama – to keep the gamer immersed.
Her exposure to Hikari and other Japanese songs also inspired her to try and incorporate Mandarin in her song-writing, despite her mother tongue not being her strongest suit.
"A dream of mine is to write a Chinese song because there are nuances that can never be fully captured by the English language. And listening to music from Japan and other countries opened my eyes to the beauty and creativity of language in music."
Vivien had earlier described how she had the utmost admiration for various female singers who sparked her own singer-songwriter ambitions.
That's why it is surprising to learn that Fables was more heavily inspired by film scores and soundtracks than conventional pop music. And yet the idea of using music in film as a guide fits in with Vivien's style of storytelling in her song-writing.
"I look at music production as world-building. I think about the textures that I want to add to a song, for example, and I bring the film-making sensibilities to my music."
And the inclusion of Danny Elfman's piece from Tim Burton's The Nightmare Before Christmas, one of Vivien's all-time favourite films, on the playlist pays homage to the art and its impact on her music career.
Vivien also lets on what she drew inspiration from when creating "I Love You.".
"I've been obsessed with repeating motifs, a feature on some excellent film scores. I've been bugging my producer to experiment how we can introduce that throughout the album using a piece of melody as a thematic representation."
"I also want to explore transmutation in music where I can change the mood and still keep the message of my song-writing."