A spectacle of colour, culture and community - experience Singapore's iconic Chingay Parade 2023
2023's Chingay Parade is the biggest yet, with new installations to celebrate the first in-person parade since the onset of COVID-19! Marked by the return of its popular and well-loved big floats, Chingay 2023 is starting an exciting new chapter that sees the involvement of the younger generation in the creation of innovative exhibits.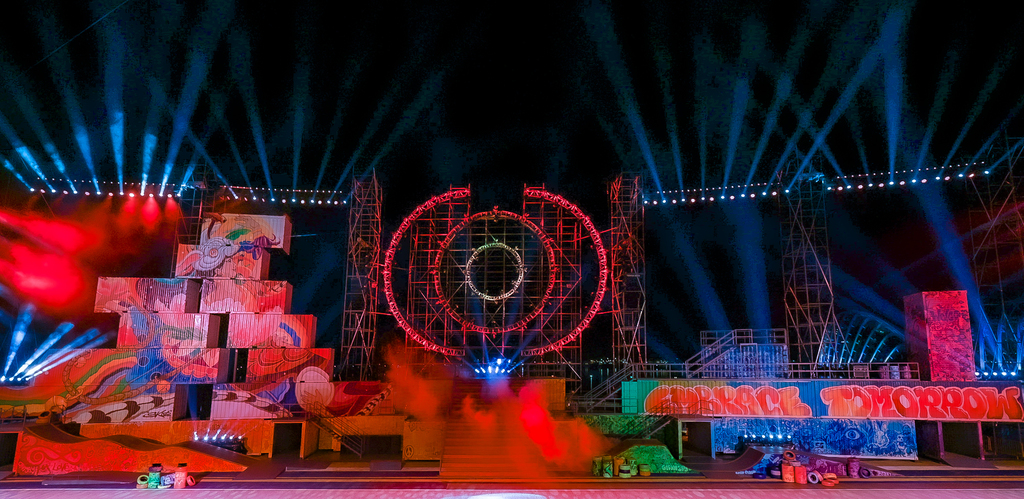 Container art installation. Photo credit: People's Association.
First started in 1973 as a colourful street parade to commemorate the Chinese New Year, Chingay has grown into a hugely iconic annual event that celebrates Singapore's ethnic diversity and cosmopolitan culture. This visually captivating experience is one of Asia's largest street performances and float parades!
This year's Chingay is also a celebration of resilience, courage and faith. Organised around the theme "Embrace Tomorrow" the diverse cultural performances and creative floats, will be a dazzling display of Singapore's creativity and determination to remain strong and united even in the face of adversity.
Container art installation
One of the most awe-inspiring elements of Chingay 2023 is a unique container art installation, which was conceptualised and designed by local artist Sam Lo, and co-created with 480 youths. This larger-than-life showpiece stands as the backdrop to the parade's performance and represents the preservation of the community's colourful, multicultural heritage. It is made up of 20-footer and 40-footer containers, towering 18 metres high, and sprawling over 60 metres.
"The design concept is a celebration of our new beginning and excitement for life as we embrace the unknown, emphasise the collective, and boldly leap into the future together as one." says Sam Lo.
This groundbreaking installation, will be decorated with spray-painted art for a modern, grungy touch. The artwork will depict iconic Chingay elements like cultural motifs, costumes and props, elevating the already impressive installation to new heights.
Rabbits ART-Venture
The Rabbits ART-Venture brought together over 2000 students from eight schools and institutions to decorate "Chingay Rabbits". These cardboard rabbits come in various sizes, symbolise the revitalising energy of our youths and their enthusiasm for the future.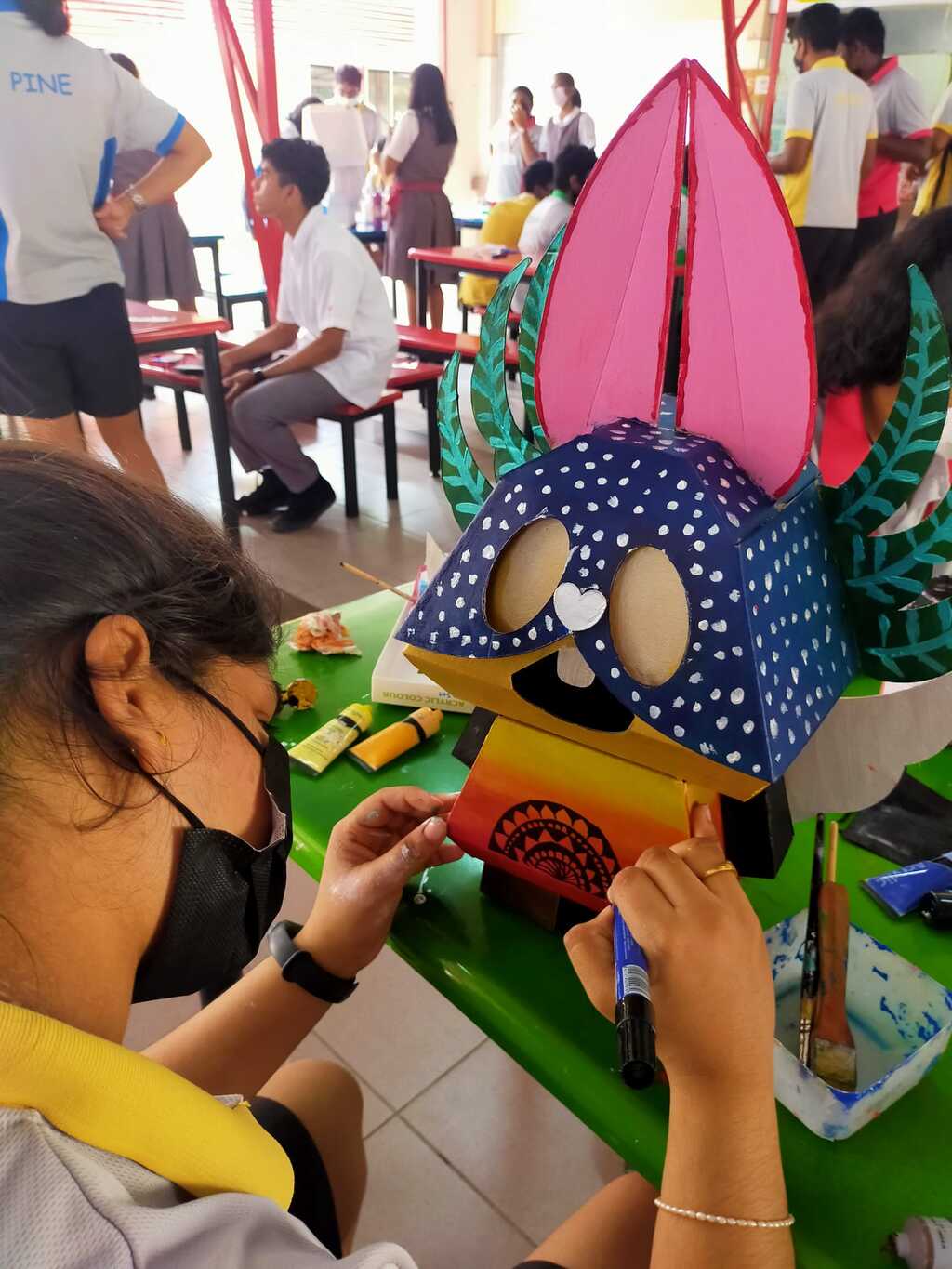 A student decorating the "Chingay Rabbit". Photo credit: People's Association 
With the guidance of community artists, the rabbits reflect each school's interpretation of the theme "Future Singapore". New Town Primary School even incorporated simple robotic mechanics in their rabbits, creating a mechanism that allows the rabbits to make a sound whenever someone walks past the art piece. Explaining the concept behind the mechanism, 11-year-old Gokulram Nimalan shared, "Incorporating technology into the 'Chingay Rabbit' aligns with the Chingay theme of 'Embrace Tomorrow'. We need to prepare ourselves for a future driven by technology."

Chingay in the heartlands
What is Chingay without the display of floats in the heartlands? Residents can expect to see the Chingay floats and mini-floats created by the community at Our Tampines Hub, Fernvale Square and Tanjong Pagar Community Green among others.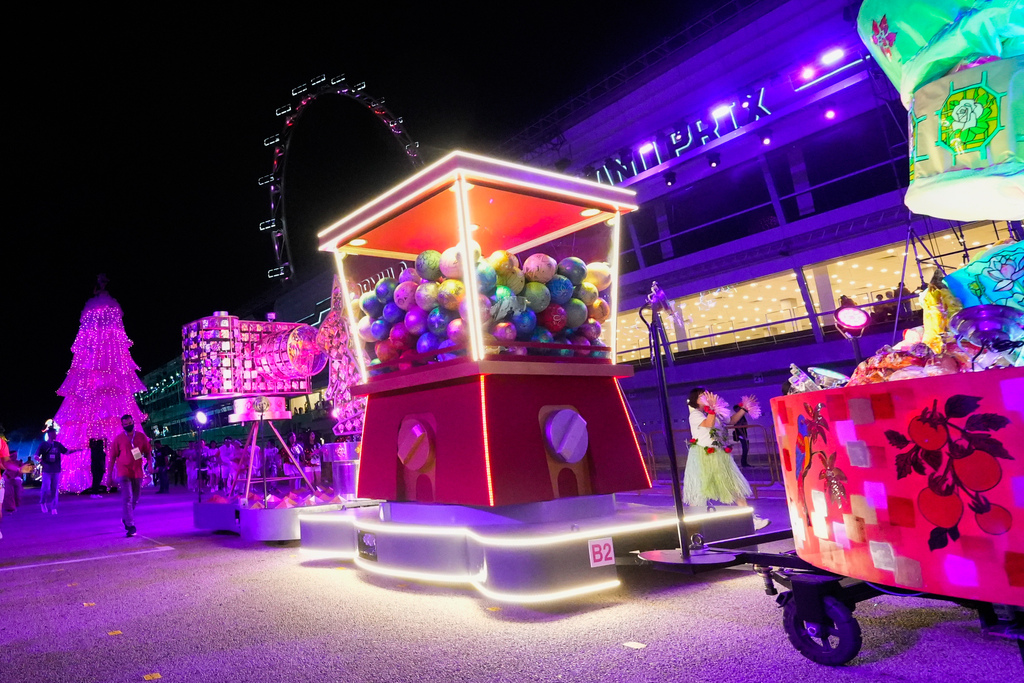 Mini floats created by community residents. Photo credit:  People's Association.
The popular Mini Floats programme is also making a comeback this year after a successful inaugural launch in 2022. Residents, grassroots organisations and community partners get to construct unique and personalised floats for the parade and adds a new dimension to Chingay.
Keeping Up With Chingay
Be sure to follow @chingayparadesg on Facebook, Instagram and Tiktok to keep up with the latest Chingay happenings! Keen to visit
Chingay@Heartlands
? Find one near you today!