As One United People roadshow 2023: What it takes to build a better Singapore
What makes Singapore so unique? How can we build a stronger, more cohesive society? What does it mean to be Singaporean? These were some of the questions posed to Singaporeans at the "As One United People" roving roadshow.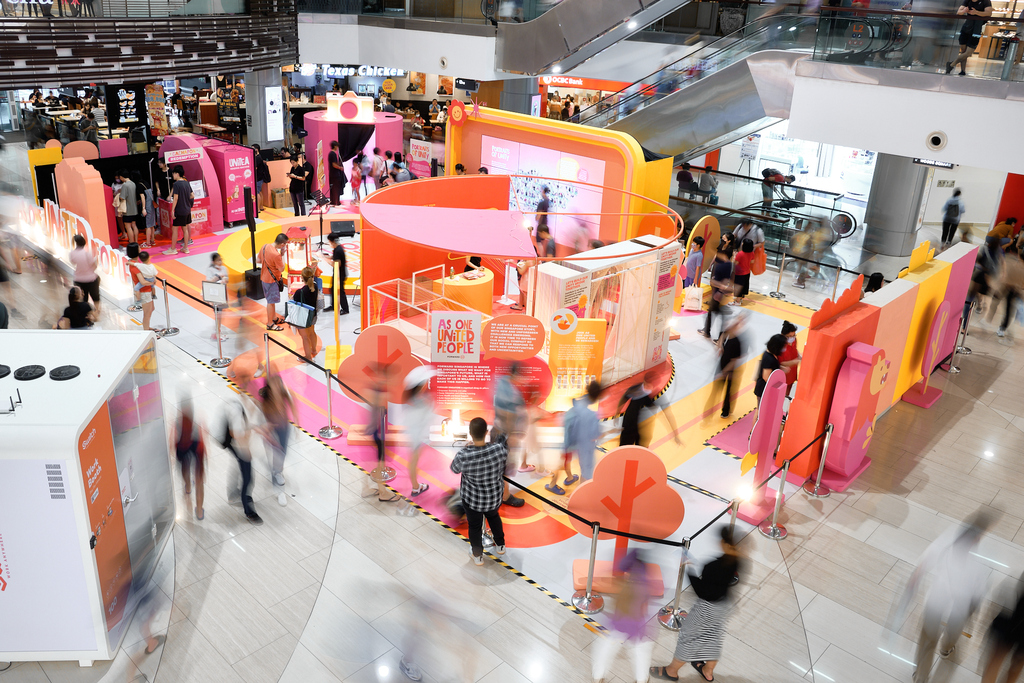 The 'As One United People' roadshow held at Causeway Point is part of the Forward Singapore exercise.
Launched in December 2022, the roadshow has been to Marina Bay, Wisma Geylang Serai, Toa Payoh and Our Tampines Hub. We visited the roadshow at Causeway Point which was held from 20th to 26th February 2023, and saw an impressive turnout of Singaporeans from all walks of life, seeking to share their thoughts about the island city we call Home. Here are some of the highlights!
The interactive roadshow is part of the larger Forward Singapore dialogue and is centred around the theme of 'Unite', which explores the Singaporean identity, and how we can strengthen our sense of belonging. Before they embark on their journey, participants will first receive a stamp card to track their progress as they make their way through four Unity-themed exhibits
BELONG: First stop, Places of Unity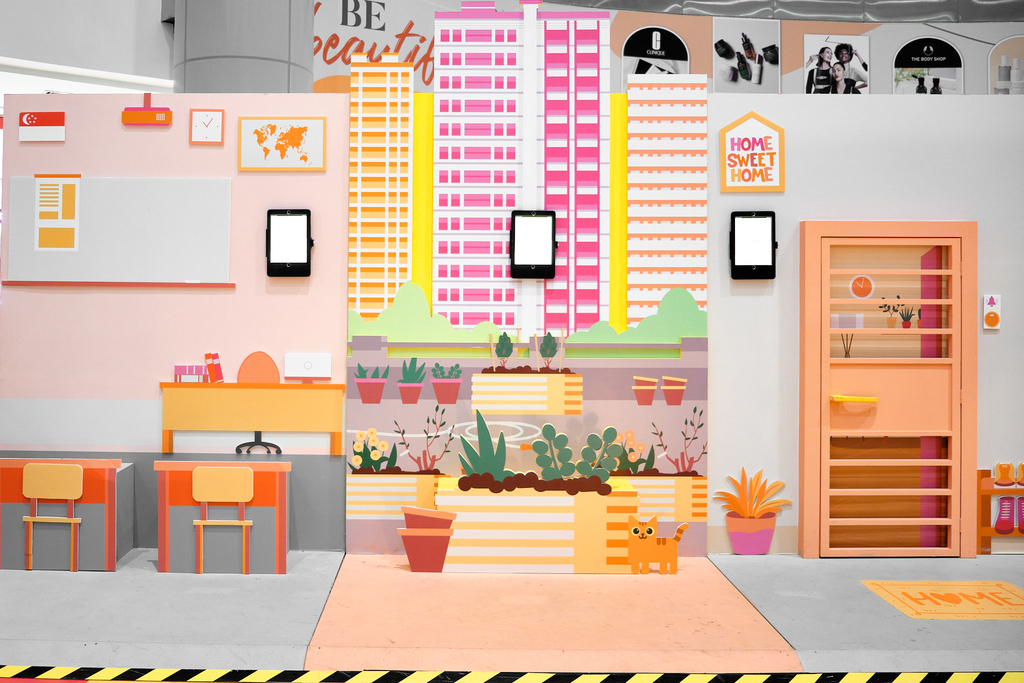 Places of Unity featured a backdrop of familiar scenes in Singapore. 
One look and any Singaporean will recognise the familiar and somewhat nostalgic set-up — HDB flats, classrooms, and even the community garden make up the vibrantly illustrated mural, which is a homage to the spaces close to our hearts.
More than just an insta-worthy photo op, Places of Unity includes four interactive screens, each with a set of questions on various topics centred around common experiences that creates a sense of belonging among Singaporeans. From questions about their key life milestones living in Singapore to their favourite local celebrations, participants were invited to share their personal experiences.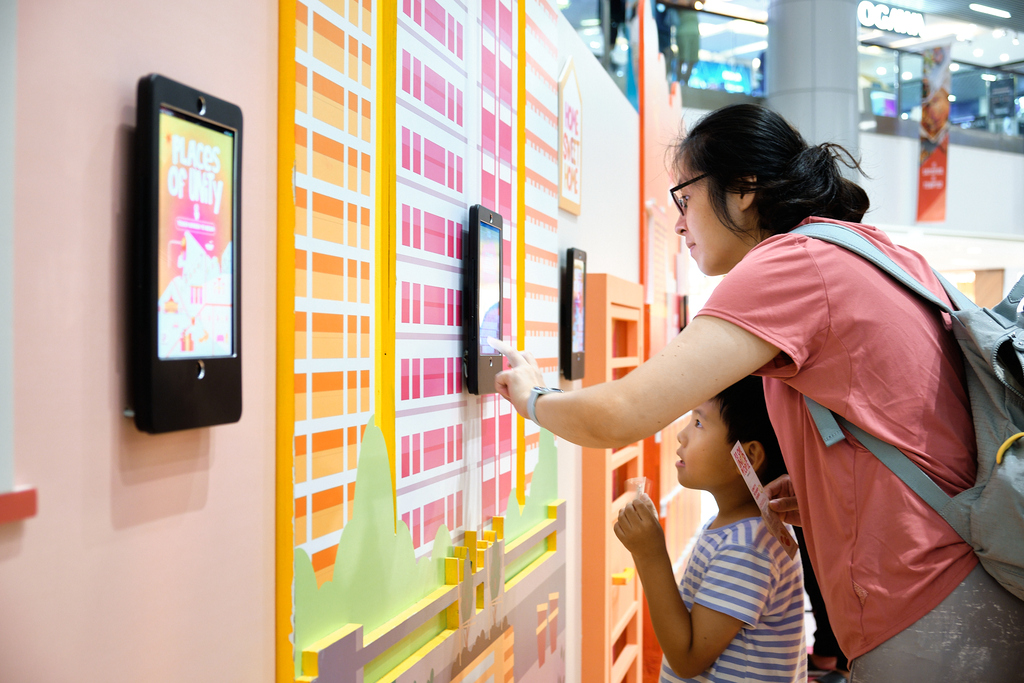 The interactive screens get visitors thinking about the concept of 'belonging'.
"As a mother, I felt that the questions were straightforward enough to involve the kids. Although I had to explain some concepts to them, I think that's the whole point — to be given the opportunity to share with them what it means to be a Singaporean, and my own fond memories growing up here," shared Pei Shan, mother of one, when asked about her thoughts on the exhibit.
BELONG: There's always time for Unitea
Another highlight of the roadshow was the specially designed UNiTEA vending machine that dispenses drinks when two individuals come together to talk and answer questions about shared local experiences. Participants were asked to discuss and agree on what they love about Singapore, with prompts ranging from our diverse culture, Singlish, our safety, and of course, local food.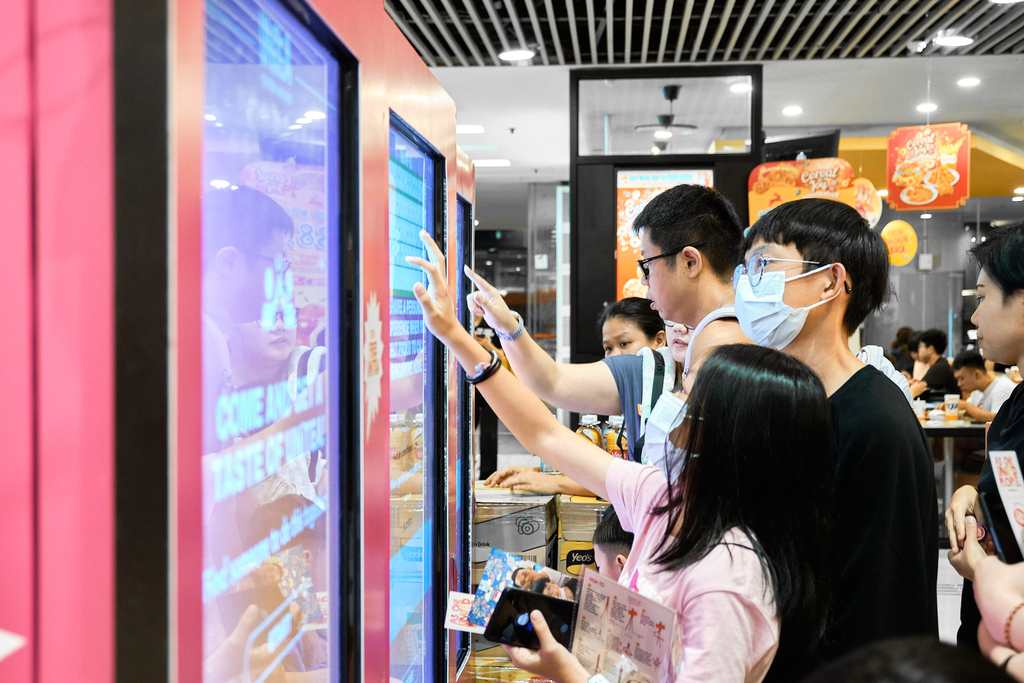 Visitors from all walks of life come together to talk about the experiences that give them a sense of belonging.
For 10-year-old Alfred, this experience was unlike anything he has ever seen. "It was so fun! I went back to do it again and ended up with four drinks!"

BOND: Strike a pose at the Portraits of Unity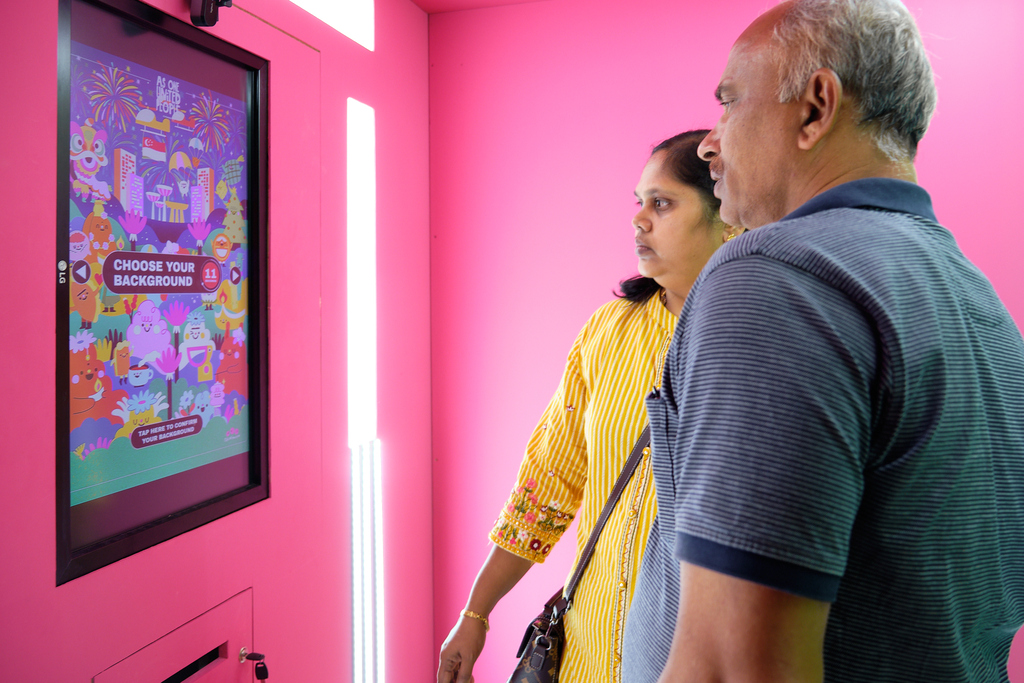 Visitors to the Portraits of Unity exhibit are able to take home a printed copy of their photo as a memento. 
Snaking lines formed right outside the photo booth, where participants got to choose from three unique digital backdrops, each designed by local artists Candice Phang (@
puffingmuffin
), Muhamad Izdi (@
lepaklukis
) and Dale Lam (@
lamwenjie
) based on familiar icons. Before striking a pose, participants were asked to share some of their favourite places to go to connect with fellow Singaporeans. In addition to a digital copy, participants are also able to bring home a physical copy of the photo home as a memento. Needless to say, this exhibit was a huge hit with adults and children alike.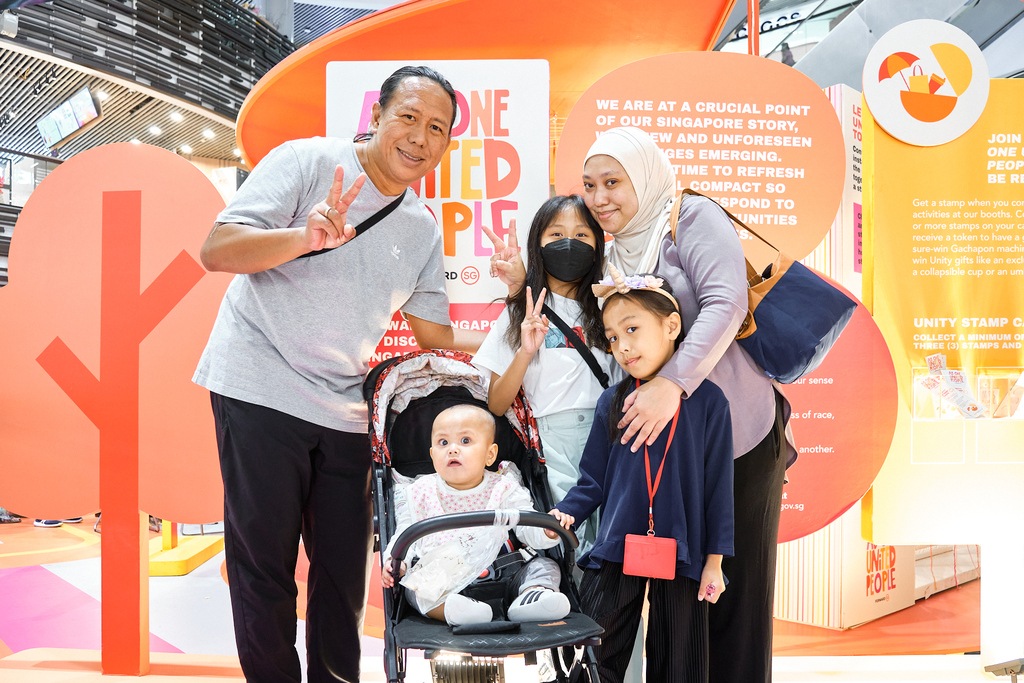 Ms. Dillah and family found the roadshow a great reminder of how far Singapore has come as a nation.
"It's the first time my kids had a chance to take home a physical photo we've taken together as a family. And for it to be one that's centred around the concept of social cohesion in Singapore makes it a great way to instil values of national identity in them," said Ms. Dillah, 39-year-old.

BUILD: Next, coming together to build the Unity Bridge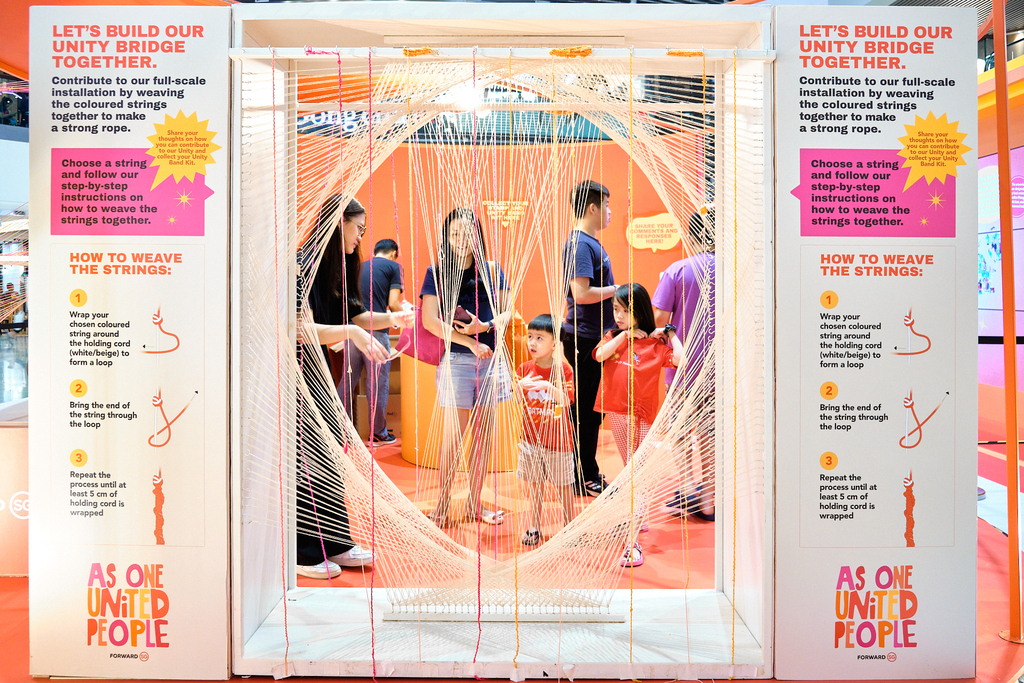 Visitors get crafty at the Unity Bridge, where they're invited to build the installation together.
Participants are then greeted by a colourful and intricate art installation at the Unity Bridge. Conceptualised by local artist Adeline Loo, the Unity Bridge is made out of different threads representing our pledge to build a shared future.
Here, participants are tasked to twine multi-coloured threads together to form a singular strand. Local fibre artist, Adeline Loo, will use these threads woven by participants to craft the Unity Bridge, The Unity Bridge symbolises our multicultural identity, and our collective strength. It is a physical manifestation of how individual threads can come together to form something bigger. Once participants complete this task, they will be given a Unity Band Kit, where they can create a pair of bands for themselves and a friend.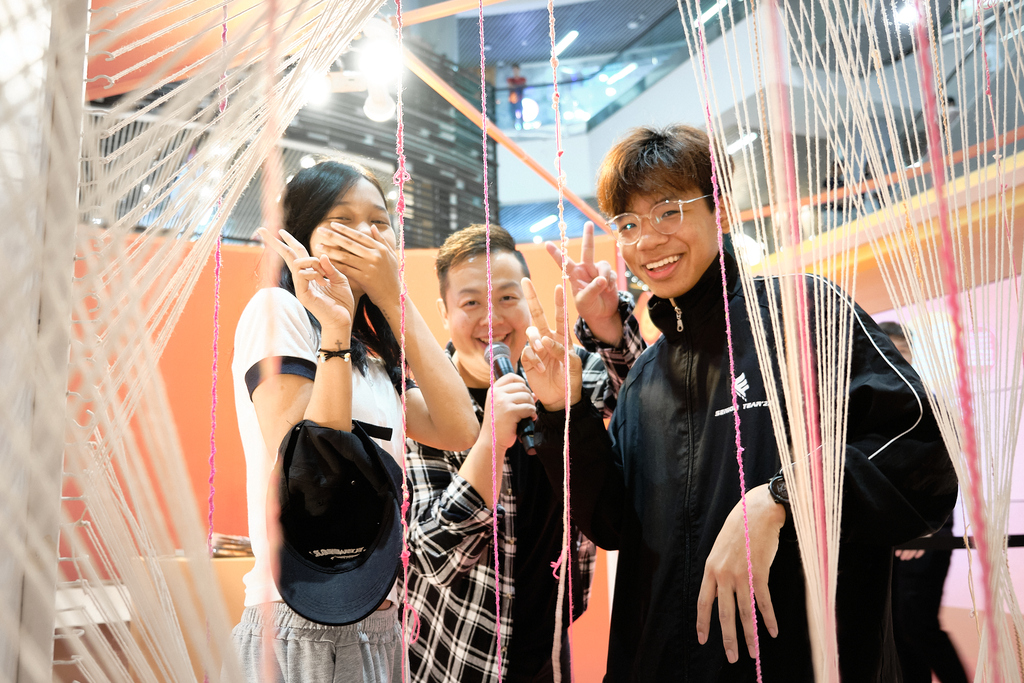 It's all smiles for visitors at the Unity Bridge.
"I found the Unity Bridge to be the most interesting exhibit," shared Hafiz, 17. He felt that the exhibit was very thoughtful, and helps to put things into perspective. "Having a visual representation of what Unity represents is so powerful because we often take what we have going for us here in Singapore for granted," he continued.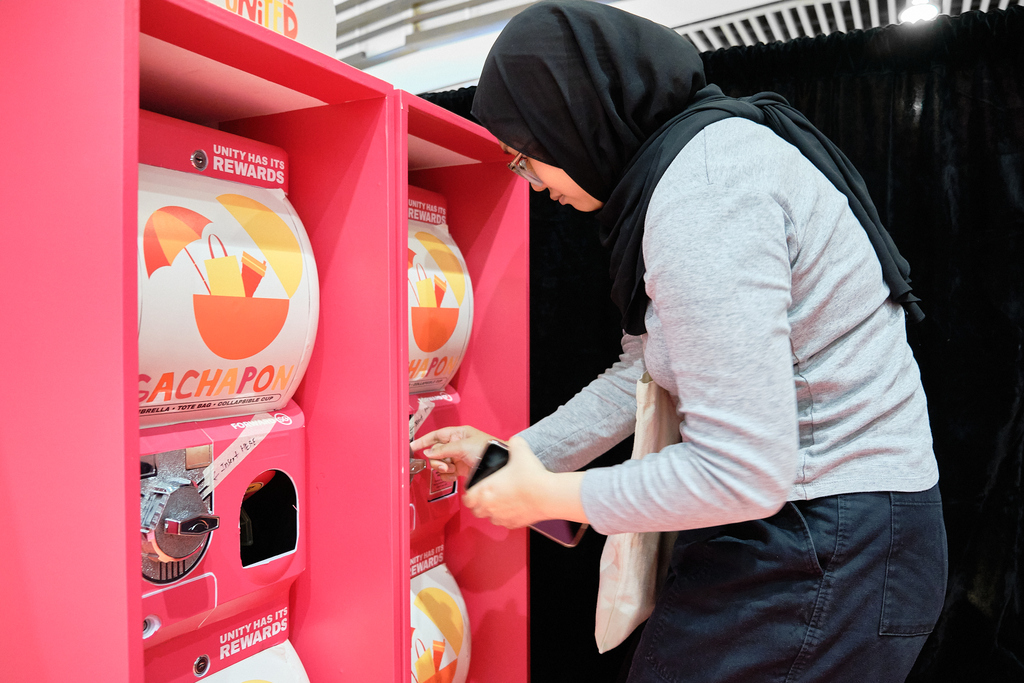 In exchange for completed stamp cards, visitors were invited to try their luck at the sure-win gachapon machines.
Taking home tokens of Unity
Visitors of the roadshow didn't leave empty-handed — from tote bags to umbrellas and collapsible cups in various colours, participants were invited to exchange their completed stamp cards for a turn at the gachapon machines that lined the walkway.

Homegrown artist, The Official Rex takes the stage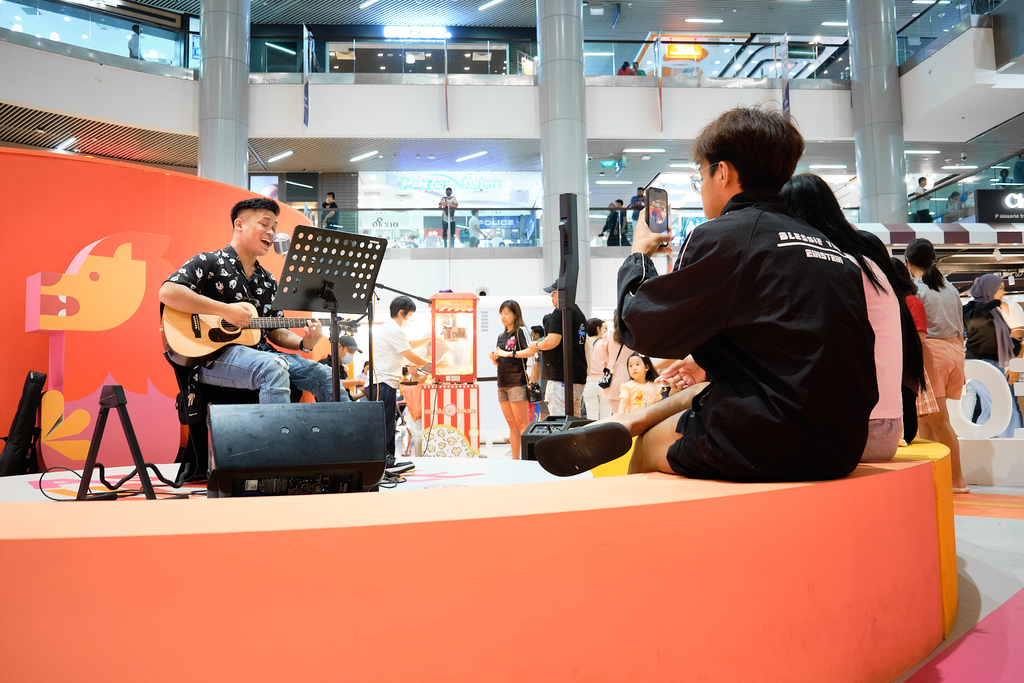 The Official Rex performing crowd-favourite tunes at the roadshow
To cap off the evening of fun, Harith Matin, or The Official Rex (@
theofficial_rex
), serenaded the crowd with familiar pop hits. Rex is one of the three acts to perform during the roadshow, besides singer-songwriters Daniel Sid and Jason Yu.
For Rex, music is a great unifier. "It doesn't matter what language it's being performed in — music has an amazing way of bringing people together. And when I see how Singaporeans, regardless of race, age, or religion, come together to enjoy the music I put out, it spurs me on to do more for the community, and make their days better, one song at a time."
When asked about what he's most proud of as a Singaporean, he shared that it's our common language — Singlish. "I think it's a testament to our melting pot of culture and our unity as a nation."
Exploring the Singaporean Identity
When asked about what they feel contributes to our unique Singaporean identity, visitors to the roadshow expressed similar views.
Many shared that the annual National Day Parade (NDP) and cultural festivals were key events that remind them of our uniqueness. "NDP emphasises our nation's progress over the decades and reminds me of how unique our multicultural identity is in the world. I think it helps that we all get to experience it at least once in our lives when we're in primary school!" shared Jenn, 28, one of the participants at the event.
"One of my best friends invited me to celebrate Holi with him and his family, and it gave me the opportunity to learn more about the Hindu culture. I love that about Singapore — our multiculturalism, and being exposed to different beliefs and experiences from a very young age," said Hafiz.
Building a more cohesive Singapore
What can we do to prepare our nation for the uncertain future?
Blessie, 17, shared that a more cohesive Singapore starts with a willingness to listen. "Our generation is a lot more open-minded than the older generation, so if there were opportunities for us to sit down with the older folks and engage with them on various topics, I think it can help bridge the gap."
For Mdm Tjin, 71, she feels that while the kampung spirit of the yesteryears isn't as prevalent these days, she understands that it's simply a byproduct of modernisation and globalisation. "The community spirit is seen in different ways now. For instance, chatting with my neighbours, or attending events and activities at the Community Centres. I get to spend time with other seniors, explore Singapore, and feel grateful about how far we've come."
And for the Lim family, they feel that the various places of interest help to cultivate a sense of national pride, which they believe is key to a more united Singapore. "We love bringing our 9-year-old daughter to the different museums and parks, just so that we can teach her more about Southeast Asian culture. We recently went to the Singapore Chinese Cultural Centre and she loved it."
A snapshot of what went down at the Causeway Point edition of the roadshow
The 'As One United People' Roadshow invites people to start thinking about the future. And while doing so, serve as a point of reflection about our past; personal milestones, the memories close to our hearts, and our progress as a nation.
The 'As One United People' roadshow will make its final appearance at Jurong Point from 27 March to 2 April. Do follow MCCY on Instagram (@
mccysg
) for more updates on the roadshow!