Breaking barriers through flavour: Three hawkers redefine good food regardless of race
These three successful hawker joints serve dishes that don't always reflect the ethnicities of their chefs. Kaya uncovers the recipe behind their success in food and life, in spite of existing racial and religious differences.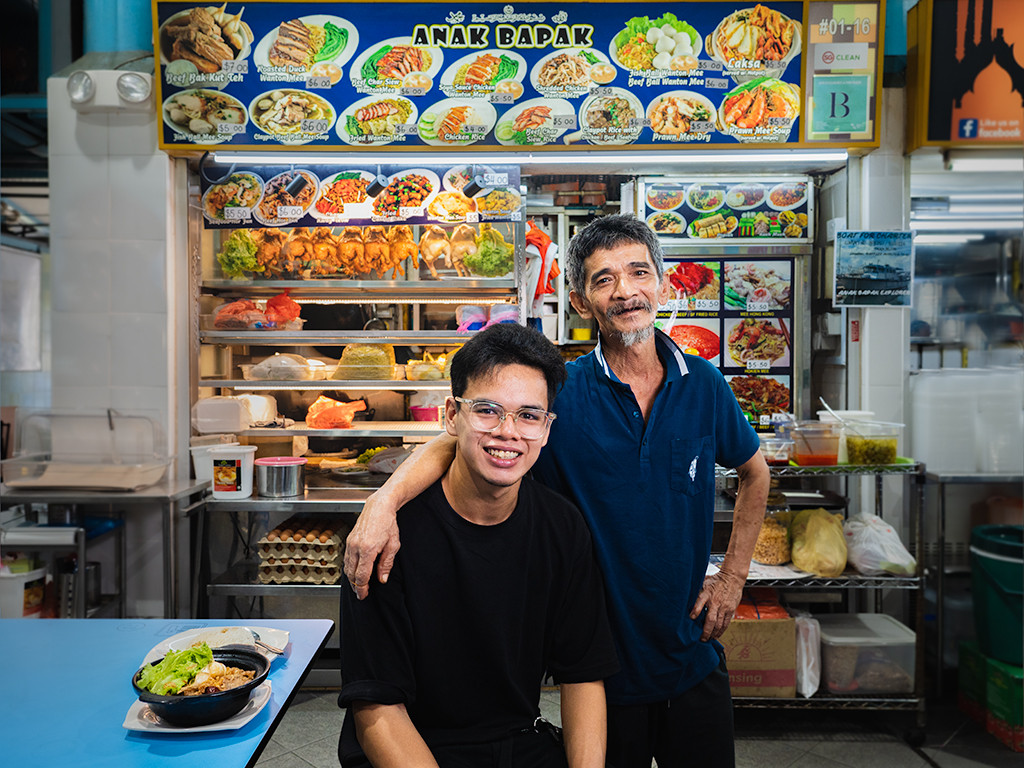 Mr Kamal and his son Shah run Anak Bapak, a unique stall serving halal bak kut teh.
Singapore wears its badge of multiculturalism with pride. Naturally, being a food paradise, the hawker landscape is where we see this playing out most vividly. This Racial Harmony Month, we bring you the stories of three hawkers who embrace different cultures to bring delicious food to Singaporeans.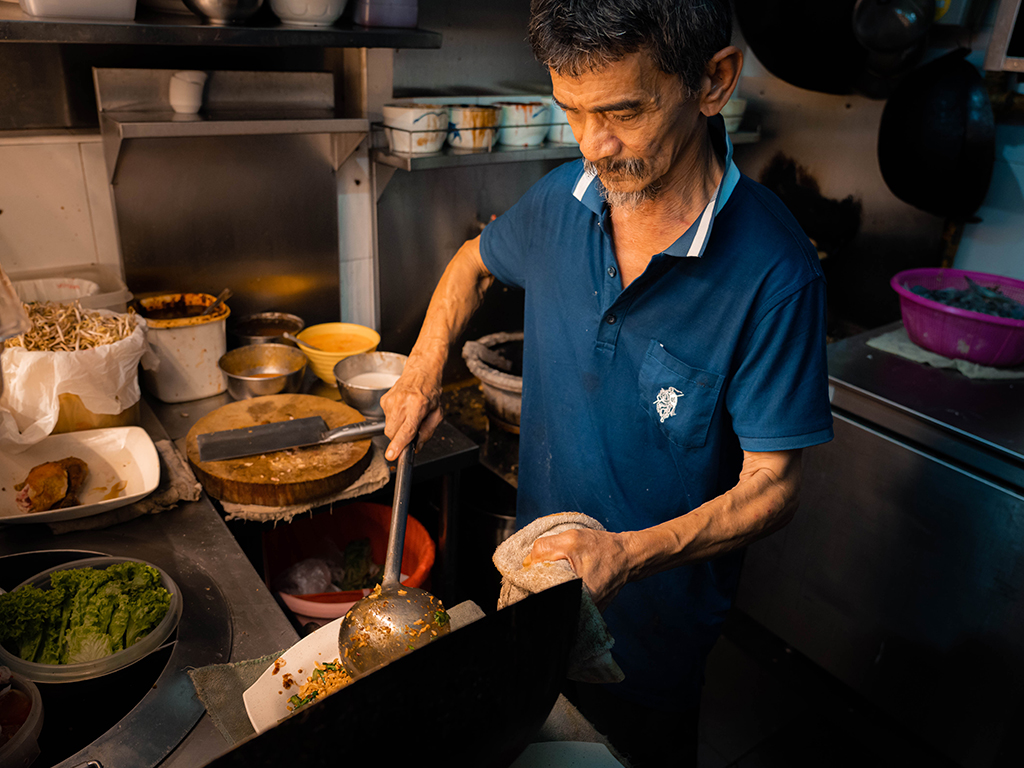 Mr Kamal, a seasoned chef with decades of experience, is pictured in his stall.
Anak Bapak

Ever heard of bak kut teh being sold by Malay hawkers?

Look no further than Anak Bapak, whose pioneering halal beef bak kut teh attracts visitors from all four corners of the island to the stall located at Eunos Crescent Market and Food Centre.

Managed by Mr Kamal and his son Shah, the Muslim-owned stall has established a name for itself for serving up hearty Chinese fare. Here, you can find delicious char kway teow, wonton mee, prawn mee, soya sauce chicken noodles, claypot rice and more.

For Mr Kamal, cooking has always been in his blood. Starting out as an army cook at age 17, he went on to helm chef roles at various hotels.

The 64-year-old came up with his own secret bak kut teh recipe, involving a rich broth of beef ribs, beef brisket, an assortment of fresh Chinese herbs, and black sauce that is painstakingly simmered and brewed for hours. The piping hot, peppery soup is served in a claypot, along with a generous serving of chicken rice and fragrant homemade sambal. In preparing the 50 bowls each day, he relies on gut feeling, having developed a sharply tuned instinct and palate from decades of cooking.

"When you do a food business, you must be creative. Then you will be very successful," says Mr Kamal with a hint of pride.

Their customers include a mix of Malays who enjoy Chinese food, as well as Chinese-Muslim converts who miss the taste of bak kut teh, explains Mr Kamal.

Chatty and animated, Mr Kamal is also effortlessly multilingual, striking an easy rapport in Hokkien dialect with the older customers who hang out at the hawker centre every day.

Eager to follow in his father's footsteps, Shah has also been learning the trade since primary school. Beyond mastering the dishes, he's also learning to build relationships with customers too. For instance, he uses a smattering of Mandarin with customers, while asking them if they'd like some chilli or to do takeaway.

What keeps the father-son duo going is their fierce passion to uphold the rich traditions of Singapore's multiculturalism. "We like making people happy with our food," says Shah.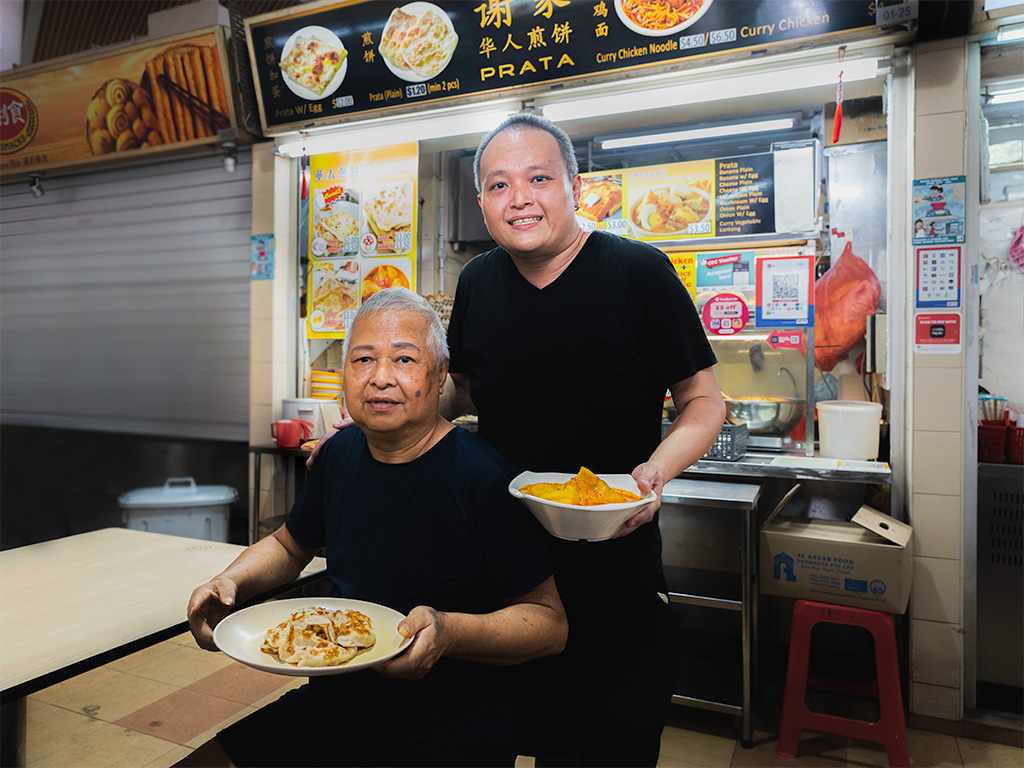 Roger Seah (right) and his father Seah Kian Huat (left) whip up prata at Xie Jia Chinese Prata.
Xie Jia Chinese Prata

Over at the Yuhua Village Market and Food Centre in Jurong East, Xie Jia Chinese Prata has been breaking new ground as well.

Roger Seah and his father Seah Kian Huat have been flipping prata for years.

The Seahs have always been in the hawker trade. It was Roger's cousin who first tried his hand at selling prata, and Roger's father followed suit as well.

To learn the art of prata-making, Kian Huat gleaned the basic knowledge from Indian 'masters' and observed how his Indian staff worked. It took him about three months of practice to perfect his prata.

The Seahs lend their own unique spin to the dish. They use factory-supplied dough to make their prata by hand, and serve it with flavourful Chinese chicken curry. The result is a crispy confection that is less greasy than the usual prata, and a less spicy prata curry compared to the Indian-Muslim version.

The hours are relentless too: they start from as early as 5.30am and serve customers all the way till noon. "You have to constantly be at the fire which can get very hot," explains Kian Huat.

The stall has attracted loyal regulars from all ethnicities, garnering a reputation for its solid fare.

"People will be able to appreciate your skill in cooking it, regardless of what race or ethnicity you are. After all, it's the taste that matters," says Roger.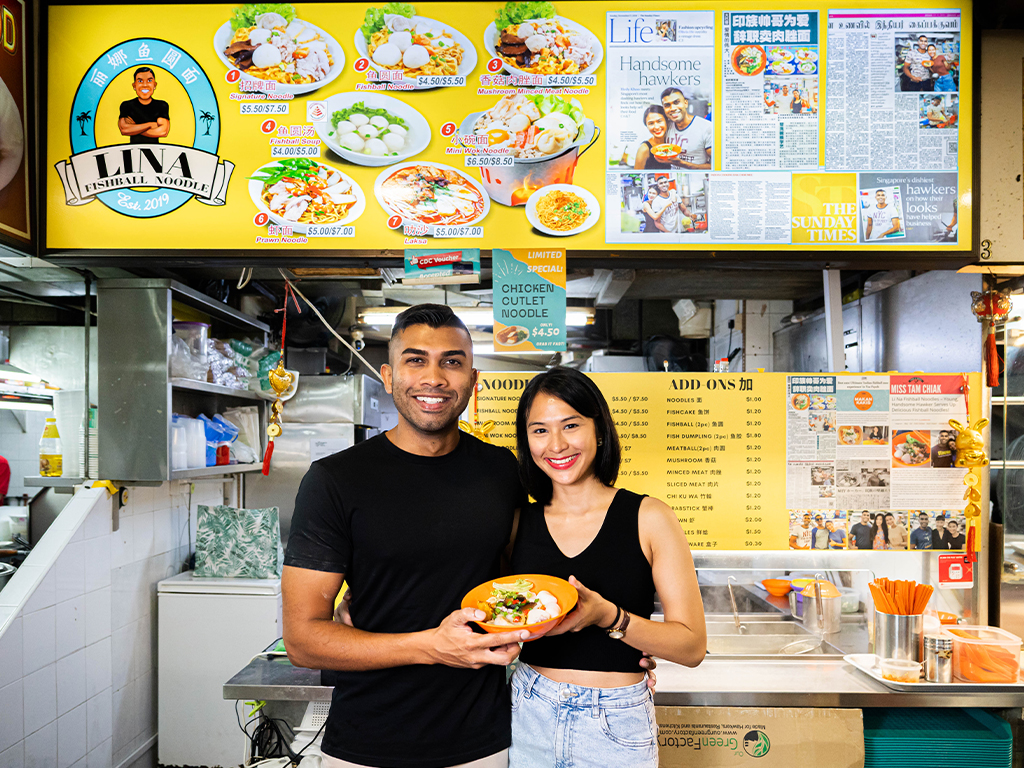 Interracial couple Jeevan Ananthan and his wife May Leena Krishnan bring Indian fishball mee to customers.
Lina Fishball Noodles
Making the rounds on social media is Lina Fishball Noodles in Toa Payoh, started by a young Indian-Chinese couple Jeevan Ananthan and his wife May Leena Krishnan in 2019.
An Instagram video of Jeevan cooking noodles hashtagged #TheIndianFishBallExperience catapulted them to Internet fame, landing them a slew of media coverage and visits from local celebrities like comedian Kumar and actress Michelle Chia.

Tired of the corporate grind, Jeevan and Leena, formerly an investment banker and digital marketer respectively, had decided to start a business to spend more time together doing something they loved.

The couple engaged an experienced noodle hawker for a month to share with them some basic culinary skills and to teach them the basics of running a kitchen. Then they were thrown into the deep end.

Relying on their own wits, several rounds of experimentation, learning from Internet videos and incorporating customer feedback, they finally found their footing and came up with their own recipe.

The end result — springy mee pok tossed with a umami-packed sauce of liquid lard, black vinegar and their own blend of chilli paste, and topped with addictive minced pork, braised shiitake mushrooms, fishballs and fish dumplings, beansprouts, lettuce, spring onion and crispy lard.

What they try to serve in each bowl is that feeling of "comfort, familiarity and nostalgia," they say.

Drawing curiosity initially, the couple successfully got the brand off the ground.

Both Leena and Jeevan could understand basic Mandarin, Hokkien and Teochew, which came in handy when engaging with the large Chinese customer base in the area.
"When it comes to hawker food, you actually have the most number of permutations of a dish that you can find, more than in any other restaurant. With one bowl, you have the choice of seven noodles. And then you can request for different items like chilli, no chilli, vinegar, no vinegar, tomato, black sauce, white, white with no vinegar, white with vinegar... These are the nuances that we picked up," said Leena.

The business has expanded to include a bigger stall in Toa Payoh, a second outlet in Tampines North and even a central kitchen. Soon they'll be launching their own homemade recipe called Lina Original Chicken Wing and smoked duck noodle.

To Jeevan and Leena, they are eager to spread the message that food can draw Singaporeans together, regardless of race.

Says Leena, "We once had a customer who said, 'If you close your eyes and eat it, you don't know who's cooking your noodle anyway. So it's only when you see and then you have the impression in your head that might influence you in a certain way…. To us, food is race-blind. As long as it's good, it doesn't matter who made it."

Celebrating our multi-cultural landscape
These three ordinary stories exemplify the wonder we can find in Singapore's multi-cultural landscape. This Racial Harmony Month, let's look within our neighbourhoods to support more of our local hawkers whose culinary creations transcend cultural borders!