Building a more united Singapore through fitness, music and art
As our young nation continues to grow, we will face new opportunities and challenges. In order to move forward, we have to be united as one people. We spotlight 3 inspiring Singaporeans who, while pursuing their passions, found ways to contribute and positively impact the community.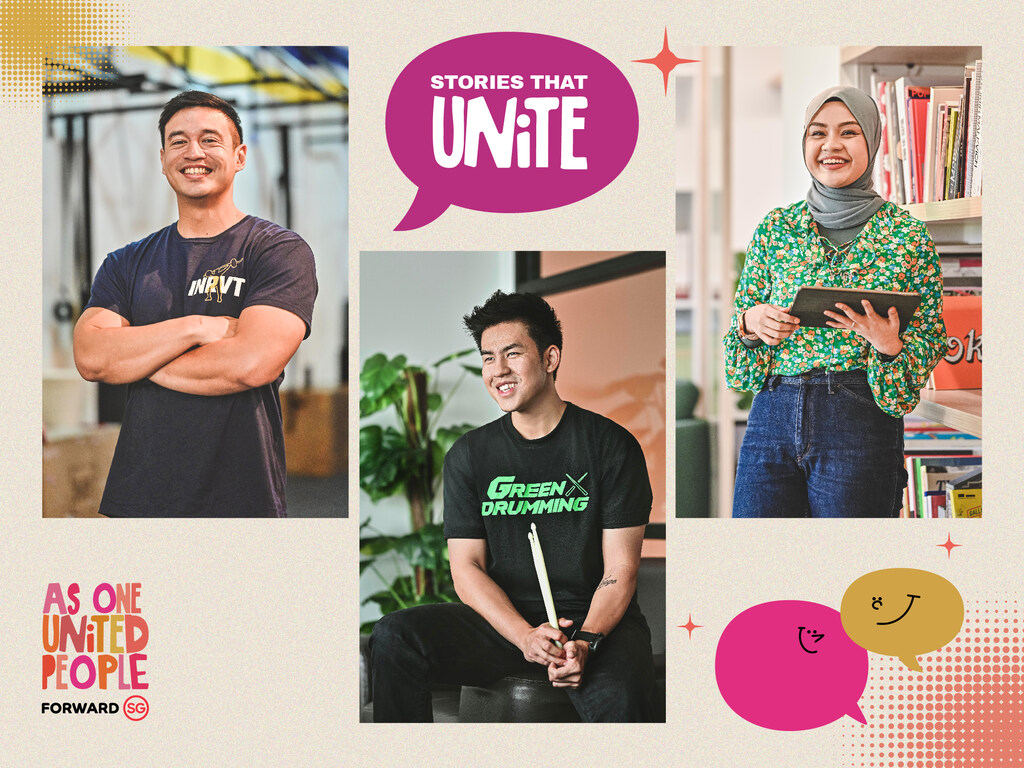 (From left to right) Lionel Choong, Arthur Choo and Dina Nerina
What does it truly mean to be united as one people?
In primary and secondary school, we say the national pledge every day, but what does it mean to pledge ourselves as one united people?

Do we feel a sense of belonging to Singapore and its various communities?

Are we bonded with other Singaporeans regardless of race, language or religion?

Are we playing our part in helping to build a better society for all?

We interviewed three Singaporeans who have dedicated their lives to building a more united Singapore and embody the 3 aspects of unity: belong, bond and build.

Not just building buff bods, but a better society too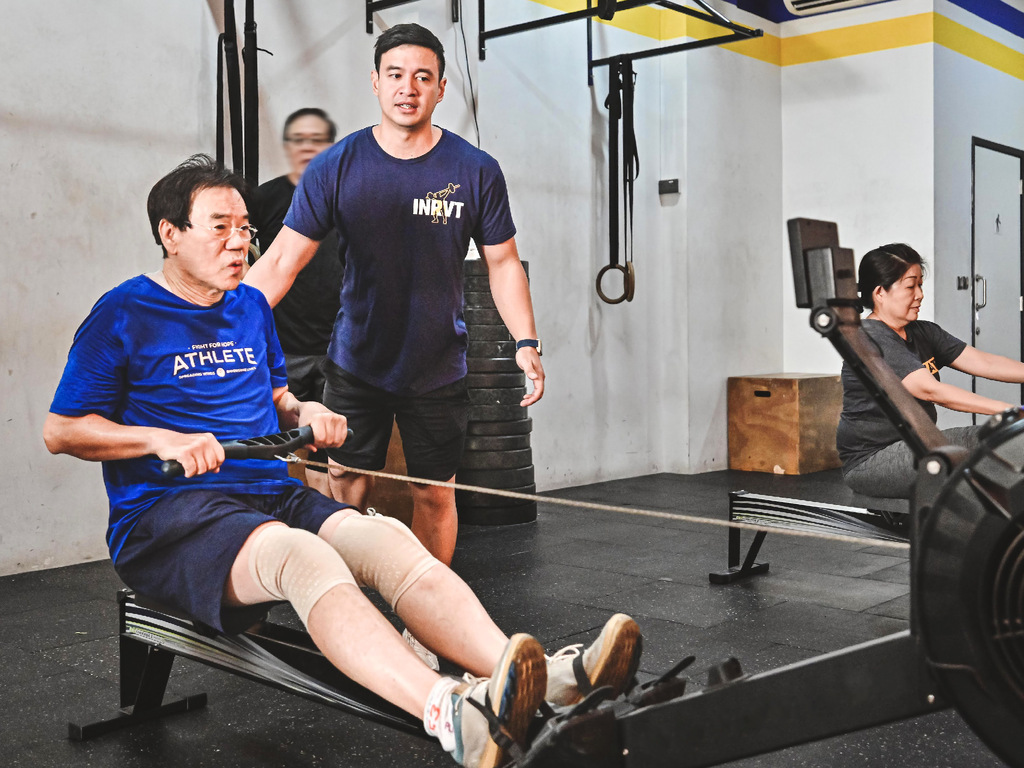 Lionel Choong teaching CrossFit to seniors at Innervate Fitness.
Innervate Fitness is your not-so-typical CrossFit gym that offers programmes for the elderly, people with disabilities and at-risk youths.

Co-founder, Lionel Choong, first got into CrossFit during his National Service and found that apart from getting fitter, CrossFit can also help to instil good values and build character.
"What instantly drew me in was the camaraderie and sense of community."
Inspired by this, he hopes to make CrossFit accessible to everyone regardless of ability or affordability. The gym has developed a slew of programs for these people such as CrossFit Silvers and Adaptive CrossFit, while also working with charities to bring CrossFit to at-risk youths and organise fundraising events.
CrossFit Silvers is a special programme for the elderly aged 55 and above. The aim is to help seniors live a healthier and active life by improving their posture, energy levels and strength through exercise.
Another meaningful programme is Adaptive CrossFit that provides persons with disabilities a safe space to exercise. They adapt exercises to suit the various needs, promoting independence and improving quality of life.
One of Lionel's most memorable moments was when he did a 10-week programme with at-risk youths.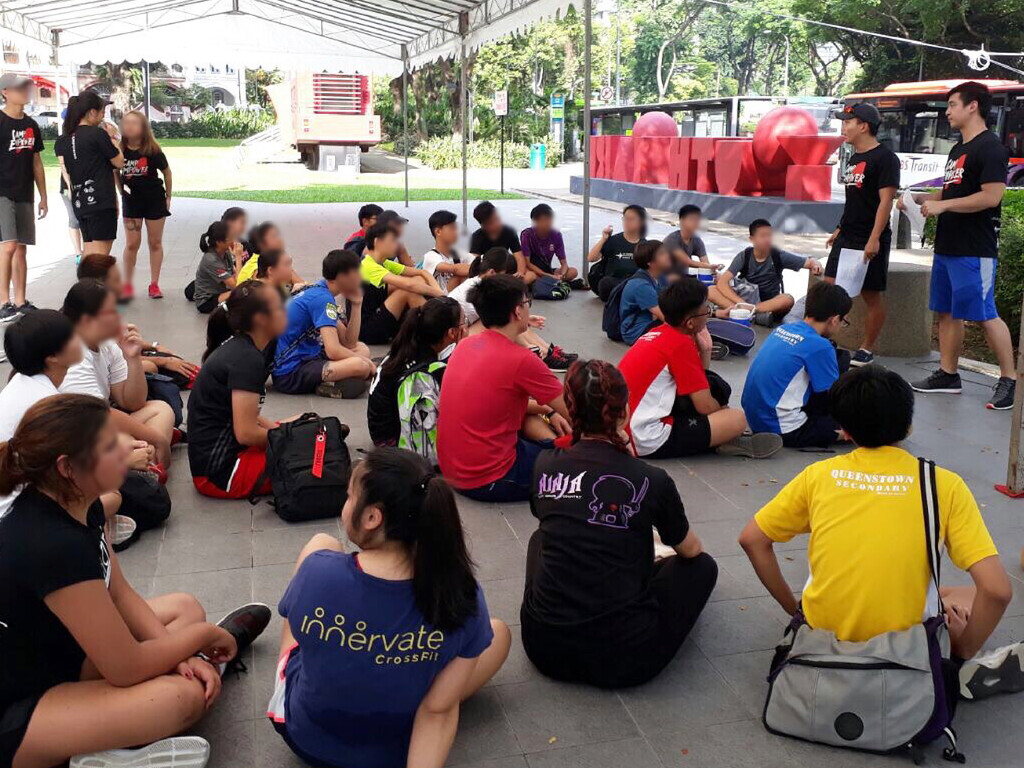 Lionel and other employees conducting a programme for youths. (Credit: Innervate Fitness)
"It was tough getting through to them at first but eventually, we were able to break through. At the end of 10 weeks, many wanted to continue learning CrossFit and preferred it to other vices that they tend to be associated with."

Innervate continued to offer free classes to these youths to support them in their passion. Some of the youths have even taken up internship positions at the gym and are inspired to pursue careers in fitness. Since then, he has also co-founded Amplify Fitness, which works with youths as well.

Sharing his motivation for starting Innervate, he says that some people may think that to help the underprivileged, you need to be of a similar background. However, Lionel believes that anyone can make a difference.

"I recognise that I am very fortunate to have grown up in a positive environment, so I want to help as many youths as possible have a better experience growing up."
Nurturing unity one beat at a time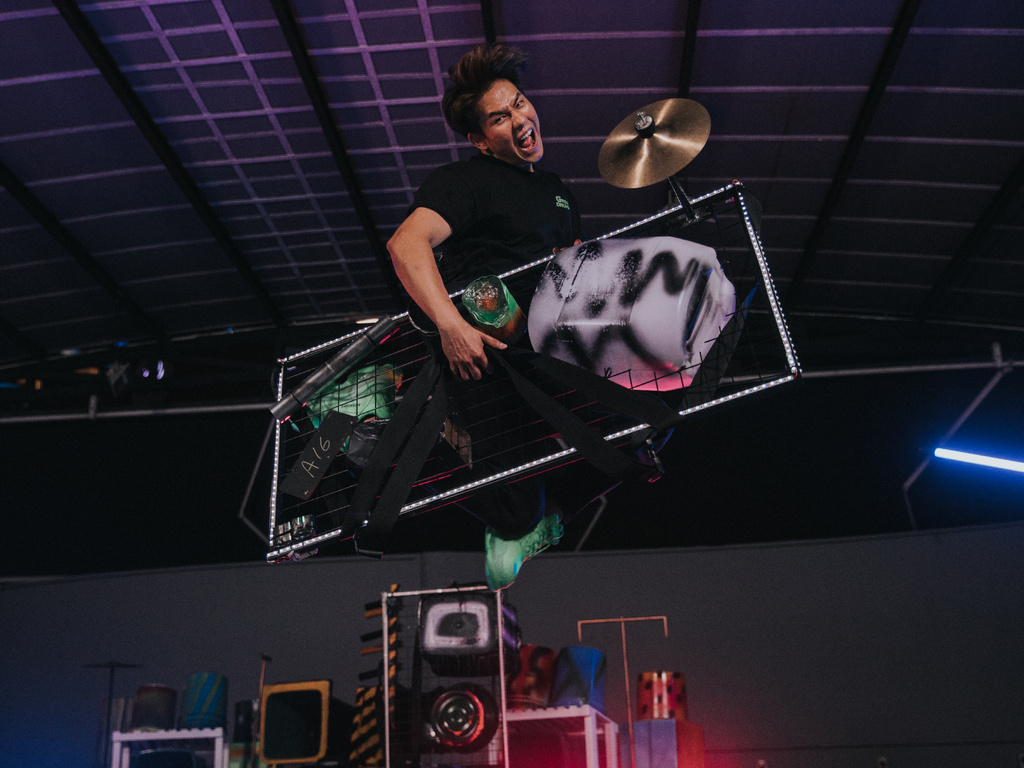 Arthur Choo with a set of Green Drums, drums made from recycled waste. (Credit: BEAT'ABOX)
Arthur Choo is the founder of BEAT'ABOX, a social enterprise and Singapore's largest Cajon school, where marginalised groups find their sense of belonging and friendship through music. (A cajon is a box-shaped percussion instrument originally from Peru.)
He is also the founder of Green Drumming, a creative group that turns trash into drums to promote sustainability and innovation. They empower others with the message that if waste can be used for music, then anything is possible in life.
The Green Drumming team performing at Somerfest 2022
Arthur wasn't always so selfless and would even describe himself as "naughty" in his younger days. However, he understands the power of community and how it can bring about change. This change can be positive or negative depending on the environment.
"Growing up, I was in with a rough crowd, but it gave me a sense of belonging. I want to recreate that in a positive way."
Through BEAT'ABOX, Arthur is able to create a positive environment for people of different backgrounds to come together. A shared interest in drumming creates an invisible bond that transcends physical differences like race or age.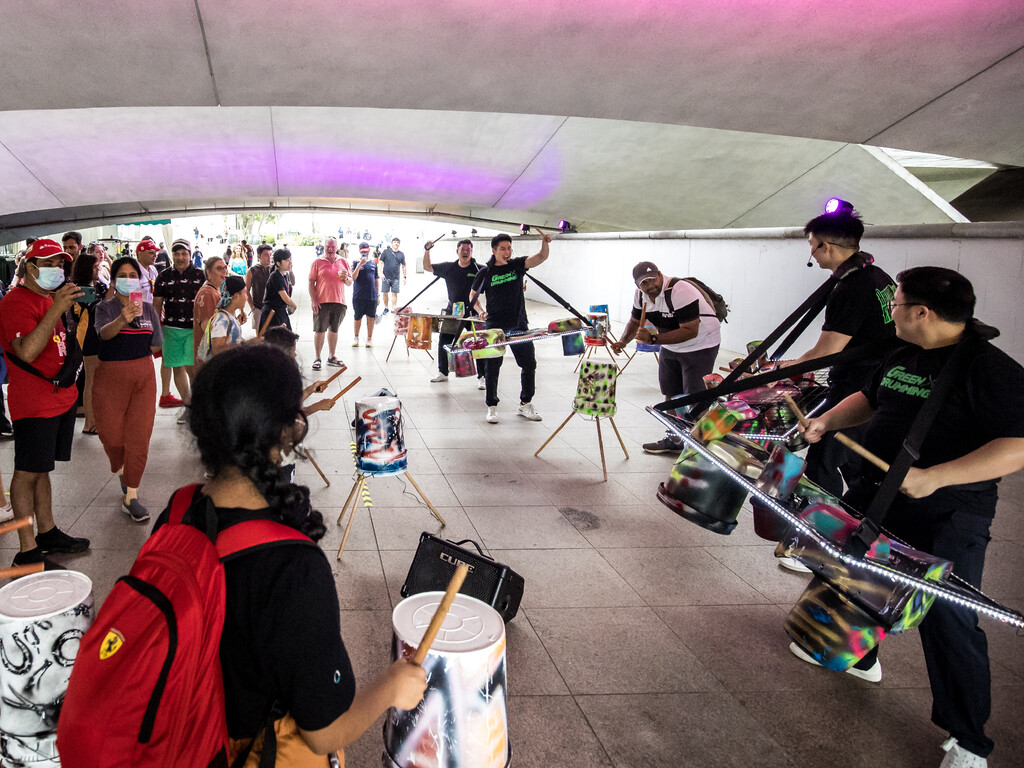 The Green Drumming team inviting the crowd into their performance. (Credit: BEAT'ABOX)
"It is more than just drumming, it is where marginalised groups discover the power of working together as one."

Arthur uses the Cajon as an instrument to form connections because it is easy to learn and fun.

"It unlocks a childlike playfulness and lowers your guard so connecting with one another becomes easier."

When asked how Singaporeans can be more united, Arthur shares that it is important for us to be inclusive and accepting of one another. Having a common goal and passion can help to unite people of various backgrounds.

Building a more inclusive society through art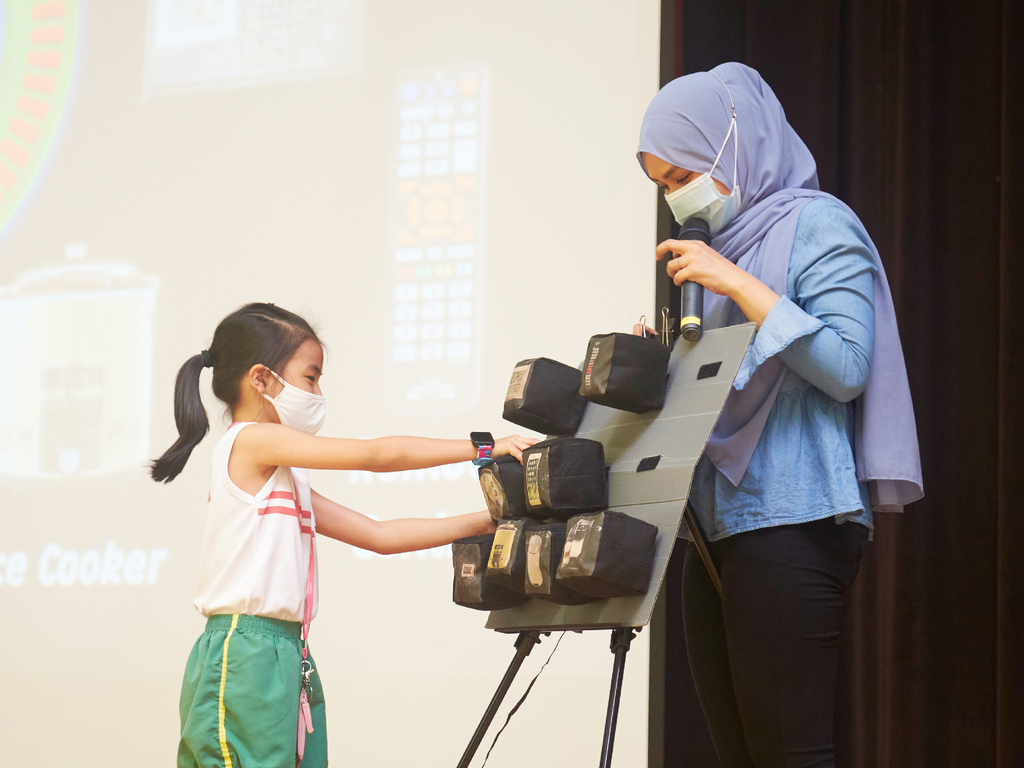 Dina teaching art at a school assembly session. (Credit: Art Outreach)
Dina Nerina strongly believes that art can facilitate conversations and create a more understanding society regardless of ethnicity and background. Thus, she spends much of her time promoting art and its benefits to students and seniors.
As a Community Programmes Manager at Art Outreach, a non-profit organisation, Dina works with schools to organise inclusive art programmes for students. Outside of work, she is a trained dancer and volunteered often at St Luke's hospital, teaching seniors art prior to Covid.
Dina guiding a senior with screen-printing as part of Art Outreach's ArtLink Programme. (Credit: Art Outreach)
"When we learn about art, we also learn about the culture. Being exposed to different cultures deepens your understanding of other races."
Speaking from experience, she shares that dancing with people from other races has opened up her eyes to the different practices of other races.
"I'm trained as a Malay dancer but for Chingay, I did Chinese dance. This gave me many opportunities to talk to the Chinese dancers and they were so welcoming."
Her dream for Singapore is for Singaporeans to be more united and more open to experiencing different things. Just like with art, volunteering has also helped her to gain a more diverse perspective.
"Volunteering exposes you to different people you would otherwise not meet. You get to speak to different people and understand their background more."
Charting our new way forward
Forward Singapore is an exercise for all of us to come together, re-examine our values and aspirations, build consensus, and refresh our social compact.
Through Forward Singapore, we will examine what we want for Singapore's future, what we should prioritise, and what each of us is willing to contribute, in order to get there. Let's all play our role to build a better home — a better society that is more cohesive, inclusive and united.
Join our open dialogue and tell us your views at
go.gov.sg/fsg-unite
.