Committed to the cause: Causes for Animals
A workday doesn't end for married couple Marcus and Christine Tan when they are done with their day jobs. They continue working at the animal shelter they started, where their love for dogs keeps them going.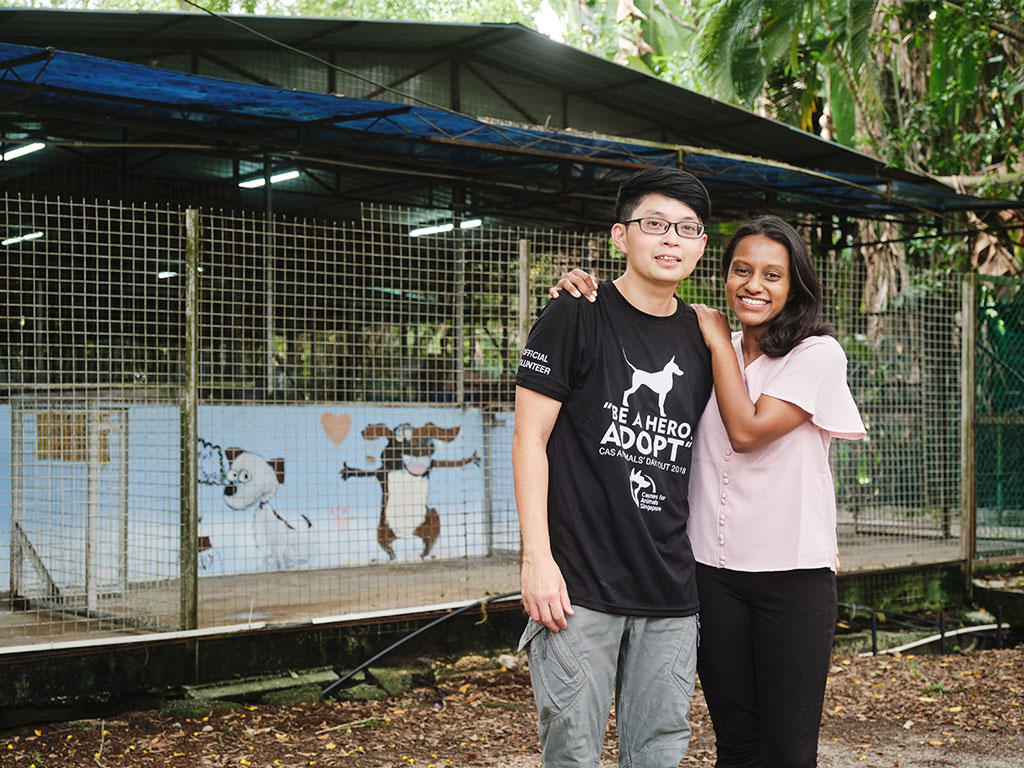 Marcus and Christine Tan met while volunteering at an animal shelter. Wanting to do more for stray dogs, they started Causes for Animals Singapore in 2013.
Many couples believe that having shared interests is very important for a happy relationship. Marcus and Christine Tan, who are animal lovers, have taken that belief to the next level. In 2013, the couple decided to start animal shelter Causes for Animals Singapore (CAS), a charity for stray dogs and cats in Singapore. Over the years, CAS has become well known for the work they do in rescuing and caring for Singapore Specials — the term of endearment given to street dogs and cats here.
CAS runs a Trap, Neuter, Release (TNR) program that has allowed it to sterilise more than 584 street dogs as of June 2022. The charity has also found loving homes for more than 500 canines and 90 cats in the last eight years. Despite having no previous experience in management, the couple manage CAS with just four other core team members.
Christine, 33, works as a history teacher at North Vista Secondary School, while Marcus, 37, is a veterinary nurse who does night shifts at a clinic. On top of that, he also runs a dog boarding business, trains dogs, organises dog assisted-therapy for senior citizens and more.
Despite their hectic personal schedules, the couple finds time to run CAS' TNR program, manage a roster of 35 volunteers a week who take care of the shelter's 25 dogs. In recent years, the animal welfare charity has also taken on a more active stance with sterilising and rehoming cats found in the community and industrial areas.
Kaya sat down with this couple to find out more about their lives as best friends to Singapore's street dogs.
How did you fall in love with dogs?
Christine:
I think (it was) when I first started volunteering for dog walking at another shelter. I realised that our Singapore Specials can be quite affectionate and not as scary as one would envision a stray dog to be. After that, I just kept going back and walking them and realised that there's quite a bit of loyalty and affection that rescue dogs can offer.
Marcus
: To be honest, I did not have much interest in dogs. I preferred cats. When doing volunteer work for another organisation that had cats and dogs, however, I started to fall in love with dogs. Cats are different from dogs — they are more independent. Dogs are companions.
How did you two meet?
Christine:
I met Marcus while volunteering at another shelter. He was also volunteering, but more so with the cats while I was doing dog-walking. Then, we happened to chit-chat and the rest is history.
Marcus:
Christine would be at the shelter early in the morning before school, and then I would go over in the afternoon to take over from her shift. So, we met each other just like that — hit and miss, touch and go. And then, slowly but surely, we spent more time together, and it developed from there.
What made you decide to start your own shelter?
Marcus:
We were feeding about 60 to 80 dogs in an industrial area in the east. We sterilised almost all of them and rehomed some of them along the way. Then developers came in to take over the piece of land, so the dogs had nowhere to go. We decided we needed to find a space to house them. That's when I drove around and found our current location.
Christine:
We strongly believe in the TNR programme as it allows the street dogs to live out their lives naturally, but stops them from multiplying. This allows us to manage the street dog and cat populations of Singapore. I think a lot of shelters may have different focuses, but this is ours. We also strongly believe in rehoming. We didn't want to set up a sanctuary for the dogs or cats to stay for life. Instead, we hope that the dogs or cats that live with us will eventually find homes of their own.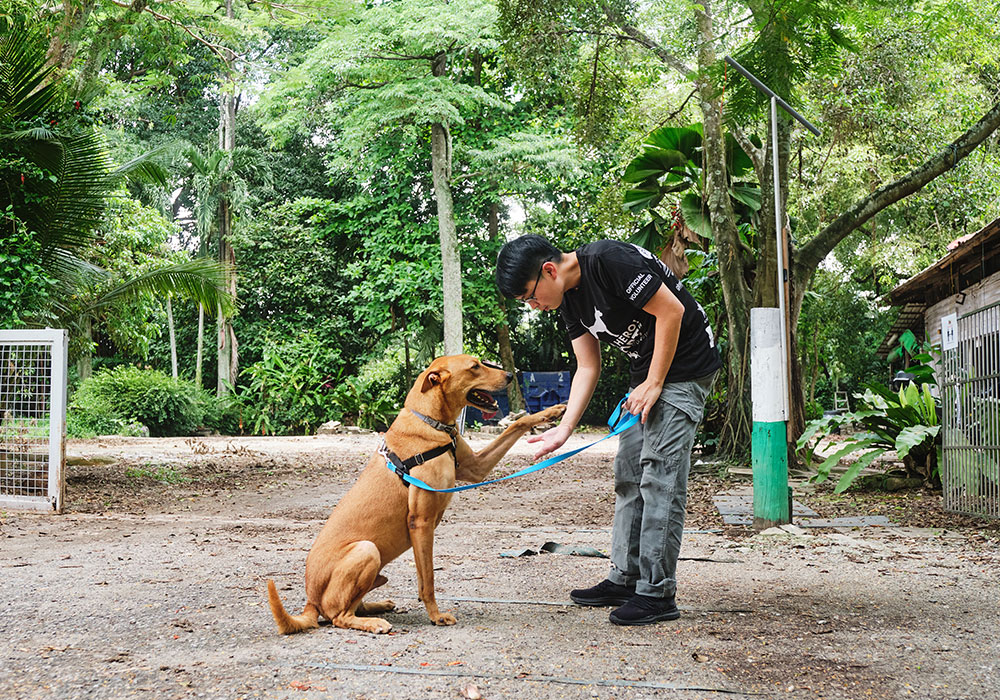 Marcus' duties, as the shelter's operations manager, include rehabilitating the stray dogs and getting them comfortable with people. 
What are your regular duties at the shelter?
Marcus:
As Operations Manager, I do more of the hands-on stuff, like teaching a dog how to walk on a leash, assessing whether a dog can be adopted, etc. Some dogs are not suitable for rehoming; they can be friendly on the street, but whether they can stay in a home is a separate issue. My job is to assess the dog's behaviour and to rehabilitate them, if possible. I mainly work on teaching the dogs to trust humans.

Christine:
Dog-walking is one of the things that I still enjoy doing, even today. At the same time, I do most of the rehoming for the dogs, the write-ups for the adoption profiles and management of our fundraising campaigns. So, my work is offline and online. I enjoy the comfort that I can receive from dogs and pets. Animals live in the moment, which is one of the things that we forget to do as humans. It brings me joy to be able to work with them.
What do you consider to be some of your biggest milestones for CAS?
Christine:
For us, the biggest milestone hit would be the fact that we did not pack the shelter. We try to keep the population at around 20 dogs because we think that will be a healthy number given the space that we have. Another milestone is the number of dogs that we have sterilised.
Marcus:
The first batch of dogs that we took in are all rehomed. There were about 20 — I cannot remember the exact number — but they were all rehomed within the first year. Now, a few of them are in America, and one of them just moved from Jakarta to Sweden. Her fur is all white and her name is Foxy. She's just beautiful. When we receive updates about the dogs we have rehomed, when the owners are kind enough to inform us, it's the most fulfilling thing.
Have you made big sacrifices to your careers or lives to keep CAS going?
Christine:
I think I'm very lucky because I work very close to home and the shelter, so I haven't really had to sacrifice much in terms of my career. I continue to do what I love to do — teaching history. I haven't had to sacrifice that. At the same time, because I married someone who has the same interest and passion as I do, we haven't had to sacrifice anything in terms of our relationship or the time we spend together.
Marcus:
No, not really. I am an engineer — I have a diploma and everything. In a way, I am grateful to the Air Force. Because of my engineering background, they assigned me to a unit that repaired helicopters. If it had worked out, I probably would have gotten a degree and a job in engineering. Instead, I realised that engineering was not what I wanted to do. After talking to Christine about my options, she said, "Why not try nursing?". So, I sent my resume to 30 or 40 vet clinics. I have never once regretted it.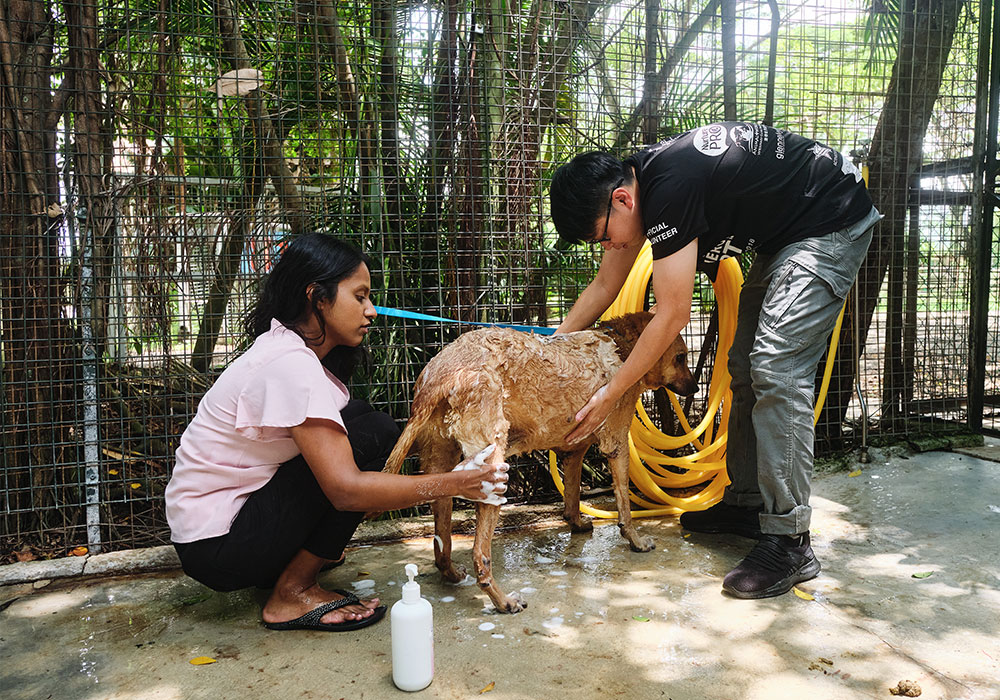 The couple, who have full-time jobs, spends every free moment at the shelter. For them, working with stray dogs and seeing the animals thrive brings them great joy.
You have many responsibilities on top of your full-time jobs. How do you juggle it all?
Christine:
I guess at the end of the day, if you enjoy doing what you do, you can always walk away with a smile, no matter how tired you are. So, that's my mantra. Just love what you're doing and the day that you stop loving what you're doing, you should re-evaluate your choices.
Marcus:
I always set a day or two half-days off every week. I go for my Jiu Jitsu. I do something else. I like to do sports to keep my mind off things. I can jog for an hour or two, and when I come back, I can think clearly again.
What do your colleagues think about you running CAS?
Christine:
I don't talk to anyone at work about what I do at CAS, but if they do discover what we are doing, the main question I get asked is, "How do you have so much time?" Then I always ask them the same questions, "What do you do on your weekends? What do you do after work?" A lot of them enjoy going to the movies, going to the malls…things like that. But those are the things that we don't really have the luxury of time to do, nor wish to do with our free time.

Marcus:
Oh, my colleagues are very supportive and nice. I can bring any dogs in from the shelter for treatment. If we have an urgent case and I can't get an appointment, the boss will say "No problem, just bring it in."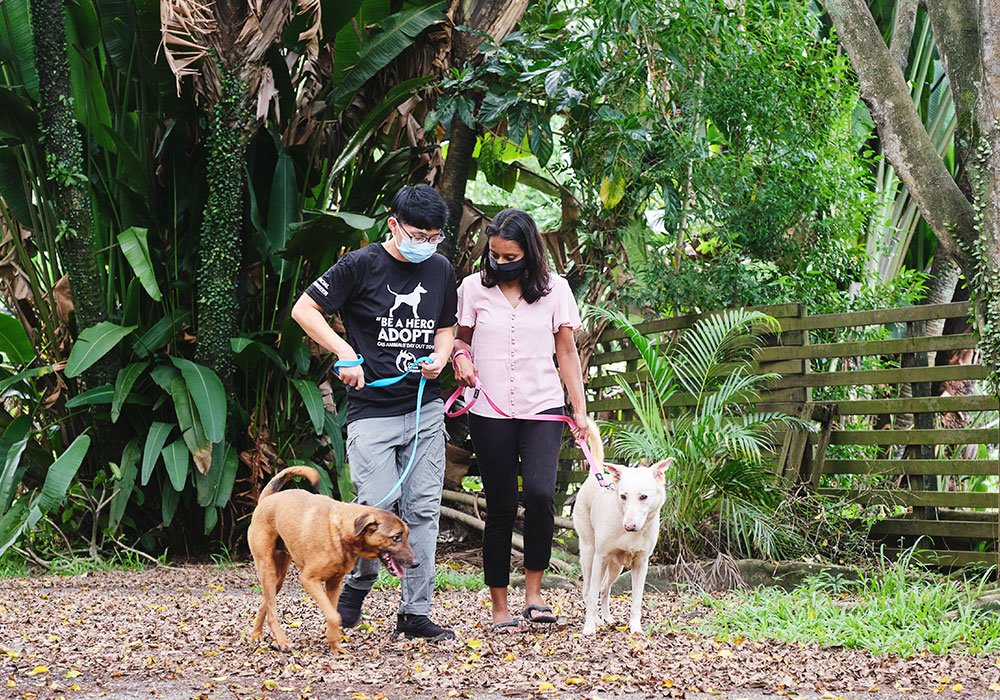 They hope that one day Singaporeans will eventually learn to love – and not be afraid – of the Singapore Specials and that more people will be open to adopting them.
What has been the biggest challenge for CAS?
Christine:
It's getting Singaporeans to accept that these street dogs are a part of our community and that they honestly have nowhere to go. We just want the public to accept them, and learn to simply avoid them if they are concerned about safety.
Marcus:
Changing the mindset of the public about mongrels. I think that has been the most difficult one. Some people will look at a mongrel like it's a lion or a tiger. But things have improved and many mongrels get rehomed. Now, we hope to teach everyone how to co-exist with Singapore's street dogs.
Have you ever wondered how different your life would be if you had never started CAS?
Christine:
I figure that I didn't really give up much and if I had to live life again, I don't think I would live it very differently. It would probably be the same life. But maybe now that we are smarter with trapping, we could sterilise even more dogs. It wasn't very popular at the time, but now we see the population ballooning again. If we had sterilised more dogs, we might have a much smaller population now. So, that is the only change I would make in my life.
Marcus:
If I could choose again...I keep wondering, would I rather have a "normal" regular job? If I had stuck with engineering, maybe adopted a stray and simply donated to animal charities, would I be content? But I realise that if I could choose again, I would still make the same choices.
To find out more about donating to, volunteering with or adopting from CAS, visit their
website
.