Demystifying Diversity With Smol Tok
Commonly associated with tabletop gaming and fantasy worlds, card games have become the rage over the past few years. But who says they can't be used to forge genuine friendships and spark impactful discussions on social issues?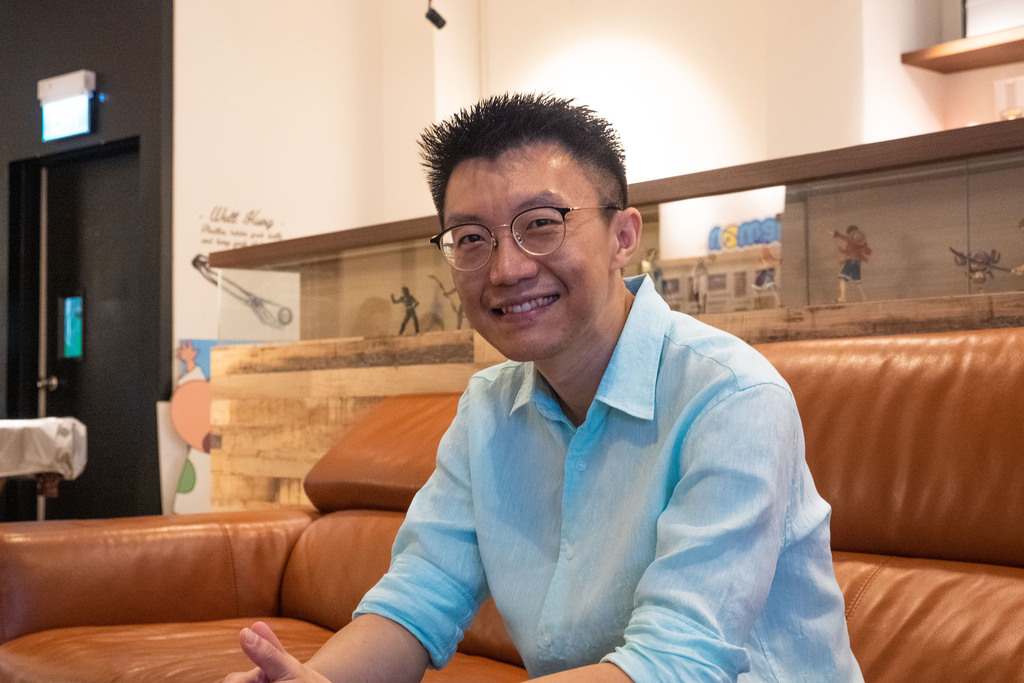 Portrait of Smol Tok Founder Nicholas Pang.
A platform for good
In 2015, Nick Pang created Smol Tok (pronounced as 'Small Talk'), a card game that encourages players to have meaningful conversations with each other. He was particularly inspired after reading Viktor Frankl's book, Man's Search for Meaning, and wanted to create "something tangible that spoke to [people's] human experiences."
Smol Tok begins with entertaining ice-breakers that reveal fun facts about its players, ranging from nicknames to a preferred superpower. The game gained traction over the next few years, which prompted Nick to begin designing questions around a topic that he was always interested in — diversity.

While these issues have always piqued Nick's interest, he realised that there "were fewer channels for open and honest conversations about these topics" as the years passed.

"People are on social media all the time but as a space for interaction, social media seems to bring out the extremes. The challenge of having authentic conversations there is multiplied by the anonymity of users and the absence of real-time relational cues," Nick explained.

Reasons to create a diversity-based expansion deck became apparent when Nick attended the International Conference on Cohesive Societies (ICCS) in 2019. There, he met Basil Kannangara, who runs a consultancy for interfaith dialogue. The pair could see that there was a keen interest in having deeper conversations about diversity. However, there weren't any tools to foster this.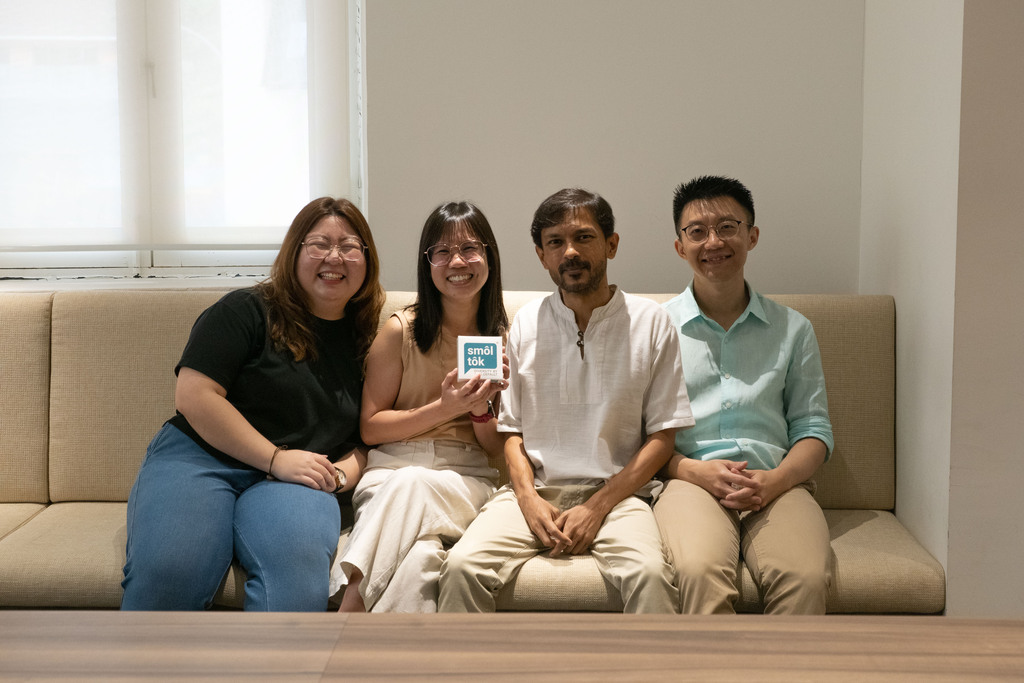 Gena Tay, Debra Lim, Basil Kannangara, and Nick Pang.
Recognising that this was a gap in the market, Nick was set on making the idea of a diversity-based expansion pack a reality. With the conviction that diversity is a natural part of our humanity that people shouldn't be afraid to discuss, Nick and Basil, now the team's lead facilitator, kickstarted the process to develop the deck.
Disability advocates Debra Lam and Gena Tay worked alongside them, and are now the project's lead strategist and facilitator respectively.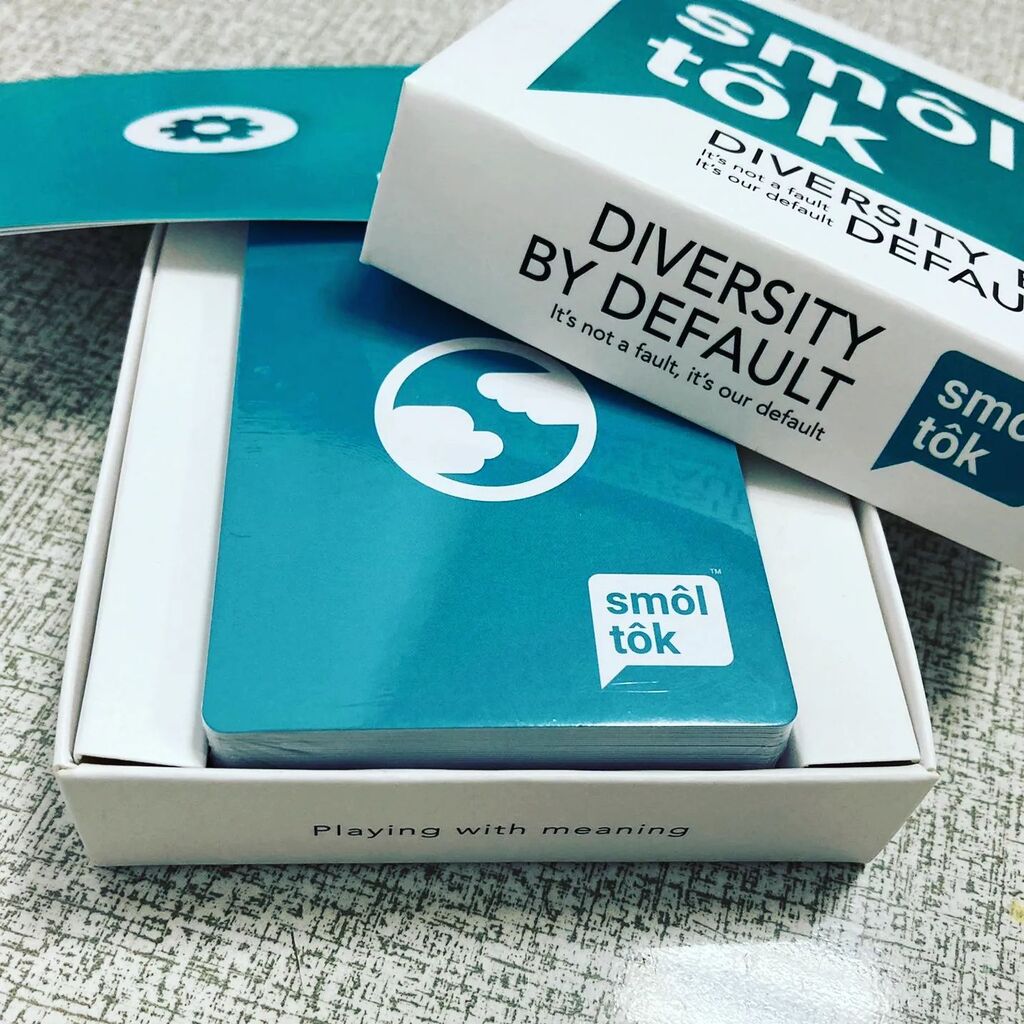 The Smol Tok 'Diversity By Default' (DBD) expansion deck.
And thus, the development of the Diversity By Default expansion deck, which features questions on diversity-related issues such as ethnicity, religions, nationality, and disability, was underway.

Examples of cards from the DBD expansion deck.
Building and playtesting the deck
While it took the team roughly three months to create the first prototype in 2020, Nick shared that much of the process centered on carefully considering questions and conversations. Nick grew up in a multi-ethnic and multi-religious family with extended family members from different nationalities and ethnicities, such as Filipino, Thai, Tamil, and Anglo-Saxon, and religions, ranging from Catholicism, Buddhism, and Islam. Being exposed to such diverse traditions and beliefs, Nick had years' worth of questions he was keen to ask. While it didn't take him very long to draft a list of initial questions, he explained that "testing, tweaking, and troubleshooting the choice of words and sentence structure took a lot longer."

Nick and Debra with draft cards.
Ten months of user testing, which involved 250 participants, followed. Each round of user testing offered new insight, which enabled the team to edit the questions and tweak the gameplay as necessary. However, conducting playtests — focus groups that test out a new product's gameplay elements — was far from a walk in the park.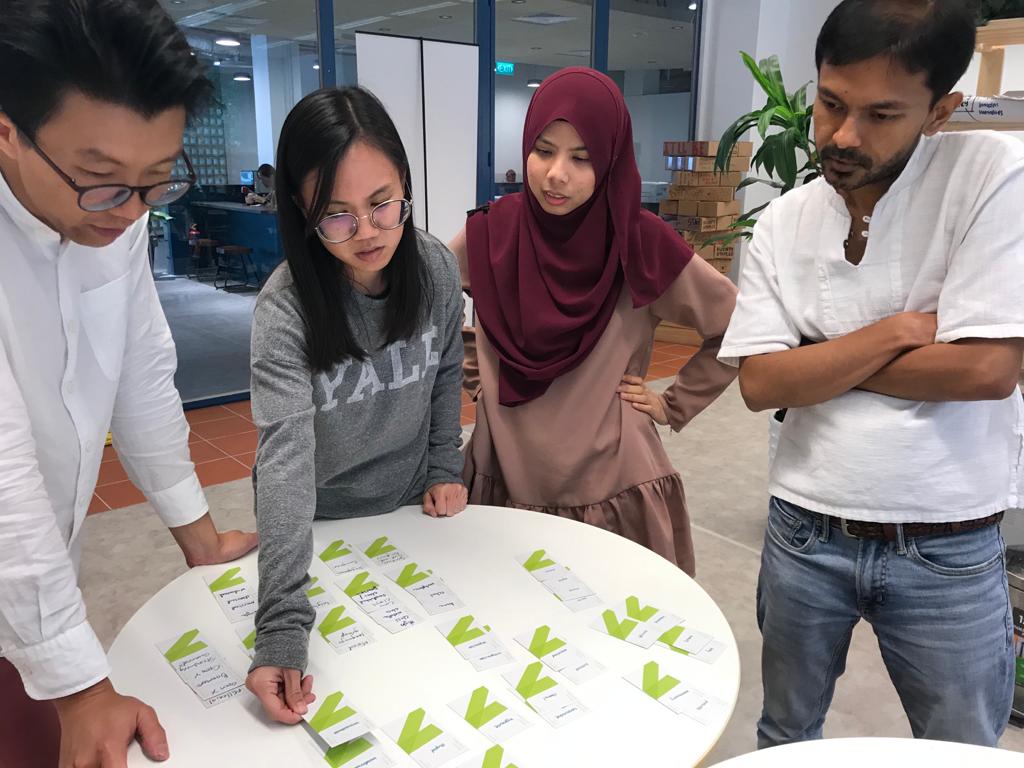 Nick, Basil, and Debra with then-intern, Siti Musfirah during the initial brainstorming phase. 
By the time playtests for the deck began in May 2021, Singapore was more than a year into the COVID-19 pandemic where many experienced 'Zoom fatigue'. To mitigate this, the team assessed and revised the design of these playtests, where dedicated web pages for each playtest were set up, allowing participants to feel as if they were interacting with the cards in reality. With this, participants were able to flip the cards by placing their cursor over them, mimicking how they would select these cards in person.
While the team didn't have much issue finding willing participants or facilitating crucial conversations virtually, some of their challenges included ensuring that playtests remained as diverse as possible. This was to actively connect people from different backgrounds so the conversations would yield varied perspectives.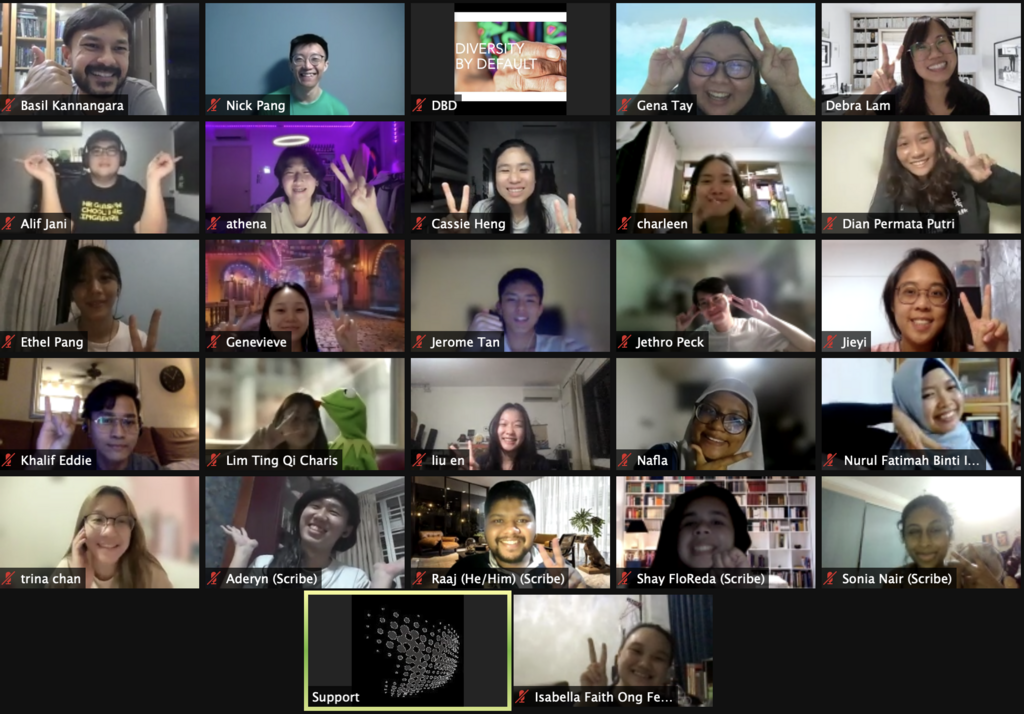 Screenshot of the online playtest.
Learning from the playtests
Conducting playtests revealed a "clear demand and urgency for more conversations (on diversity) to take place," the team shared. DBD playtesters found the experience useful, as they were able to create effective conversations based on real-life concerns and lived experiences.
The team recalled a participant who shared her struggles with being inclusive towards a deaf colleague. "It takes courage to admit that our attitudes have room for change," the team commented. The participant eventually reconciled with her internal struggles, which allowed the others in the playtesting group to understand that "it's okay to struggle as long as we recognise the issue, and work towards being kinder to ourselves and others."
This is one of the numerous anecdotes that embodies the deck's tagline 'Diversity isn't a fault; it's our default'. Expanding on this, Nick explained that "diversity is a lived reality that affects every person." With DBD, the team strove to make conversations surrounding diversity more accessible to the everyday person, "rather than just delegating the activity to representatives and leaders."
Looking to the future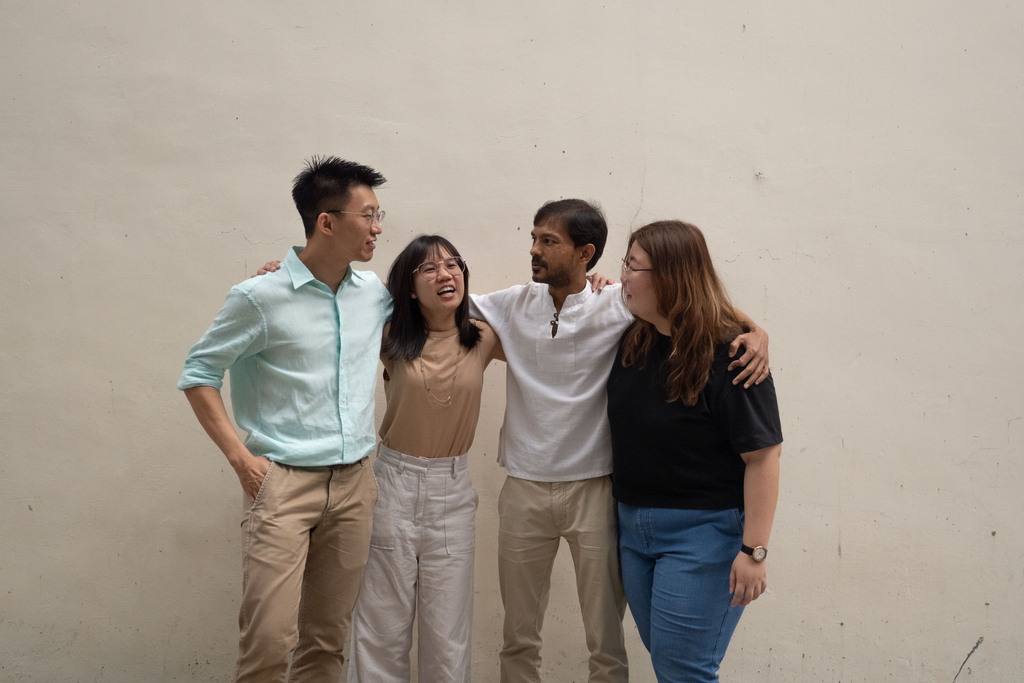 Nick and the team.
Now that
DBD
is up and running, Nick and the team are keen to take the deck "as far and wide as we possibly can, because our diversity is an essential but missing perspective in our conversations."
Understanding that fostering an open mind towards various cultures and communities begins from a young age, Nick and the team have received a grant from the National Youth Council. This will enable the team to take DBD to schools and allow "youths to start having these very necessary and complex conversations."
So far, the Smol Tok team has run engagement sessions at tertiary institutions, junior colleges, and secondary schools. The team has also shared that students from these age groups have joined in on public Smol Tok events.
Needless to say, DBD provides the opportunity for players to recognise that everyone can play a part in fostering societal harmony by willingly learning about and embracing Singapore's diverse communities.