Fighting imaginary tabletop monsters isn't just for nerds anymore, so why aren't you joining in?
This fantasy role-playing game from the 1970s casts a unifying spell that brings people from different backgrounds together.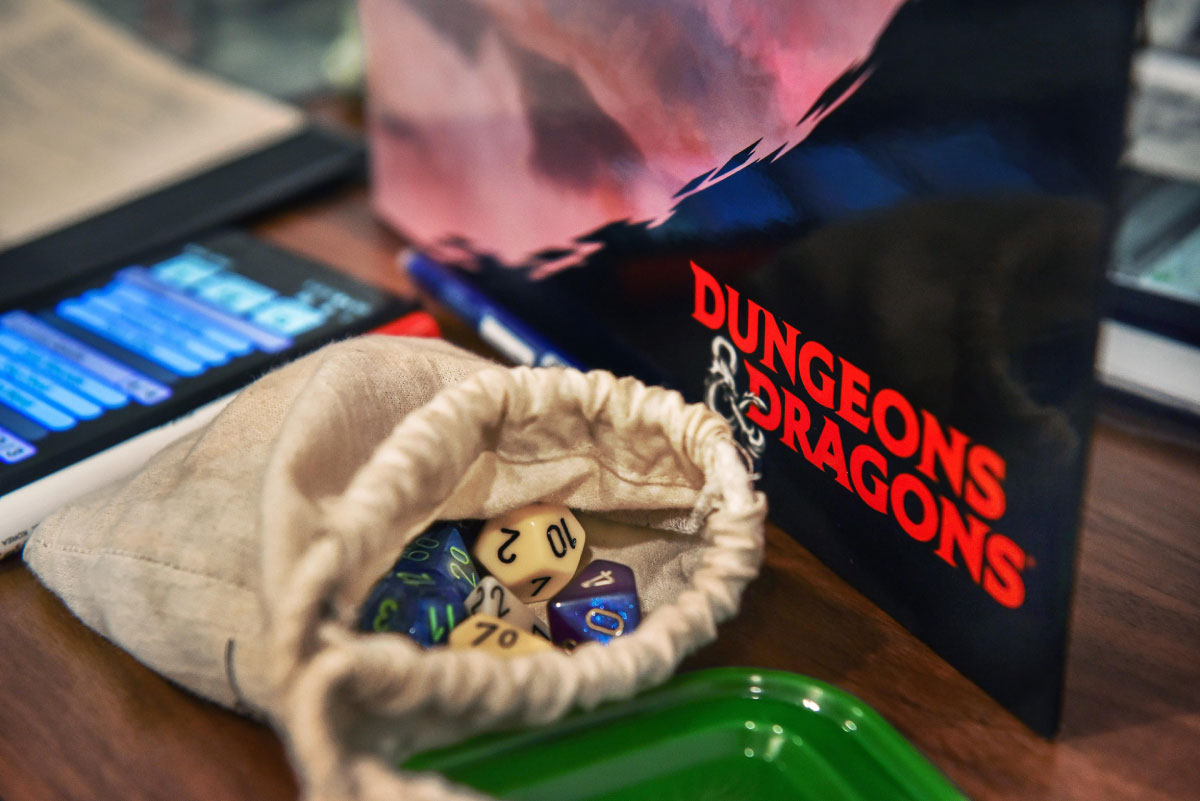 Created in 1974, Dungeons and Dragons saw a recent surge in popularity thanks to its appearance on popular shows like Stranger Things.
It's 3.30pm on a Saturday. In an HDB flat in Bukit Panjang, a group of friends argue passionately about how to defeat a sorceress in a dungeon. The only semblance of a battlefield is the number of figurines depicting various fantasy characters atop a coffee table, with the frequent scribbling of notes and numbers, and the rolling of a special dice.

A Television Boost
To the casual observer, announcing lines like "I take aim at the creature and fire my crossbow with a 20 [hit points]…" — often with melodramatic acting — may sound cringeworthy. After all, no one wants to stand out like a sore thumb for being the uncool one who plays tabletop games.

But everyone in this group wears the nerd tag like a badge of honour. Because if you are not nerding out even the slightest while playing Dungeons & Dragons, then you probably aren't playing the game right.

Dungeons & Dragons, or more commonly known as D&D, is a well-loved fantasy role-playing game that was launched in America in the 1970s. Requiring active verbal participation and a vivid imagination, the game was often associated with bespectacled boys and men, who huddled together in their basements for hours on end.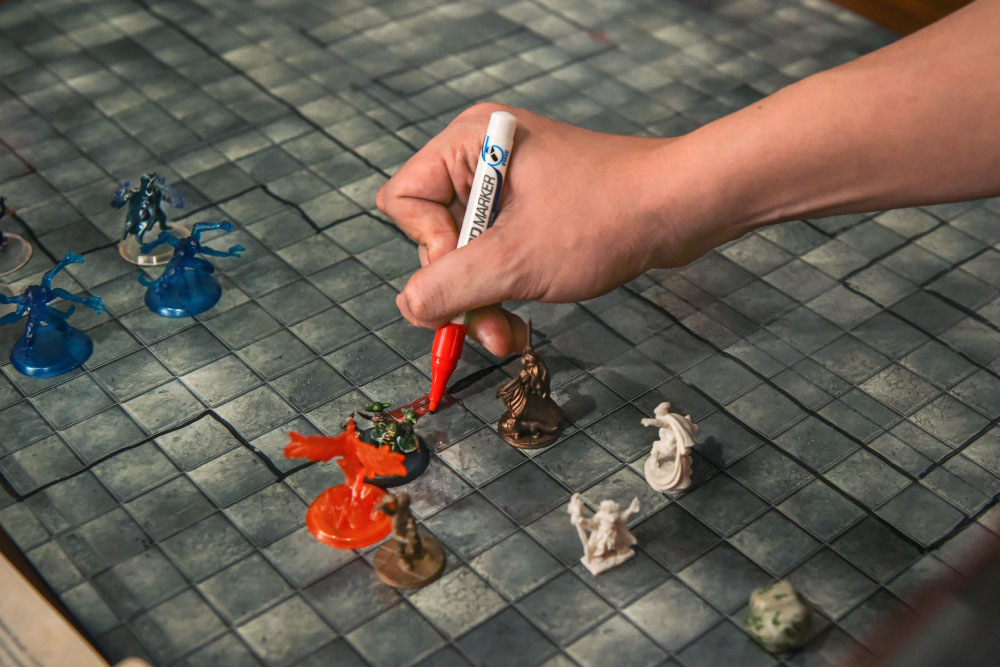 D&D involves plenty of acting, strategy and even some mathematics. Players roll a dice to determine their characters' movements and attacks.
To the outsider looking in, it just didn't seem cool to play-pretend as elves and dragon-slayers. So, many D&D players kept their hobby a secret if they didn't want to be outcast. Fantasy became a taboo genre, D&D an underground cult.

But then, TV happened and made D&D — and fantasy — cool. In the last couple of years, the game appeared on popular shows such as the Netflix series Stranger Things, and it became cool to talk about elves, dragons and magic thanks to the cult hit, Game of Thrones.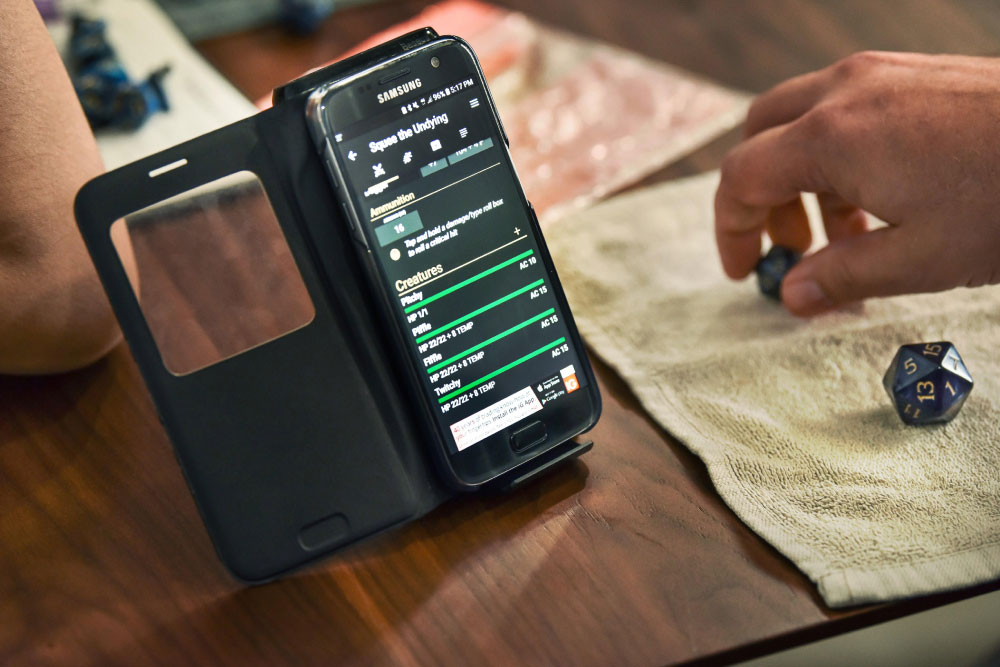 D&D has also gone online and has a companion app, which comes with a rulebook and tracks a character's development throughout the game.
New Game Audience
That excitement spilled over into Singapore too. Terence Leong, founder of Experience Point, a space for tabletop games in Jalan Besar, saw the game's popularity rise.

Since he started organising his own games about four years ago, Terence's playing circle grew from just 10 people to about 50 today. Players are between 20 and 28 years old. He estimates the larger D&D community in Singapore has also grown significantly in the same period, with game sessions mostly held at board game stores or in players' homes.

Once a game that was typecast for a homogenous audience, its sorcerous rebirth now brings together players from all walks of life. Professionals at MNCs, start-up entrepreneurs and creative types shed their work clothes after hours and put on their imaginary armour.

For five days a week, Stephen Davis presides over a classroom, posing students questions, assignments and pop quizzes. On the weekends, he oversees groups of players on their fantastical adventures as the gamemaster, also known as Dungeon Master (DM). He narrates the quest as it unfolds according to the players' actions, and throws them curveballs in the form of monster encounters and unexpected dangers.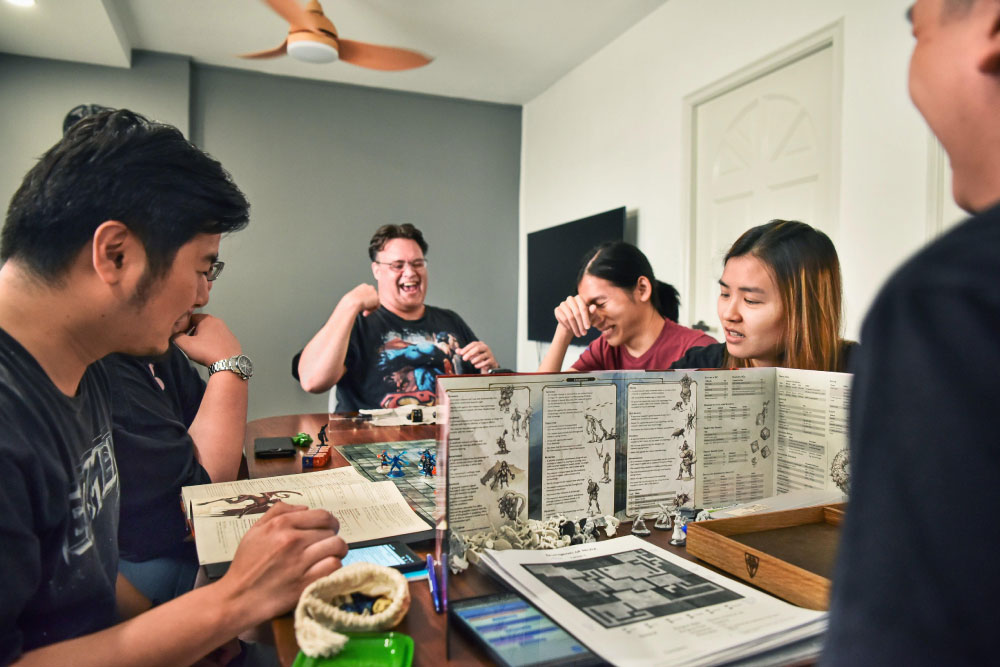 Dungeon Masters like Stephen (in the centre) act as the game masters who determine the outcome of certain player actions. This often leads to situations that require teamwork to overcome. 
Adventures For All
A D&D veteran of more than 30 years, Stephen has seen the power of the tabletop game in transcending social lines, both in Singapore and America where he is from.

For the more introverted and socially awkward, D&D presents an opportunity for them to step out of their comfort zone and meet more people. Having a shared interest already makes it easier for them to hold a conversation.

"Being an introvert doesn't mean you don't enjoy social interactions," says Jason Koh, a creative consultant who organises regular D&D sessions for the Adventurers League community (see sidebar). "What D&D offers is the opportunity for an introvert to find your own voice while role-playing as someone else."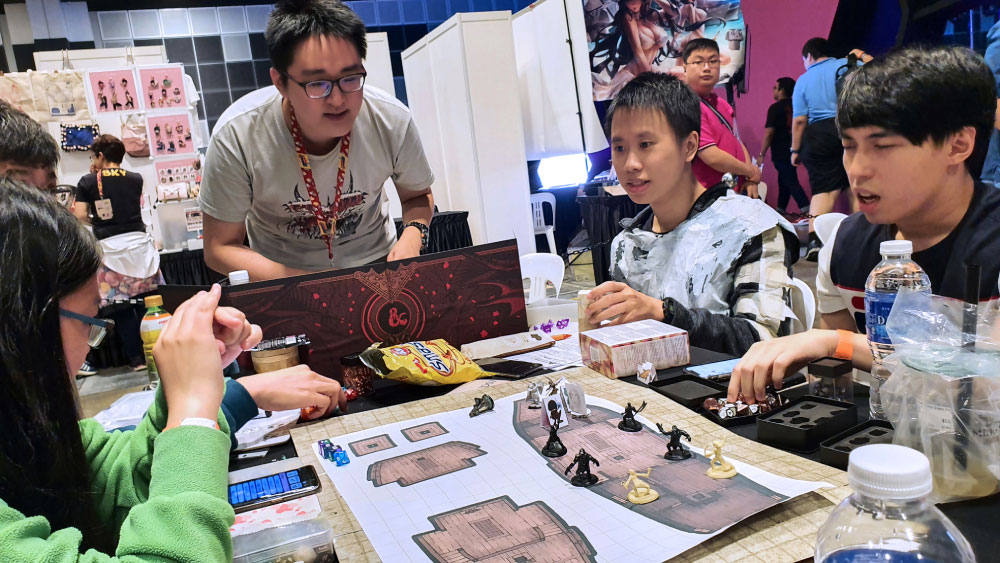 Convention games such as those played at local pop culture events Doujin Market and GameStart also helped popularise D&D and made it more accessible for those who are curious about the hobby. (Courtesy of DDAL Singapore. Photo taken in 2019.)
And it's not just a boy's club, Terence emphasises, correcting a misconception some might have. "D&D has always had female players, but now because nerdiness has become more acceptable they are not afraid to be seen playing the game." He estimates that about 30 per cent of the local community comprises women.

Ivy Lee, a stay-at-home mum in her 30s, initially dismissed the game as one for fanboys. But after her husband, who was an avid player as a teenager, gave her a starter pack that included a handbook guide, and brought her along for a couple of games, there was no turning back.

She embraces the game's diverse nature, and likes how people work personality quirks into their choice of character.
"You obsess about whether you want to embody a wizard, sorcerer or a barbarian. Otherwise, you can be whatever gender, race, or age you like!"
Some skeletons of the past are still present in the community, however. Charlotte Lee, a social media specialist and a community leader at
Dungeons and Dragons Adventurers League
(DDAL) Singapore, says a number of older players still behave condescendingly towards female members, believing that they are not as highly skilled or knowledgeable as their male counterparts.
"I had a female friend who encountered guys who were very controlling and dished out disparaging remarks about her choices in the game, making her feel very unimportant and uninvolved. It's occurrences like these that used to put women off from playing D&D," says the millennial, who frequently takes on the role of a party leader to guide her team through missions.
Thankfully, things have largely improved over the years. With the rise of DMs who are focusing on fostering better communication among players, such incidents of disrespectful behaviour towards women are now isolated cases. The increasing number of female players only bodes well for the community's future, says Charlotte, and more girls are also not afraid to step up to be DMs, which is not an easy task at all.
This motivates her to continue her personal quest to forge a safe space for all D&D players. "More beginner-friendly and women-only tables would definitely lower the barriers to entry for female players," she says.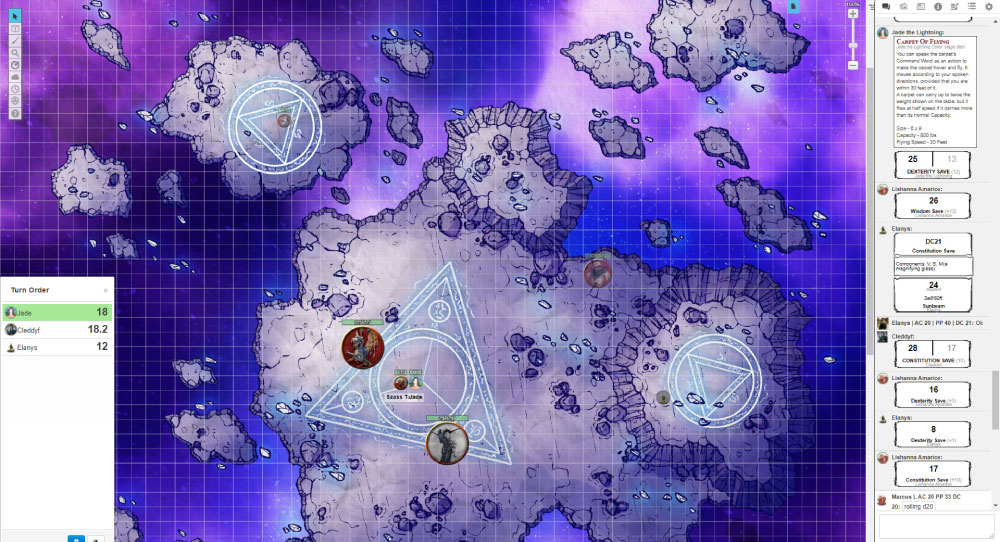 VirtualTabletop (VTT) applications like Roll20.net have made it easier for game masters and their players to enjoy the game during the ongoing pandemic. (Courtesyof DDAL Singapore)
Another reason why D&D never became a widespread phenomenon like other board games such as Monopoly, was the immense complexity of its gameplay. You had to trawl through a set of books, each a few hundred pages thick, to fully understand and master the rules and mechanics. That certainly sucked out some of the fun.

Improved Editions, Better Accessibility
So it's no surprise that through the decades of being closed-off to the masses, D&D was misunderstood. But now in its fifth edition, D&D is much more accessible with a learning curve that's not as steep as before. Newcomers and beginners also have access to a whole treasure trove of resources such as official forums and YouTube videos to help them understand the game and play better. The community has even adapted during the COVID-19 pandemic, with groups taking their meet-ups online through Virtual Tabletop applications and Discord, an instant messaging app for gaming communities.

In addition to being a game that encourages social mixing by inviting players from all backgrounds to have fun together, D&D is also increasingly seen as an important educational tool for children.

"Parents are not only bringing their children to attend games, they are playing together at the same table too!" says Jason, the creative consultant. "D&D at its very core is a game about problem-solving. It encourages players to work together and devise solutions to overcome the obstacles they meet in order to achieve their objective."

"Children learn to think creatively, and they gain the confidence to speak and present publicly, especially in the presence of strangers, through the game's role-playing mechanic."

The Expansion Pack: Taking D&D Further
In other words, you could say that D&D is the modern equivalent of a speech-and-drama class. In interviews, organisers of D&D sessions as well as regular players all expressed their keen interest and excitement to bring the game to a wider, younger audience, bringing attention to its high social interactivity as a powerful tool for youth empowerment.

"School halls are an excellent venue for the community to reach out to students via game sessions and workshops," says Charlotte. "There are also many opportunities for content creators to contribute to D&D, be it through artwork, writing fantasy lore or even making sculptures and game props.
"Everyone in the D&D community has very interesting stories to tell. I don't think we should feel ashamed of having a hobby that we are so passionate about."