Forming Bonds and Bridging Divides at the International Conference on Cohesive Societies
Katherine Marshall speaks at a panel at Georgetown University's Riggs Library to discuss humanitarian access in conflict zones, with an emphasis on the role of faith-based actors. Photo Credit: Georgetown University
Social isolation has become the norm in a world emerging from the COVID-19 pandemic. In this pandemic-recovering world, it is crucial to rediscover our bonds with one another, in spite of the differences that we may have, be it religious, ethnic or cultural. The International Conference on Cohesive Societies (ICCS) was started in 2019 for this purpose. Currently in its second edition, the ICCS provides an international platform to engage in dialogue and action on how harmony can be fostered in diverse societies.
We speak to Professor Katherine Marshall, a first-time speaker at the conference who has dedicated much of her life to international development and building bridges between different groups involved through her role as a senior fellow at the Berkley Center for Religion, Peace and World Affairs at Georgetown University. She also draws on her experience with a multilateral organisation (the World Bank) and with civil society as leader of the World Faiths Development Dialogue (WFDD), a small non-governmental organization.
Professor Marshall has visited Singapore several times, always learning from this special community. "One of my first professional experiences was reviewing a report on Singapore that highlighted the enormous challenges it faced: poor resources, political challenges, and communities that seemed locked in tension and outbursts of conflicts," she recalls. "But today thriving, peaceful Singapore stands as an example of hope, and of what is possible. Every visit is a chance to learn from its unique experience."
The challenges to social cohesion today
Cohesion plays an integral role in all nations and societies. The respect for different segments within societies, coupled with common purpose and sense of direction, is what drives a nation forward. Professor Marshall points out that there has been an increase in the visibility of diversity over the last ten years, "The COVID-19 pandemic has added new elements with its links to rising xenophobia, discrimination, and hate speech. The powerful roles of social media have contributed, both positively and far less positively."
"Cohesive societies can and need to take diverse elements into account, balancing between commitment to common values and goals but also appreciating, savouring difference," she continues.
Working towards a more socially cohesive world
Professor Marshall believes in a dynamic, creative, yet diverse society. As a senior fellow at the Berkley Center for Religion, Peace, and Religion in Georgetown University, she is focused on bridging sectors and communities that have often lived in virtual siloes. Reflecting both Georgetown's Catholic and Jesuit values and the collective wisdom of many spiritual and religious traditions, she focuses on vulnerable communities, listens to their voices, and seeks out the synergies and commitment to action.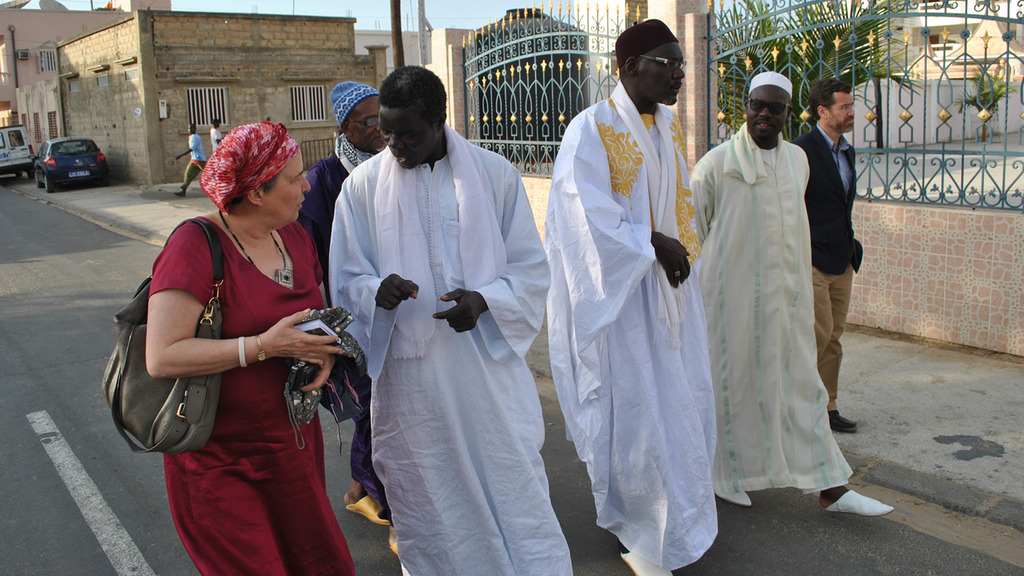 Katherine Marshall meets with Muslim leaders in Senegal in 2014 as part of her work as executive director of the World Faiths Development Dialogue, a non-profit which bridges the worlds of faith and secular development. Photo Credit: Georgetown University
Raising Singapore as a positive example, Professor Marshall notes that Singapore has managed to achieve this with strong leadership, commitment, creative thinking, and action.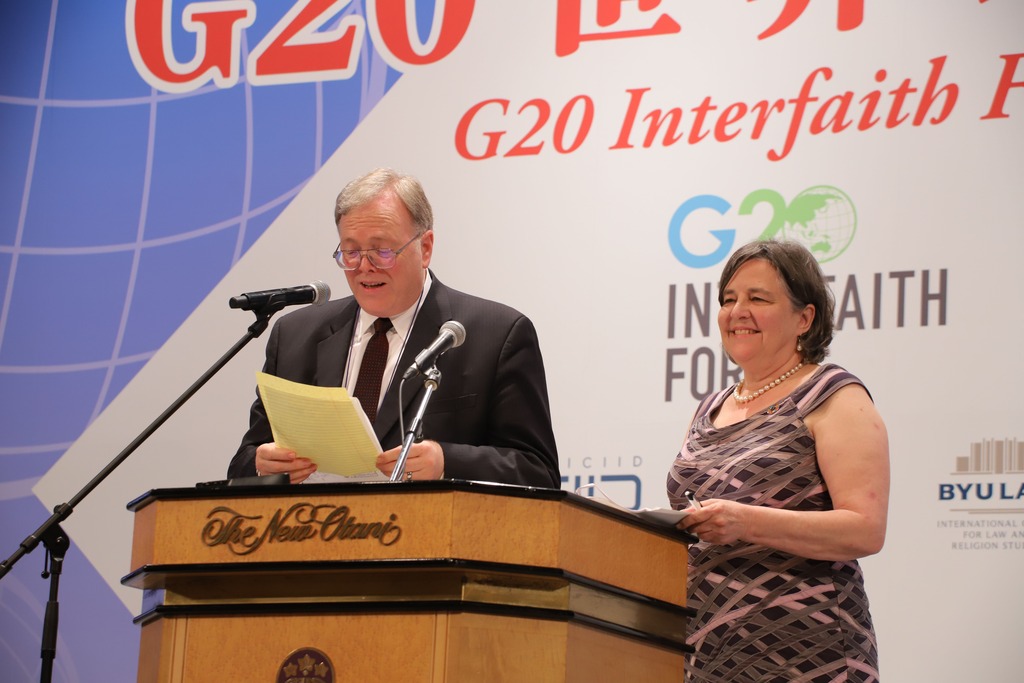 Katherine Marshall speaks at the 2019 G20 Interfaith Forum held in Japan. She currently serves as vice president of the G20 Interfaith Association. Photo Credit: Georgetown University
The Role of ICCS in Fostering Social Cohesion
Professor Marshall stands by the power of young leaders to identify what marks today's societies and challenges.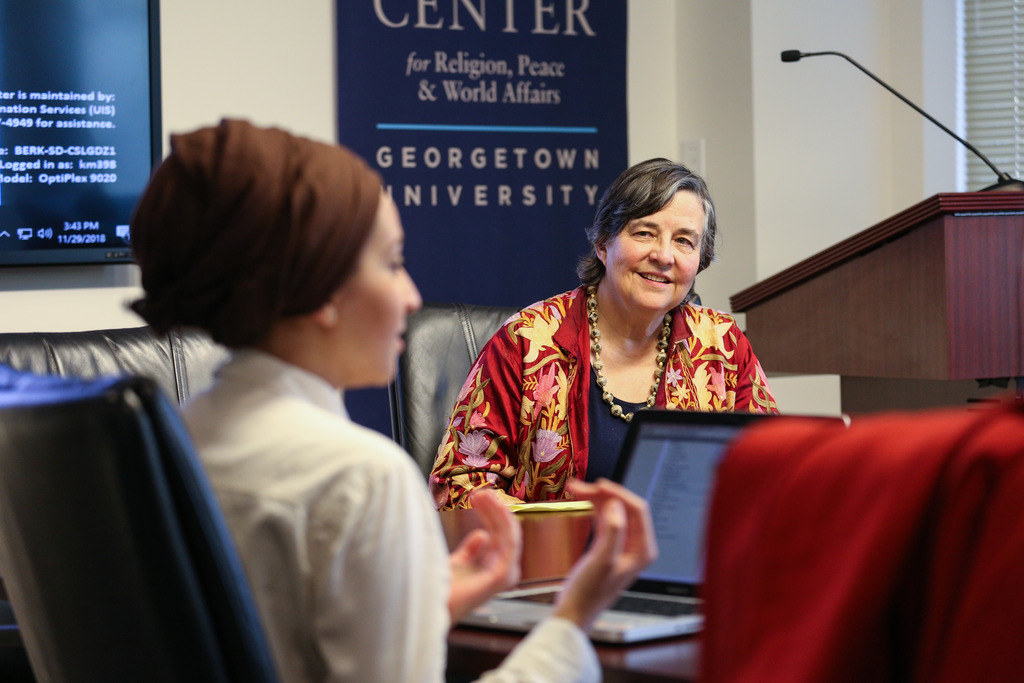 Katherine Marshall teaches an undergraduate class at the Georgetown University Berkley Center for Religion, Peace, and World Affairs. Photo Credit: Georgetown University
"This can come in meaningful dialogue and exchange across generations," she says. The ICCS is a conference meant for exactly this: with three days of speeches, panel discussions and dialogues on the themes of faith, identity and cohesion from renowned speakers from across the world, leaders and participants are given opportunities to problem-solve for issues facing the world now. There's even a Young Leaders Programme geared to encourage youth civic activism and collaboration.
Professor Marshall has big dreams for conferences like ICCS. Her vision is to help in broadening minds and fostering dialogue that furthers the agenda, meeting diverse participants, and coming away with new ideas and challenges. More importantly, she hopes that attendees will not only find affirmation and a sense of common purpose, but they will also be able to find clear and practical next steps. "I hope for challenges to ideas, as that's how we change and grow," she says. "I also hope to see ways to grapple with real challenges and divides that face us, thus adding to action agendas for the immediate and longer term future."
ICCS will be held from 6th to 8th September 2022 at the Raffles City Convention Centre. The 3-day programme will feature speeches by renowned speakers from around the world, panel discussions and dialogues on the themes of faith, identity and cohesion.