Small Sculptures, Big Impact — Meet the sculptors behind the 'What Makes Us Singaporean' exhibit
Kaya speaks to the three talented artists behind the miniature sculptures that illustrate Singapore's larger-than-life community spirit.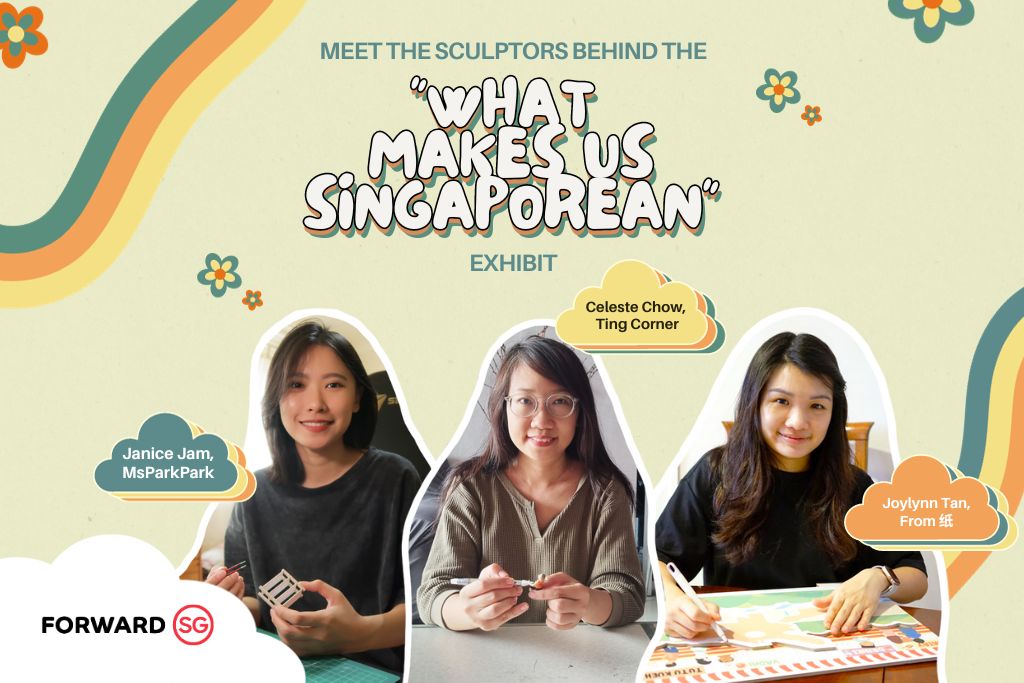 Meet the artists behind the series of miniature dioramas that portray the everyday lives of Singaporeans. 
To ignite curiosity on our Singaporean identity and the idea of a social compact, three talented artists came together to create the 'What Makes Us Singaporean' exhibit. We spoke to Janice Jam, Joylynn Tan, and Celeste Chow, to learn more about the inspiration behind their sculptures.
Tiny But Mighty
Each artist worked on a set of miniature dioramas depicting everyday Singaporean activities and interactions that contribute to our strong social cohesion. The use of miniatures was intentional, to encourage viewers to take a closer look at each piece. This invites them to not only admire the craftsmanship, but to also think deeply about the underlying message and their own connections to these depictions.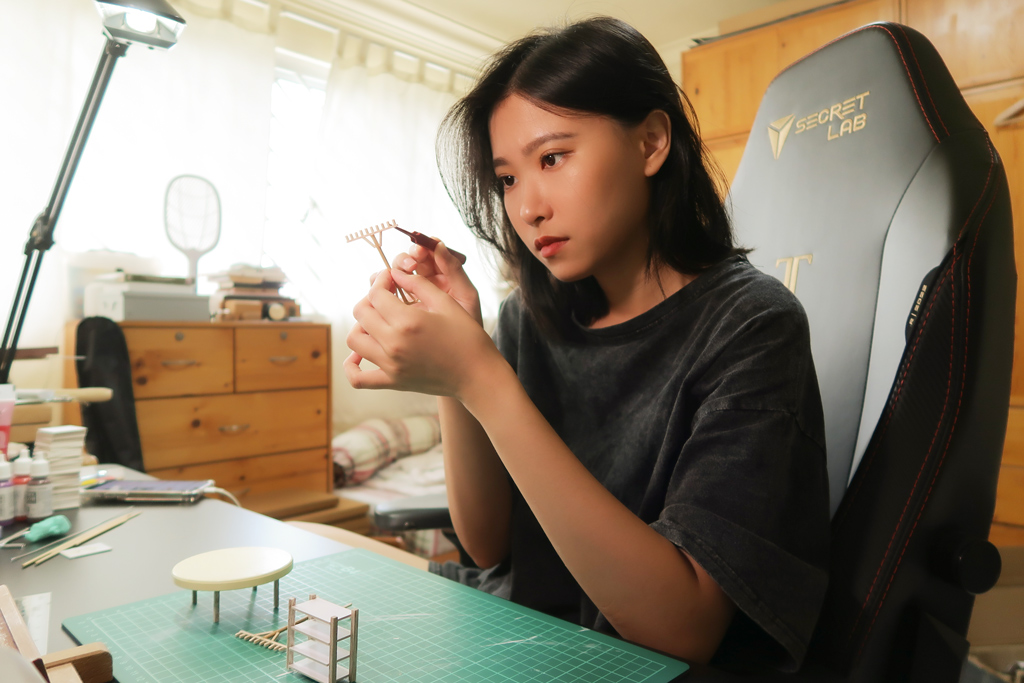 The beauty is in the details. Janice's diorama features a potluck party taking place at an HDB void deck, inspired by the corridors of her own home. 
Joylynn (of From Zhi) created two paper dioramas — one that features youth volunteers distributing food to those in need, and another that depicts uniquely Singaporean activities such as popular hawker stalls and even the iconic Toa Payoh dragon playground.



Inspired by her personal experiences, Joylynn's paper dioramas highlight Singapore's giving nature, as well as objects and places unique to the Singaporean identity.
I was really excited to bring these scenes to life, because volunteering to help the less fortunate is something close to my heart, and I was able to draw from my own experience,
For her second piece, Joylynn shared that she chose to feature uniquely Singaporean sights and experiences. Her experience growing up with a tight-knit community inspired this sculpture, in which she brought together all her favourite and memorable experiences. "I hope that these art pieces will create conversations, inspire individuals to take action, and instill a deep sense of pride in their Singaporean identity."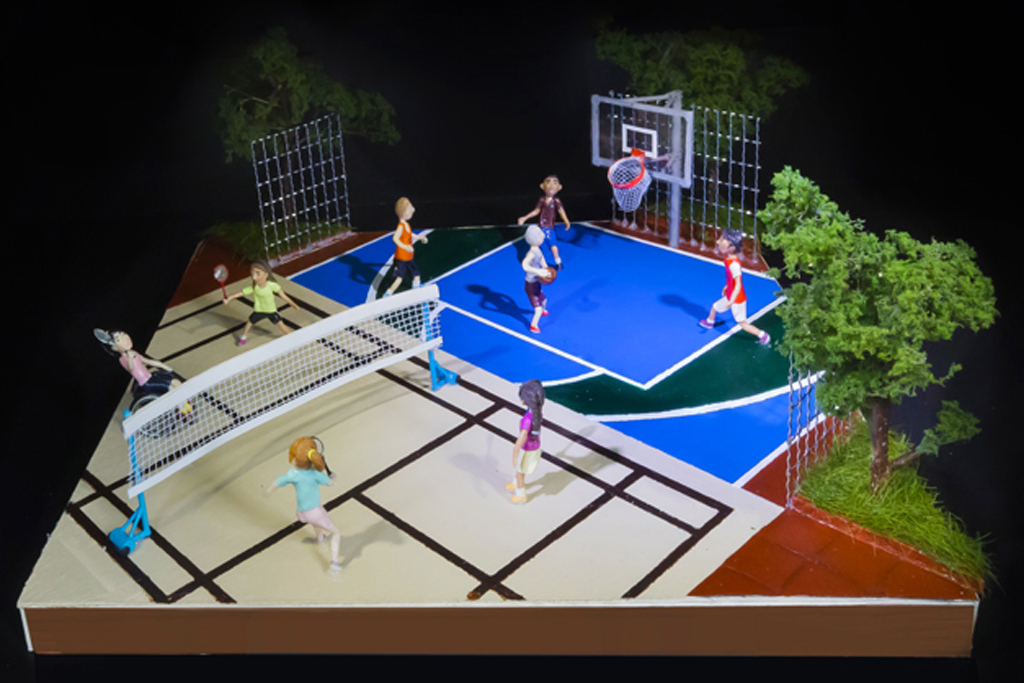 Celeste believes that sports is a great way for people from all walks of life to come together, and hopes that her diorama can reflect that.
For Celeste (of Ting Corner), her miniature clay sculpture features a diverse group of individuals coming together to play sports. "While I personally don't do much sports, I found this topic to be very interesting, as I actually live right next to a basketball court — and often have the chance to watch Singaporeans from all walks of life come together to have fun."
When asked about how sports can contribute to our nation's unity, Celeste said that it's about working together to achieve a common goal. She went on to share her views that Singaporeans' multiculturalism and collectivism naturally makes us more respectful of individuals, no matter their background or circumstance — and it's something that will always form the foundation of our social compact.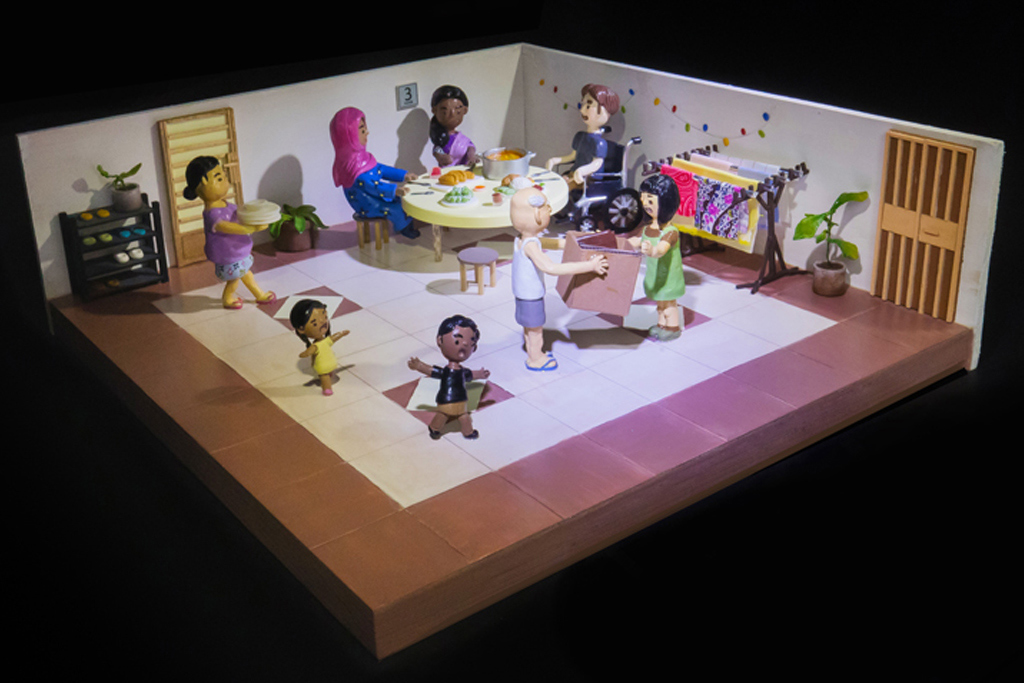 It's no secret that food is something that Singaporeans love bonding over, and Janice wanted her clay diorama to reflect this interaction. 
Janice (of MsParkPark) created a miniature clay art diorama which showcases a group of Singaporeans having a potluck party along a HDB corridor.
I was inspired by the strong kampung spirit the older generation had, and I wanted to bring this to life through my art piece.
Her goal was to evoke a sense of nostalgia for the older generation while giving the younger folks a glimpse of what spending time with neighbours could look like.. Through this art piece, Janice hopes to show that the act of sharing food and laughter are great ways to bond and learn about each other's cultures.
By showcasing these diverse yet familiar depictions of Singapore, the exhibit hopes to kick-start discussions around how social cohesion can be further strengthened, and for Singaporeans to think about their personal experiences of unity.
On Singaporean's Love Language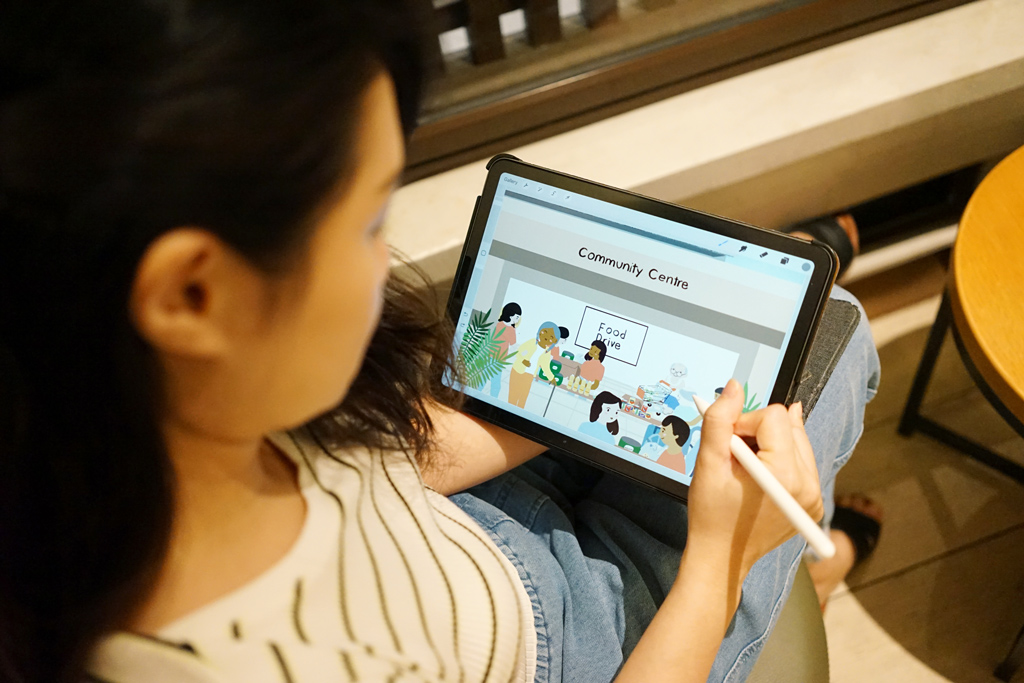 Joylynn actively volunteers her time helping those in the community, and hopes that her paper sculpture will inspire others to take action too.
When asked about what they felt was the Singaporean love language, the three artists had some fun answering: food, and acts of service. "To outsiders, we may seem pretty reserved. But in reality, we often show our love through actions — whether it's giving extra ingredients when ordering food, or giving up our seats for the elderly," said Joylynn. Janice and Celeste also share the same sentiment, adding that giving food recommendations and cooking for friends and family are some ways food brings people together in Singapore.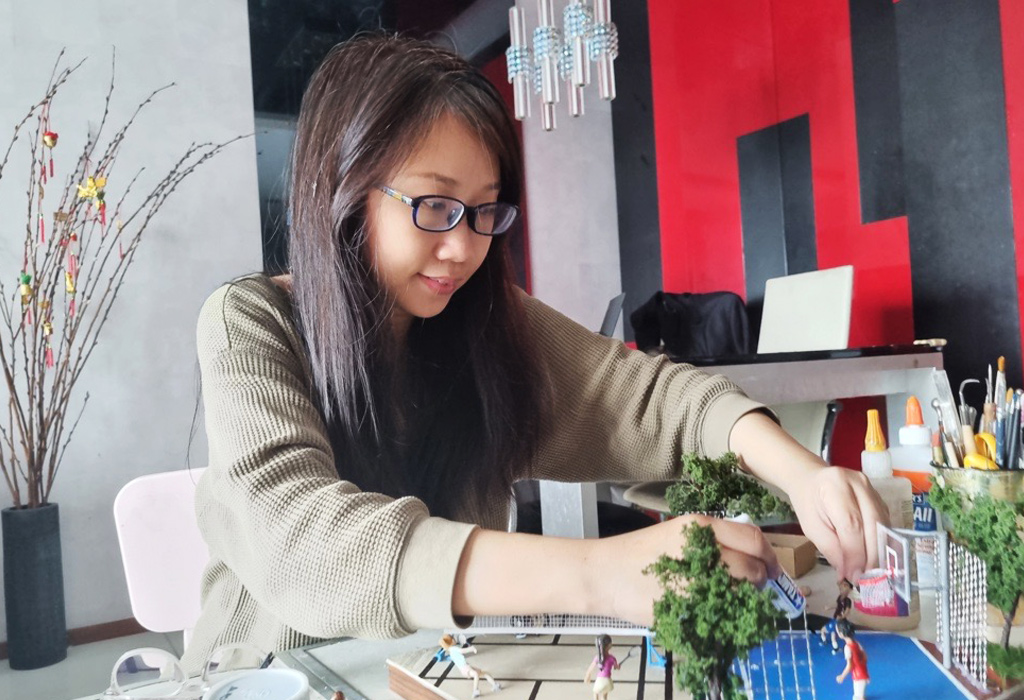 Celeste believes that sports are a great way to strengthen social cohesion. For her, it's in the act of coming together to have fun and bonding over a common goal. 
Building Social Compact, One Day At A Time
Reflecting on ways to build our social compact, Joylynn said that it's all about giving back.
Celeste had similar thoughts as well. "It doesn't matter what race you are, or what religion you follow. Once we start seeing ourselves as Singaporeans; as human beings — that's when we can truly thrive as a nation." She also added that building a social compact needs to start at home, and subsequently through individual acts of kindness.
Sharing candidly that she wasn't familiar with the concept of a social compact prior to this project, Janice had to look back on her own experiences growing up, and draw on observations of her neighbours. She feels that Singaporeans have to make a conscious effort to get to know one another, regardless of race, religion, or age. "In a world that's increasingly sceptical, small gestures like saying 'hi' to our neighbours can make a big difference. I also think that as we move into the digital age, we should explore ways in which social media can help us strengthen our social compact."

Visit the 'What Makes Us Singaporean' exhibit at Raffles Place Park from now till 8th October. As you take time to appreciate the sculptures, we hope that they invite you to reflect deeply about our social compact, and what it means to contribute to a more united Singapore.