What racial harmony means to different generations
To commemorate racial harmony in July this year, we sat down with four Singaporeans to talk about the things that bring us together, and what it means to live in a racially diverse society.
Clockwise from top left: Joe Quek (78), Ian Jeevan Prasad Arumugam (26), Mary Gomes (74), and Syafiqa (26)
When the 1964 racial riots broke out, fear and confusion boiled over between Singapore's Chinese and Malay communities.

But Mary Gomes — then a 16-year-old Eurasian teenager growing up amidst Chinese, Malay, and Indian families — recalls that even with the riots in full swing, there was solidarity. "When we had to go out, our [Malay] neighbours would loan us headscarves or songkoks to keep us safe," says Gomes, now 74 and the owner of Mary's Kafe.

Joe Quek, who was 18 years old at the time, also believes that there was more bringing his kampung together than dividing it. "We looked out for each other's families," says Quek, now 78 and a tourist guide with Jane's Tours.

Since its inception in 1997, Racial Harmony Day has commemorated the riots and reminded us to avoid the divisions that caused them. It has also celebrated the communal kampung spirit that Mary and Joe cherished, and that has persisted well into the present.

But what brings Singaporeans together today, and how much has changed?


From Textbooks to Trenches
Singaporeans come face-to-face with each other on the void decks of their Housing Development Board (HDB) blocks, at schools and in National Service. These shared experiences are vital for better understanding between different races and religions.
When I went to school and interacted with people from different races, all my stereotypes and prejudices broke down.
For Joe, a 25-year veteran of Singapore's armed forces, it was National Service that connected him with people beyond his Teochew roots. He fondly remembers one of his Malay friends: "As both of us were taller than average, we had to dig far deeper trenches for ourselves compared to the others: and we would do it together, side by side."

Ian Jeevan Prasad Arumugam, 26, a content creator and financial consultant, says that "being in close quarters creates more opportunities for understanding to develop.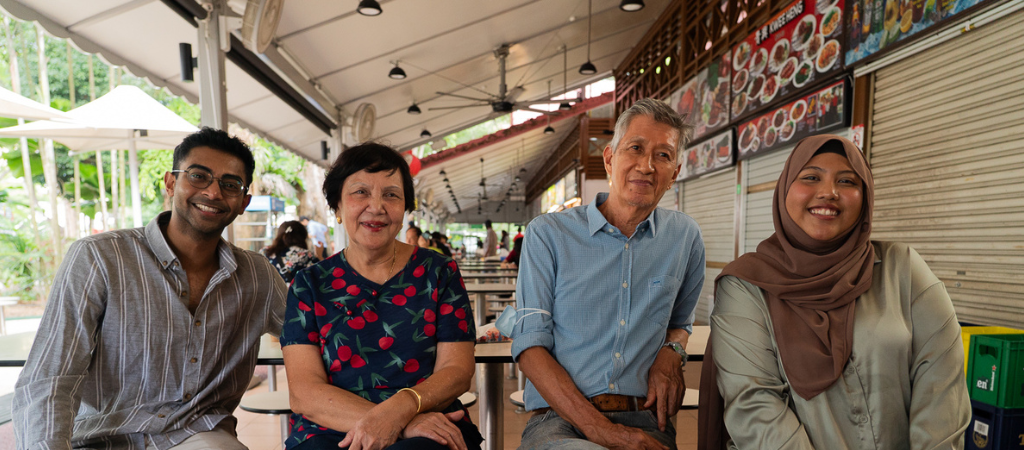 The four participants shared their observations and appreciation for Singapore's unique identity that has been built upon racial diversity
Flavours That Bind
Few things bring Singaporeans together like a good meal.

Our country's multiculturalism is reflected in hybrid cuisines like Eurasian cooking. "Eurasian dishes blend Goanese, Chinese, and Malay influences — we learn how to eat spicy food from a very young age!" says Mary of the curries she serves.

And few see a reason to stick to the food they grew up with. As a young child, Mary would watch her Bengali neighbour cook chapati every day and scurry home to enjoy one while it was still warm in her hands.

Whenever he's abroad, Jeevan craves yong tau foo and chicken rice. Syafiqa, meanwhile, enjoys ban mian and is grateful for halal food courts that offer myriad options.
Many things about Singapore have changed, the only thing that hasn't is the wonderful diversity of our food.
"Alamak, that one confirm Singaporean!"
Singapore's languages, too, are as varied as its culinary offerings.

In addition to their first languages, Joe and Mary are fluent in Bahasa Melayu which their childhood neighbours taught them. Joe recalls that growing up, his Indian and Malay neighbours spoke Teochew like natives.

"In a multiracial society, knowing several languages forms instant bonds and builds unity," says Mary, who also speaks some Mandarin and Kristang, a Eurasian creole of Portuguese, Bahasa Melayu, and various Indian dialects.


A work in progress
Syafiqa has nevertheless faced racially insensitive jokes from her friends, which she tries to respond to with understanding rather than judgement. "I think people say things because they are ignorant, not because they have malice," she says, "we must educate them so they know how to do better." Syafiqa regularly shares her knowledge of Malay culture in humourous and educational ways to some 144,000 followers on Instagram.

Jeevan, who has faced similar experiences, agrees: "My hope is that we all get to know people for who they are, regardless of their race, language, or religion."