Honing a Heart for Hainanese Heritage
An ethnicity well known for its culinary expertise, the Hainanese community in Singapore continues to connect with its age-old heritage.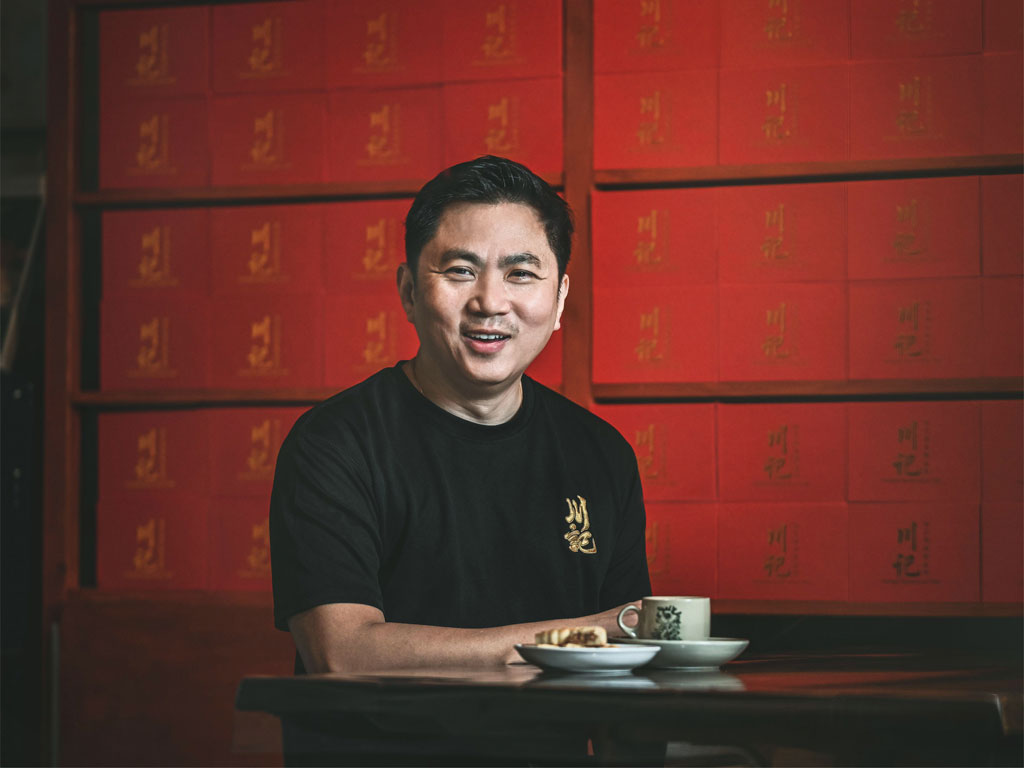 Chong Suan, an ex-engineer, aims to preserve the heritage through Hainanese delicacies.
Step into Chuan Ji Bakery and chances are you'll find the owner, Chong Suan, cooking up a storm as he serves freshly-prepared delicacies to regular patrons from the Hainanese community.

Chong Suan is a fourth-generation Hainanese and his grandparents hail from the Qionghai region of Hainan Island in China. After starting his bakery business with his mother here, he wanted to know more about Hainanese culture.

For Chong Suan, baking Hainanese flaky biscuits and cooking authentic dishes, such as beef stew and pork chop, is his own way of staying connected to his heritage. Today, his bakery is one of the few institutions of Hainanese culture here. Through his confectionery, Chong Suan hopes to share a taste of his culture with Singaporeans and foster stronger ties with the community.
A gateway to flavours of home
Of all the dishes on his menu, the Hainanese flaky biscuit (or mooncake) is perhaps the one that Chong Suan is most proud of. In his younger days, this rare Hainanese delicacy was something that only his grandmother knew how to bake. It was her recipe that sparked his interest to learn more about his lineage.

Since then, Chong Suan's bakery continues to use his grandmother's recipe in a bid to bring back disappearing food in Hainanese culture. "The recipe is over 100 years old and the Hainanese people look forward to it all the time," he adds.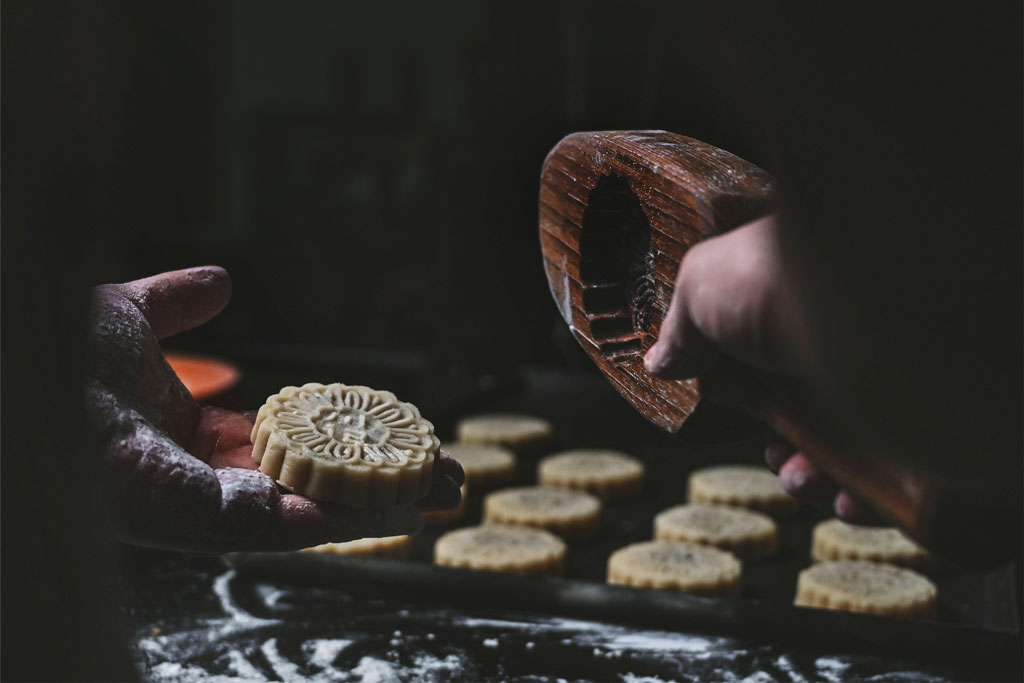 Hainanese flaky biscuits at Chong Suan's bakery have been in Singapore since the 1920s, and follow a recipe brought back by his grandmother from the Hainan province.
On Saturdays, Chong Suan expands his menu to include other Hainanese classics like curry chicken and Yi Bua (traditional kueh), to cater to regular Hainanese customers who come craving a taste of home. Chong Suan is always delighted when Hainanese patrons bring their children along, as it gives him the opportunity to introduce their culture through food.

From Hainanese coffee and kaya toast to beef stew, pork chop and chicken chop, the culinary possibilities are endless.

But Chong Suan isn't done just yet. He also has plans to add Tau Sar Piah (savoury mung bean paste biscuit) to the menu when the time is right.
Savouring traditions
For the most part, Hainanese food is central to many of the community's festivities and celebrations.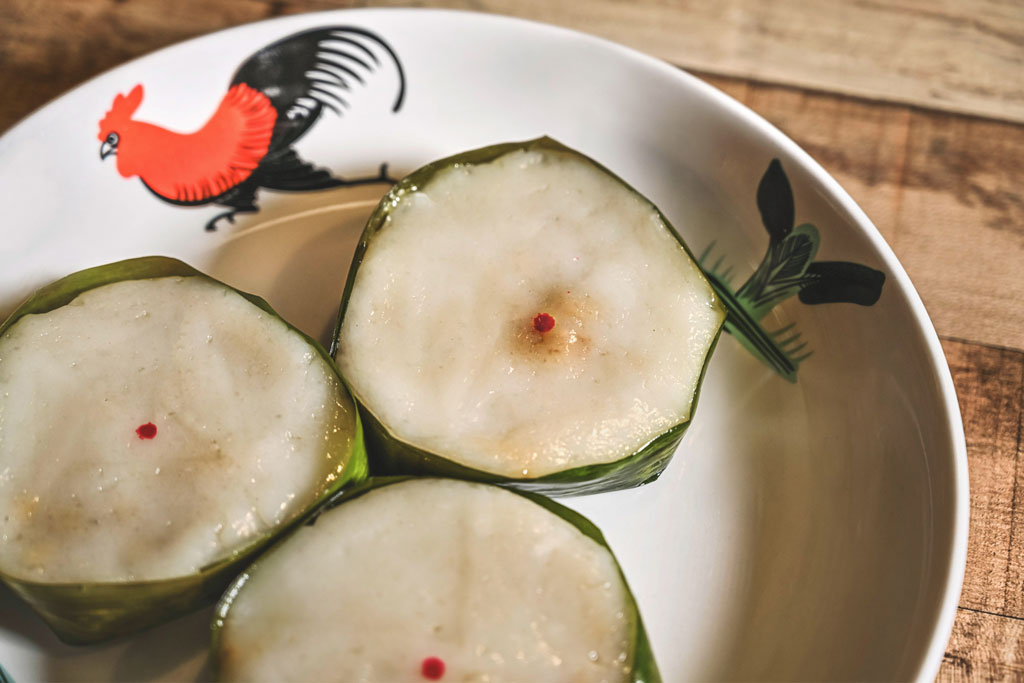 Yi Bua is a traditional Hainanese kueh typically enjoyed during a baby's full moon celebration.
When a newborn turns a full month old, the Hainanese would celebrate this auspicious occasion with traditional kueh like Yi Bua. For weddings, Hainanese Jian Dui (giant sesame ball) is typically given by the groom to his bride. During the Mid-Autumn festival, Chong Suan also shares that many Singaporeans would visit his bakery to get their hands on Hainanese mooncakes for their celebrations.

When Chong Suan was growing up, he learned a lot from his grandparents about his Hainanese heritage and the dialect that they share. Now that he has his own children, Chong Suan tries his best to get them to practise speaking Hainanese, though he admits that it is challenging.

"I try to use basic phrases like Jia Bui ("Let's eat") to help them learn," he says with a laugh.

Chong Suan notes that the Hainanese dialect shares some closeness with Hakka and Cantonese. Furthermore, different provinces in Hainan, like Qionghai or Wenchang, have varying pronunciations of the same words.

Where young and old connect
As a member of the Singapore Qionghai Association (SQA), Chong Suan always finds time to participate in events organised by the committee for youths in the Hainanese community. One such activity would be a visit to his bakery, where some of these youth participants get to try traditional Hainanese delicacies like Yi Bua for the very first time.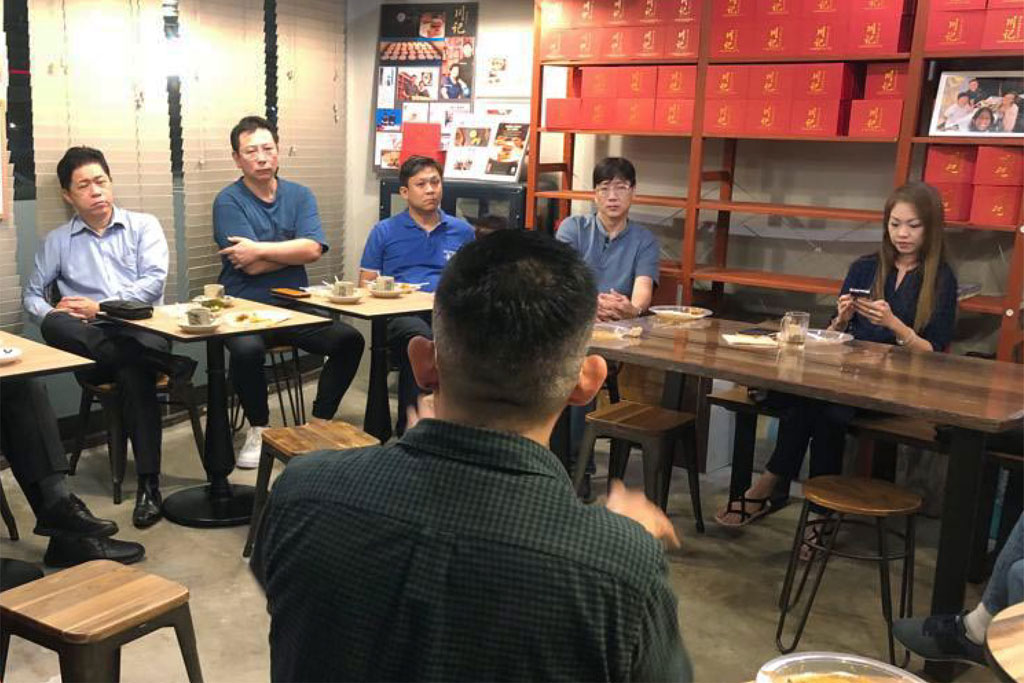 Members of the Singapore Qionghai Association having a meal at Chong Suan's bakery.
"My shop is something like a headquarters for them. We invite them here to join our activities and introduce them to Hainanese culture and food," he says.

Among the other members of the Association are Hainanese seniors who are skilled in martial arts and opera. These seniors also regularly take part in sharing their expertise to educate the younger generation. Chong Suan shares that the Association is planning to organise a trip to Qionghai for these youths to visit the old villages and learn more about their ancestry.

Recipe for a family legacy
Even as Chong Suan's business continues to grow, he works hard to preserve his family's legacy by ensuring the best quality in the Hainanese delicacies that he produces.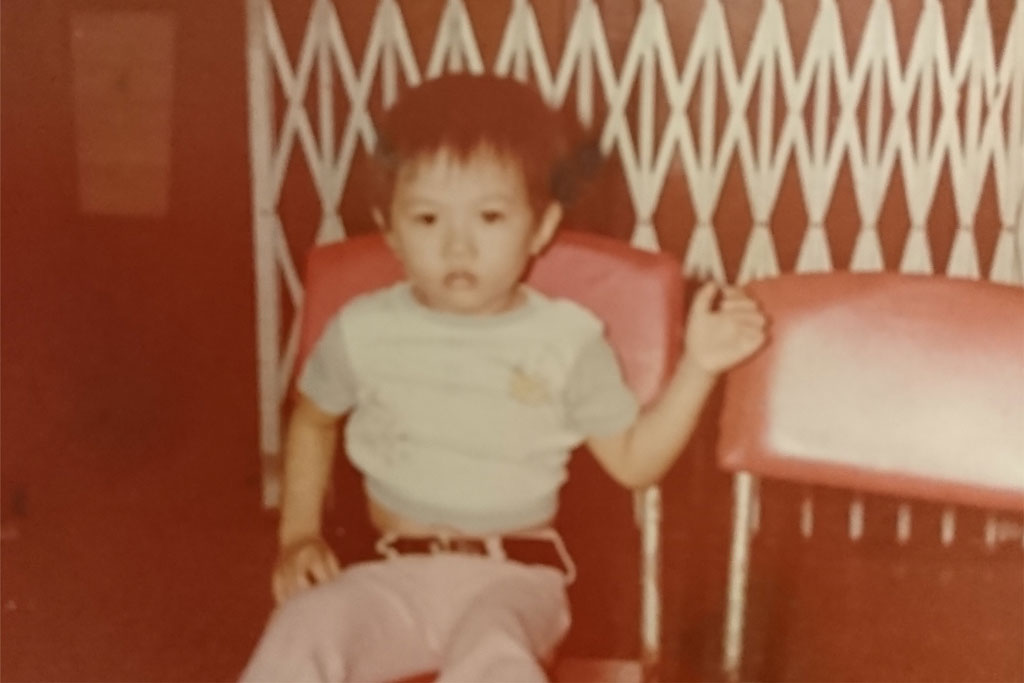 Photo of a young Chong Suan sitting outside his late grandmother's bakery.
On one occasion when elders in the community sampled the Hainanese flaky biscuit at his bakery, they professed that its taste was reminiscent of that at Nam Tong Lee, a Hainanese confectionery that was situated along Purvis Street in the 1920s. For Chong Suan, this is a badge of honour he wears with pride.

"This actually gives me the motivation to persevere on," he adds.

For all the ways that a meal can transport someone back to a specific time and place, Chong Suan firmly believes that it is his mission to carry on the Hainanese legacy through its delicacies. And he intends to do so and keep paying it forward in the years to come.

To learn more about Hainanese culture, watch our video where we play a game of 'Fact or Cap?' below.