Honouring the Hakka heritage
Hakkas are known for their resilience and resourcefulness. Today, these traits have allowed the culture to grow in modern-day Singapore in both the new ways and the old. Be it through technology, food or even age-old clan associations, the Hakka connection is alive and well.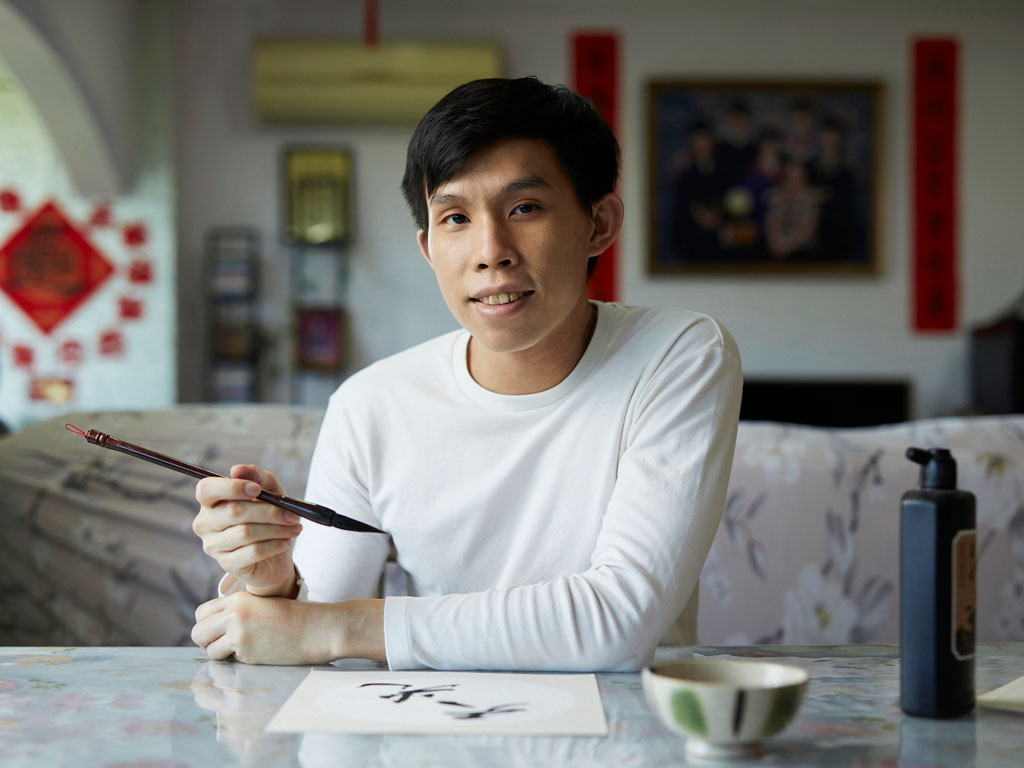 Founder of Hakka Scribbles, Sung Chang Da. The 27-year-old set up the Instagram page to give Singapore's Hakka heritage greater visibility.
On a parchment laid out neatly in front of him, Sung Chang Da is practising an art form that dates back thousands of years. Chinese calligraphy brush in hand, he gently presses its tip onto the paper as a black blot begins to bloom. This signals the start of a calligraphic waltz as the brush twists and twirls, the blank canvas slowly coming alive with Chinese characters.

For him, observing how each stroke flows and connects is what drew him to Chinese calligraphy. "The art of beautiful writing is about structuring the words, knowing the angles and proportions, and making the word look the best it can," says the 27-year-old who started the hobby six years ago.

But these masterpieces will be more than just visual treats. Once done, he trades the brush for his phone to give this ancient art a modern twist. His works are a signature feature of Hakka Scribbles, an Instagram page that functions as a virtual Hakka cultural centre. He has digitised his calligraphy work onto graphics and photos, along with Hakka translations. The visuals are sometimes complemented with audio clips of the dialect too.

The platform serves an important purpose: to increase the visibility of Singapore's Hakka heritage. "It (Hakka Scribbles) is to reach out to other people of our age group who also feel for our heritage," says Chang Da, who started the account in April 2020.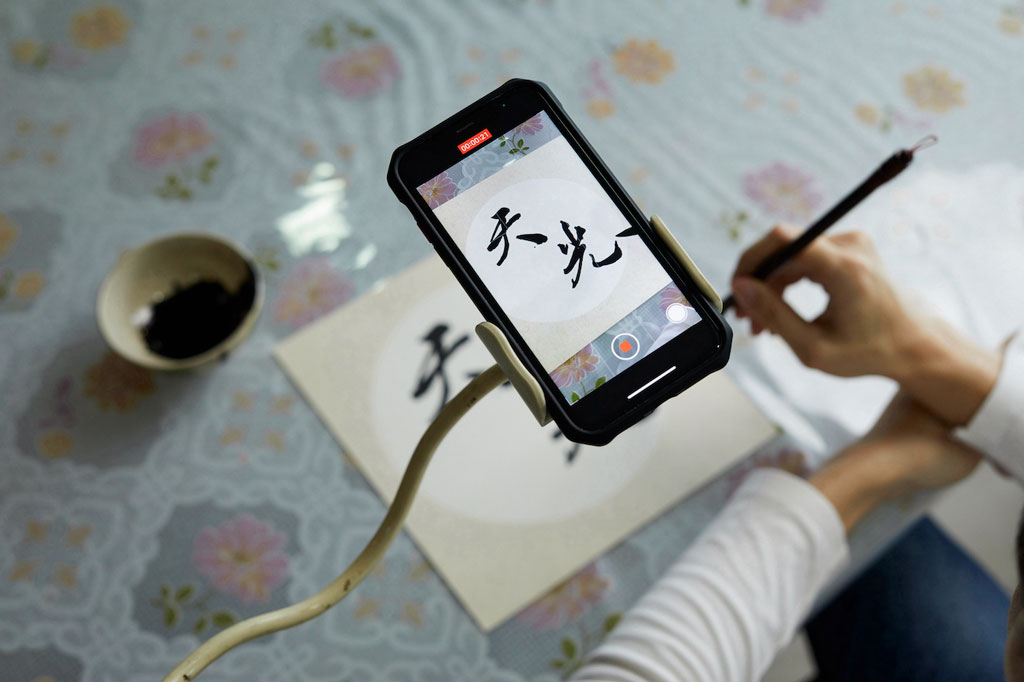 The set up that Chang Da typically uses to document his calligraphic work. The Chinese characters – tian guang – means 'tomorrow'.
As the country progressively modernises, such efforts to keep the Hakka heritage relevant, is a timely initiative. Cultural roots in many youths remain at best, tenuous. With most Hakka speakers hailing from the older generations, the dialect is largely lost among the younger crowd. Now, more Hakkas like Chang Da are looking to share their heritage.

Despite forming just 8 per cent of Singapore's Chinese population, the community has had an influential presence in the city-state. Notable Hakkas include the late founding Prime Minister Lee Kuan Yew, and the Aw brothers, the men behind the iconic Chinese ointment Tiger Balm, and Haw Par Villa. According to the 2020 population census, there are nearly 260,000 Hakkas here today.

Finding meaning in their roots
While Chang Da uses new-age methods to share his heritage, over in the kitchen, chef Pang Kok Keong is honouring his Hakka roots through age-old practices. He prepares Hakka dishes like yong tau foo using culinary techniques that have remained unchanged for centuries. "Hakka food is good as it is already. You don't have to make it fancy or pretty. If you mess up a traditional dish, you're messing up the whole culture," says the 46-year-old.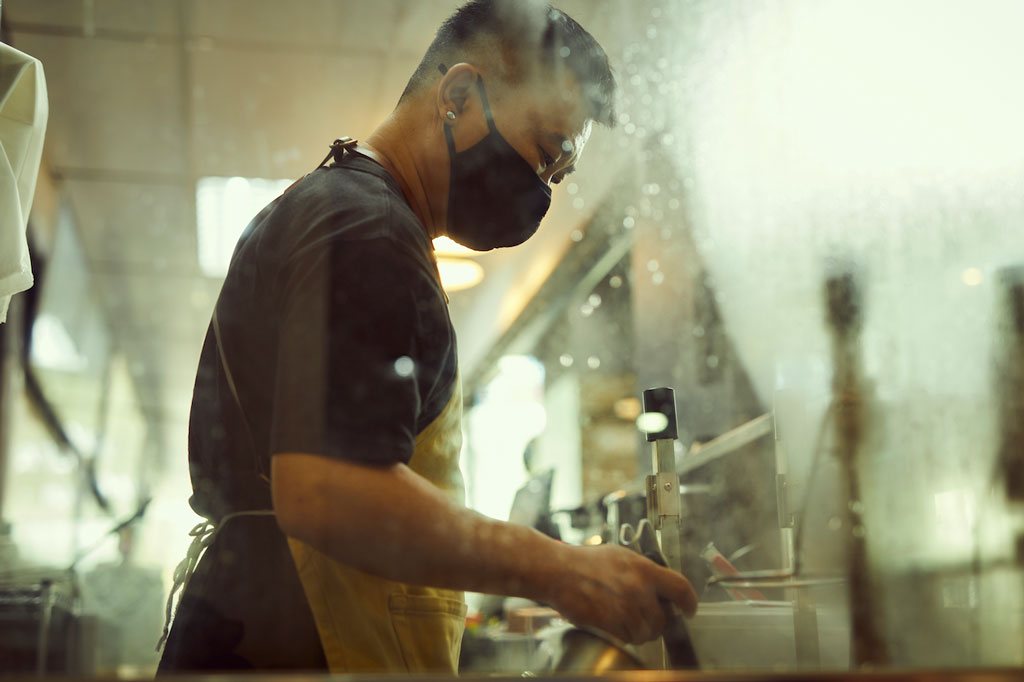 Kok Keong preparing a bowl of yong tau foo, a traditional Hakka dish. He made the switch from cooking French food to serving Hakka fare as he felt that the culture's cuisine was underrepresented in Singapore.
His stall, Pang's Hakka Noodles, has earned rave reviews for its authentic tastes. "A lot of customers would tell us, 'My grandparents say this is the taste they remember.' When we get feedback like that, it is very heartwarming and encouraging," he says.

While Kok Keong was the former owner of the now-defunct French patisserie Antoinette, his desire to ensure that the future generations get to enjoy Hakka heritage led him to starting the eatery last year.

"After almost two decades of cooking French cuisine, I thought: why don't I put the same type of commitment into my own culture and food? As Hakka cuisine is underrepresented here, it'll be a lot more meaningful," he explains.

Chang Da and Kok Keong's efforts offer encouragement that the Hakka spirit remains well and alive in Singapore. "When you see your culture being represented, it's an affirmation that it exists," says Chang Da. "I hope it encourages people who care about heritage to get in touch with it."

For Chang Da, listening to his family members conversing in Hakka while growing up sparked an interest in his cultural roots. "I'm a person who's always been very tied to my heritage and family history, and learning how to speak Hakka is a part of continuing this family legacy," he says.

At 16, he began learning the dialect after watching a YouTube video featuring the biennial World Hakka Conference, a major international Hakka event. A participant had vowed to speak Hakka every day and an inspired Chang Da similarly resolved to doing the same. "I told my aunt – 'From now on, I want to speak Hakka every day.' And I've been doing that ever since," he says. Now, he largely speaks Hakka to his parents and auntie at home.

Sparking interest in traditions with current trends
But young people like Chang Da and households like his are becoming increasingly rare in Singapore. According to the census, the number of people who spoke Chinese dialects at home decreased from 14.3 per cent in 2010 to 8.7 per cent in 2020. "This is one of the sad things," says Kok Keong. "A lot of Hakkas that I meet don't speak the dialect – especially the younger generations."

To spur their interest, Chang Da gives Hakka Scribbles a youthful touch by riding on current trends, creating relatable content that appeals to the younger generation.

"When I first started out, I was trying very hard to tie my content with current events," he says. "In my experience, conversations in Hakka tend to be more about day-to-day topics such as buying groceries at the market, whether one has eaten, or will be coming home to eat. But I want to demonstrate that we can use Hakka to talk about current trends and relevant events."

For instance, as Hakka Scribbles was started during the circuit breaker period, its first post was about the pronunciation of soap, when hygiene became a huge focus with the onset of COVID-19.

Trends aside, he also features little-known facts about the culture. For instance, during his research, he discovered a Hakka festival that is no longer observed in Singapore. Known as 'Sky Mending Day (天穿日)' or Tian Chuan Ri, the occasion sees the Hakkas eating glutinous rice cakes symbolising 'how the goddess Nüwa from Chinese mythology patched up a hole in the sky caused by warring gods. "My mother and aunt mentioned that they used to observe it growing up," he says.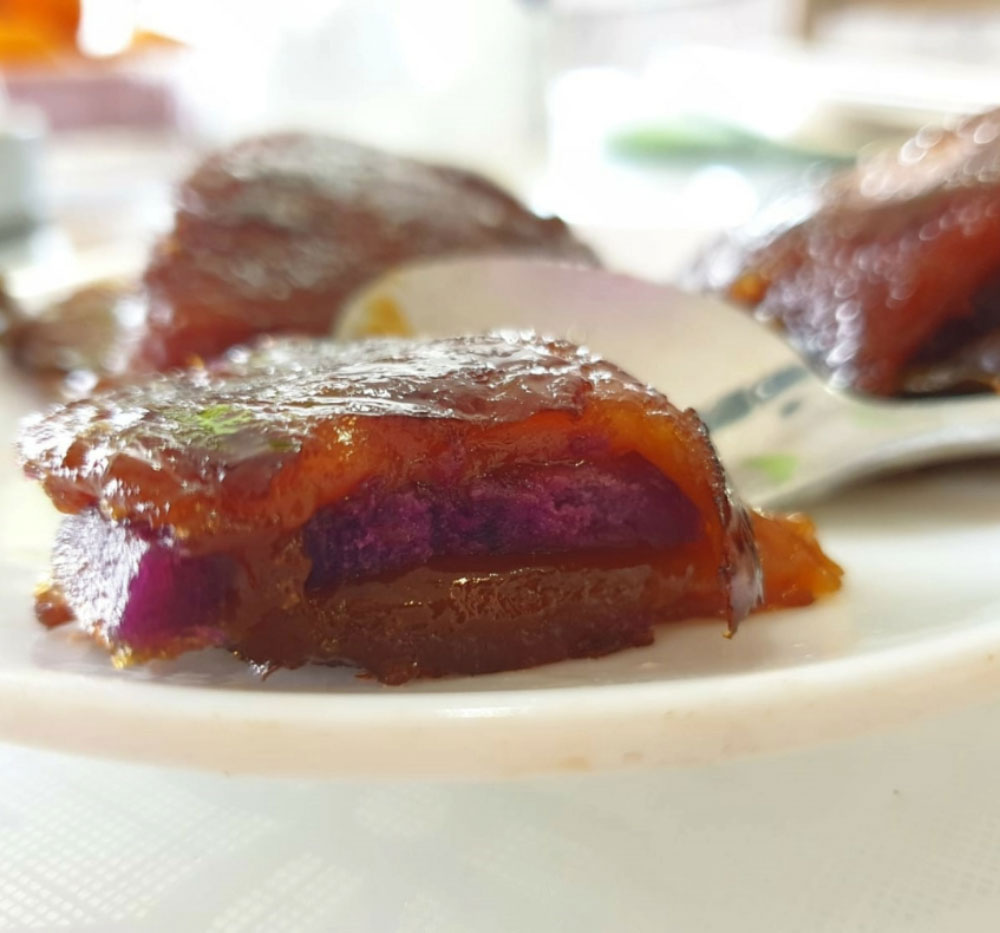 Glutinous rice cakes that Hakkas would typically eat to celebrate 'Sky Mending Day', as they symbolically observed 'patching up a hole in the sky' made by the warring gods. This observance is now moribund in Singapore. Photo credit: Sung Chang Da.
Unearthing more information about the Hakkas has also led to better appreciation. "The more I learn about the food, the more respect I have for the culture. You'll start to wonder about their thinking behind the processes that make these dishes so wonderful," says Kok Keong.
For instance, when migrating down to southern China in the past, Hakkas had no access to wheat, a staple ingredient required to make dumplings. As such, they improvised by stuffing meat into tofu, which has become the dish known as
yong tau foo
today. "They really adapt to situations – that's the spirit of the Hakkas," says Kok Keong. "They are very creative and resourceful."
Injecting a youthful spark
Now, the Hakka clan associations, most of which have been around since pre-independence days, are also harnessing this ingenious spirit to ensure their relevance.
For instance in 2017, the Chia (Pow Soo) Hakka clan association created a youth wing as part of their 60th anniversary celebrations. They complemented this move with a technological facelift, launching a
website
as a publicity tool that has since reinvigorated the recruitment process. Previously, the 65-year-old association had been relying on mailers.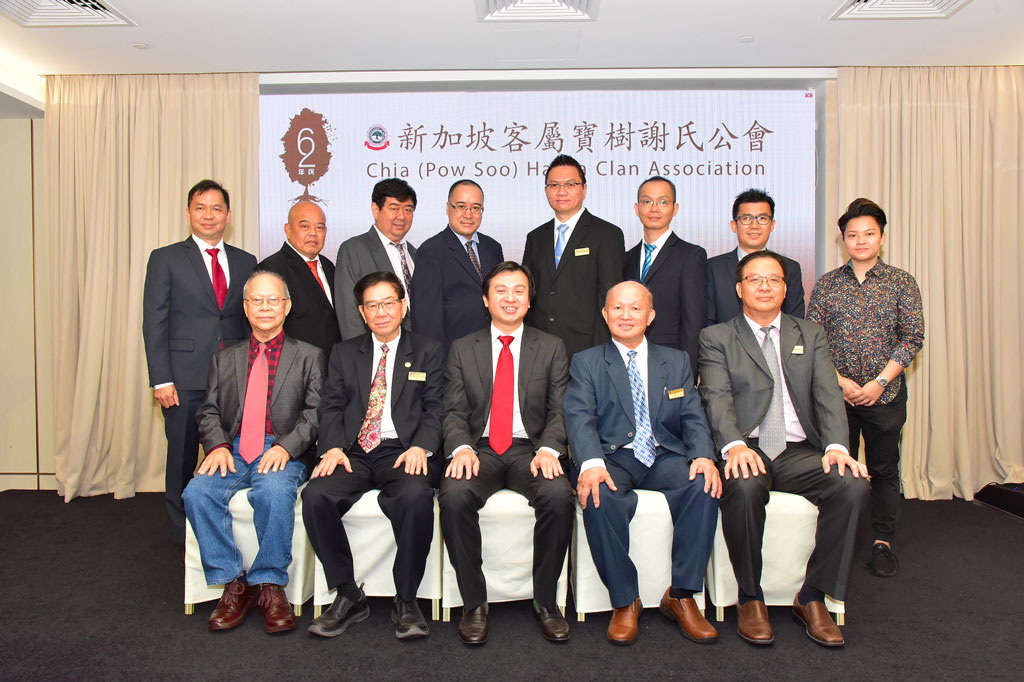 Chia (Pow Soo) Hakka Clan Association's Youth Wing, along with senior members, in 2019. It is not uncommon to see youth members in their 40s and 50s. Photo credit: Chia (Pow Soo) Hakka Clan Association. 
Now, the youth wing comprises close to 30 per cent of the association's membership, as compared to 10 per cent five years ago. People in their 20s have joined, after chancing upon the website. Encouraged, the youth wing moved on to set up another Facebook public group to increase the association's online presence.

"The results have not been bad – we're not remaining stagnant," says the association's youth wing president Alwyn Chia, 48. "We hope that with youths coming in to contribute, this can take the association further."

The youth wing has been heavily involved in clan activities. Before the COVID-19 pandemic struck, they were responsible for organising annual Qing Ming trips to the Shuang Long Shan Cemetery – Singapore's only remaining Hakka cemetery – and also the clan's anniversary dinners.

"The elder members can teach the younger ones about Hakka culture and history, while the youth can teach them practical skills such as learning how to WhatsApp. The information sharing goes both ways," notes Alwyn.

Describing clan associations as the "last bastions of culture", association president Chia Sei Kong, who is in his 70s, also adds: "If we don't promote our own culture, no one will help us. It's our responsibility."

At home, Kok Keong is also taking the opportunity to introduce his three children to Hakka food and dialect. "It's slow-going. You really need to make a conscious effort to do so," he says.

While efforts at home and in the community can help keep Hakka culture alive, genuine interest will help it to thrive. "We must make more concerted efforts to learn about ourselves and our culture," says Alwyn, who started learning the dialect only in his late 30s.

Thankfully, interest is picking up. Chang Da shares that his friends have been motivated to learn more about their own heritage after coming across his Instagram page. "It has also encouraged some friends to pick up Hakka," he says, adding that people have also approached him online asking about tips to learn the dialect.

"I think it shows that although we're not as in touch with our heritage as before, we still care about it. It won't fade away so easily."