The Beauty in Bugis Heritage
As an ethnicity with a rich culture and heritage, the Bugis community is one of Singapore's smaller ethnic groups, but has big ties to our land, our neighbours and our Malay community.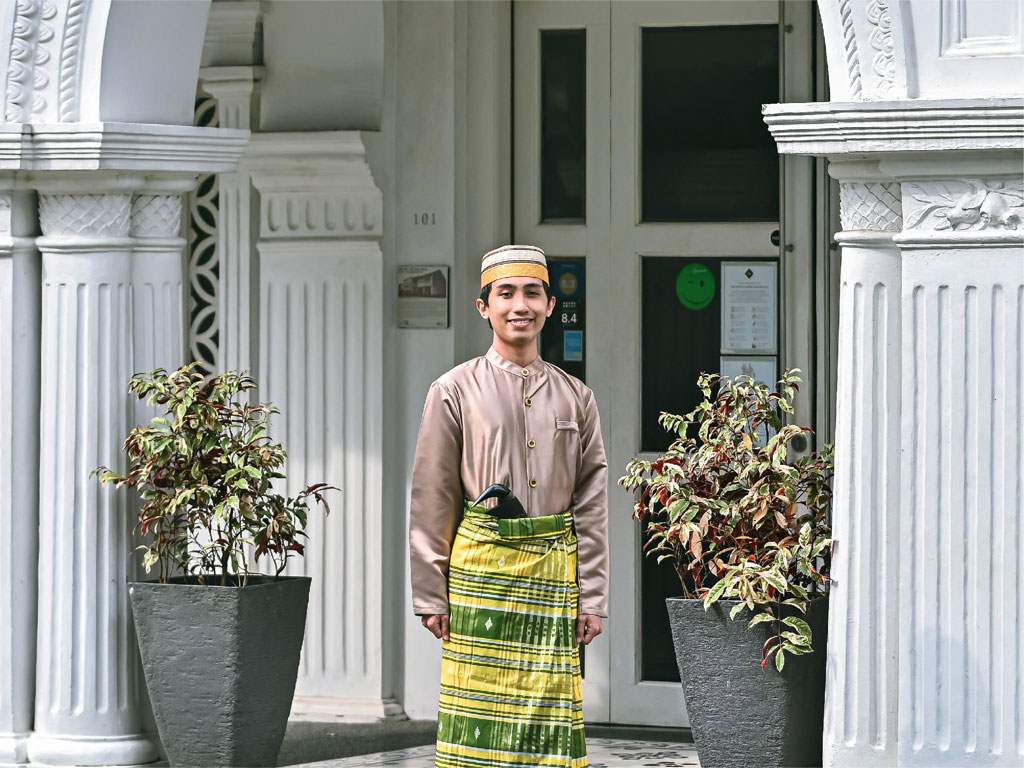 Syaqil stands in front of The Sultan Hotel, the former home of publishing houses set up by the Bugis-Malay aristocrats in 1911. 
For many Singaporeans, Bugis is an area known for shopping, food and the arts. But for Syaqil bin Sarafian and many Bugis like him, it's a vibrant ethnicity filled with rich culture and heritage, with roots in Indonesia.

When he was nine, Syaqil learnt from his father that they are Bugis, and responded, "Bugis, as in 'Bugis Junction'?"

Four years later, he started following his father on heritage trails, which sparked a newfound interest in his cultural roots. The more he learnt, the more curious he grew, particularly in the artistic aspects of the Bugis culture, such as calligraphy and architecture.


Syaqil and his father at one of the stops along the heritage trail outside the Hatijah Fatimah mosque.
Today, Syaqil, a newly enlisted National Serviceman, has been helping his father, Mr Sarafian Salleh, conduct weekly heritage trails that teach participants about the Bugis culture in Singapore.
Walking down Bugis memory lane
For this father-son duo, these heritage trails are an opportunity to reintroduce important landmarks of Bugis culture to the public.
One such heritage site is The Sultan Hotel, the former home of publishing houses like Al-Ahmadiah Press that was set up in 1911 by Bugis-Malay aristocrats from the Riau region. Today, this
Late Shophouse-stylebuilding
stands as a reminder of the strong literary legacy among the Bugis.
While some heritage trail goers would associate the word "Bugis" with a famous shopping street, Syaqil and his father point out that the true origin of the word refers to their ancestors, who were seafarers from South Sulawesi, Indonesia.
After migrating to Singapore in the early 1800s, the Bugis community grew as their trade with the Chinese and Europeans flourished. Syaqil's father shares that back then, the Bugis were perceived as hot-tempered pirates.
But this couldn't be further from the truth. According to Sarafian, the Bugis people were agriculturalists and seafarers who sought to build a better future for fellow immigrants in Singapore.
Wearing Bugis with pride
While Syaqil mentioned that it is impossible to recognise another Bugis without first talking to them, their traditional costume and how it is worn says a lot about the individual. Golden stripes around the songkok, for example, are indicative of their education level, while wearing it tilted to the side informs others that they are looking for a partner in marriage.
Another aspect of their traditional attire is the Sarong Bugis. Typically worn around the waist, the large piece of fabric is known for its bold, contrasting colours, as well as square patterns that are lined with gold thread. To hold them in place, the ends are tied into a tulip-shaped knot, instead of simply folding and tucking them in.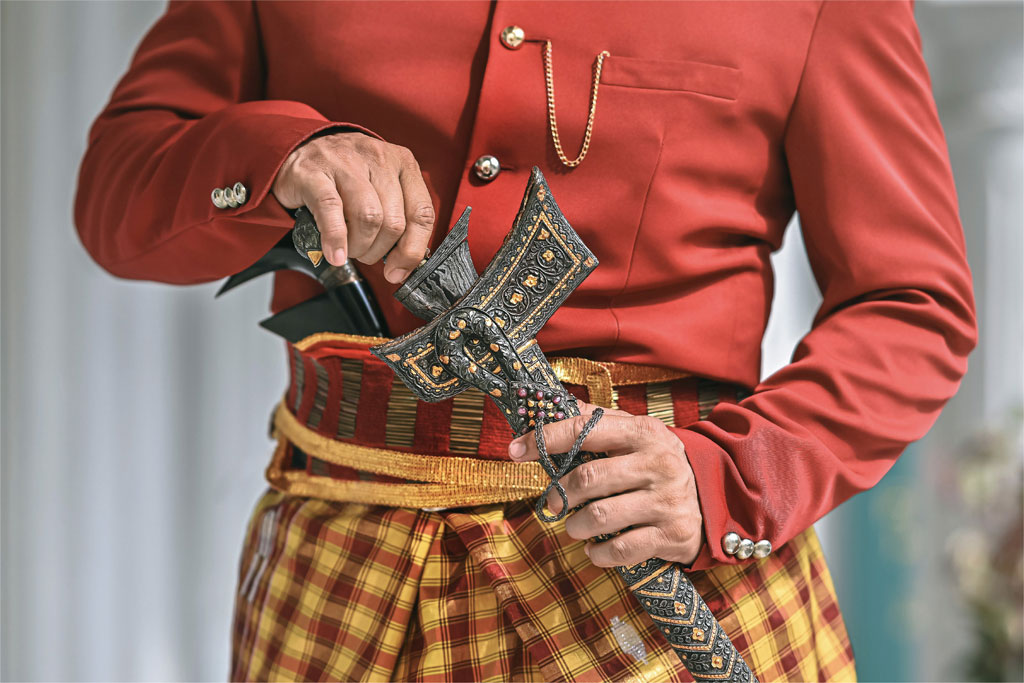 Syaqil's father in Bugis attire brandishing the keris – a traditional dagger.
A language of their own
Another unique characteristic of Bugis culture is the language. While some words may sound similar to their Malay equivalent, on the whole, the Bugis language sounds different altogether.
For example,"how are you?" in English is translated into "Apa Khabar" in Malay and "Aga Kareba" in Bugis.
| | | |
| --- | --- | --- |
| English | Bahasa Melayu | Bugis |
| How are you? | Apa Khabar | Aga Kareba |
| Eat | Makan | Manre |
| Clothing | Baju | Waaju |
| Religious | Kuat Agama | Magaama |
| Pants | Seluar | Sulaarak |
Common words that illustrate the linguistic differences between Bahasa Melayu and Bugis.


Through the lost artform of calligraphy, Syaqil soon formed an interest in the expression of his Bugis heritage.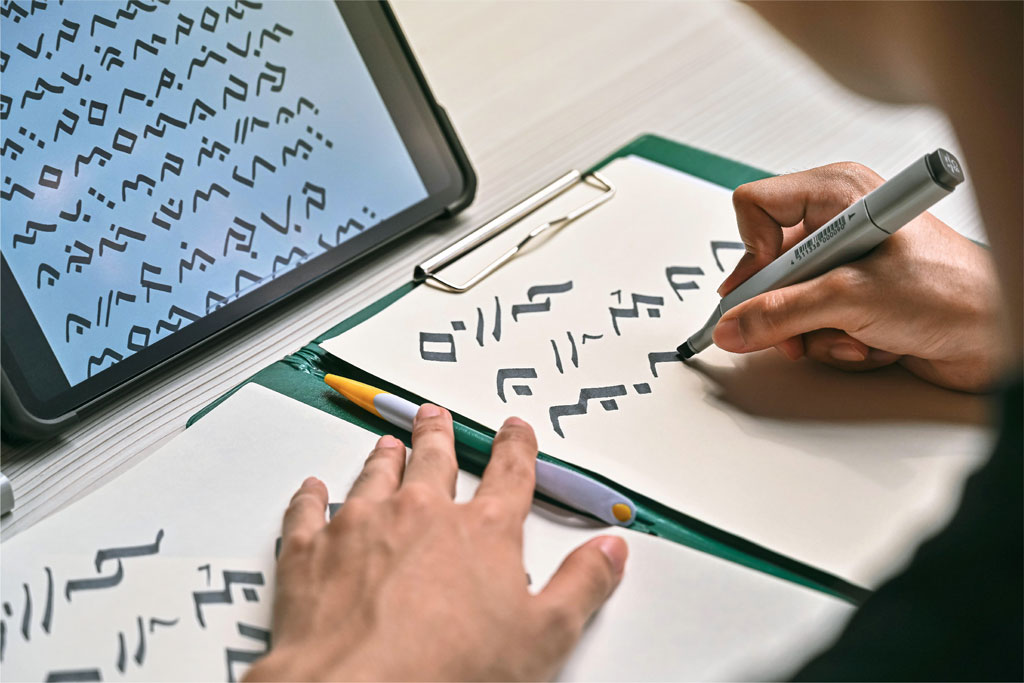 Syaqil practising Bugis calligraphy.
Bugis calligraphy takes the form of squarish-shape writing that draws visual inspiration from shapes found in the natural world. A combination of right-angled strokes and curved tails resemble mountain peaks and rolling waves.

A taste of home
While Syaqil is working on his command of the Bugis language, food is another way he connects with his culture. Coto Makassar was the first Bugis dish he ever tasted, and it remains as one of his favourites today. Likened to the classic Indonesian dish, Soto Ayam, Coto Makassar is prepared with a thicker and more savoury broth, with more spices added.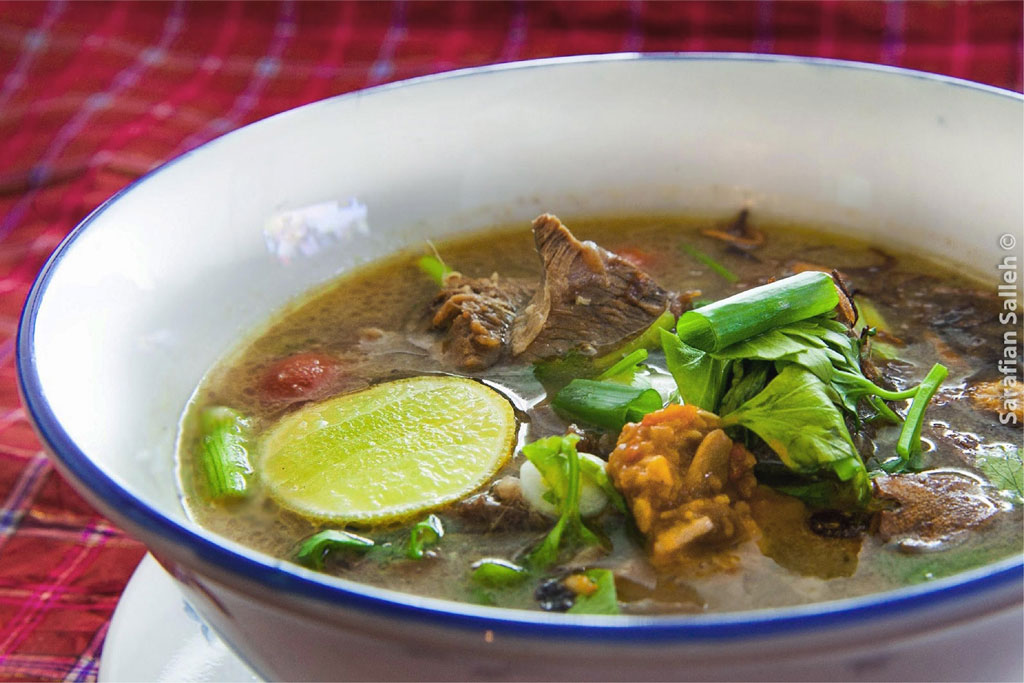 Coto Makassar is a traditional beef soup that originates from Makassar, South Sulawesi. (Photo provided by Mr Sarafian Salleh)
While we are more familiar with Mee Soto and Soto Ayam, Soto actually originated from Bugis Makassar. Called Coto Makassar, the dish used to be a favourite in Sarafian's family in the past. Today, Sarafian's wife, Madam Norzihan has revived the age-old beef soup dish by preparing it for the family.

Building stronger ties within a community
When asked what Syaqil wished people knew about the Bugis, he said, "When the British established a trading settlement in Singapore, the Bugis were among the first to arrive here and played a big role in providing the necessary resources."

From supplying food and building materials to navigating around the archipelagos to deliver goods, Syaqil believes that the Bugis were a highly resourceful community that were instrumental in helping to build Singapore from the ground up.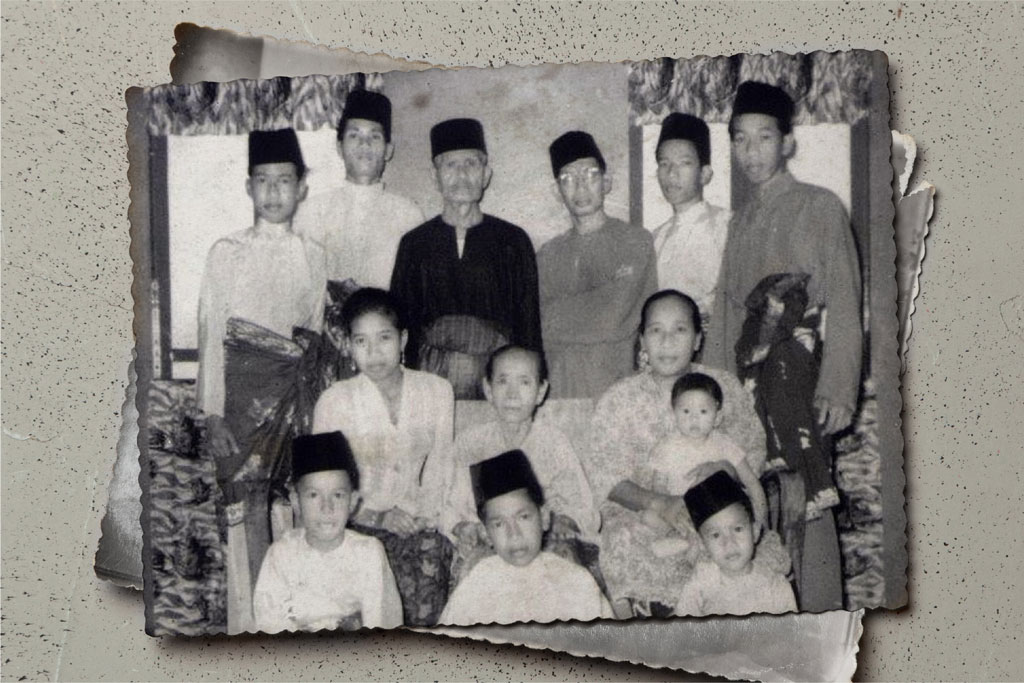 A photo of Mr Sarafian Salleh's paternal family taken in 1960. (Photo provided by Mr Sarafian Salleh)
While it's easier for Syaqil to learn about the Bugis culture through his father, he feels that Bugis youths today can reconnect with their heritage, not just by reading up on it, but by also reaching out to any fellow Bugis.

"Once you realise the meaning behind the Bugis traditional costume and how their dishes are prepared, you'll develop an interest to learn a lot more about other aspects of the culture too."

As Syaqil continues to deepen his connection to his heritage, he also hopes to one day visit Sulawesi to learn more about the Bugis in their motherland.

Still curious about the Bugis culture? Watch how we quizzed Singaporeans on the Bugis culture below, and learn some fun facts for yourselves!