The language that binds the Malayalee Heritage
As Singapore's second-largest Indian sub-ethnic group, the Malayalee community stays connected to their rich history through the beauty of the Malayalam language.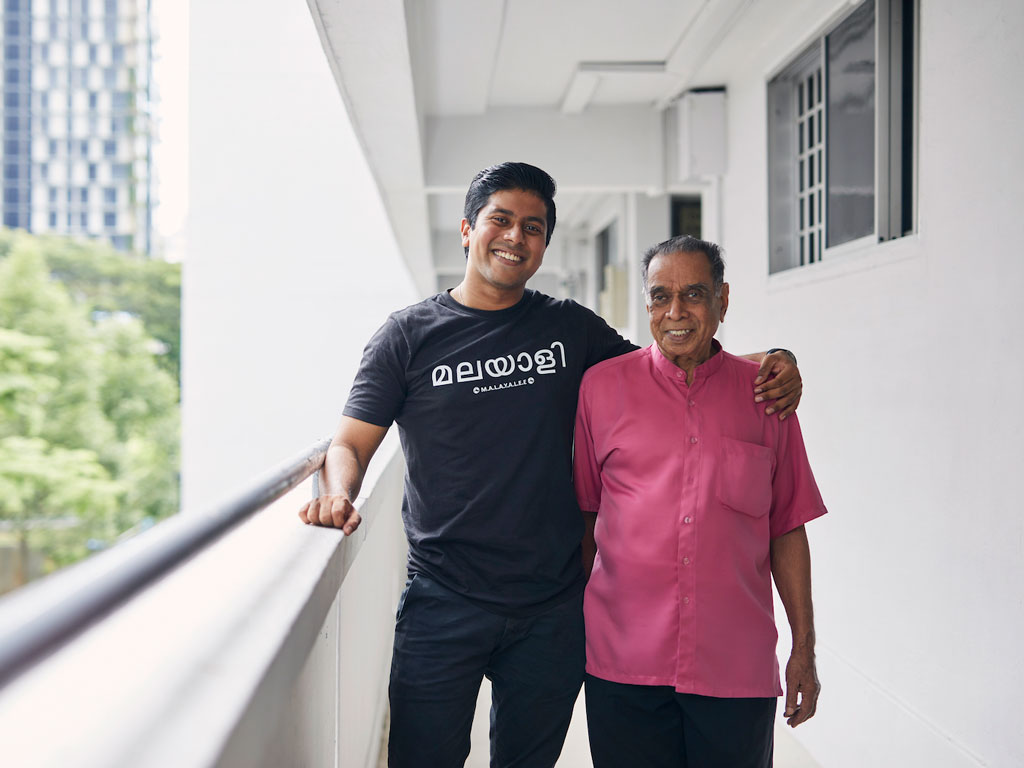 Shafiq and his grandfather pose outside the latter's flat in Clementi.
"Muthapa! Muthapa!" (a Malayalam term for "Elder Uncle") bellowed the voice yearningly from the other end of the phone call.
All Moideen Kutty Bin Ali could do was break into a gentle smile, the weathered creases on his forehead furrowed with excitement.
The last thing the 85-year-old expected was reuniting with his lost family in Kerala, India from the living room of his Clementi flat.
For over a year, his grandson, Muhammad Shafiq Bin Abdul Rahman had been on a journey to trace his family lineage.
Even though he was already well-versed in the Malayalam language, brushing up on his reading and conversational skills gave him an edge. For example, this allowed him to seek out leads within the local Malayalee community and look up information from archival footage.
Despite several unsuccessful attempts in the beginning, things started to look up for the 25-year-old when he decided to take his search online.
After typing the name of his ancestral home, "Changampally" into Facebook's search engine, he came across a long list of profiles bearing the same last name. But almost immediately, one of the profiles stood out. It bore a photo of an elegant looking ancestral home — the exact same one he had seen from one of his grandfather's photographs a few years ago. After a quick phone call with the profile, it was confirmed — this was his grandfather's long-lost nephew.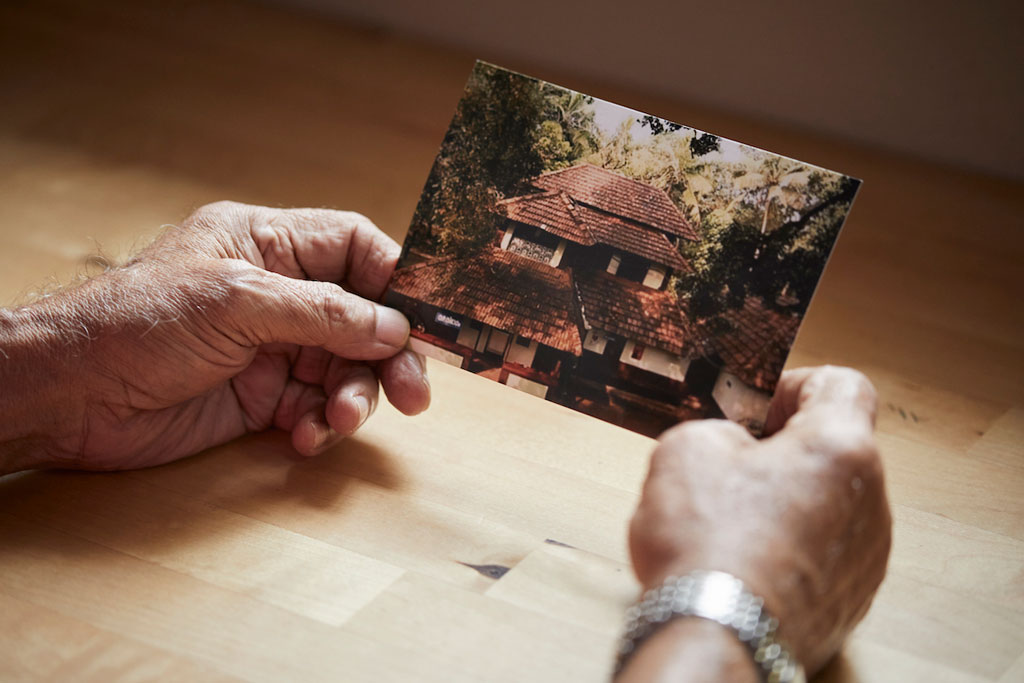 A photo of Shafiq's ancestral home.
So when his grandfather finally responded to his kinsman whom he had not spoken to in more than 20 years, Shafiq — who was right beside him — could no longer hide his emotions. "It was very surreal to see my grandfather connect with his family back in Kerala and I remember tears of happiness rolling down my face because it was such a heartwarming moment," he says.
"My grandfather had always dreamt of reconnecting with his roots one day, so as a grandson this was the best gift I could give him."
Singapore's rich Malayalee history
Originating from the south-western coastal state of Kerala, India, Malayalees are thought to have arrived in Singapore even before Sir Stamford Raffles' landing on the island in 1819.
While there are no official records documenting the actual arrival of Malayalees, evidence from the Jalan Kubor Cemetery — the oldest Malabar Muslim cemetery on the island — indicates the existence of Malayalees even before 1819. Also known as "Mappillas", they refer to Malayalee Muslims who hailed from Malabar, the northern region of Kerala.
This could either mean that traders from Malabar were already in Singapore when the British came to the island, or that they arrived shortly after. Since then, they have been making a name for themselves. Notable Malayalees include former president Devan Nair, chief justice Sundaresh Menon, dance pioneer Santha Bhaskar and Monetary Authority of Singapore managing director Ravi Menon.
Despite being composed of Hindus, Muslims, Syrian Christians, and Roman Catholics, the Malayalee diaspora is bound by a common entity — the Malayalam language.
As Dr. Anitha Devi Pillai, author of Kerala To Singapore: Voices From The Singapore Malayalee Community explains, the language provided a sense of familiarity and togetherness in a foreign land.
"I would argue very strongly that it has been the Malayalam language that has kept them so close together for so long. Whatever differences they had previously, when they came to Singapore, that didn't seem to be an issue. The language remains the binding force of the community."
Portal to the past
While both his parents were able to converse in Malayalam, Shafiq picked up the Tamil language as his second language in school as Malayalam was not offered as an examinable subject.
It was not uncommon for him to mix up words without realising it, he says. For example, letters in the Tamil language generally have fewer loops, sharpened angles and capped heads. Malayalam letters on the other hand, tend to have more curves, loops and bald heads.
As he approached adulthood, the 25-year-old was determined to learn the language of his ancestors. His first stop: YouTube. As a fan of Mappila music, he decided to look up Malayalam Muslim Folk songs and slowly picked up words by memorising the lyrics. When the words got too confusing, he would approach his grandfather, who is well-versed in different Malayalam slang to clarify their meanings.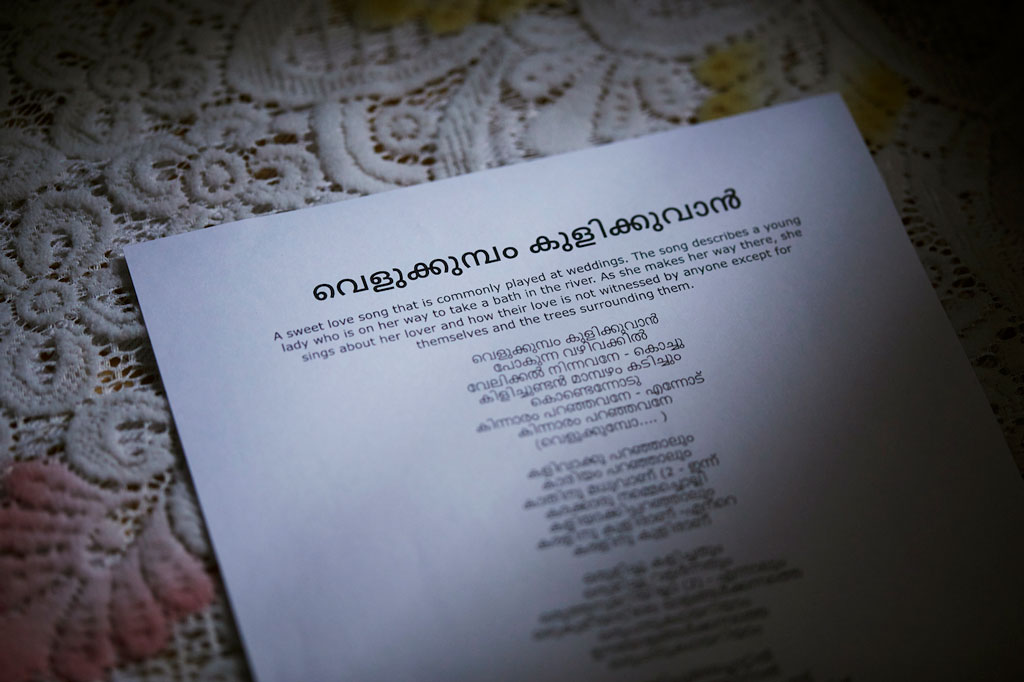 A lyric sheet of a famous Mappila wedding song that Shafiq learnt by looking up the internet and by consulting his grandfather.
Soon enough, he found himself belting out the songs with ease. More importantly, he could understand the significance of the words. So much so that he started performing well-known Malayalam song numbers at Malabar Muslim weddings across Singapore and Malaysia.
"I was never musically trained so I will never know if I was on the mark. But what I do know was the happiness and contentment I brought to people whenever I sang — it's not every day that you see a youngster sing old gold Malayalam songs."
For Aathira Unnithan, learning the Malayalam language means having a portal to the past. Having already learned Bharatanatyam, a major form of Indian classical dance from Tamil Nadu, since she was six years old, she was keen to pick up new genres of dance.
In 2020, the Vice-Chairperson of the Singapore Malayalee Association (SMA) Youth Wing chose to learn Mohiniyattam, a classical dance form that originates from Kerala, the land of her forefathers.
For example, the Malayalam language verses in Mohiniyattam depict the way people used to appreciate grace and beauty in the past. This includes depiction of everyday life like how the paddy fields used to sway in the wind or how the flowers used to bloom. This has allowed her to connect deeper with her Malayalee roots.
While she admits that the complexity and beauty of both dance forms cannot be compared, some things remain unique. Bharatanatyam tends to be more fast-paced compared to Mohiniyattam which tends to embody a slightly slower, measured rhythm.
"I took up this art form to connect with my Malayalee roots because I feel dance is one way that you can easily connect with your culture," she says.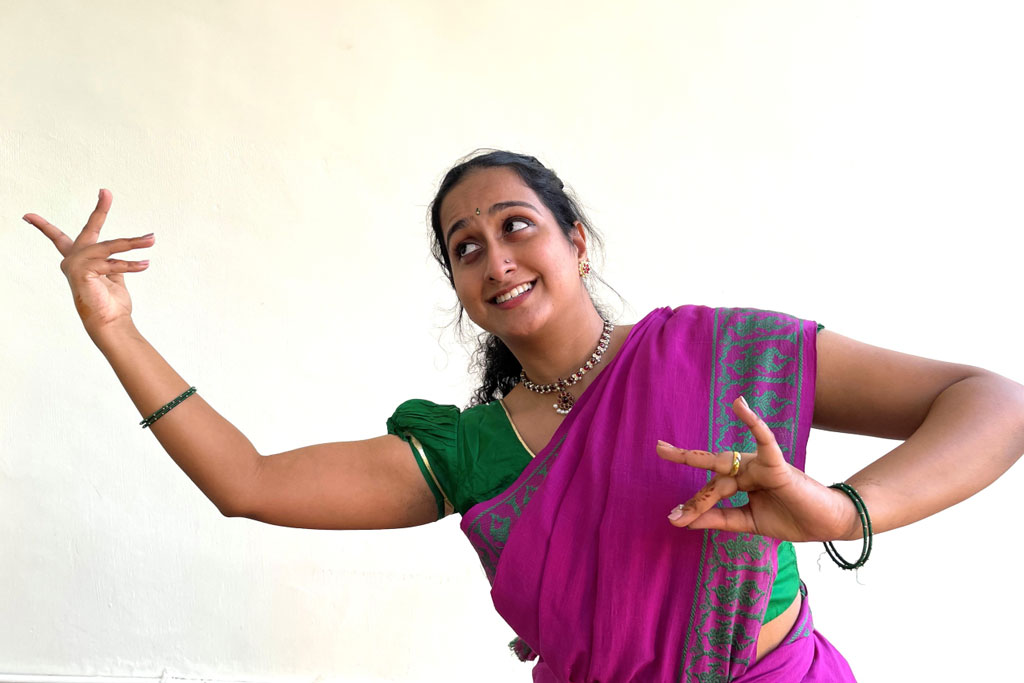 Aathira performing the Mohiniyattam dance at her weekly class. Photo credit: Aathira Unnithan.
While she could fluently converse in Malayalam with her parents and grandmother in Singapore, she received feedback from her family back in Kerala that she was not proficient enough.
Despite being initially taken aback, she soon found out why: she was missing the colloquial element. "As Malayalees in an English-speaking society like Singapore, English tends to be the go-to language of expression. Plus, we also take Tamil as a second language here. So our language style is slightly different."
The drive that younger Singapore Malayalees possess to reconnect and get in touch with their roots is a positive sign forward, explains Dr. Pillai. As an example, she cites the SMA's Youth Wing. Founded in 1917, the association acts as a platform to bring together Malayalees in Singapore and preserve the community's culture and heritage.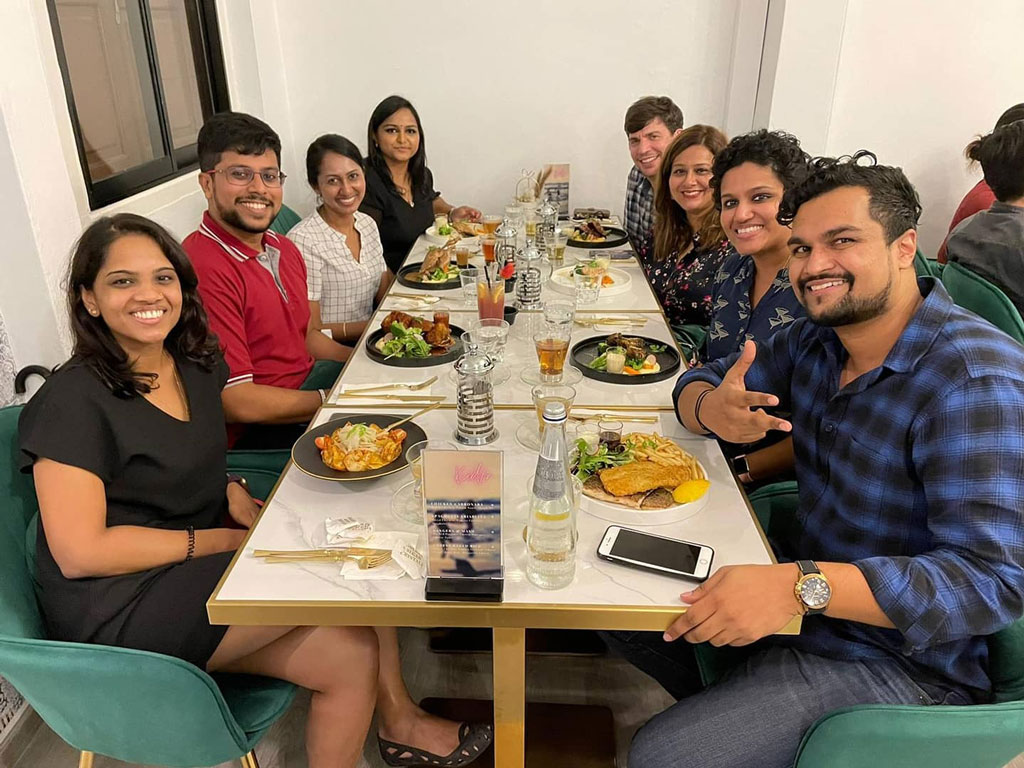 Shafiq (wearing a red polo tee and seated second from the front on the left) catches up with a few members of the SMA Youth Wing over dinner Photo credit: Muhammad Shafiq Bin Abdul Rahman. 
While it has several interest groups to cater to different age demographics, its Youth Wing has seen an uptake in numbers due to its ability to stay relevant with the current generation.
From creating tongue-in-cheek music videos imitating hit Malayalam songs to organising health forums, the group continues to garner the support of the community.
"SMA is on the right path because they are including voices of the youth in all its activities. When you do little things like this, it keeps a sense of affinity to the language and to the community. This helps to evoke a sense of rootedness and belonging," she says.
Words that unite a community
Having a strong love for the Malayalam language, Shafiq explored teaching his close friends and cousins basic Malayalam conversational phrases that he learnt from his grandfather and online sources.
As President of the SMA Youth Wing, Shafiq and his team continue to advocate for the language by working with Malayalam Language Education Society (MLES) in organising bi-yearly Malayalam language classes. They have been such a hit that even non-Malayalee members have signed up.
"I think that's the beauty of what it means to be Malayalee. As a community, we're made up of people from different religions. So, to be able to meet people through the Malayalam language is a heartwarming experience."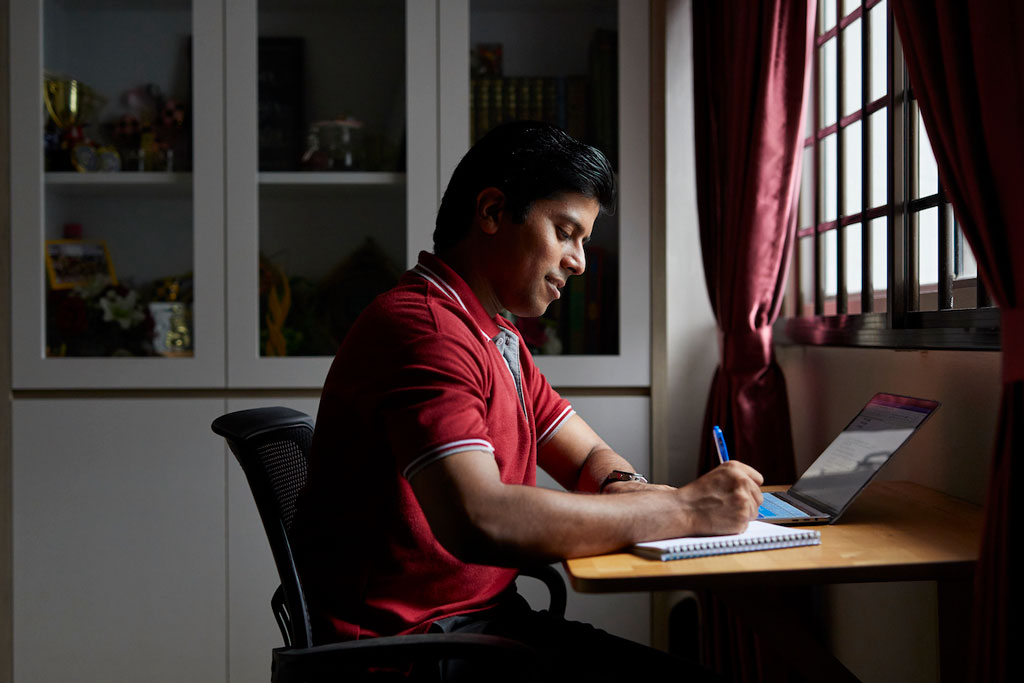 Shafiq preparing class notes to teach his cousins and close friends the Malayalam language.
What he did not expect was that the journey to learn his forebears' tongue has also enriched his love life. He is now a prominent target for would-be matchmakers.
"When I started speaking the language fluently, a lot of the elders in the community were highly impressed. They were so impressed they were trying to matchmake me with families in Singapore and across the Causeway!"
The popularity of the language gives him confidence that it will always remain a key part of the community. "This was the language that brought the community together as one in the past and come what may, it will continue to hold us together as we move ahead."