Aching to win - the people who keep our national athletes free from injuries
Imagine the expertise needed to work with athletes across all sports! Kelvin Ng is a sports physiotherapist who has done just that. Kaya delves into the art and science of physiotherapy and what it takes to get our national athletes to the next level, as they prepare for Asian Games this September.
Kelvin Ng explaining stretching techniques to national fencer Maxine Wong.
When former cross-country runner Kelvin Ng suffered an injury at age 13 during a school competition, he thought it was the end of his running career.
The avid sportsman had torn his medial meniscus (a crescent-shaped band of thick, rubbery cartilage located in the knee) and had to endure severe pain when he walked, ran, or climbed the stairs.
He was advised by the orthopaedic surgeon to attend physiotherapy sessions every week.
Physiotherapy? Kelvin only had a vague idea of what physiotherapists did — he had seen physiotherapists attending to athletes during football matches on television.
Over the next eight months, Kelvin peppered his physiotherapist with endless questions about the nature of her job. Soon, he discovered that there was a lot more to physiotherapy than he thought, and that this would be the career for him.
"At 13 years old, [my injury] affected me quite badly and I thought it was career-ending… But the fact that I could go back to running, playing football without pain…That was mind-blowing. I wanted to give back, and return the favour for other athletes too," says Kelvin.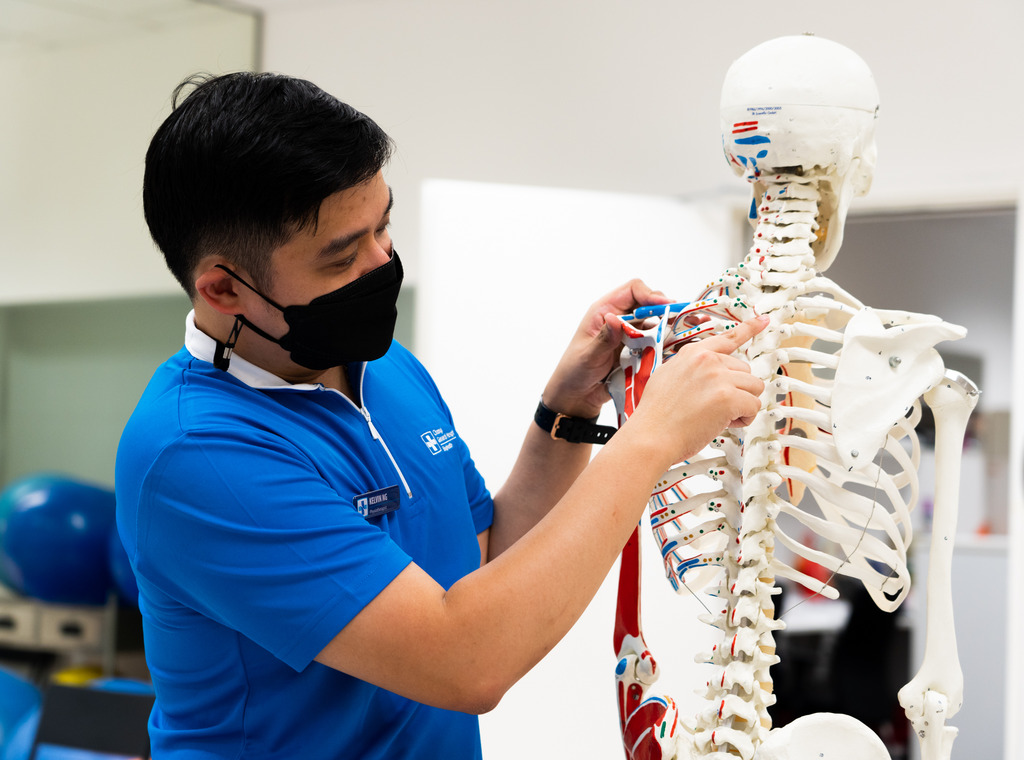 Kelvin using a human skeleton model to explain the mechanics of various sports movements.
A misunderstood career
Contrary to public perception, physiotherapy isn't just about giving massages.
Rather, physiotherapy centres on "movement analysis and the correction of movement patterns", says Kelvin. The aim is to keep the athlete injury-free and to assist them with rehabilitation so they can be at the top of their game.
Back in the day, physiotherapy was a somewhat niche vocation and was only available as a diploma. Fueled by his personal experience, Kelvin took up the physiotherapy course at Nanyang Polytechnic and went on to pursue a physiotherapy degree at an overseas university.
Today, Kelvin is a Principal Physiotherapist with Changi General Hospital. He is based at the Singapore Sport and Exercise Medicine Centre at the Singapore Sports Institute .
As a sports physiotherapist, Kelvin has to familiarise himself with a wide range of sports, such as wushu, floorball, ice hockey, football, rugby, and even lesser-known sports like lawn bowls and fin swimming.
While Kelvin has worked with athletes from every sport, he shared that he works closely with the fencing and floorball teams. Some of the athletes that he works closely with include fencing Olympians Amita Berthier and Kiria Tikanah.

Supporting athletes via physiotherapy
Be it a fencing lunge or a badminton smash, every sport comes with varying intensities.

For many athletes, working with a physiotherapist is essential to ensure that they can perform optimally, while reducing risk of injury.

Athletes may also visit Kelvin when they encounter issues such as tightness in their shoulder, limited movement range. For situations like this, Kelvin checks on their strength and mobility, before prescribing specific therapeutic exercises. For the more severe cases, Kelvin will employ the use of electrotherapy modalities.

As a sport physiotherapist, it is also critical to understand the sport and how every athlete moves. "We need to ensure that the issues don't disrupt the athletes' preparation for competitions," explains Kelvin.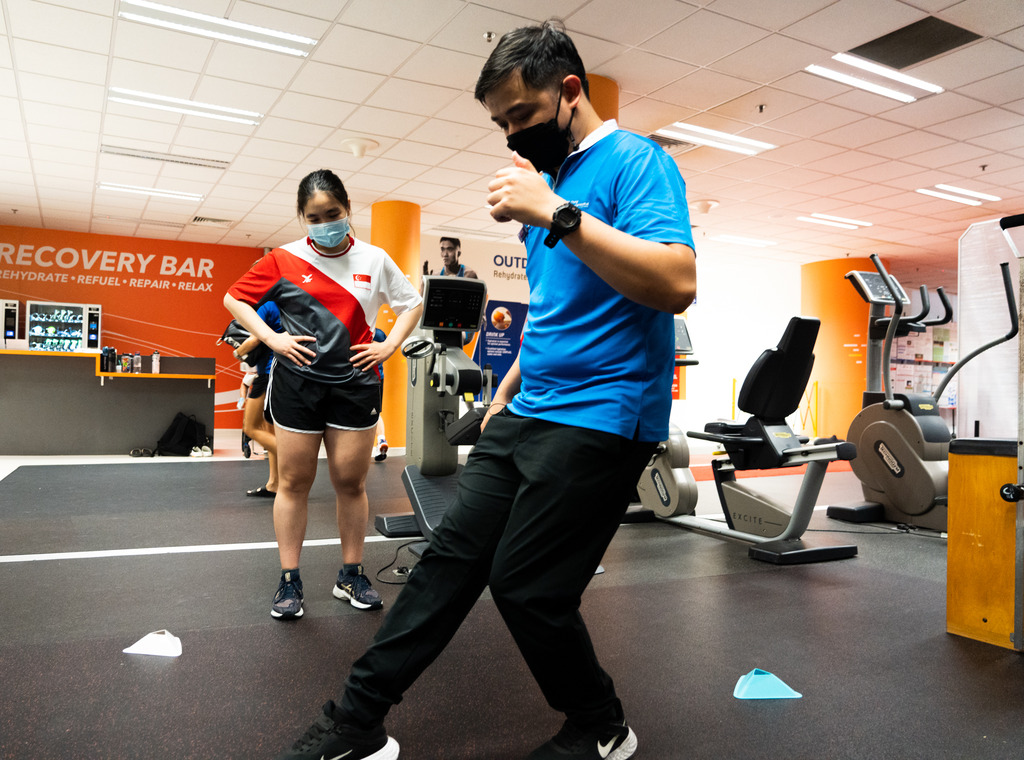 Kelvin demonstrating physiotherapy exercises to Maxine.
A partnership built on trust and understanding
To better understand each sport, Kelvin attends training sessions to observe how each athlete moves and check that they play with the proper form. During off-peak seasons, athletes even invite him to play the sport with them — though he jokingly concedes that he's better off the court.
The more we understand the sport and what it entails, the better we are able to direct our treatment and care for the athletes.
Beyond the scientific aspects, physiotherapists also need to build rapport and trust with the athletes.
Kelvin has also taken on the role of reminding the athletes to keep up with the rehabilitation and their mobility exercises, as these tend to fall by the wayside when the athlete gets busy with school or work.
Preparing for the world stage
The efforts and work of physiotherapists generally go unseen, but that has been changing in recent years.
Over the last two years, Kelvin has seen TeamSG athletes through a number of major competitions, such as the 2021 and 2023 SEA Games and the 2022 ASEAN Para Games.
TeamSG physiotherapists often face a lot of pressure to ensure athletes are in top-form within a short time, especially when the athletes are not based in Singapore. In these instances, Kelvin only gets to see them over teleconsultations or at competition venues.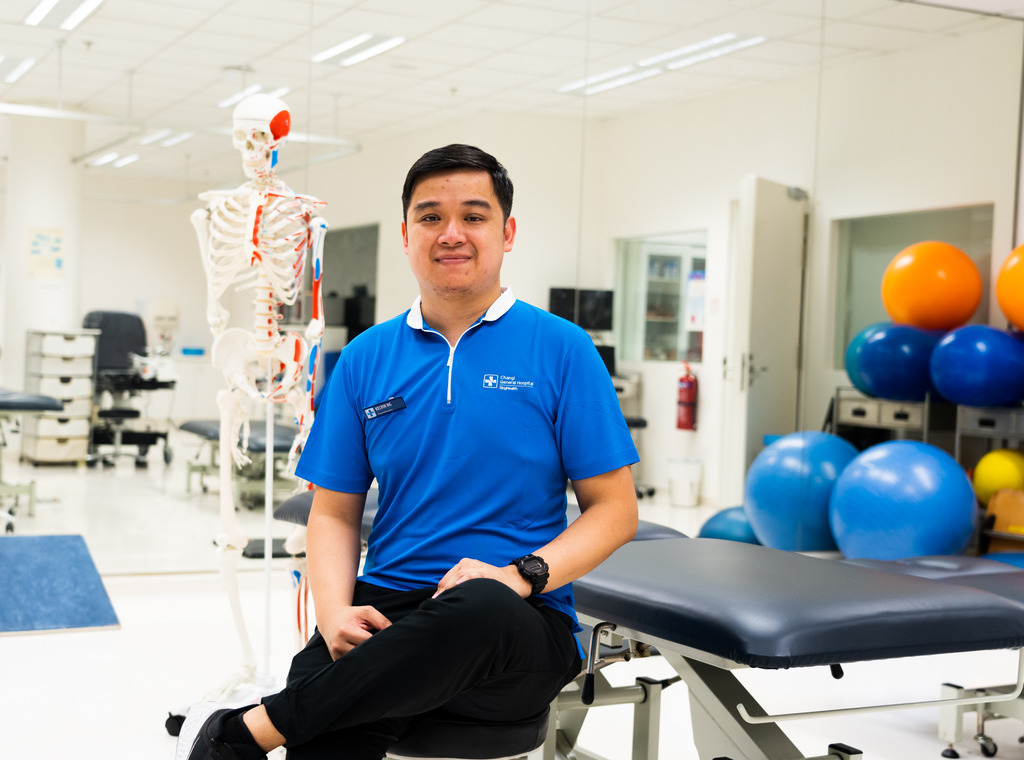 Seeing athletes back on track after an injury gives Kelvin a great sense of satisfaction.
Gearing up for the competition
As the team gears up for the Asian Games, it's all hands on deck.
Physiotherapists from the hospitals and the private sector have also been roped in to support the 400-strong contingent of TeamSG athletes participating in Asian Games. Kelvin is also part of the team that oversees the proper training of these volunteer physiotherapists.
With the training intensifying in the lead-up to these competitions, Kelvin has seen more athletes coming in with new injuries which he needed to address urgently.
He recalls that a fencer once sprained her ankle on her dominant foot 20 minutes before her next match at the SEA Games. It was a race against time for Kelvin to do an ice compress and tape up her ankle to keep it stabilised for her competition.
Seeing the TeamSG athletes give it their all is "always quite the experience," says Kelvin
This keeps him going, as he finds great satisfaction in seeing the athletes back on track after an injury.
"I feel driven by the fact that we get our athletes back on the field as soon as possible. To me, winning is just a bonus. Rather, seeing them overcome their adversity to go out there and perform and play to the best of their ability, fulfils me."