From Crab Cravings to Bathroom Escapes: The Intriguing Life of a National Swimmer
Even getting trapped in a toilet minutes before an international race cannot daunt national swimmer Letitia Sim. Find out what it takes to train, win (and get water out of your ears) like this Team Singapore athlete.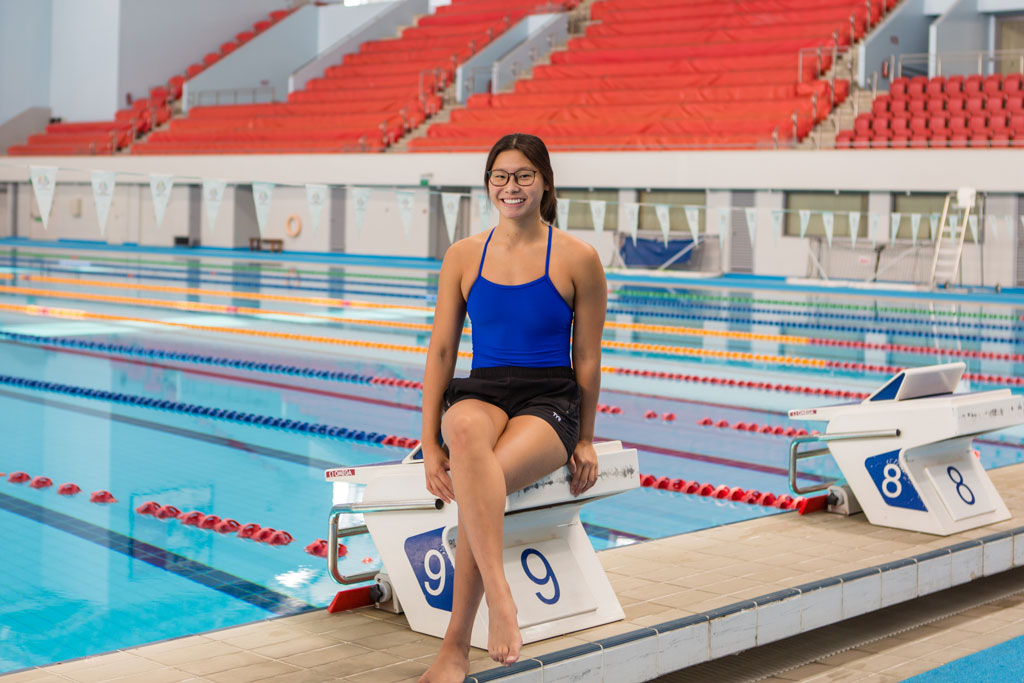 Letitia Sim, training for her next competition.
At just 19 years old, Singaporean national athlete Letitia already has a fistful of medals from events around the world. And that's not all: as a recent profile in The Straits Times confirms, she currently holds "the three fastest times for the women's 100m breaststroke in Singapore." And she's hoping that the Commonwealth Games 2022 will see her adding more trophies to her awards shelf.
Fresh from a shoot where she put comedian Rishi Budhrani through her gruelling training regime, we caught up to float a few more questions…
How long do you spend in the pool in an average week — and does it take a toll on your body or mind?
I would say I spend 20-plus hours in the water every week. Especially when we train twice a day.
I think, mentally, for me, sometimes being in the water is good for my mind, because then I can just let it run free and reflect about life.
But also, I tend to overthink. Every practice must be perfect for me to move forward. As I've matured, I've learned that it's okay to make mistakes. You just have to focus on the little details. Just try to get 1% better each day.
Here's an unusual ask: what's your pro tip for getting water out of your ears?
It sounds a little aggressive, but I usually kneel on the side of my bed and then sort of knock my head against the bed. So there's some extra force — that usually helps get it out instantly. [Laughs]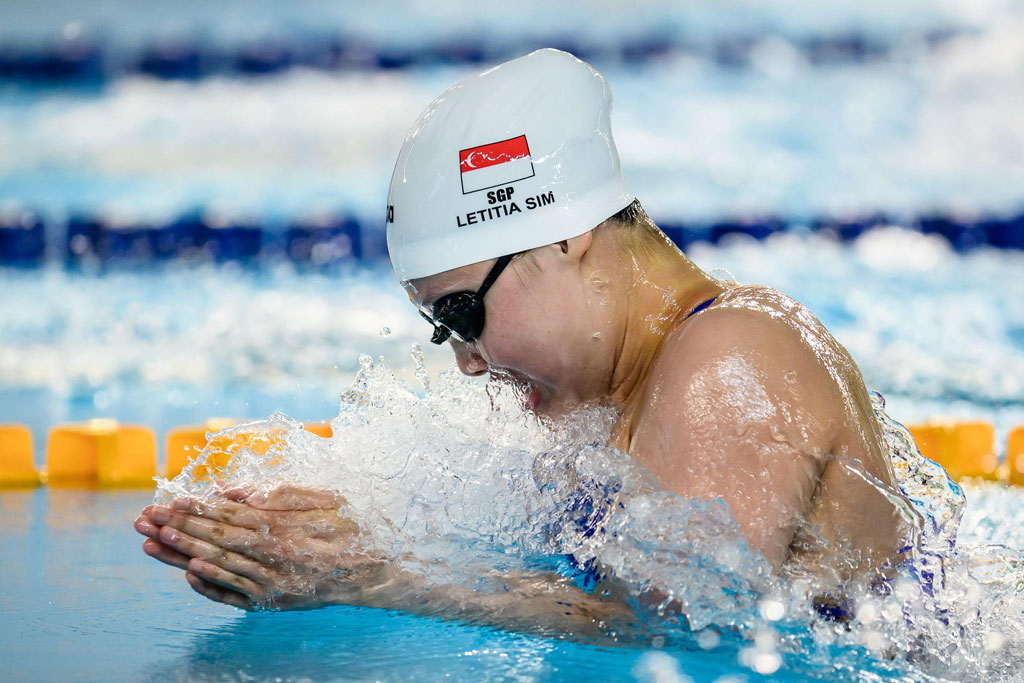 Photo credit: Andy Chua
As a swimmer, do you love a beachside holiday? Or would you prefer dry land for a change?
Oh, I think I would still prefer beach life: it's just so relaxing to me. I am afraid of open water though…
That leads us nicely to our next question. In a perfect world, would you rather be able to speak to underwater creatures, or gain their qualities? So basically, swim as fast as a shark or talk to a shark?
Swim as fast as a shark!
Well, that could provide you a cool new nickname as well: The Singapore Shark. But 'cause my nickname is Tish. So, everyone usually calls me Tish the Fish!
What keeps you giving it everything you've got, even when training or competing gets tough?
I would definitely say my teammates and coaches. Training with a single core team is so different from training in college. But I've really enjoyed how close I am to everyone I worked with, because they truly understand you. And when you really don't want to do that second lap, they're just there, cheering you on.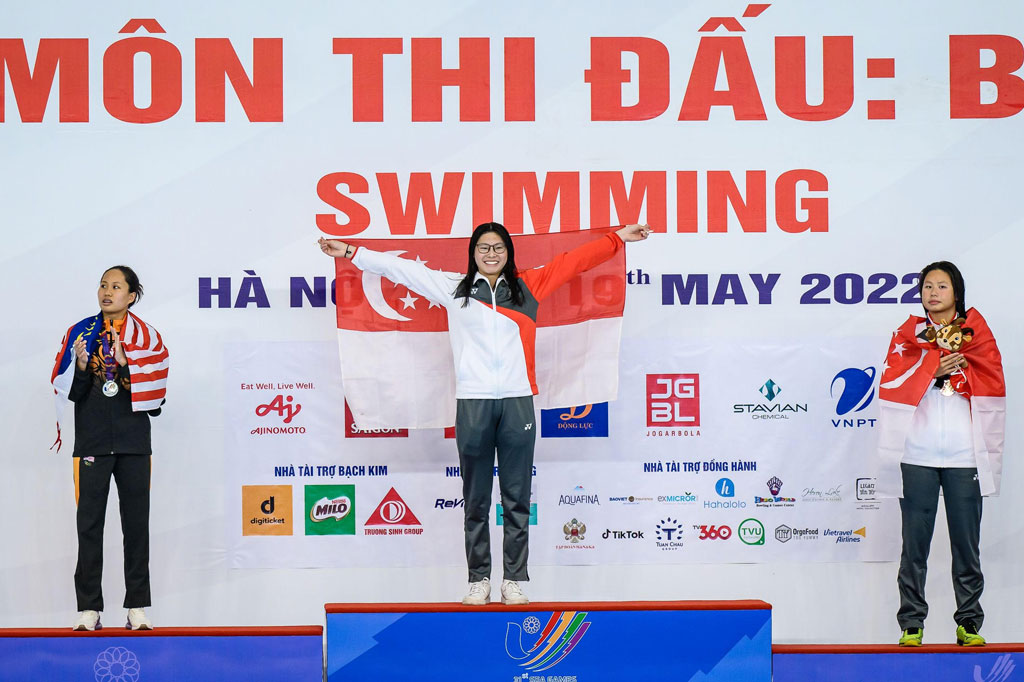 Letitia celebrating her Gold medal at the 31st Southeast Asian Games in Hanoi in 2022. Photo credit: Andy Chua
You're at university in the USA, a long way from home. What do you miss most about Singapore?
The food and the people! I miss anything noodle related or my other go-to dish, which is chilli crab.

You mentioned in our video that one of the strangest moments in your career was when you locked yourself in the bathroom at the SEA Games. That's an interesting way to get the heart racing before an event!
It was quite an experience. It was actually before my 100m breaststroke prelims. And I was in the first event. So, I went into the toilet, closed the door… and then I couldn't get out. I started banging on the door, like screaming. [Laughs]

In the end, a big bunch of people — custodians, coaches and officials — were all lined up outside the door. I even saw a video of this afterwards. That's how I know. All these people were trying to pry open the door from the outside. And then a guy had to climb through the ceiling, and across the vents into my bathroom stall, and then break the door from the inside to bust me out.

That's quite a rescue attempt — and right before a race. How did you do?
I didn't get a best time, but I won a gold medal. I think considering everything that happened that day, it was pretty good!


Watch the full video here!