Going for Gold Singapores silat athletes on preparing for the 2022 SEA Games
Team work makes the dream work! These four Silat exponents share more about supporting each other as they overcome challenges and prepare for this year's SEA Games.
Members of Singapore's national pencak silat team Hazim Yusli, Abdul Raazaq, Siti Khadijah, and Nurul Suhaila Mohd Saiful
Spectate a pencak silat match and the first thing you'll notice is how an athlete's explosive flurry of kicks and punches can topple an opponent. The martial art has roots in Southeast Asia and its techniques blend strength, speed, and grace.

Members of Singapore's national pencak silat team Hazim Yusli, Abdul Raazaq, Siti Khadijah, and Nurul Suhaila Mohd Saiful are preparing to enter a new weight class this SEA Games, which will take place in Hanoi from 12 - 23 May 2022. Read on to learn more about their experiences with silat and their hopes for the upcoming games.
Love at first kick
Many high-level athletes start sports young and these silat exponents are no exception. These athletes share that their family members encouraged them to pick the dynamic sport as children. "I started at age 5 when my dad convinced me to join a silat club," 21-year-old Raazaq recalls.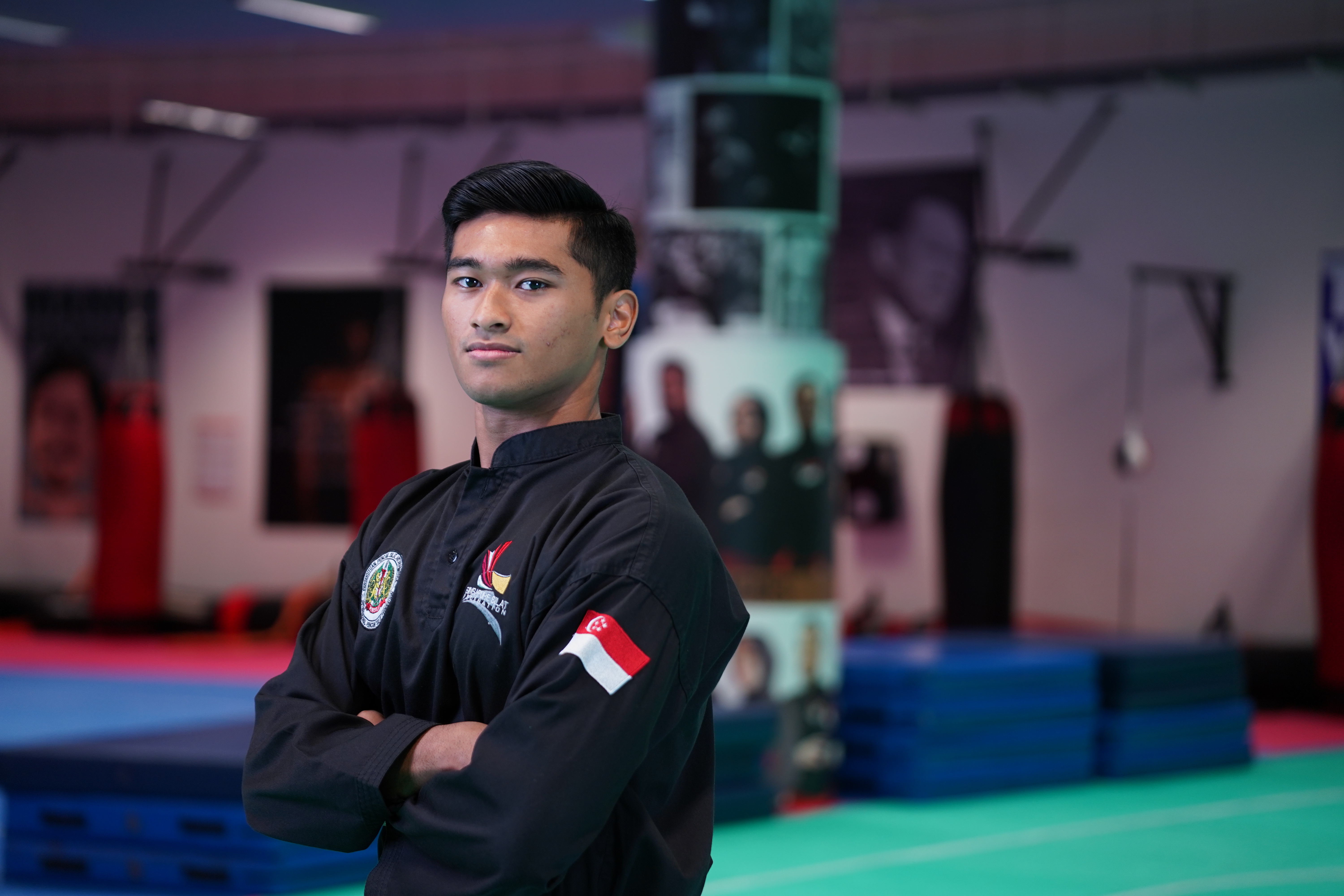 Abdul Raazaq at the OCBC Arena, where the silat team trains.
21-Year-old Khadijah shares that while she was originally a dancer, it wasn't something that she excelled at. She gave silat a shot at her father's suggestion to try something new. "I fell in love with the first kick," she says with a smile.
On what she appreciates about silat, 27-year-old Suhaila shares that it's a good self-defence sport for women to pick up and that it also builds character. She also values how silat allows her to connect to her cultural roots.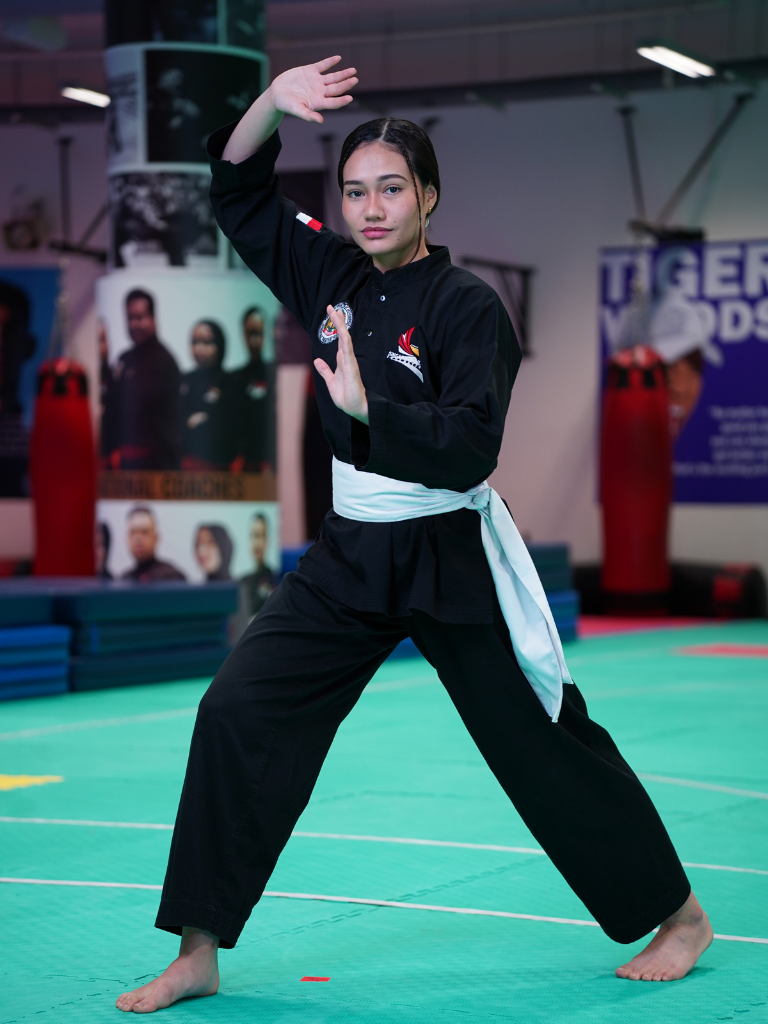 Nurul Suhaila Mohd Saiful. The 2022 SEA Games in Hanoi will mark her fourth time competing at the event
Joining a new weight class
One major challenge that the athletes are facing as part of this year's SEA Games is joining new weight classes. Athletes tend to participate in weight classes depending on what classes are available at competitions. The host city usually decides on this. These athletes are all currently preparing to enter new weight classes as their previous weight classes aren't included at this year's Games.
Having to enter a heavier weight class, Khadijah initially grappled with how her body changed. "Besides having to eat a calorie surplus, one of the biggest challenges is learning to feel more secure in your body," she says. "Learning to accept myself was important."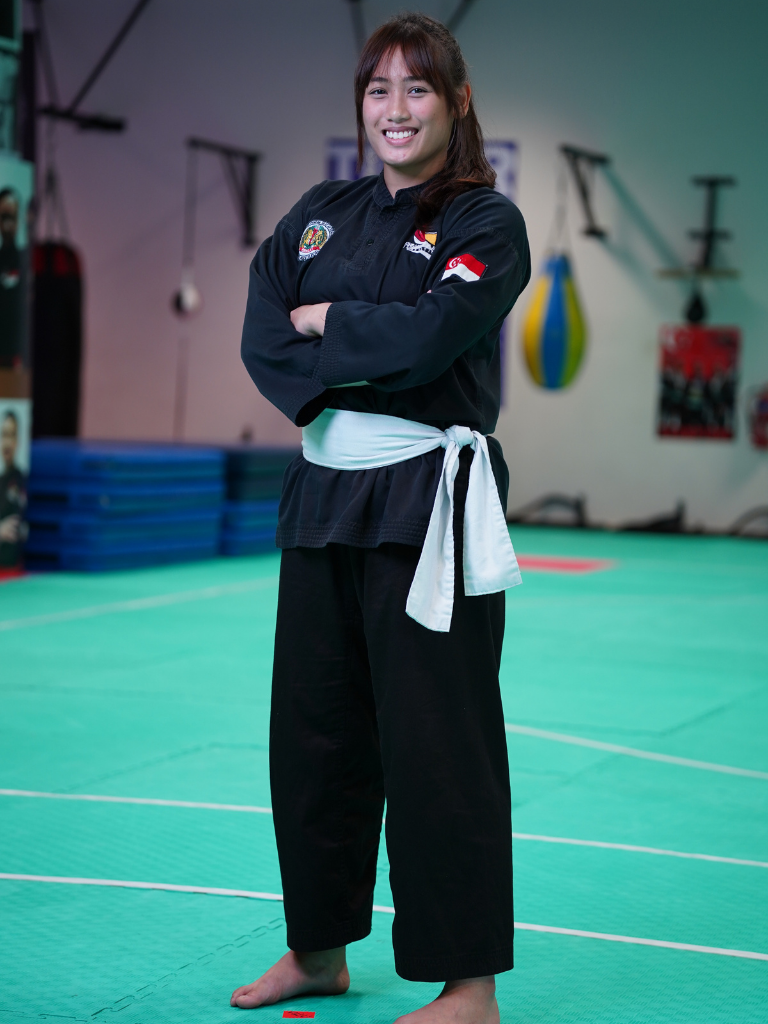 Siti Khadijah, who will debut at the 2022 SEA Games in Hanoi
Suhaila shared that she has changed weight classes a couple of times before. This year will see her compete in Class E (65-70kg) — a "big jump" from taking part in Class B (50-55kg) in the previous SEA Games as Class B won't be available in Hanoi.
Never a big eater, her current challenge prior to Ramadan was "being disciplined to eat 3 meals and 3 snacks at specific times of the day." On top of doubling up on carbohydrates and protein, she works with nutritionists at SSI (Sports Sports Institute),
biomechanists
and trainers to fine-tune her training programme and increase her weight healthily.
Previous SEA Games Gold medallist
Hazim also shares that he competed in a lighter weight class before. Now, he competes in a weight class closer to his natural weight. "I had to lose weight and exercise more before and I don't have to run as much," he explains.
Hazim Yusli, who won Singapore's second silat gold at the 2019 SEA Games in the Philippines
While the athletes acknowledge the difficulties of their preparations, Khadijah sums the experience up positively: "I see this as a challenge that will take me to greater heights."
Facing challenges during training
It's undeniable that the COVID-19 pandemic changed the way athletes trained — especially in a contact-based sport like silat. During Singapore's circuit breaker, the athletes trained twice a day over Zoom.
Athletes worked out in the mornings, making use of benches, staircases, and makeshift equipment at home. Evening skill sessions had coaches instruct them on their techniques. "I was punching and kicking the air in the rooftop car park above my home," she laughs. "It was a different experience but we kept on training."
Khadijah adds that she found training difficult as silat is a contact-based sport. "Training without sparring or interacting was a challenge," she notes, "your seasoned body forgets [movements] after a while, and then you need to catch up [to where you were before]."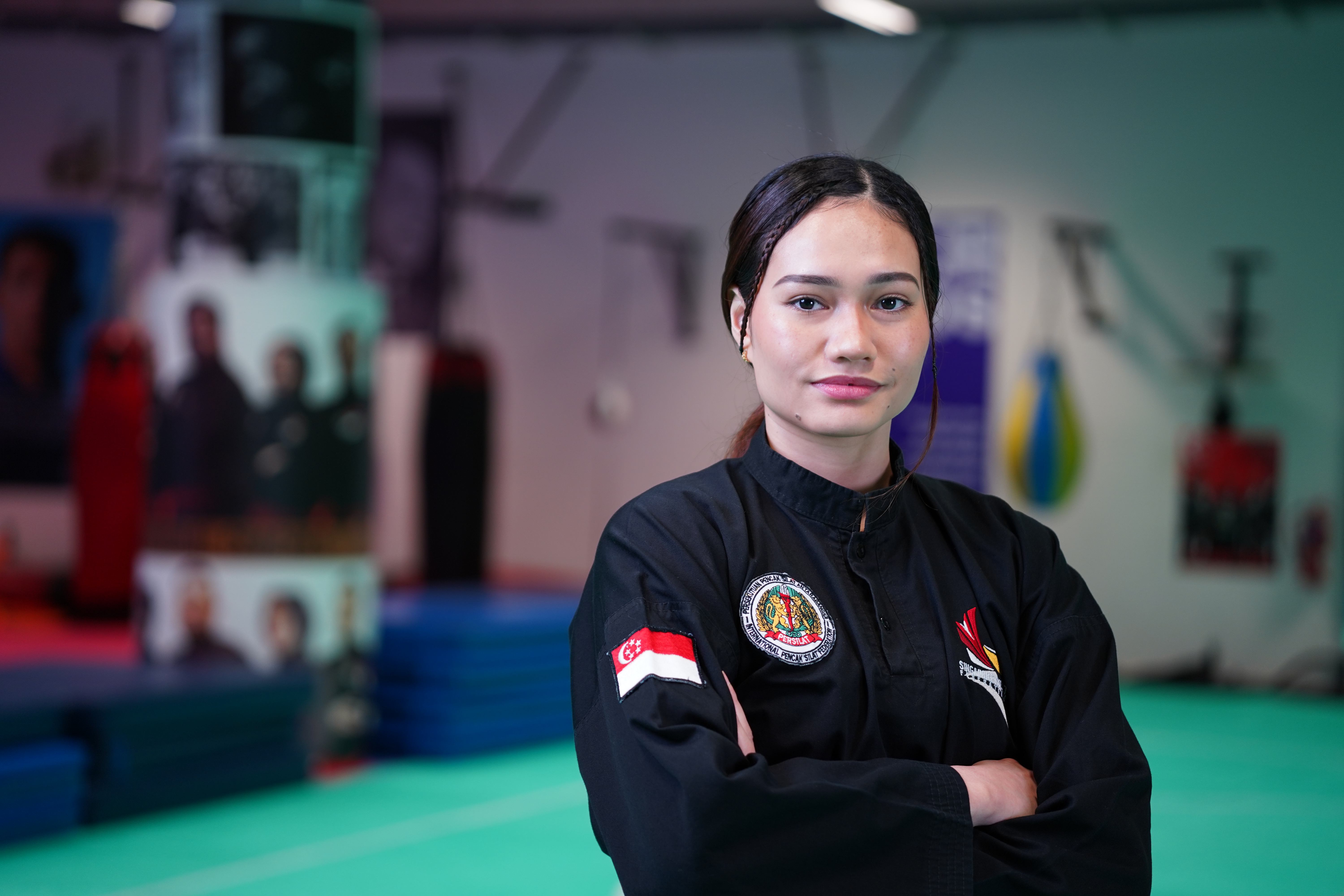 Nurul Suhaila Mohd Saiful
Some might find national athletes' training regimens gruelling, but it proves even more intense for those who are fasting. During Ramadan, training sessions take place in the afternoon and night — before and after breaking fast."National athletes are conditioned to this because they do it every year," Suhaila shares.
"We still feel fatigued and thirsty," she explains, "but that's the challenge during Ramadan. We still train at a high intensity for the SEA Games."
Receiving support to pursue silat
Hazim and Suhaila both hold spexScholarships, which enable them to pursue silat full-time and receive the resources they need to perform their best. Hazim shares that he's able to focus on training every day without having to work on the side while Suhaila is grateful that it allows her to work with professionals from SSI. "Without them, I wouldn't be where I am right now," she adds.
"I really appreciate the teams at SSI and Singapore Sports Hub as their support allows us to train and fulfil our dreams," shares Khadijah, who will pursue her career as a full-time athlete later this year.
Coming together as a team
On the benefits of training as a team, Hazim says, "We support each other emotionally and motivate one another to not give up." He adds that they spend time with their teammates outside of training and lend a listening ear. "We also break fast together with the coaches after training and share stories about our lives," Razaaq adds.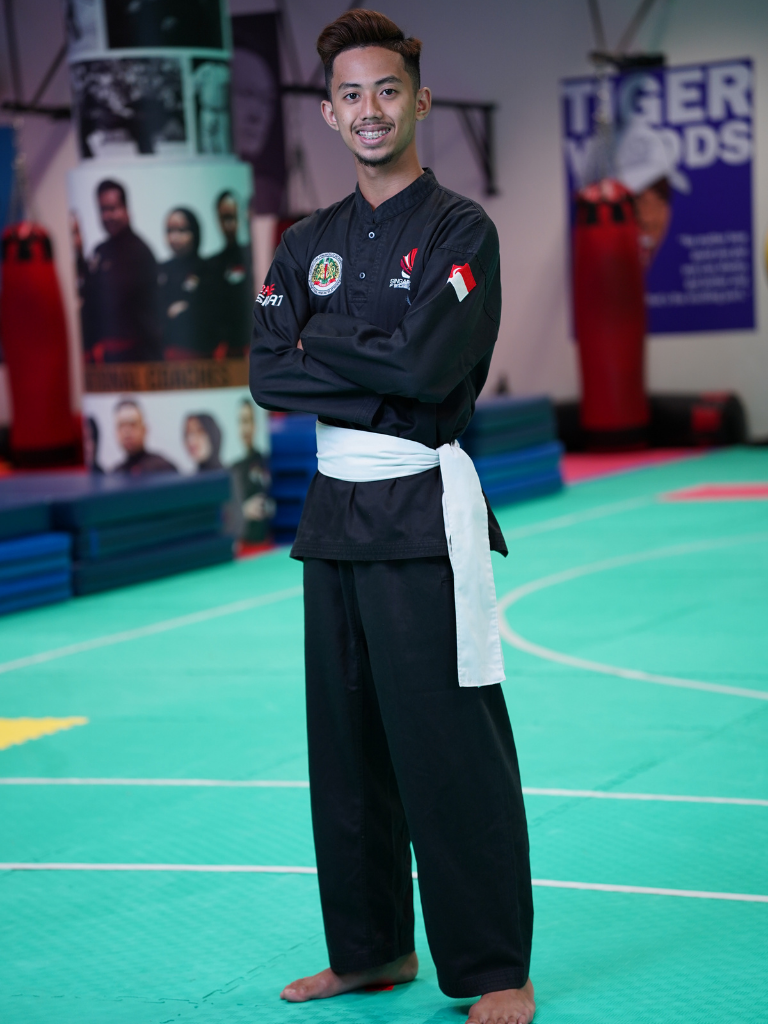 Hazim Yusli
One of the team's most memorable moments was the 2018 Silat World Championships, which took place in Singapore. "It was so meaningful because our families and friends finally got to see us compete live, since they usually watch us online," Suhaila explains. "Everyone was so driven to win in front of their families."
The team's determination and hard work paid off, as Singapore
walked away with seven gold medals
— the most gold medals from a single competition so far.
Going for gold
While the athletes are aiming for gold at this SEA Games, they're also looking forward to bringing their personal best. "Apart from winning the gold, I also want to feel satisfied, and know that I've given it my all in my fights," Raazaq remarks.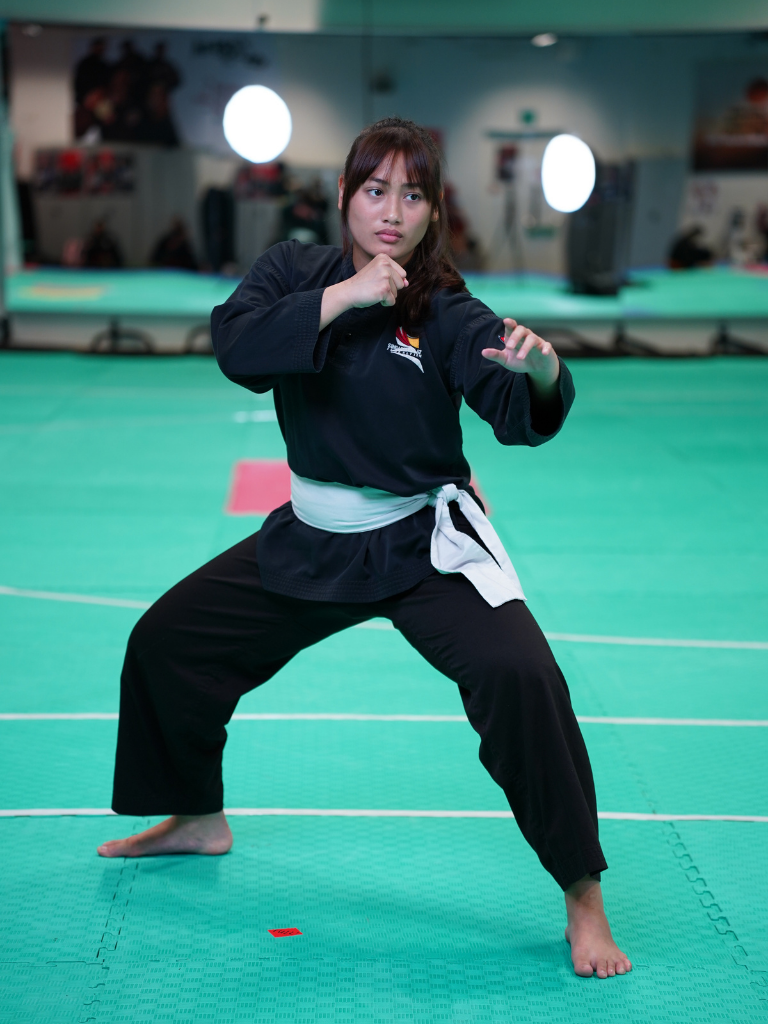 Siti Khadijah
For debutant Khadijah, she's keen to see how she compares to others, especially in a new weight class. "I'm excited to gain more experience," she says enthusiastically, "I want to do my best, considering all the challenges I've overcome."