Sprinting from the school track to the global stage: Jeevaneesh on the joy of running
Many budding athletes dream of representing their countries in prestigious international events. But it is much easier said than done, as professional runner Jeevaneesh Soundararajah tells us.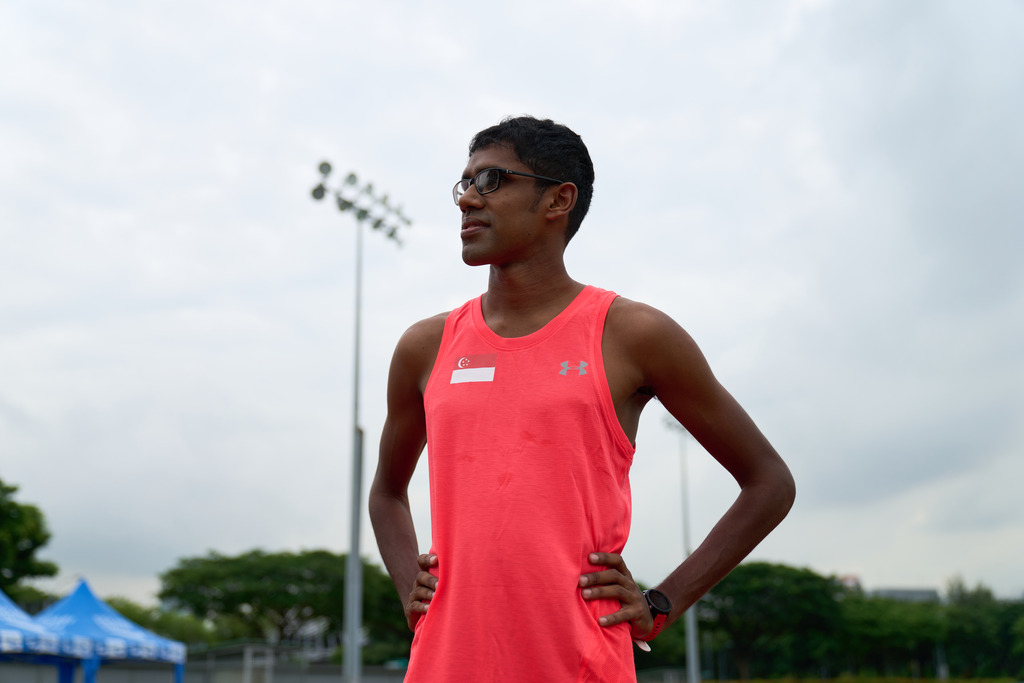 Jeevaneesh as he reflects on his love for running. Image credit: Eric Koh
Before dedicating his sports career to running, Jeevaneesh was a jack of all trades. Having always been an active person, he took part in everything - swimming, athletics, squash, gymnastics... you name it, he's tried it.

"I committed to athletics in junior college as I performed well at it," the 29-year-old recalls. From training for athletics competitions then, Jeevaneesh went on to represent Singapore in the ASEAN School Games and joined the Singapore National team in 2015.

2015 proved to be a year to remember for Jeevaneesh, as he was selected to take part in the Men's 5000m run event in the SEA Games, which was hosted in Singapore. He also represented our nation in the Men's 1500m run event in the 31st SEA Games, which took place in Hanoi last year.

Life is a balancing act these days
Jeevaneesh isn't spared from the typical demands of a multi-faceted Singaporean's life. In the day, he is a solar engineer. Outside of work, he juggles training and competing, and striking that balance has not been easy.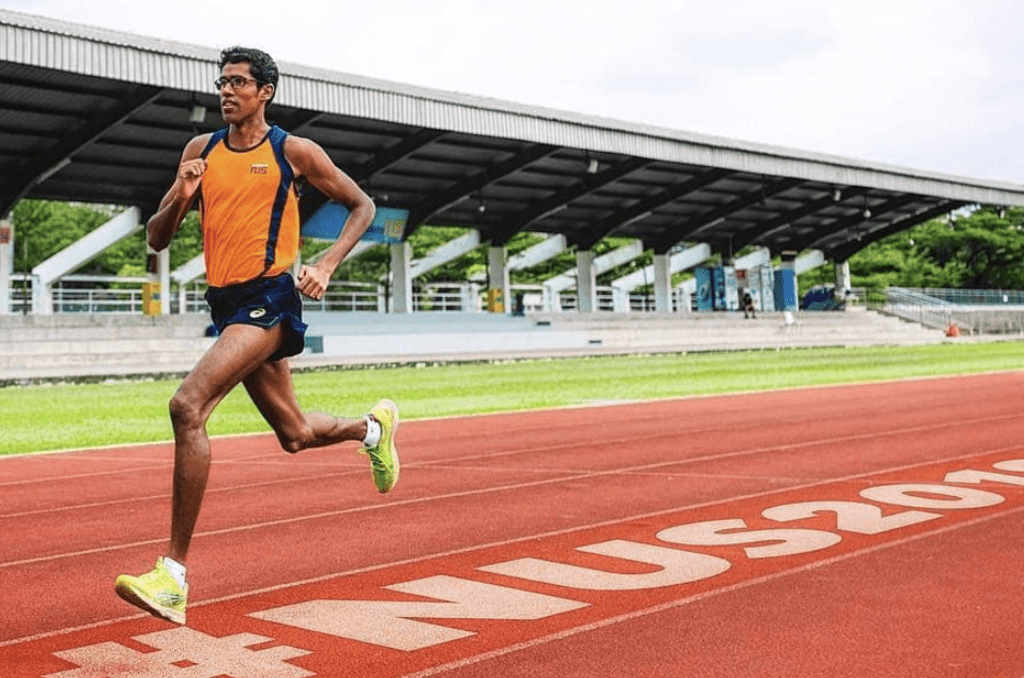 Jeevaneesh on the National University of Singapore track, where he graduated from. Image credit: @nus_singapore on Instagram
"It was challenging to manage the workload (while) going for training and competing," Jeevaneesh recalls. When he landed his job as a solar engineer, he took some time to find his footing and only managed to get into a good rhythm and balance 6 months in.

Jeevaneesh returned to training at the end of 2019, only to face another challenge the following year: the COVID-19 pandemic. That meant that races were cancelled and training sessions were disrupted, leaving him unmotivated.

Before the pandemic, he trained with the Active SG athletics club and his teammates. A typical week comprises four trainings, two of which are group training sessions. During the circuit breaker, he recalled having to train on his own, which was far more difficult than he had imagined.

On the weekends, he makes an extra effort to spend quality time with his loved ones.

Preparing for the SEA Games
Jeevaneesh qualified for the Men's 1500m category in 2021. This was the confidence boost he needed after failing to qualify for the Games in 2017.

He shared that he trained 4 times a week to get into peak form for the Games.

"It's all about fine-tuning and getting ready," he states, adding that the basics of resting, sleeping well, and having a balanced diet were crucial.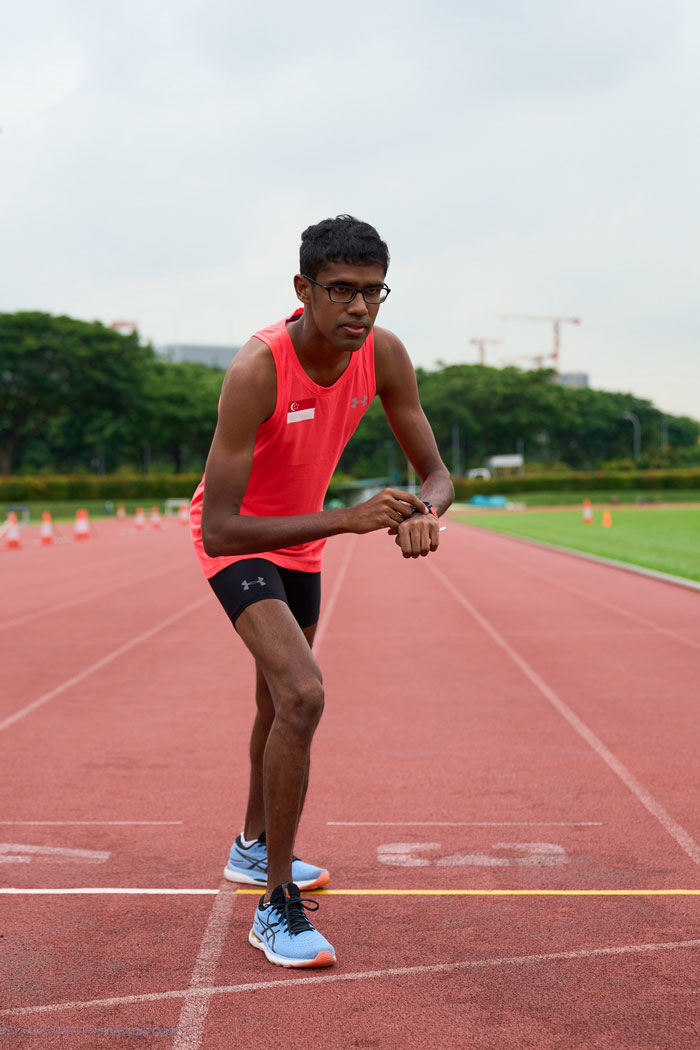 Jeevaneesh on the track. Image credit: Eric Koh
He noted the differences between preparing for a 1500m vs 5000m distance run. "Training for the 1500m is more intensive and reliant on speed, while the 5000m requires more endurance training and longer training sessions."
Preparing for the 1500m race had him "push harder and focus more," but he reflects that having his teammates train alongside him made it better.
When asked what he was most excited about for the SEA Games, he answered that it was the competition thrill, and interestingly, finding out where he stands in the region. Today, his eyes are set on attaining a medal at the upcoming SEA Games, which is held in Cambodia.
Finding endless joy in running
Though Jeevaneesh has been running competitively for over a decade now, it remains something that he continues to enjoy. Apart from the sense of joy from training and working out, he also feels significantly "less stressed and more refreshed" after running.
Running also gave Jeevaneesh many important life lessons. "From running, I understand failure and having to deal with injuries," he explains, adding that this aids his personal development. Cultivating discipline and time management skills have too, contributed to his career.
He also has some insightful advice for aspiring athletes: "Base your choice to compete on your own decisions, because there will be a lot of challenges to push through. Enjoy the process of growing."
Sharing more about the future of sports and athletics in Singapore, Jeevaneesh says, "I hope that athletes will continue with their chosen sports and raise the standards of sports in Singapore. I also hope that they can find ways to sustain their careers."

Let's cheer on Jeevaneesh and his fellow TeamSG athletes at the SEA Games 2023!