The new kids on the block: Meet the 2022 ASEAN Para Games debutants
Here are some of our talented para-athletes who will be flying the Singapore flag high for the first time at the 2022 ASEAN Para Games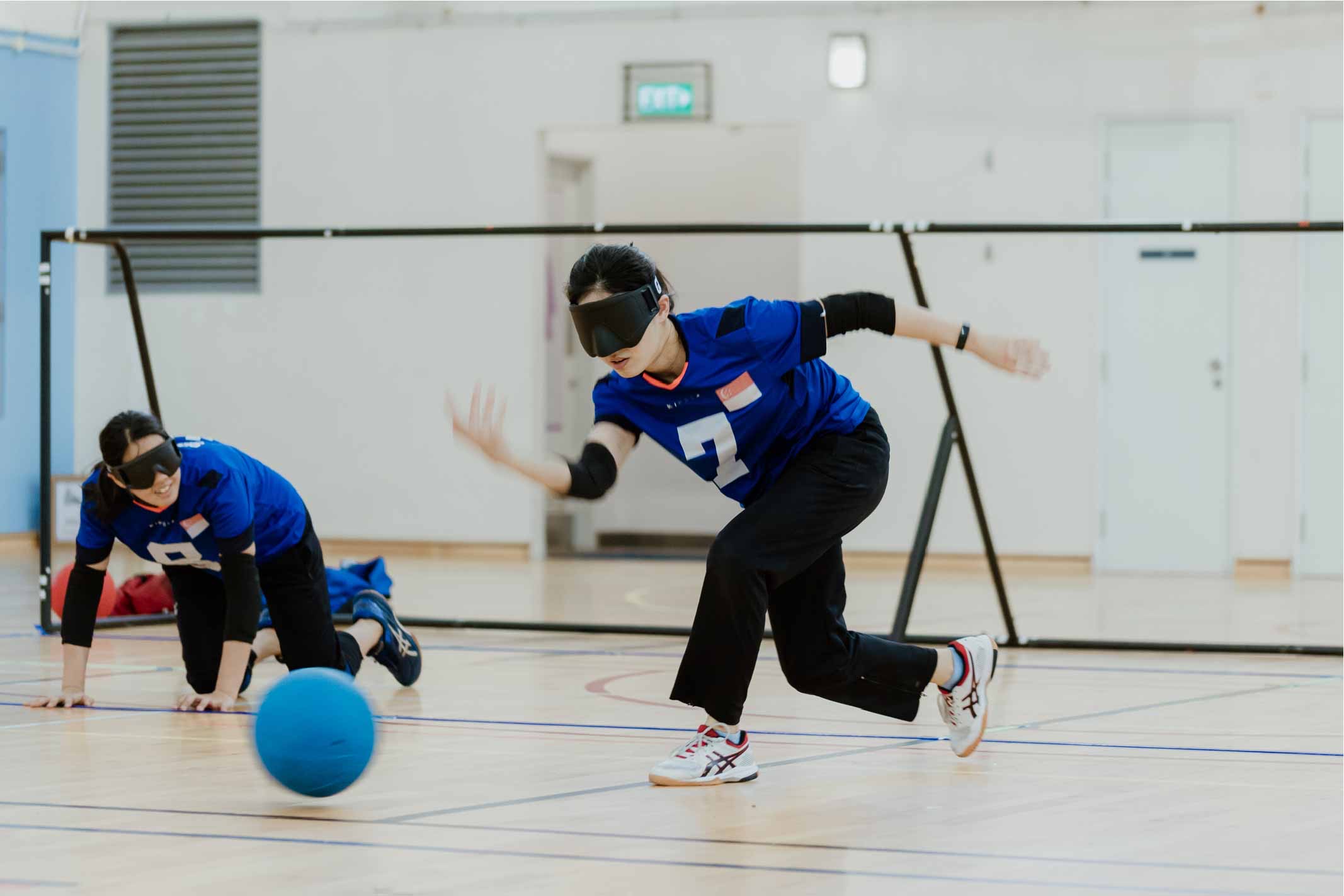 After two long years, sporting events and competitions across the region and around the world finally made their highly anticipated comeback, leaving many of our Team Singapore athletes raring to go. Amongst them is one group of individuals that are busy preparing to represent Singapore for the first time — our ASEAN Para Games debutants.
We spoke to Inez Hung from the female goalball team and Ang Chee Hiong of the men's singles badminton to learn more about their journey, hopes, and challenges thus far.
From cheerleader to goalball athlete
For Inez, growing up with aniridia, an eye condition meant having some degree of visual impairment. However, she did not let it get in the way of her love for sports. "I've been involved in sports nearly all my life! It's a part of who I am, and I choose not to let my condition determine what I can or cannot do," she shares. As a cheerleader for over a decade, Inez decided to shake things up and joined her sister and fellow goalball teammate Joan for one of their training sessions. "I pestered her to bring me along as I was bored!" she laughs.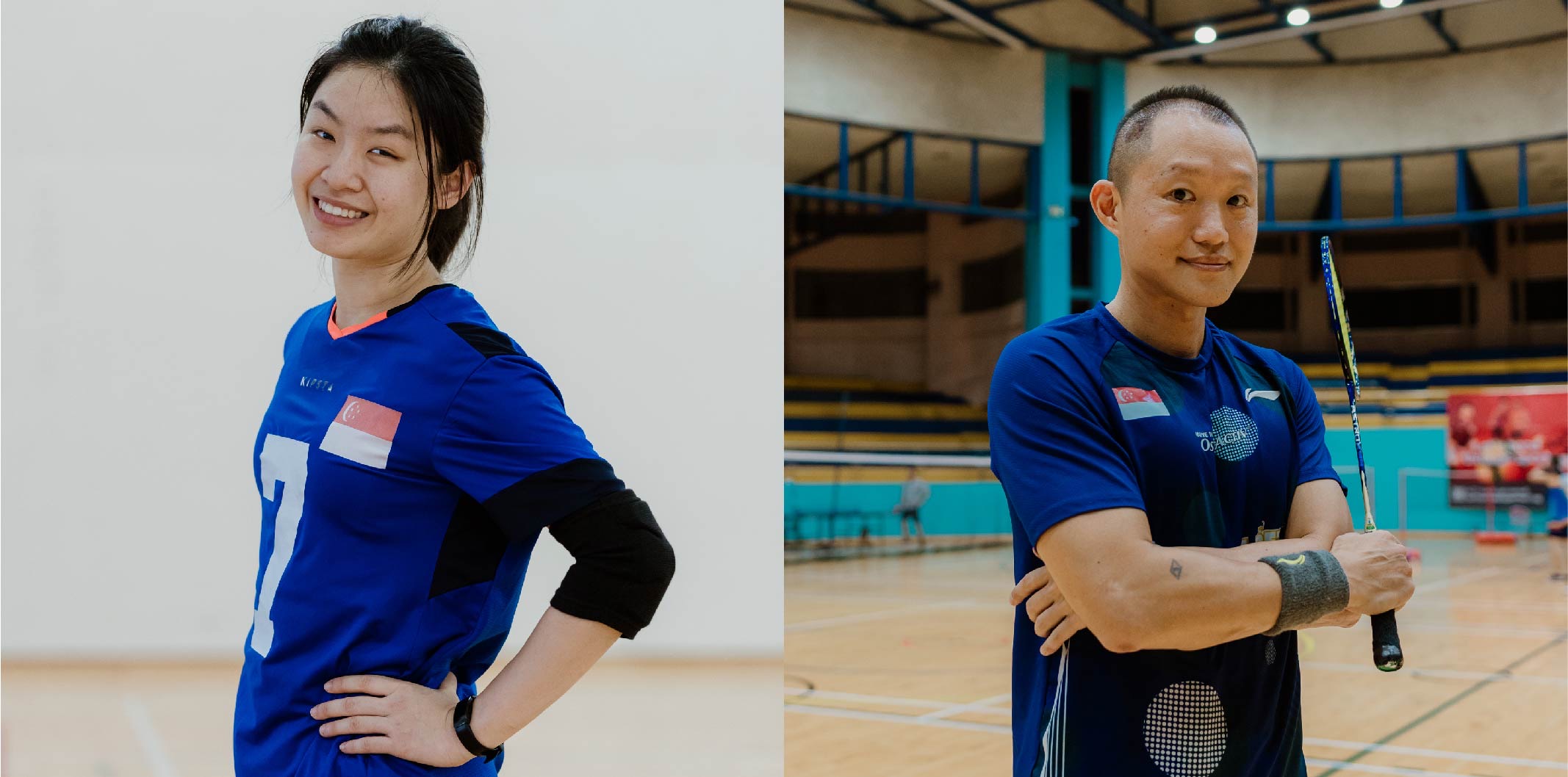 Inez Huang and Ang Chee Hiong are 2 out of 17 Singaporean debutants at the 2022 ASEAN Para Games
A new lease of life after a major accident
After a near-fatal road accident in 2007 that left him in a coma for two weeks, Chee Hiong had to put every aspect of his life on hold. "My mental health took a hit as I went from doing triathlons and playing badminton to barely being able to walk as my lower left limb was completely impaired," he shares. He was able to kickstart his journey to holistic recovery through the support of his family, National Service (NS) friends, and schoolmates. Then, after a chance encounter with his ex-teammate and present Para-badminton coach Li Wei in 2018, he decided to get back into the game — and the rest is history.
Life may deal you a bad hand, but it's up to you to decide what you want to do with it. For me, it's pushing myself to my limits and breaking barriers.
From listening to epic movie soundtracks to putting on a fresh pair of socks
"As a goalball player, I have to make use of all my other senses — like listening for my teammates' cues, hearing the footsteps of my opponents, identifying which direction the ball is going through the sound of the bell inside it, and touching the textured markings on the floor to keep me oriented." Inez also shares that the referee will also make sure that spectators silence all their devices and remain quiet throughout the game.
Badminton, on the other hand, differs a lot from goalball. "For me, it's about watching videos of my opponent in action and studying their moves." Chee Siong's coaches also help him come up with strategies that are unique to each opponent, but at the end of the day it all boils down to being confident. "There is so much you can prepare for, but at the end of the day when you're on the court, you just have to trust yourself and your body."
When asked about their pre-game rituals, Chee Siong shares that he enjoys putting on his headphones and listening to epic movie soundtracks. "I particularly like the ones that come just before crazy fight scenes, because it really puts me in the right frame of mind," he shares. As for Inez, it's all in the shoes. "I have to wear a fresh pair of socks and retie my shoelaces before stepping onto the court. It just makes me feel more reassured!" She says with a laugh.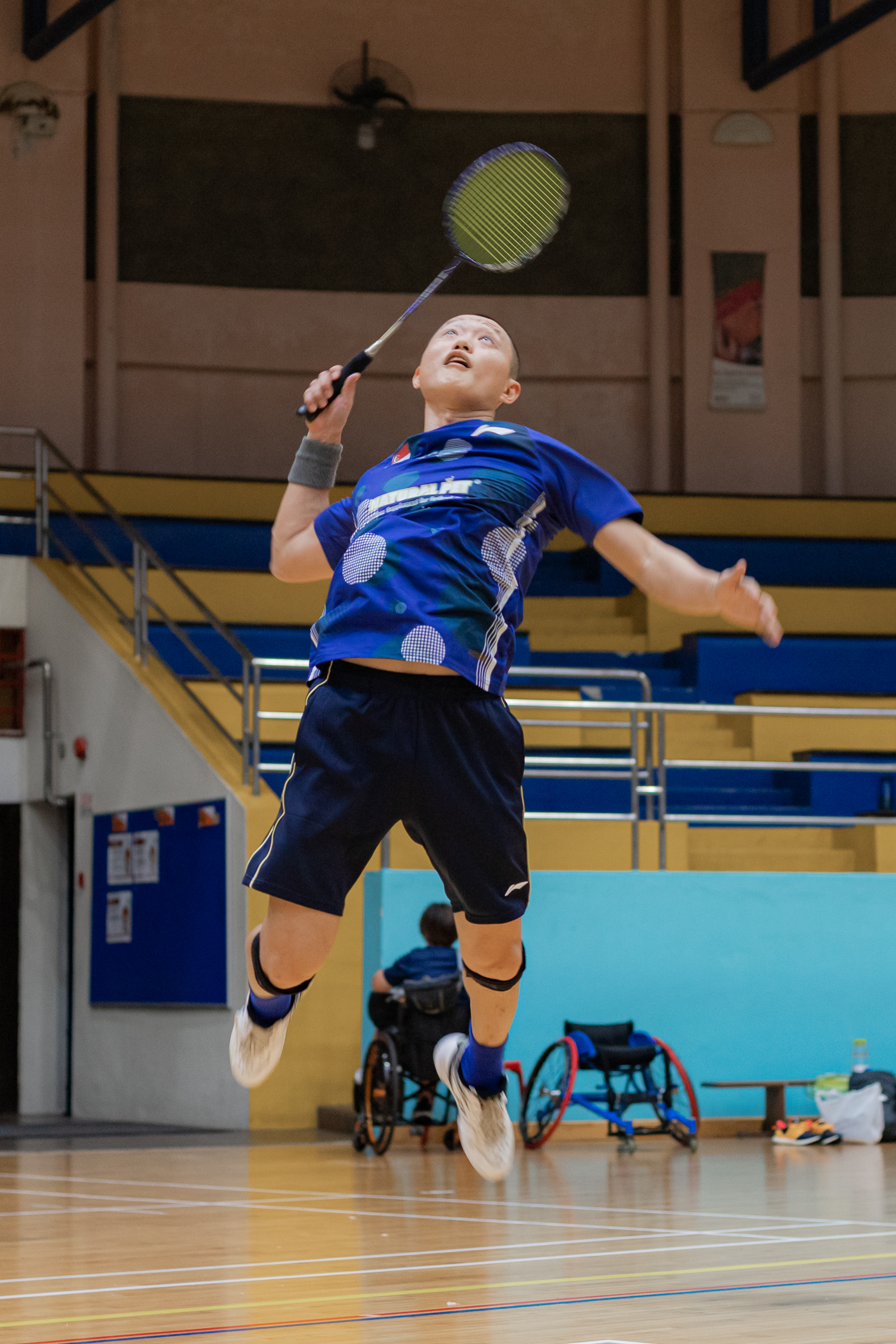 Chee Hiong in action
Their goal for the ASEAN Para Games
After the unfortunate postponement of the Games in 2019 due to the pandemic, our debutants are particularly looking forward to giving it all that they've got.
For Inez, she's excited about meeting fellow goalball players from across the region. "This year, we're expecting 7 female goalball teams — we've never had the chance to compete against so many teams, so I'm looking forward to gaining more experience from these talented individuals," she quips.
Chee Hiong has been busy gearing up for the games ever since 2019, taking part in para-badminton competitions across the globe. After achieving better-than-expected standings in the past few competitions, Chee Siong is ready to take things to the next level. He hopes to make it to the top 8 and qualify for the upcoming Paralympics, and has been putting in the hours to turn this dream into reality.
A day in the life
Athletes are notorious for having to adhere to strict diets and routines, so we wanted to find out how our Team Singapore para-athletes were doing on that front. "I still eat my char kway teow and drink my kopi daily," Chee Hiong says with a smile. Inez shares similar sentiments, as she in fact, has been tasked by her coach to put on more weight so that she can build muscle mass. "I've been encouraged to eat more carbohydrates, which isn't something you hear very often! I use this time to satisfy my sweet tooth, what a win!" she says with a laugh.
On the days when they aren't busy at the gym or at work, both athletes take time to decompress by going outdoors. As a father of three, the sole breadwinner of his family, and a national athlete, life can get pretty hectic. "I like to sit by the beach, listen to music and watch the world go by," says Chee Hiong.
For Inez, she enjoys going for runs and practicing aerial yoga. "I enjoy doing things that challenge me — that way, I can practice mindfulness, which is a great de-stressor."
Sky's the limit
No matter the task, it's always scary to take that first leap into the unknown. When asked to share one tip to encourage individuals with disabilities looking to pick up a sport, they were excited to dish out tips.
"Just try anything and everything! There is surely something for everyone. You don't have to stick to one sport — go and experiment with a variety of games." Inez encourages. "Not just goalball, but also other activities like running, tennis, and swimming just to name a few. There are groups that cater to different levels, so don't be intimidated!"
Chee Hiong echoes the same sentiment. "Just do it. When you're feeling afraid, that's exactly when you should dive in! I think it's so important to cultivate a gung-ho culture in this day and age."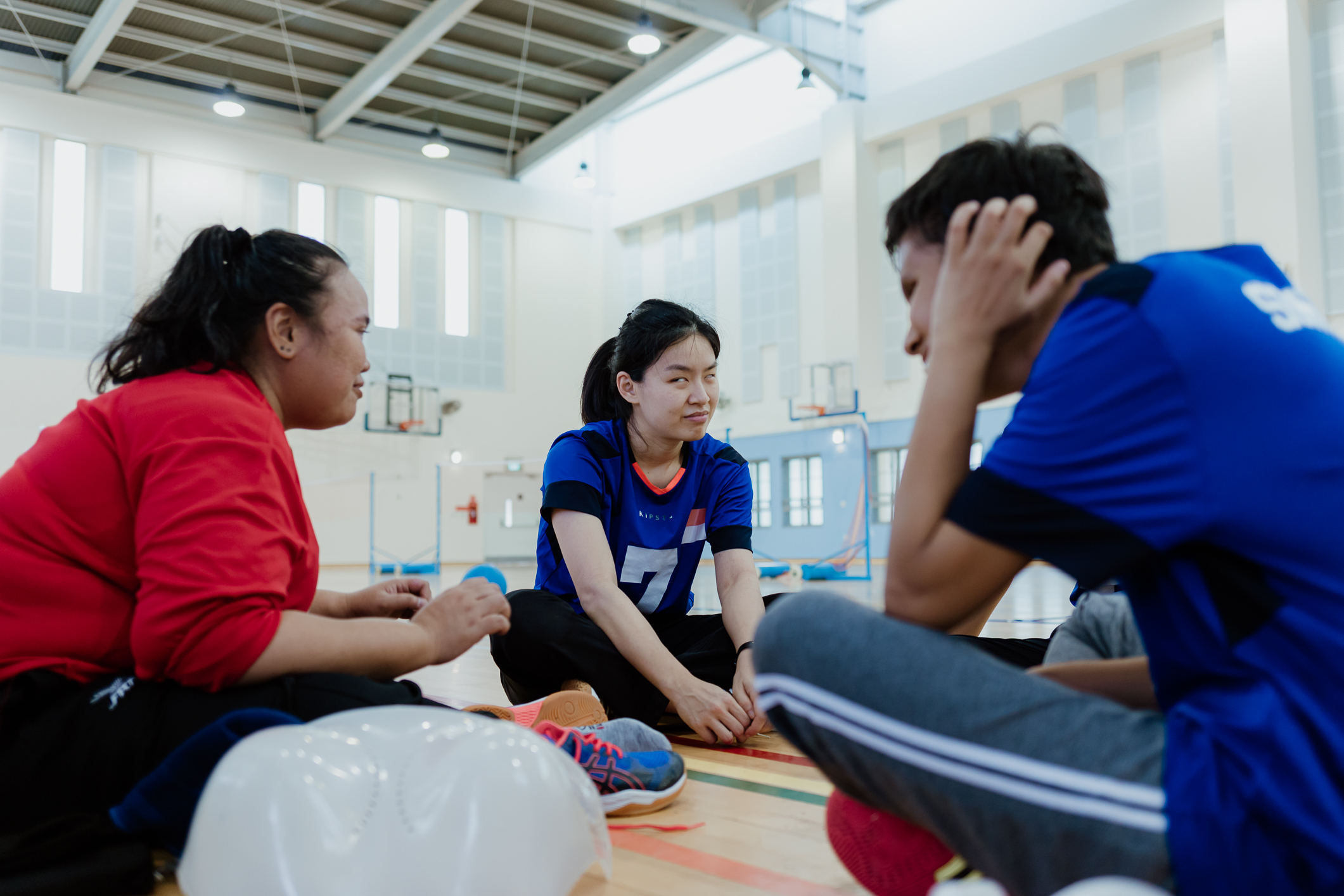 Inez and her teammates reflecting on their performance after training
On conversations about disabilities
For many, talking about disabilities can be a touchy subject — but not for Inez and Chee Hiong. "When you strip away the physical, we're all just human beings," the both of them share. Their advice for curious individuals is to simply ask away! "If it helps to debunk myths and shed light on what it means to be a para-athlete, we're more than happy to answer your questions," shared Chee Hiong.
We are expecting an exhilarating lineup of events at the upcoming ASEAN Para Games, especially after a long hiatus. Let's show our support for #TeamSingapore as our para-athletes take the regional stage and wave the Singapore flag high!