Ultimately, a team of friends
Chuckies, an Ultimate Frisbee team, believes in creating a culture where players not only hone their frisbee skills, but also forge good friendships.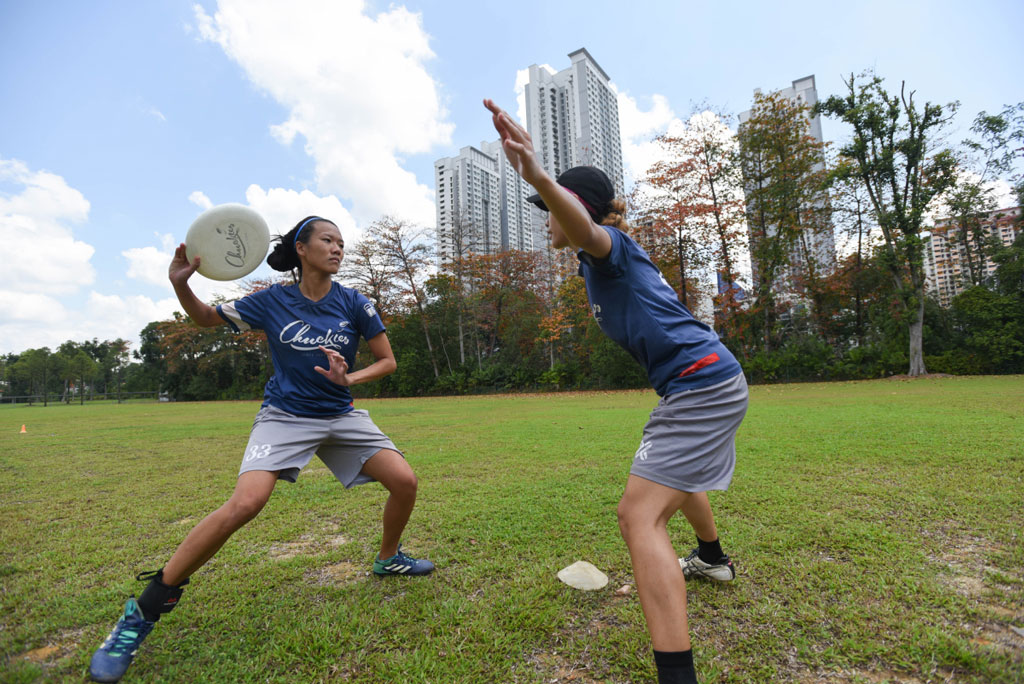 Ultimate Frisbee is one of the fastest growing sports in the world. In Singapore, Chuckies is a competitive club, which started in 2002 and now has about 70 players.
"Chug, Huck, Chuckies. Chug, Huck, Chuckies. Chug, Huck, Chuckies."
It's a familiar low rumble that rises from and eventually envelops the field every time Chuckies play an Ultimate Frisbee game. While it's now their war cry, it actually originated from another type of competition that they aced — chugging beer. When they competed in a game called BOAT (Beer On A Table), the team would drink the competition under the table. Back in the day, they were considered the best in Asia!
These days, they are better known for their athletic prowess. This mixed-gender team is one of the OGs of Ultimate Frisbee in Singapore, having started out way back in 2002. Over the years, they have taken part in Ultimate Frisbee leagues, won trophies and even gone overseas to compete. In 2018, the Chuckies was just one of two mixed-gender teams from Singapore that competed in the World Ultimate Club Championships in Cincinnati, Ohio in America.
Who knew that throwing around a flying disc could put Singapore on the world map?
A High-Performance Sport
In the last couple of years, Ultimate – as players have nicknamed it – has become a global phenomenon. In Singapore, many amateur teams have sprung up, especially since it's relatively easy to get started. All you need are some friends, a frisbee, and a big, open field to play!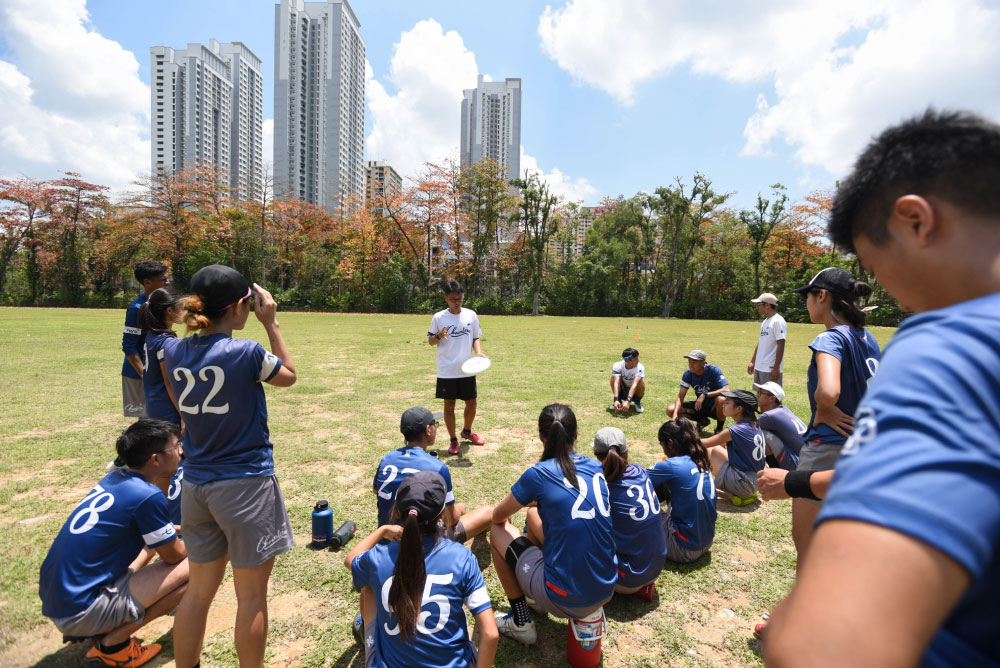 The team, made up of students and working adults, practices every Saturday. They used to train at this empty grass field in Ghim Moh, but have since moved their sessions to Yishun as of late 2020.
It helps that the Ultimate community here is welcoming too. Many of the older clubs often hold open trials for those keen to join a team, while there are beginner-friendly sessions to introduce newbies to the game.

There are few moves to master including throws (backhand, forehand and over-the-head) and catches (the pancake and two-hand grab). Players also have to learn how to block an opposing player, chase a long pass and well, run fast — and a lot.
When Ultimate Frisbee Trumps Your Job
It's 8am on a Saturday morning and the team's training practice is about to start. Cue the groans and moans from the rest of us yearning for a sleep-in on the weekend, but more than 20 people have turned up and are raring to go. The team used to train at an empty field in Ghim Moh, but moved to another spot in Yishun in late 2020.
While some players meet up on Thursdays to do conditioning exercises, Saturdays are for group practices like working on their throwing skills. They have about 70 players on the team, made up of students and working adults.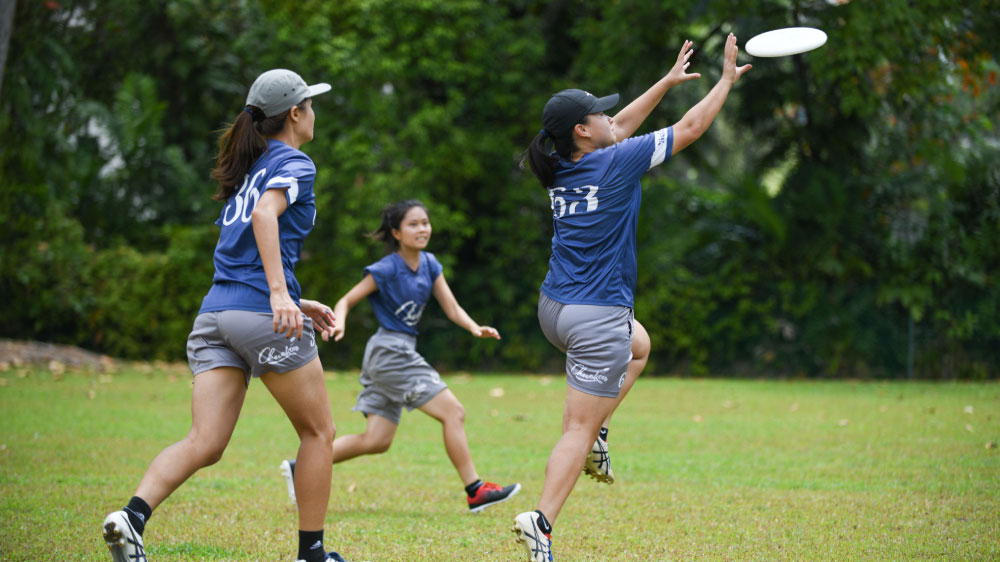 Ultimate Frisbee is not just about passing a disc between players. There are a few throws and catches to master. 
Current club president Vivian Tan, who joined in 2015, sums up the general sentiment of what keeps people coming back: a strong bond, both on and off the field.
She recounts different stories of how players have put in time and effort to be at the games. "Every individual has different commitments. But that's what is beautiful about being part of Chuckies."
Just chat with a few players from the club and you'll come to realise how much Ultimate Frisbee is a large part of their lives. Some of them even plan work around their training schedules!
Long-time Chuckies member Agatha Marie Low would leave work to go train. Sometimes after a physically punishing session, she would head back to the office. Agatha, who was a lawyer at that time, says she endured it because she loves the game.
When she decided to quit her job, she told her boss that one of the reasons she wanted to leave was so that she could have more time to play Ultimate Frisbee.
Her unusual reason has made her a "legend" at her former workplace.
My boss told others (that) some people leave us to go and travel the world to play frisbee.
Strong Bonds, Even Off The Pitch
Visit their Instagram page and it's obvious that the players are more than just teammates. On the field, they poke fun at each other and often burst into laughter as they train. Post-game, they gather for drinks and goof around (like making this lip-syncing video!) like besties.
This sense of camaraderie is also what drew Nick Lee to the club. The undergraduate got into the team when it held open trials in 2018. He remembers feeling welcomed and that there were no cliques. When he went with them to Taiwan for a tournament, he found himself completely at ease.
Nick says, "It was quite easy to make friends. My teammates are very approachable and they're very willing to share their skills with newer players."
Chuckies Forever
Over the years, as Chuckies improved their game, other teams have tried to poach their players.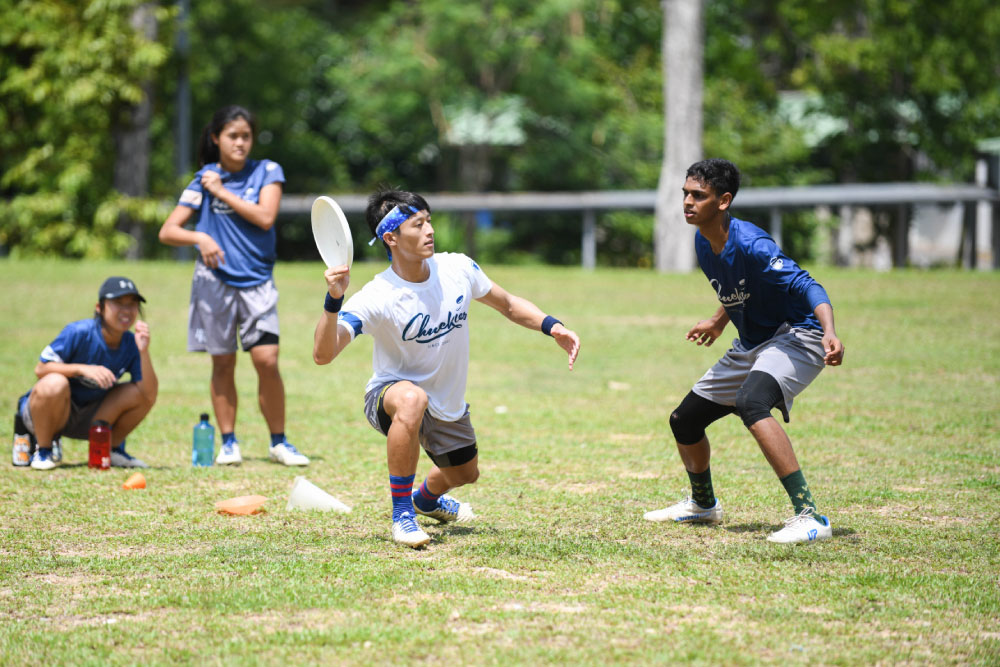 Felix Toh (in white) is one of the team's best players. He was once asked to join another team but stayed because of the friendships he made.
Felix Toh, one of the team's senior players, was invited to join another Ultimate Frisbee team in Singapore. He was keen to join the other club as they have an all-male team, which he says plays on a different level than mixed teams. But after weighing his options, he realised that while he joined Chuckies to improve his game, there were other reasons why he remains loyal. "It's really the people and the culture that made me stay."

*Note: Interviews were conducted and photos were taken before the COVID-19 outbreak.