Breaking the silence - How youths bring mental health stories to the big screens
Kaya catches up with young filmmakers participating in the Singapore Mental Health Film Festival's Short Film Youth Competition, and finds out how they continue to encourage expression and discourse around a sometimes complex and taboo topic.
The crew and cast members of 'Paper Sky', after wrapping up their shoot
We all experience difficult days, but what if those days turn into weeks and months?

As mental health comes to the forefront today, it's important to discuss how we can process our emotions and make sense of our traumas. One of the many ways we can process our feelings and navigate life's complexities is through creative expression.

This is why initiatives like the Singapore Mental Health Film Festival's "Short Film Youth Competition" are often created - to provide a safe platform for artists and audiences to learn, and have conversations about mental health. To explore how we can find healing through creativity, Kaya speaks to two budding filmmakers, who are participating in this year's film competition, on how they found solace through film.

Exploring grief through Dawn Tan's "What Would Mitch Do?"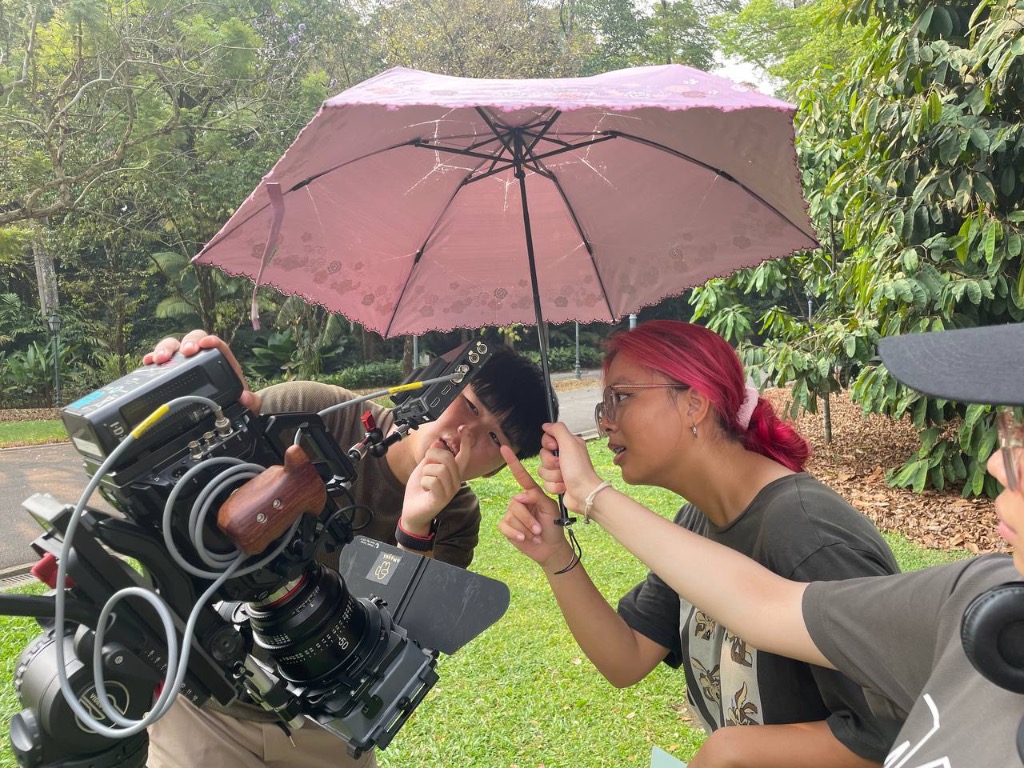 Behind-the-scenes of Dawn working with her camera crew
Losing a close friend can leave a lasting emotional impact. Dawn's short film, 'What Would Mitch Do?' follows the main character Andie, as she undergoes 30 days of exposure therapy after losing her close friend to suicide.

The film was heavily inspired by Dawn's personal experiences with a friend who battled with depression and suicidal thoughts. Although she did not lose him to suicide, she found herself consumed with anxiety.

"I was in a constant state of panic, because I was the only person he would share his struggles [of suicide] with, and he also made me promise not to tell anyone," Dawn says.

Dawn realised the emotional toll the friendship was taking on her, and decided to distance herself. As she coped without her friend, she experienced loss and found resilience, which is the film's core message.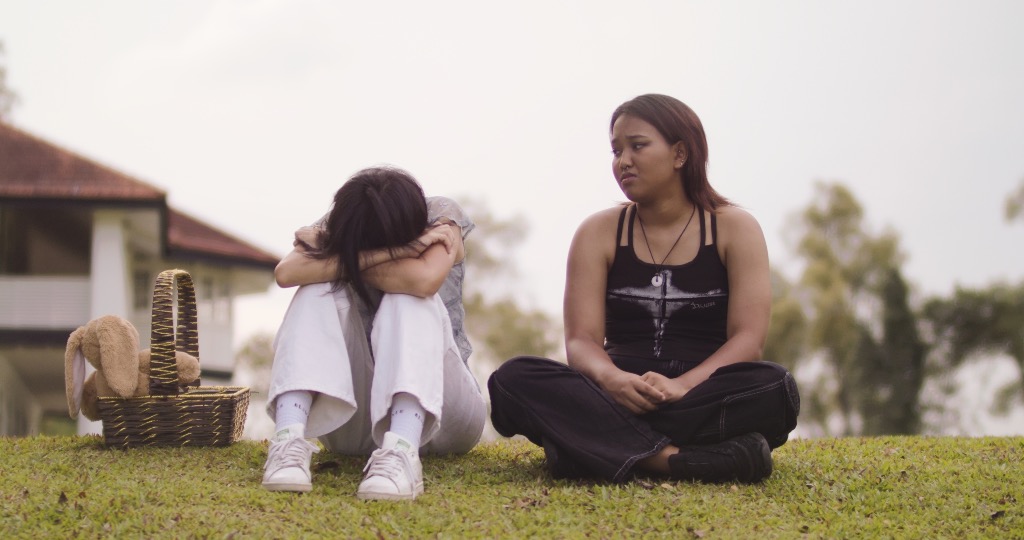 An emotional moment from Dawn's short film "What Would Mitch Do?"
"All the stages [of grief] are represented [in the film] but it's a process that isn't so linear," she says. "Even if someone in your life is [gone], this person can still live on in your heart."
For Dawn, entering the film into the film competition isn't about winning an award. Instead, she sees it as a means to relate with others and to spread awareness about the importance of mental health among youths.
"Mental health is something that I have experience with and am passionate about…and I wanted to craft something that is more directly related to [my story]," she says.

Filmmaking not only helped her process her trauma but also gave her a sense of resolution. After showing the film to her friend who was the inspiration behind it, Dawn shared that he teared up and they both found closure. The film helped to put the past behind them amicably as they processed their shared journey.

Directorial debut for Pearlyn Ho of 'Paper Sky'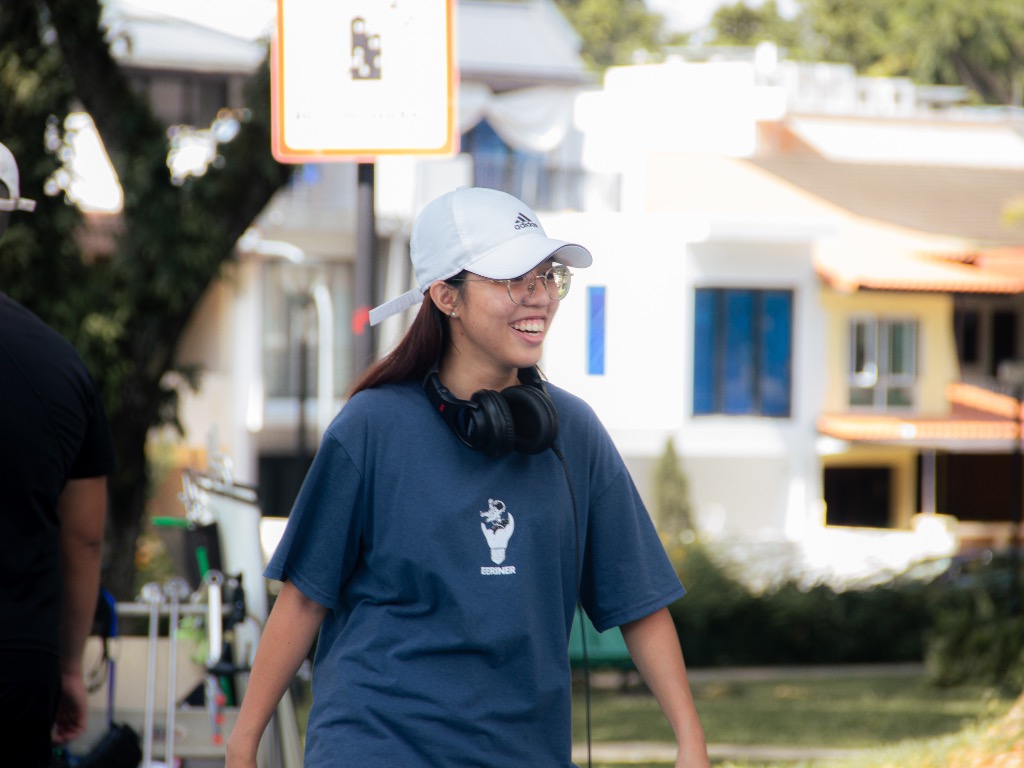 Pearlyn Ho, the writer and director or 'Paper Sky', smiling during her shoot
Exploring themes of depression, friendship, and hope, 'Paper Sky' takes inspiration from Pearlyn's life experiences. The characters, Ryan and Nicholas, grapple with the pressures of academic performance and extracurricular activities. As the film unfolds, they confront their inner demons and fight against negative self-worth.

Despite being new to filmmaking, Pearlyn crafted a compelling narrative that delves into these complex issues. Her passion for spreading awareness about mental health drove her to share this story of hope with those who suffer from depression.
My main aim wasn't to win an award, but to reach more people…and relate [to them] in different ways [which] might help them and impact them."
Having worked with various social enterprises and co-founding one of her own, Pearlyn possesses a deep connection to the realm of mental health issues. Her passion for this cause was spurred by her battles, which spanned more than a decade, especially when she was in school.

"I was doing a lot of things at that time, with 4 CCAs and being involved in student council," She says. "It was in JC when my mental health dipped the most."

At her lowest, she felt depressed and also struggled with eating disorders. Although she is in a better place now, making the film has allowed her to look back on her past with a new lens, helping her process her emotions. Through filmmaking, she can express herself and connect with others, helping them realise they are not alone.
Conclusion
Creative outlets can help us process our traumas and find healing. They offer a safe space to open up and build a supportive network. Through connecting with others, we find solace in shared experiences and see that we are not alone.

In embracing self-expression and mental health discourse, we can discover strength in our collective journey towards healing and growth.

If you are seeking help, or know of someone who is in need of mental health support, you may contact these helplines:
Samaritans Of Singapore (SOS) 24hr hotline -

1800 221 4444

SOS Caretext -

9151 1767

(WhatsApp)

SOS Caremail -

pat@sos.org.sg

Singapore Association for Mental Health hotline - 1800 283 7019

Institute of Mental Health hotline - 6389 2222