Game on: meet the ladies who levelled up for esports success
No cheat codes. A daily grind. These Singaporean women esports personalities have carved notable careers to show there is enough room for girls and guys to flourish in gaming.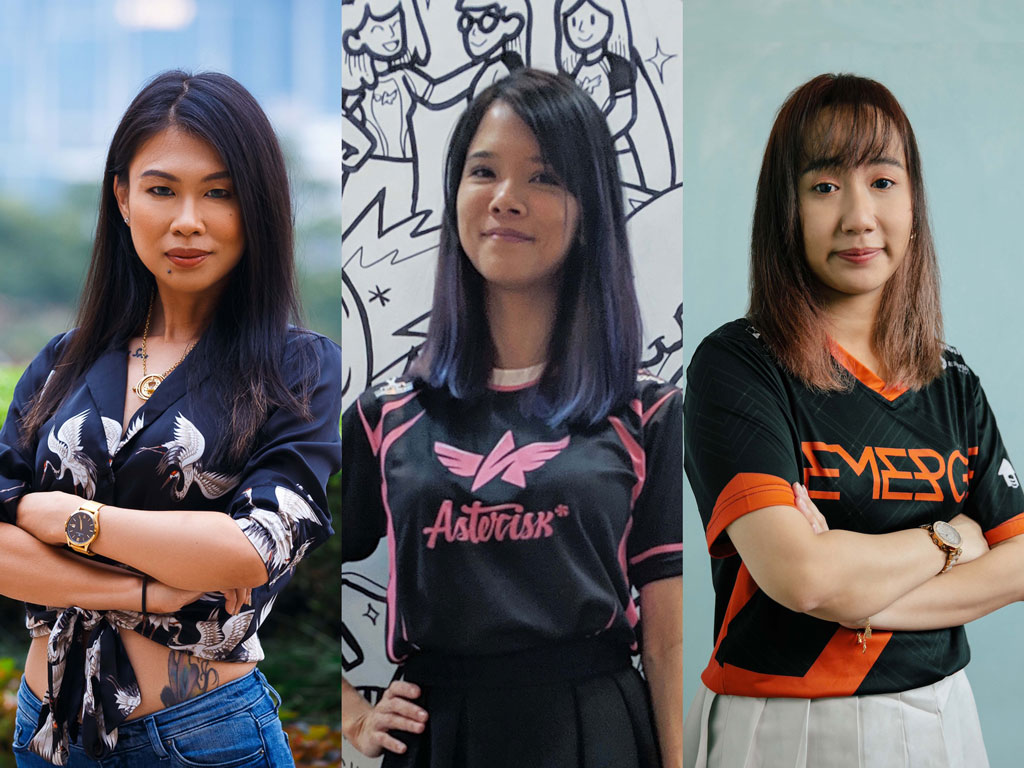 (From left to right) Kelly, Tammy and Katherine have all made a name for themselves in the esports industry. (Image courtesy of Kelly Ong and Tammy Tang)
Tammy Tang once dreamt of becoming an entomologist or an ornithologist. Then, she chose to study geography in university. And yet today, her work does not involve bugs, birds, or the lands they inhabit. It is all about the bytes.

Growing up in the late 80s and early 90s, Tammy only had eyes for video games. She poured countless hours into Warcraft II as a 10-year-old whose priority was to have fun. No Singaporean had seriously thought about gaming as a profession. Heck, esports was not even a real word then. But it was a massive market primed to explode.

The turn of the century saw Tammy emerge as a trailblazer in a nascent, male-dominated industry under the moniker "furryfish". Not only was she among a pioneer group of competitive women gamers in Singapore, she also founded the world's first all-female Defense of the Ancients (DotA) team Asterisk in 2004.

Fast forward to 2021, and the 37-year-old has seen esports — now classified as a sport — gather force into a billion-dollar industry that rivals traditional sports. However, in academically-inclined Singapore, people still gravitate towards books over battles. She aims to win them over.

Along with other successful women gamers and team owners, Tammy's efforts are key to convincing younger Singaporeans, especially girls, that an esports career is worthwhile.


Creating a haven for girl gamers
The esports world is a battleground. Many lower-tier gamers struggle to make it to the global stage where fame and money await. Despite the odds, Tammy, managed to play competitive
DotA
for almost a decade and only retired in 2012 after realising her skills had plateaued. But her love of games continues to anchor her to the industry.
"I felt that there was more I could do in the community than to be a struggling amateur gamer," she explains. "So I started focusing on creating initiatives for both non-professional and female gamers."
Her experience in conquering her toughest critics, some which came from home, allows her to empathise with the challenges that today's up-and-coming gamers face.
For instance, her gaming endeavours did not sit well with her parents — they equated playing games to having an unhealthy lifestyle and addiction. Even regular appearances at international meets such as the World Cyber Games failed to sway them.
It was only in 2008, when she received a sponsored high-end laptop and was flown to Paris for the Electronic Sports World Cup — an international championship — that they "finally felt there was a future in esports".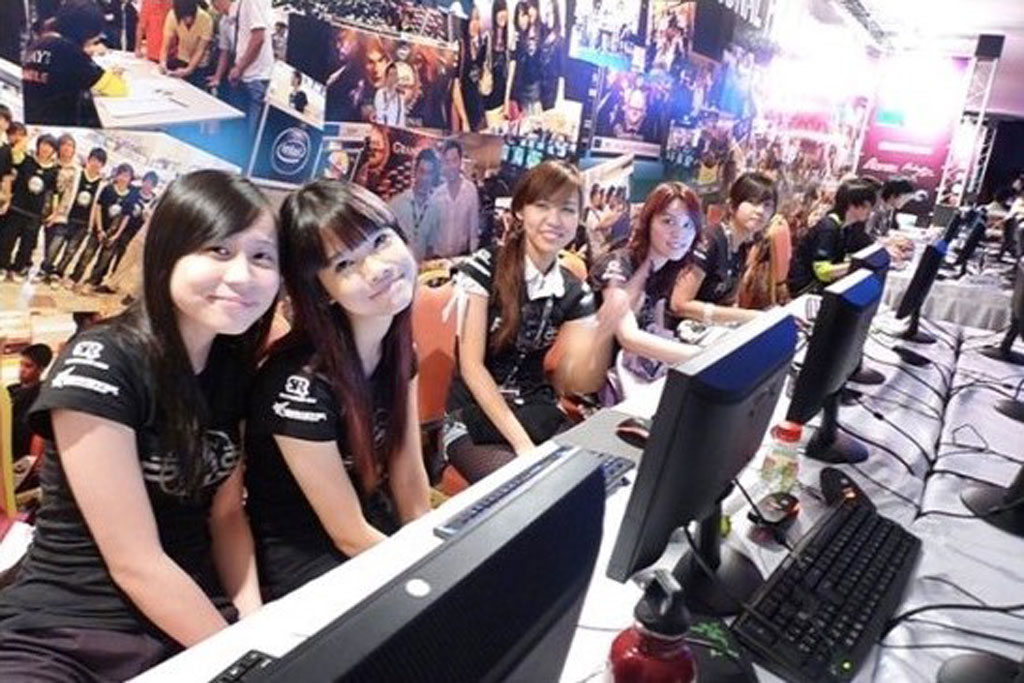 Tammy (second from left) competing with Asterisk in Malaysia, where international competition SMM Grand National DotA Tournament was held in 2009. (Photo courtesy of Eliza Ong)
Moving up the esports ladder in later years gave her a bigger platform to spotlight and reach out to other women. A proactive speaker, she participates in panel discussions and interviews to enlighten others on her journey.

"Being female in a male community kind of makes me stand out already," she says. "So when there are stories to be written or when considering a team to invite to an event, we come to mind much more often."

Years of experience at Asterisk gave her a springboard to launch the Female Esports League (FSL). FSL is a regional league where female gamers compete in titles like DotA 2, League of Legends: Wild Rift, PlayerUnknown's Battlegrounds (PUBG) MOBILE and Valorant.

"I wanted to revive the amateur tier of gamers, and give women gamers more chances to experience and realise their dreams of becoming an esports athlete," says Tammy, who also ran esports events from 2012 to 2018 on both contract and full-time basis.

I hope to make a difference in some way, be it by championing diversity and inclusion, guiding the newer talent, or helping to represent esports to the mainstream public.
Be the change you wish to see
Over in Scandinavia, Kelly Ong has been the matriarch of Swedish esports organisation Alliance since 2018. It is "a dream come true" for the 31-year-old who, as a precocious 17-year-old, aspired to become a team owner.

That ambition was further galvanised by witnessing Jeanie Buss become president of the Los Angeles Lakers, an American professional sports team competing in the National Basketball Association (NBA).

"She was one of the only women back then who owned one of the biggest sports teams in the world," says Kelly, Chief Strategy Officer and co-owner of Alliance. "That gave me the belief that it was possible for me to dream in esports — every career choice I took was a step towards (becoming an owner)."

Team owners are essentially parents. They manage day-to-day operations, ensure players are fighting fit, and build a culture and strategy that embodies the organisation. As a mother to a 12-year-old daughter, Kelly has ample experience in parenting.

Her storied road began at 16 when she left school after her O-Levels to become a competitive Counter-Strike player. She then struck out as a shoutcaster in a South Korean StarCraft II league before joining a newly-formed Alliance in 2013 as its DotA 2 manager.

But one thing's for sure: there is no substitute for your hunch. "There was no guidebook in the early 2010s when talent development was new. You needed to have a strong gut instinct for signing players, which will determine the success of your team," she reveals.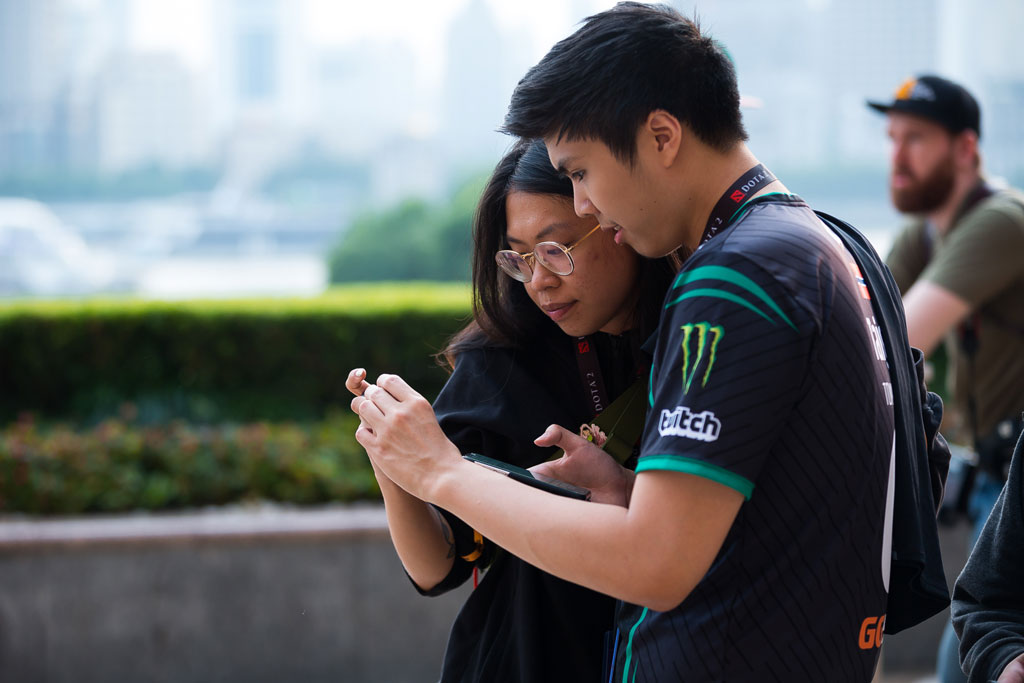 Kelly mentoring one of her DotA 2 players at The International 2019 in Shanghai, China. (Photo courtesy of Kelly Ong)
She offers her idea of an accomplished team owner: a great work ethic, delegates well, knows the industry inside out and is confident. A self-confessed workaholic, she wishes she had 10 hours more each day to exemplify those traits and cultivate an environment for gamers to thrive.

"I want to provide a great home to these special people who have chosen to sacrifice so much in their lives in pursuit of being the best in the world," says Kelly, who has been working closely in developing Alliance's new PUBG MOBILE division that is already up and running in Kuala Lumpur.

This strong sense of responsibility has been nurtured since young, when Kelly worked in shops run by her grandmother, aunt and mother. But while her family understood her desire to one day become an owner as well, it took them some time to accept her industry of choice.

"Esports was new, so it was always a war between (traditional) culture and wanting to empower me for my dreams," she explains. "But I can be thankful that despite it all, they supported me when growing up."

Kelly intends to pay it forward. She may be miles from home, but she continues to rally Singaporean youths by advocating that esports allows them to be potential world beaters while earning enough for a comfortable life. And as someone who mentors girls and women worldwide for free, her future immediate plans include continuing to hire more women into Alliance.

Like what Jeanie Buss did for me, I hope being a team owner can inspire other girls to dream of leadership roles regardless of their gender or industry.
The sacrifice is worth it
Meanwhile, streamer and
Mobile Legends: Bang Bang
(MLBB) player Katherine "Kimiko" Ho's style is to create connections with her audiences. Nothing beats personal interaction when it comes to encouraging more girls to play games, she says.
Having a friendly and engaging persona helps. During her Facebook streams that draw hundreds of viewers, she barely pauses while chatting with fans, who constantly send messages in real time.
But according to the 29-year-old, despite the increasing number of women gamers in esports, a good majority in the industry are still not used to their presence.
"One common challenge would be overcoming the assumption that girls do not play as well as boys," says Katherine, who entered esports just three years ago. "I tend to take these comments as a challenge to prove the naysayers wrong with my gameplay."
She has absolutely walked that talk. Streaming may be her forte, but her competitive skills are equally impressive. In March, she battled to a second place finish at the Heroine Clash Online @ Singapore, an open competition organised by MLBB developer Moonton, and defeated teams with all-male players along the way.
Yet, these triumphs did not come without hurdles. As a nurse working at a clinic, her hours intensified when the COVID-19 pandemic hit Singapore. But she juggled answering the call of duty and having a gaming career with aplomb.
Time management plays a huge role. She sticks to a strict schedule of streaming after work and balances that by watching shows and listening to music to unwind. A supportive family and circle of friends also gave her the affirmation to press on — she already has plans to try her hand at hosting tournaments in the near future.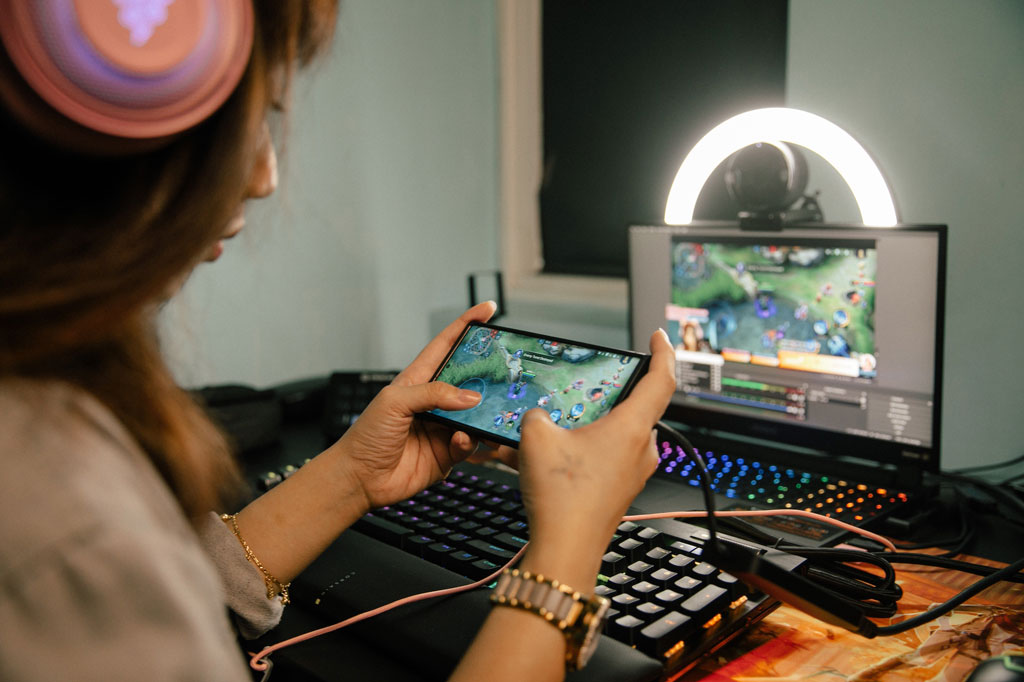 Katherine regularly streams MLBB games on Facebook to engage her fans, who connect with her via a live chat.
Her advice to those interested in esports? Start early, as "you don't have to be the best to get started". More pertinently, life lessons are aplenty.

"I think teamwork is one of the most important values, be it at work or on a personal level," says Katherine. "Being an esports athlete has also boosted my confidence and social skills."

I believe if more girls familiarise themselves with female gamers, they will not feel out of place when starting their own journey. This lets them see that they can pursue their passion and not think of it as just a mere hobby or phase.