Blurring the Divide: Where Digital and Traditional Art Collide
3D-projection mapping on buildings, large-scale virtual reality commentaries on the environment and video art composed of brain waves — these are amongst the many innovative tech-driven approaches to art that has opened up over the last few years. We speak to four Singaporean artists about their latest inspirations, works and views on tech in art — today and in the future.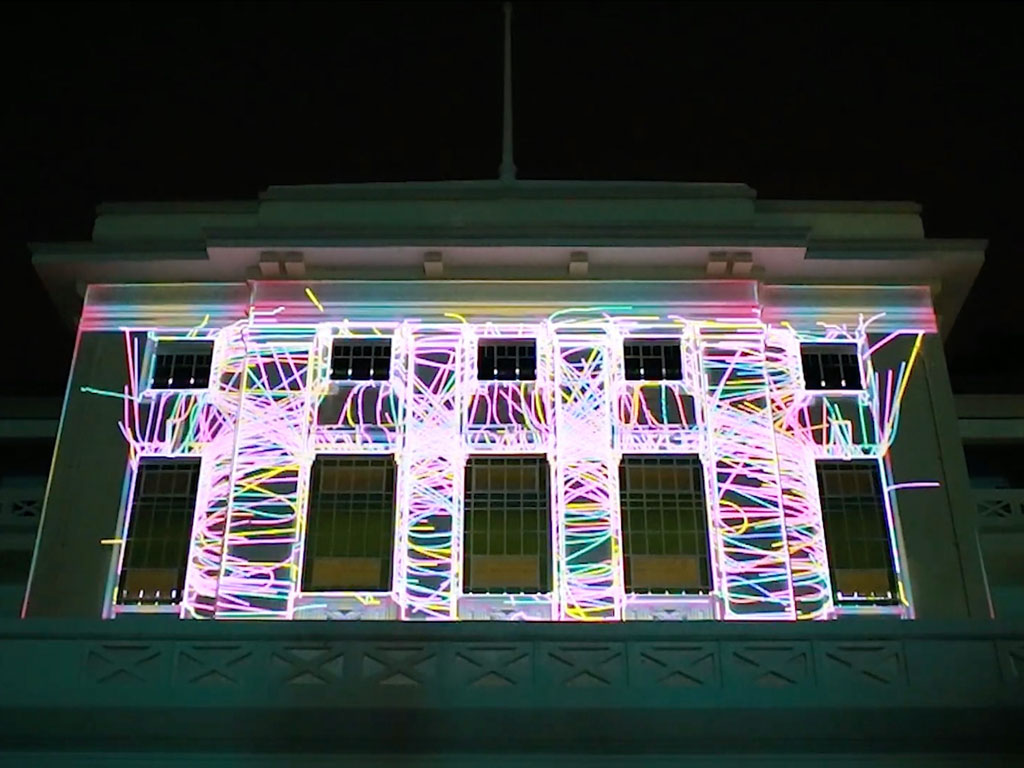 Brandon Tay and Safuan Johari's large-scale projection mapping animation 'Radiance', commissioned by the Neon Lights Festival 2019 at Fort Canning Park. (Image courtesty of artist)
Dating back to the days of stick-figures on cave walls, art has played an integral role in human history, be it to document or comment on society.
Materials — stone, clay, marble, water colours, acrylic, and so on — have similarly been a reflection of the issues, technology and thinking of each era, which explains why
artworks with video, sound and screens surged in the 60s and 70s
, while robotics,
augmented reality (AR), virtual reality (VR) and artificial intelligence (AI)
have been on the rise in the last five to ten years.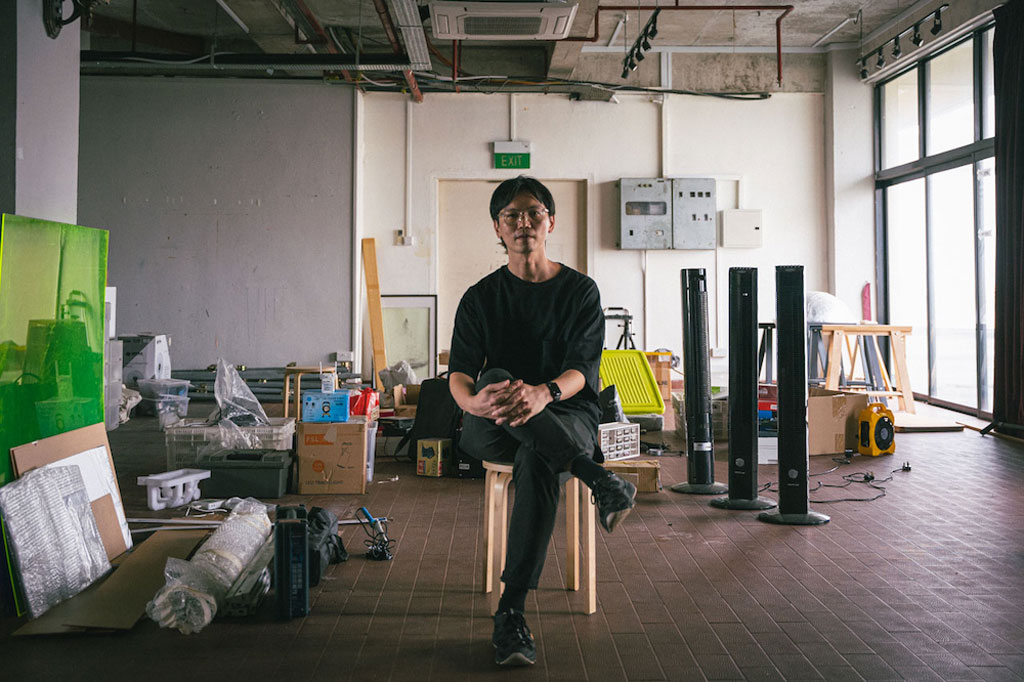 Kian Peng was awarded the President's Young Talent Grand Prize, which recognises promising artists aged 35 and below, in 2015. He now runs Supernormal, an independent art space focusing on emerging and experimental art practice.
Ong Kian Peng is one of the pioneers in the digital art space, having started integrating technology into his work in the mid-2000s. He had dabbled in drawing and ceramics, but was ultimately more interested in the experimental nature of technology in art. As he explains, "There's a beauty in working with technology. The creation process is an exploratory one. The most interesting works come from playing with the technology. You can't set off with a clear objective because you never know what outcome you'll get, but along the way you can create magic. It's like planting a genetically engineered seed — you're anxious for it to sprout to see exactly what you'll get."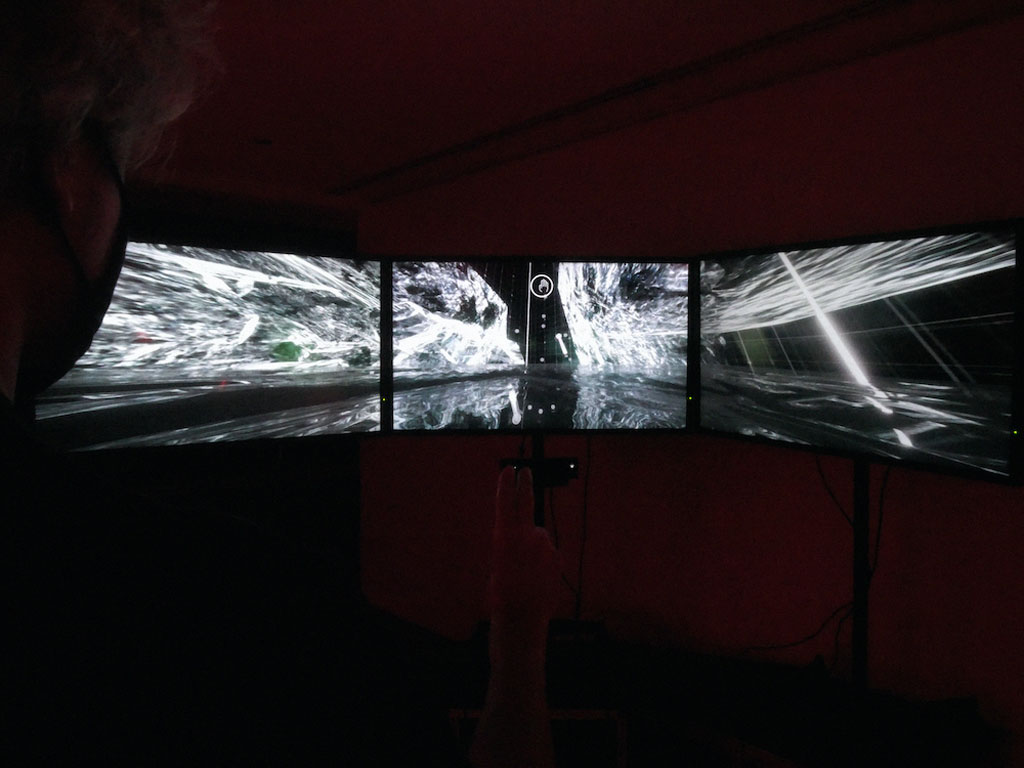 Kian Peng's works have been shown around the world in both solo and group exhibitions. His recent work, 'Fragmented Dreams', uses VR to talk about the effects of climate change. (Image courtesy of the artist)
Recently, his interests are in understanding the role that technology plays in the state of the world. In a 2020 exhibition at the National Gallery, Kian Peng's piece,
'Fragmented Dreams'
, used virtual reality (VR) to help Singaporeans understand the impacts of climate change by making the effects feel 'real'. Through VR, he was able to transport the viewer 'elsewhere' and immerse them into another reality.
Similarly,
Yeo Shih Yun
first tried her hand at classical painting before gravitating towards mixed-media. A highly-acclaimed artist with a career spanning 20+ years, an enthusiasm for gadgets prompted her to start incorporating technology into her work after a decade of painting with traditional materials. One of her well-known series features
remote control cars
, to which she attaches paint brushes dipped in Chinese ink. But ever since she started exploring the intersection of technology and art, there's been no looking back.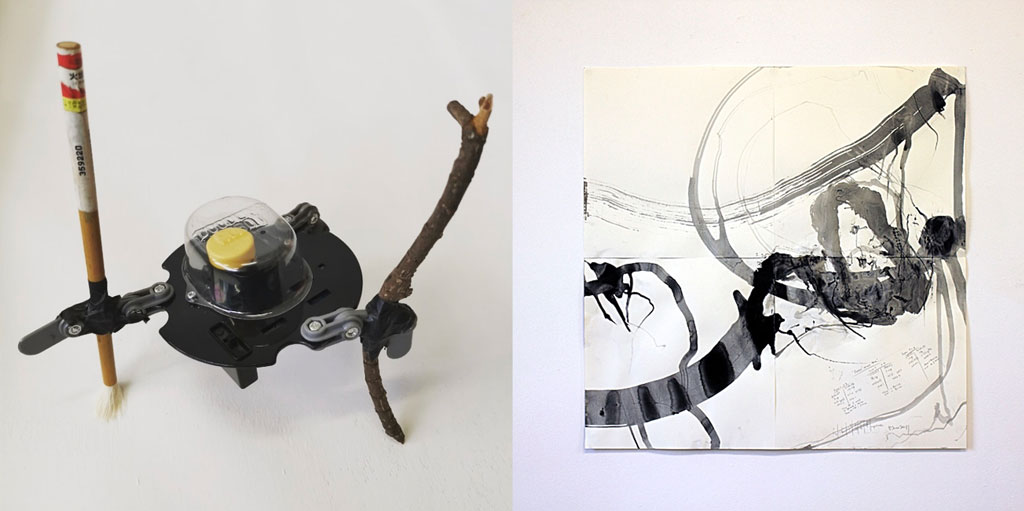 Left: Shih Yun's remote control cars with paintbrushes affixed provide a 'controlled' input with 'uncontrolled' outcome. Right: The end result of a robot car ink painting. (Images courtesy of the artist)
Most recently, Shih Yun has been working on a series titled
'My Ink Painting Machine'
, which uses a program called TouchDesigner and an Electroencephalogram (EEG) meditation headset, to tap into her brainwaves and produce short video clips of the waves. The result? Wave sequences that are eerily calming — and beautiful — to watch; the waves sometimes seem similar, but are never exactly the same. As Shih Yun explains, "Much of my work is about chance and randomness. Brainwaves aren't something you can control. You can try to be calm, or suppress certain thoughts, but there are so many nuances that can still trigger different waves, making it impossible to replicate the exact same sequence again. That's what technology can do — you can control the input, but you can't control the output. That's what's most fascinating to me."
New Medium, New Perspectives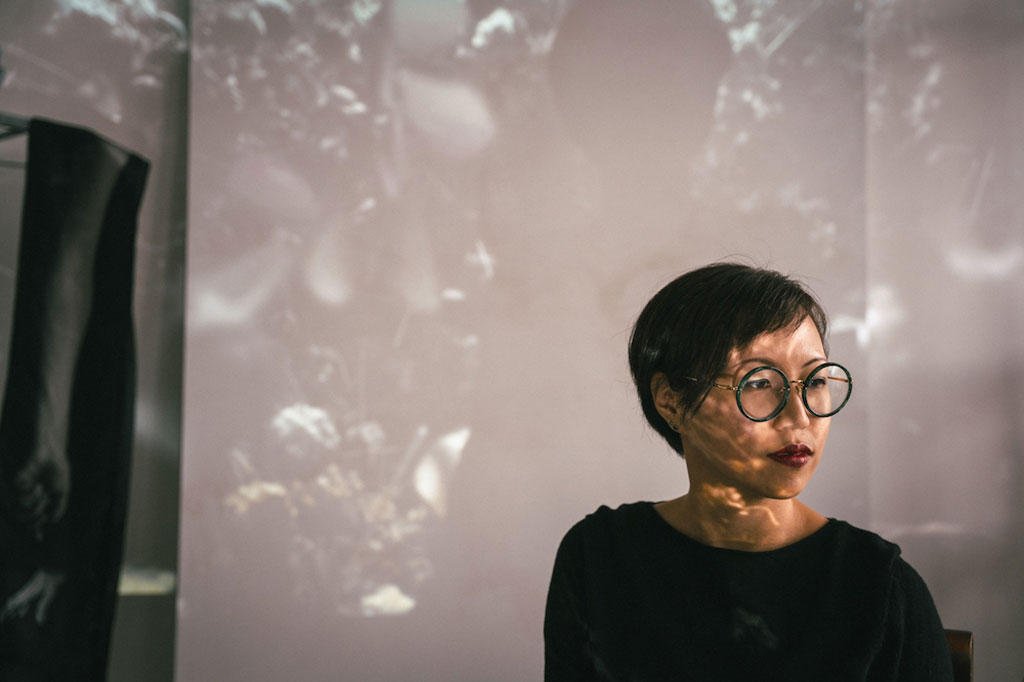 Yanyun has received the prestigious National Arts Council Young Artist Award (2020), Singapore's highest award for young arts practitioners, amongst other recognitions. 
Dr. Chen Yanyun
used to focus mainly on charcoal-based drawings, animations and installations. She studied digital animation but soon developed a passion for more classical mediums. When COVID-19 made shipping artworks abroad nearly impossible, galleries and museums started requesting for works that could be 'transferred' rather than physically delivered. Fortunately, her background in digital enabled her to transition quickly and she found herself unexpectedly straddling the worlds of classical and digital.
Her latest work, '
Constructing Mementos: Nation States I & II
', is the outcome of the world's current circumstances — a direction she feels would have been much more gradual had it not been for the pandemic. The work consists of a diptyque (two parts of a work that together create a singular piece) featuring floral images. A new media object is paired with a classical drawing and the two together form an integrated work. When asked whether she'll go back to doing solely classical charcoal works when things normalise, Yanyun describes a wave-like approach where classical and digital elements will feature at different points in her practice. She further explains that classical work, such as painting and sculpting, tends to be more solo work whereas digital work usually requires a team — video editors, programmers, videographers — making the creation process a lot more collaborative.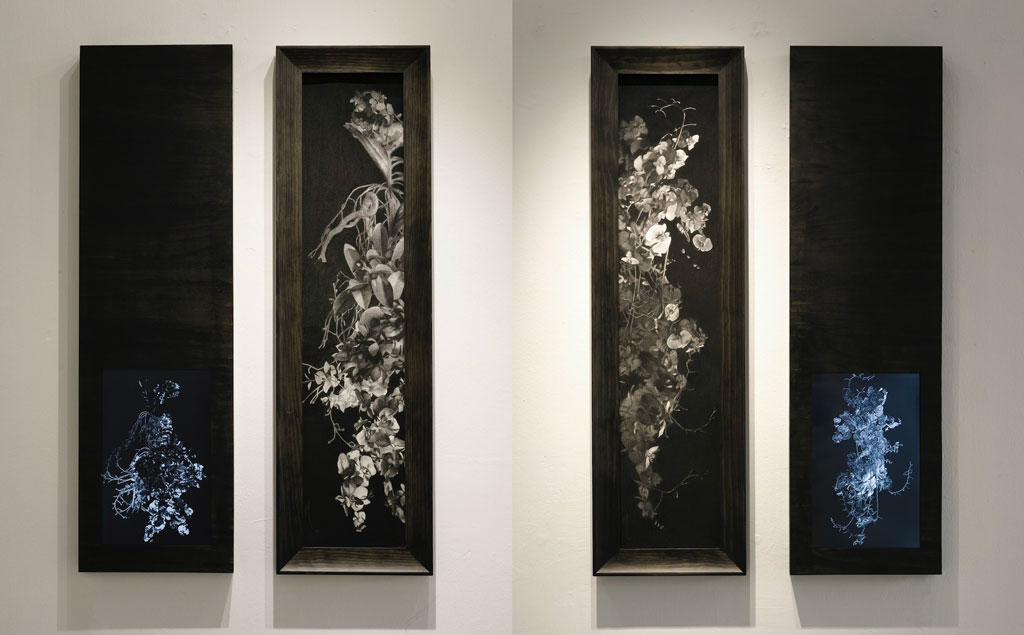 Yanyun's diptyque features a new media object paired with a classical drawing to form an integrated work. (Images courtesy of the artist)
Brandon Tay
is best known for his work 'Radiance' at the
Neon Lights Festival
and the
large-scale mapping
he created for the People's Association Singapore for Passion Arts. More recently, he worked on '
Demon States
' and '
_T0701_
', both collaborations commissioned for the 2021
Singapore International Festival of Arts
(SIFA). In both, Brandon's virtual landscapes and graphics help create immersive worlds in which the audience could explore existential themes such as ethics, self-expression and modern life.
Demon States was a VR experience commissioned by Singapore International Festival of the Arts 2021, that explores themes that emerged during the COVID pandemic of 2020. (Video courtesy of the artist)
Safe distancing and lockdowns created big spaces between people, triggering Brandon to explore ideas around life and how we relate to one another. He tells us, "Before the pandemic, shared spaces were a given so people weren't always aware of how they interact [with others when viewing a work of art]. The focus was usually on the spectacular or the tech. But with safe distancing and lockdowns, the human connection — that shared experience of viewing a piece of art — has come to the foreground. It's now less about digitising art or creating digital experiences but more about creating ways for people to connect with one another."
Despite Challenges, Opportunities Abound
With technology increasingly omnipresent in every aspect of life, it may seem like an obvious direction for artists but various hurdles stand in the way. As Kian Peng says, "A number of things hold artists back when it comes to technology. A lack of space, time and resources — they're the usual constraints but with technology, experimentation is equally, if not more important, and artists can't always afford to do it."

Shih Yun's latest work 'My Ink Painting Machine'. When exploring new digital mediums, artists must spend time and money picking up new skills to gain a deeper understanding of what they're working with. (Video courtesy of the artist)

Shih Yun also speaks to the cost of the constraints, explaining that most artists probably don't have every necessary digital skill: "You might be a programmer but you won't be an expert AI programmer, a UX designer and a graphic designer. That's not to mention how software, hardware and new technologies all cost time and money to acquire. Then you have to learn how to use them, raising the barrier to entry too high for most".

Then there's the fundamental element of scale. When an object is three-dimensional and put on a small screen, it's hard to feel the size, depth and energy of the piece — and that includes paintings. To really feel scale, you have to see it live. You have to stand in proximity to it, next to it and sometimes in it. But to translate this experience onto a homescreen will require a rethinking of how people interact with technology and space — something that will likely develop over time.

The challenges can be discouraging but many younger artists are still making the leap because digital is an integral part of their world. As Yanyun says, "Technology is very much a part of their creative process. The online world is a way — and sometimes the only way — for people to experience their work." The visual arts lecturer continues, "Younger artists are digital natives and they don't think of it as digital or classical — they use any of the tools based on what's available and what helps them tell their story best."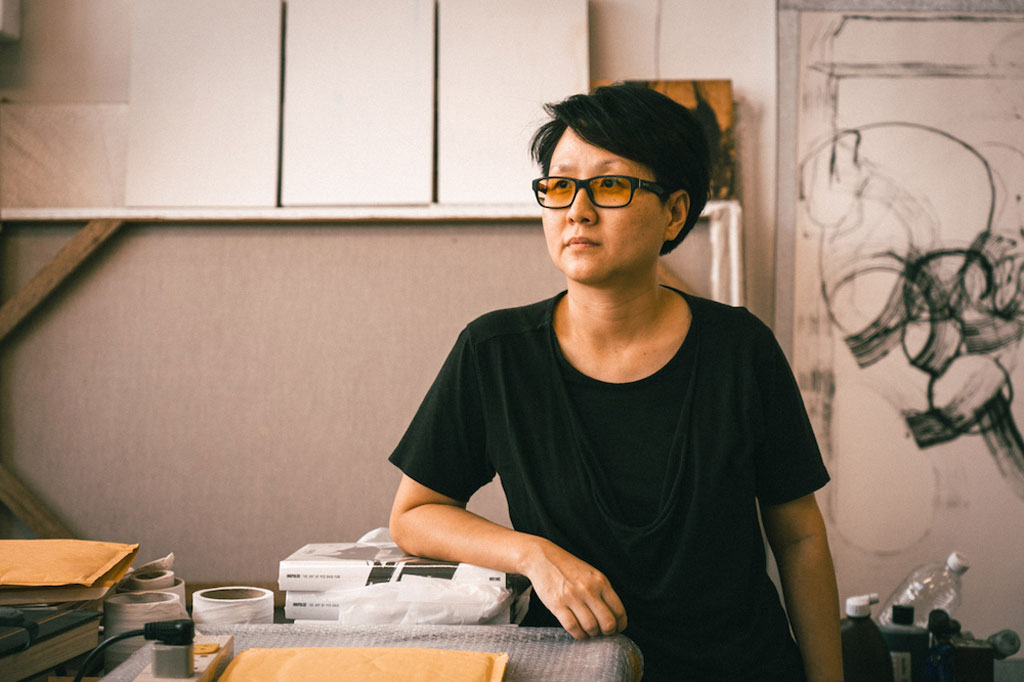 Shih Yun believes that technology will help inspire more collaborations as young artists can find like-minded creatives in the digital space.
Aside from the inextricability, there's also the many other benefits of tech and digital-driven art. It's much easier (and cheaper) to send artworks overseas and it offers a much wider range of tools to play with. As Shih Yun describes it, "Technology has created a generation that is much more informed than their predecessors. Digital natives, in particular, can tap into all sorts of platforms — Twitter, TikTok, every news agency in the world are at their fingertips. They can find like-minded partners and collaborators all over the world, and then they can work together virtually. That would never have been possible before."
Good Things to Come
VR, AR, AI and other technology we discuss above have been around for years, but incorporating it into art in Singapore has only become more common over the last few years — a movement that the National Arts Council (NAC) intends to continue nurturing. In early 2021, the NAC dedicated the Singapore Art Week 2021 to digital works. In Feb 2022, a one-stop
Arts and Culture Digital Roadmap
was also launched, to equip and enhance the digital journey of our arts and culture oranisations and practitioners.
Brandon, for one, is looking forward to the new art forms that will emerge in the years to come. But while he expects the experience of art to change (as the art of communicating changes), he also understands that underneath it all, the basic human need for connection will only become increasingly integral.
At the end of the day, digital art is like any other art, only using new ways to do what artists have always done: tell stories and communicate. As Kian Peng shares with aspiring artists, "Don't give up. Keep trying because eventually it'll unravel into something wonderful."