From established accountant to social services veteran: Dr Gerard Ee
Kaya speaks to individuals who are leading the charge in the arts, heritage, community and youth, and sports sectors. In today's spotlight, we have Dr. Gerard Ee, social services veteran, chairman of the Agency for Integrated Care (AIC) and former chairman of the Charity Council.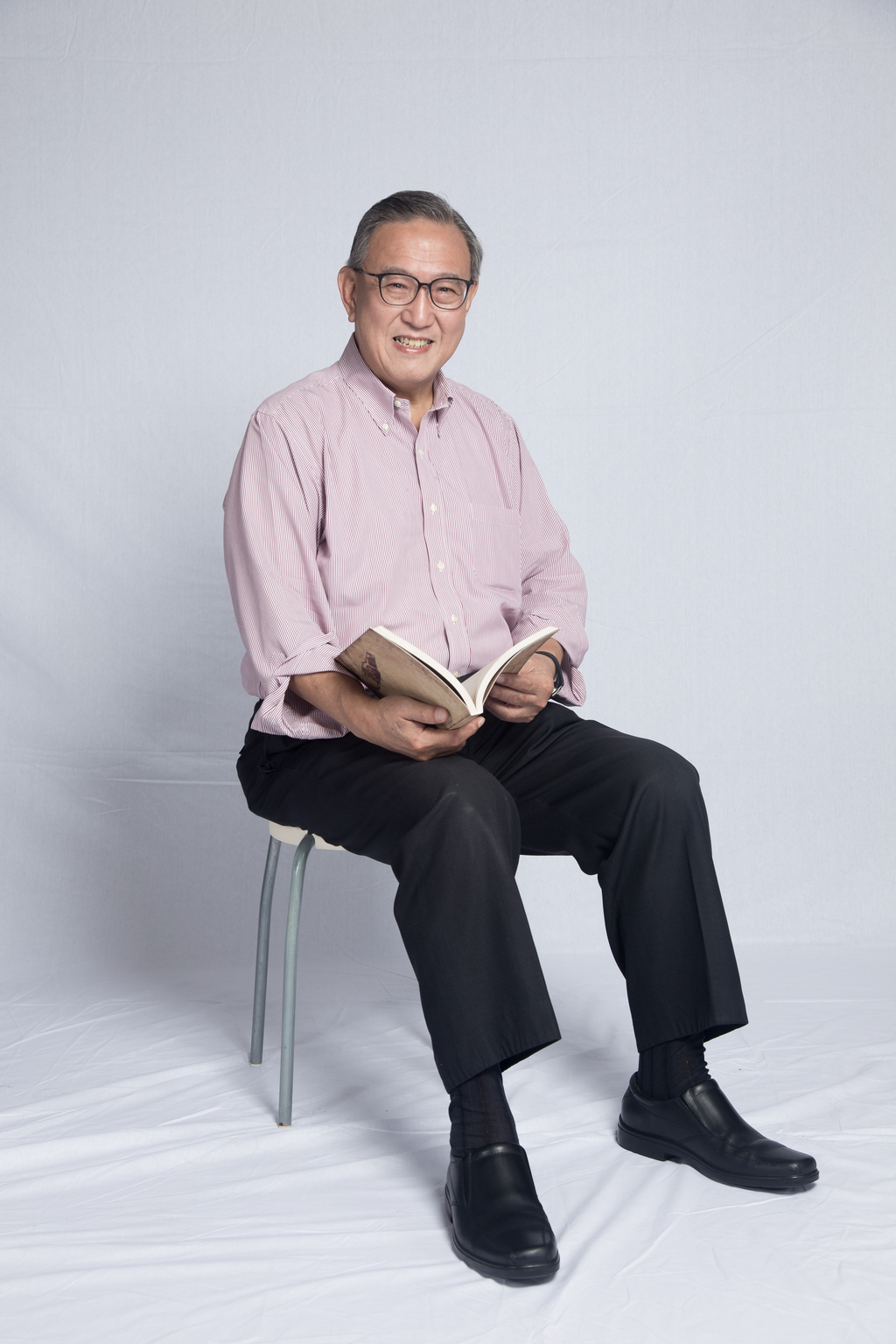 Portrait of Dr Gerard Ee. Photo credit: Gerard Ee
Unlikely beginnings
Dr. Gerard Ee's first foray into the charity sector at the young age of 10 seemed only natural — after all, his father is the late Dr. Ee Peng Liang, founder of the Community Chest and Singapore's "father of charity". However, there was more than meets the eye.
"I was young and generally disinterested in studies, so to do anything but study, I decided to join him and volunteer my time. It wasn't out of altruistic reasons," he shared candidly. "I remember visiting the Trafalgar Home for leprosy patients with my father, and couldn't imagine myself being as selfless as the volunteers, who were largely expatriates. You must remember that this was in the 1950s — there was, unfortunately, a lot of discrimination, but it stemmed largely from a lack of understanding about what charity and volunteerism are about, especially amongst the Asians living in Singapore."
Gerard went on to pursue a career in accounting, where he was eventually made partner at Ernst & Young. But even then, he only gradually found his way into the social service sector.

It was in his late 20s when he truly discovered his love for charity. "The Community Chest held its first phone-in show, and being an accountant, I was asked to help set up the system and offer support in terms of data collection and other logistical matters. It was during that time I had the opportunity to really interact with the individuals involved in the production. It was something about them — their resilience and positive outlook on life — that truly moved me." And the rest was history.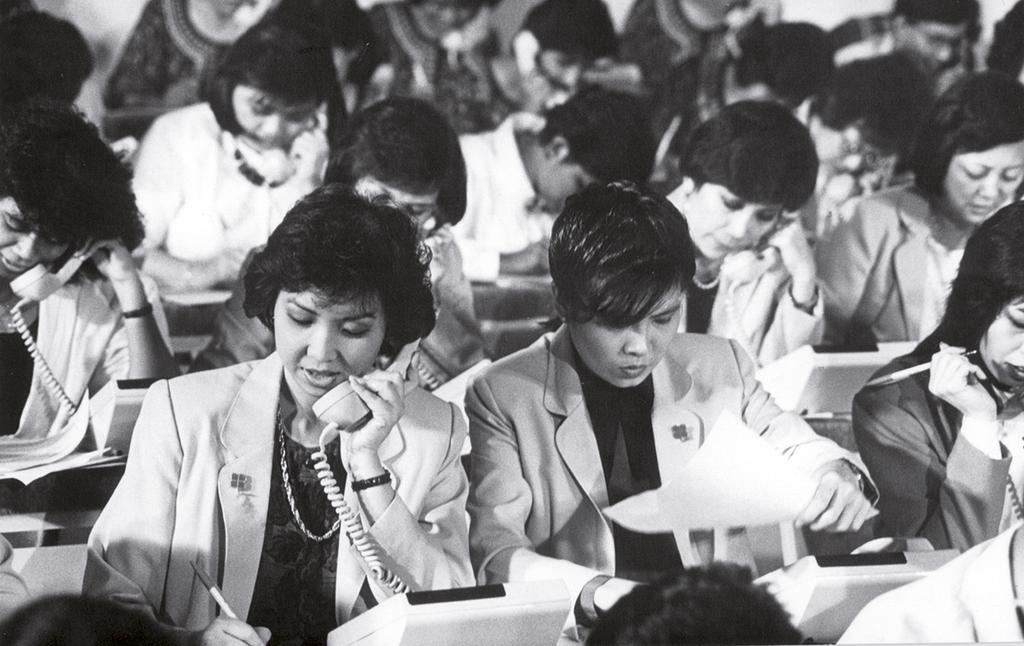 Singapore's first televised fundraiser, Heartstrings Show, in 1985. Photo credit: National Council of Social Service
Throughout his time in the private sector, he was also actively involved in the public sector — where he was president of the National Council of Social Service (NCSS), and serving on the committee in areas involving juvenile delinquency, transport, healthcare and persons with disabilities.
The 12-Day retirement
After a long and decorated career, Gerard retired in 2005. But as always, fate has its way of determining things. Just 12 days into his retirement, he was called upon by former Health Minister, Mr. Khaw Boon Wan to help with an urgent auditing project — restoring public confidence in the National Kidney Foundation (NKF).
"At that point, I had zero knowledge of how to handle such an event, but I knew what I had to do it. Retirement had to wait," he says with a laugh. "I eventually ended up with Changi General Hospital for 10 years, and later on, with the Ministry of Health Holdings, and now with the Agency for Integrated Care. Now, I've never been this busy in my entire life".
MCCY: memorable moments and challenges
"In recent years, the bulk of my work with MCCY has been through my involvement with the Charity Council. The benefit of being a volunteer is that you get to meet really wonderful people. Everyone else brings something special to the table. They're all committed to the cause, and there's never a dull moment with them."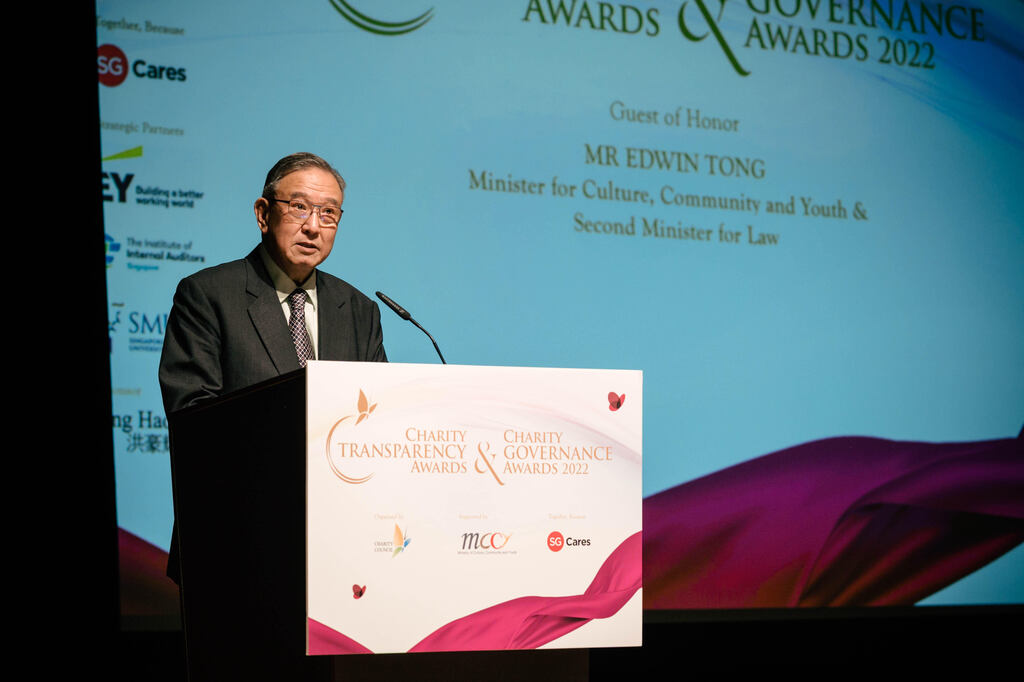 Gerard speaking at Charity Transparency & Governance Awards 2022. The award celebrates the good work by charities and recognise those that have adopted high transparency and governance standards 
Of course, running an organisation with such a big mission is no small feat. It often comes with its own unique set of challenges, which Dr. Ee welcomes. "The Charity Council in particular covers a whole spectrum of charities, and it's quite clear that there are different challenges to be had across the different sectors of arts, sports, and social service. So when we have our discussions, it's important that we remain mindful of this. We cannot speak too broadly, because whatever you're discussing will have very different implications across the sectors."

Advice for the budding change makers, young and old
"Often times change begins with a single thought. My biggest desire is to see a shift in terminology from non-profit to not-for-profit. And that's very important because we need to change the model of charity," shares Gerard.

"Right now, many charities follow a rather antiquated model of thinking — that charities exist only to serve the poor. Maybe that was the case in the 1950s, but now the government takes care of that through initiatives like ComCare. For example, if someone wants to start a programme for children with autism, oftentimes their starting point is to simply cater to children with autism, from poor families. When you go in with that mentality, you end up without a good outcome because they can only afford to pay that much, and that becomes all the revenue you have… which isn't enough to take your programme to greater heights.

In designing a programme, you have to ask yourself — 'What do I need to achieve a good outcome? Because charity should only come at the tail end where I say, people shouldn't be denied access to this programme just because they are poor. You don't start with a lack of resources; you must start with the right resources."

Gerard also adds that charities often need to have a diverse team of members in order for a dynamic and innovative programme to happen.

On taking good naps and counting blessings
When asked about what he enjoys doing outside of work, Gerard jokingly responds that he loves a good nap. "I'm already 73 years old! Sleep is very curative."

"On a more serious note, I'm a great believer that one must find time — an hour each day — to be reading and learning something you don't already know. My greatest fear is the deterioration of the mind. Throughout my career, I've seen enough persons living with dementia to know that it takes a toll on them and their caregivers. People don't realise it, but there is a strong degree of frustration felt by individuals with dementia. They are not totally absent of thought; they just simply cannot articulate their thoughts well."

Gerard also shared more about the mantras and beliefs that kept him going over the years. His secret? It's all about perspective. "I've learned to count my blessings. But of course, those are just words and feelings. We must put it into action, and give back to our society in more ways than one. Pay it forward. We are not blessed equally, so if I'm not using my blessings to help others, I do not deserve my blessings."

Building a kinder, more caring Singapore
In today's ever-evolving world, there's so much to be done to build a more empathetic Singapore. When asked about how we can work together to make our society a better, more supportive place to live in, Dr. Ee believes that it's already in our DNA.


We are moving in the right direction, the kampong spirit has never truly left
"It's all in keeping the community spirit alive. For instance, the creation of dementia-friendly neighbourhoods is a great example of how communities have banded together to showcase their support for caregivers and those living with dementia. Even small-scale activities like neighbourhood gardening projects bring people together through a common interest."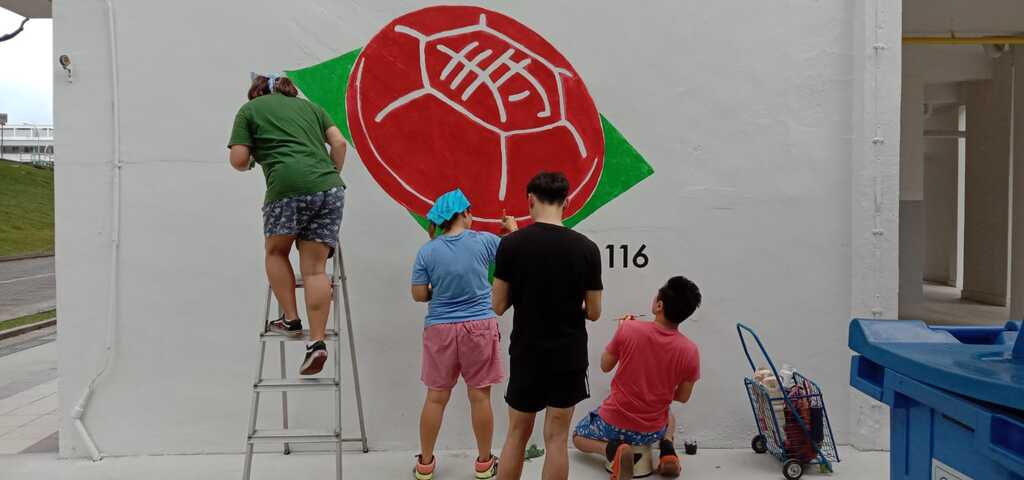 Wayfinding project at Kebun Bahru, Ang Mo Kio. Volunteers painted murals as a landmark that differentiate buildings and corridors from each other. Photo credit: Dementia Singapore

Gerard is optimistic about the direction Singapore is moving in terms of giving. "Civil society is alive and thriving more than ever. In the '50s, you rarely find locals volunteering, but these days? You see so much activity. You get groups of young people gathering together for things they are passionate about, like caring for neighbourhood cats! It's not so much of what they do, but it's about caring enough for something — and that's what makes them human."

Keen to read more on other individuals who have made a difference in the arts, heritage, community and youth, and sports sector? Find out more here: